The secret for fitting chocolate into a healthy eating plan is to make sure it's dark chocolate.  Combine it with lots of high nutrient goodness like 28 Day Weight Loss Challenge member Shelley has done in this energy-packed snack and you have the PERFECT chocolate power snack.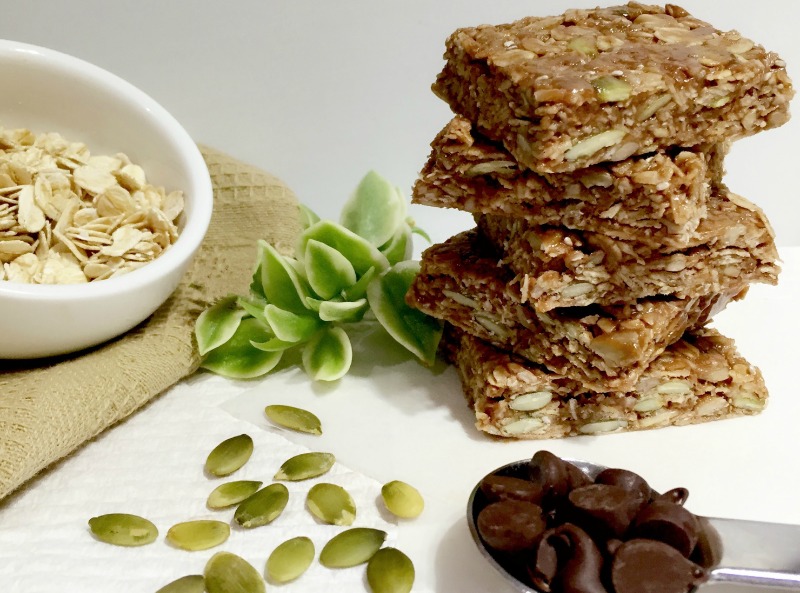 Ingredients
1 ½

cups

raw oats

1/3

cup

shredded coconut

¼

cup

pepitas seeds

¼

cup

sunflower seeds

1

tbsp

chia seeds

¼

cup

dark choc chips

1/3

cup

tahini

¼

cup

rice malt syrup

¼

cup

coconut oil
 Method
Line a baking tray with baking paper and set aside (You could also use a loaf pan or silicon molds)

Place oats, shredded coconut, pepitas seeds, sunflower seeds, chia seeds and dark choc chips in a bowl.

In a separate bowl, add the tahini, rice malt syrup and coconut oil. Warm these ingredients on a low heat either in the microwave or in a saucepan on the stove top until they are soft and runny.

Add the wet mixture into the dry mixture and mix well to combine. (The heat from the wet ingredients will melt the choc chips so the chocolate will be spread evenly though out the entire mixture.)

Once combined, place mixture onto tray. Spread the mixture evenly and press firmly so the mixture isn't too crumbly once set.

Pop in the fridge or freezer to set.

Once set cut into 18 pieces.

Store either in the fridge or freezer depending on how firm you want the texture to be.
Recipe makes 18. 141 calories per bite.
If you enjoy this recipe, you should also check out 5 ingredient chocolate and peanut butter bliss balls.