We are unbelievably proud of Renée who has lost an incredible 7.3st with the 28 Day Weight Loss Challenge.
When she was told that she would be facing a premature death, Renée said goodbye to all those excuses and self-doubt and is now doing things she never thought possible thanks to her better health. WOW! How incredible is that?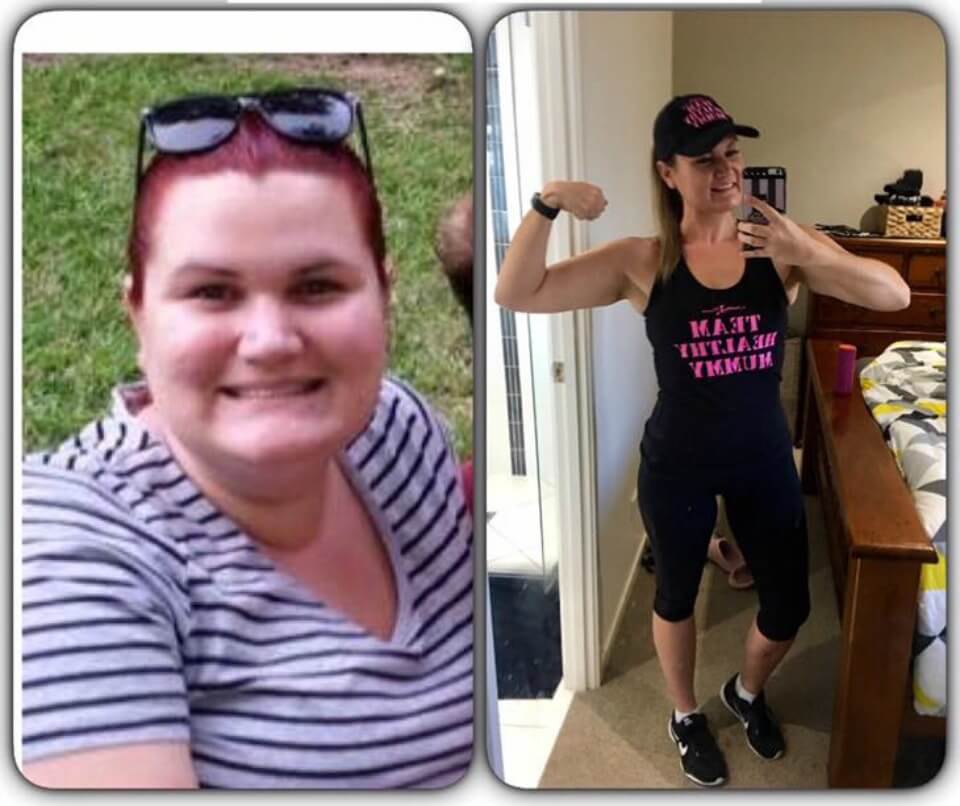 How mum said GOODBYE to excuses and lost 7.3st
Renée asks herself, "Who is that woman on the left? I can barely even remember her…"
However, what she does recall is feeling constantly tired, unhappy and lethargic. Not to mention not caring – what so ever – about what she wore so long as it covered her body.
The thought of exercise exhausted her. Renée says she use to feel depressed, anxious and would often lock herself away from the outside world.
"She [referring to herself] was done with the stares and the looks she would get when she was out in public," the mum-of-one admits.
Now to the woman on the right
However, looking at her picture on the right, Renée says its a different woman entirely.
"Now the woman on the right has emerged! Absolutely DONE with her own excuses, her own insecurities, her own bad health!
"Pushed into the direction of the 28 Day Weight Loss Challenge due to the impending chronic illnesses she would have to face at just 26 years old!"
Renée use to suffer from horrendous PCOS, chronic ache, high blood pressure and cholesterol.
"I was a ticking time bomb," she says.
"I'm glad the choice was finally taken out of my hands, it was now time to make a change or die a premature death. As morbid as it sounds, that's what I was facing…"
Now NOTHING stops me
However, Renée says the picture on the right isn't the new her. Rather, it is the 'her' she was always meant to be.
"She was in there, she just needed a little motivation and inspiration.
"Now nothing stops me! I have endless amounts of energy, perfect blood pressure, no cholesterol and my PCOS is almost gone completely.
"I look forward to getting out of bed every day and thinking about how I can push myself harder, go faster, give it more than I did yesterday. My body can now do amazing things that I never in a million years thought it would ever be able to do."
Renée is now empowering other mums to push away the self-doubt, kick away the negativity and put a stop to your own 'pity party'.
Renée reveals, "You are reading this right now because you WANT to change, just like I did! Join me on the 28 Day Weight Loss Challenge if you are DONE with just 'existing', let's see what happens if you start living!"
The 28 Day Weight Loss Challenge has helped Renée take control of her health. This mum has done absolutely incredibly on her weight loss journey.
There is no doubt she is an inspiration to so, so, so many!
Join Renée on the 28 Day Weight Loss Challenge
If you are inspired by Renée's before and after pics and want to take charge of your own health and weight – then join our 28 Day Weight Loss Challenge TODAY.
With more than 4,000 delicious (and healthy) recipes, 350 exercises & 24/7 support – the 28 Day Weight Loss Challenge is designed (and proven) to help busy mums like you lose weight!