We love to acknowledge the epic weight loss achievements of our amazing mums here at the 28 Day Weight Loss Challenge.
These mums not only feel empowered, they also look and feel amazing!
All of these incredible mums have had the most life-changing and inspiring weight loss journeys and transformations, and we are so excited for them!
Maria O'Rouke has lost 1.6 stone
Maria says, "Joined the 28 Day Weight Loss Challenge 6 months ago when I came back from holiday and I was so unhappy with how I looked.
The first picture is two days before the holiday at my sister-in-laws birthday! 
I've had constant issues with fatigue, back problems, spasms, body pain, sciatica you name it but since joining the 28 Day Weight Loss Challenge, I've had less: 
Fatigue
Spasms
Body pain has reduced i.e no sharp pains in my feet which has stopped me from standing
Less pain.. don't get me wrong I will still have back issues and some of this issue throughout my life, But the 28 Day Weight Loss Challenge has given me less pain as I have less weight to carry around. 
I very rarely took medication before I always tried to stay away as much as possible as I didn't want to rely on it and just dealt with the pain, but I haven't taken them in months!!  And I've said NO to anti-depressants which the doctor tried to give me last year. 
I have kept going and turning my life around by fueling my body better and taking care of myself!
23lbs down and 4 inches from the waist gone for good."
Tracey Bentley has lost almost 3 stone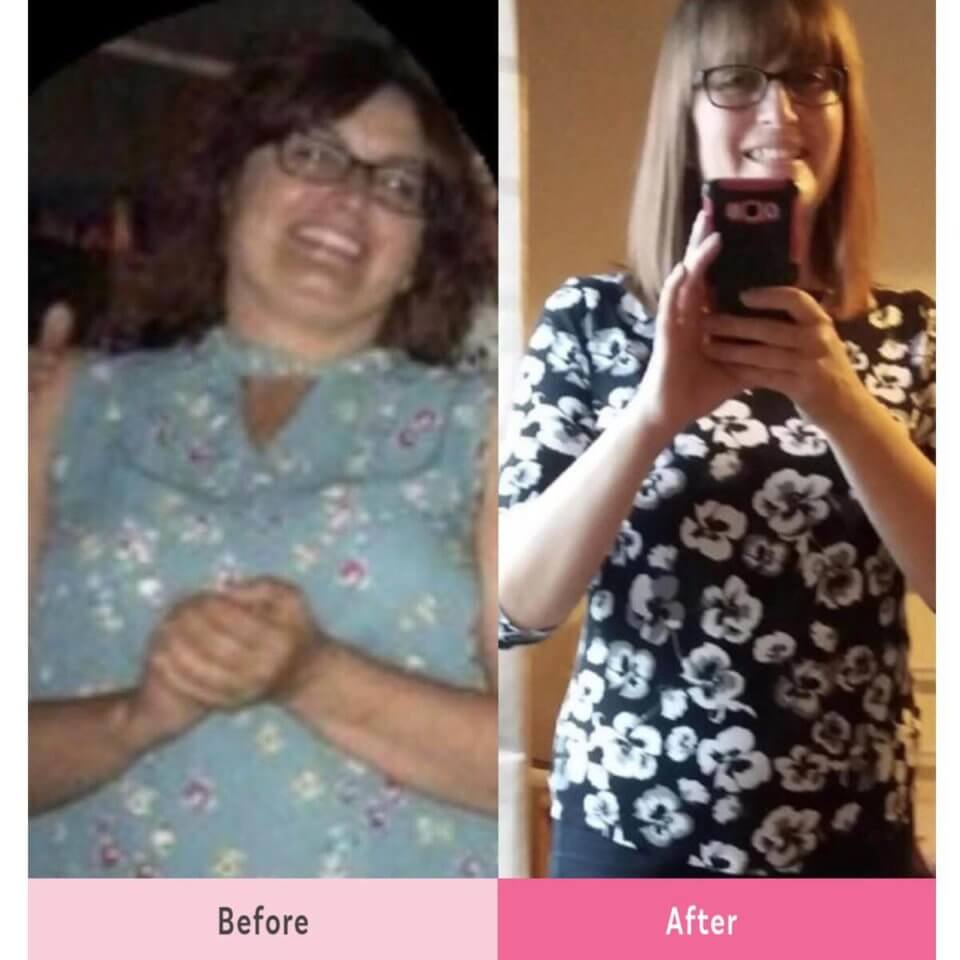 Tracey says, "The before picture was taken around 18 months ago and I had already lost a few pounds by then but still felt like I was lost, and by summer I had stopped working out altogether. I used the school summer holidays as my excuse.
Then Healthy Mummy came to my rescue when I signed up to the 28 Day Weight Loss Challenge. Best thing I ever did. It gave me the extra boost, and confidence, that I needed to succeed.
I now have only got 5lb to go until I have lost 3 stone and finally made it into my goal size 12 clothes!
But I'm staying with the 28 Day Weight Loss Challenge to help me lose the 5lbs and who knows may even go a bit lighter and fitter, down to a size 10. 
I've got 4 months til my Anniversary, a year of losing weight to do it. That's my next goal."
Vanessa McAdams has changed for the better
Vanessa says, "Love looking back now! Can't believe I can honestly say that! I have changed so much, happier, healthier, more motivated and confident. 
It's possible…I did it!"
Camilla Sharma has dropped 2 stone
Camilla says, "Looking back on the last year I am so proud of how far I've come. I know I still have a long way to go but I am loving this journey of discovery and am determined to make the most of it. 
Dropped 2st
3 dress sizes down
So much more energy
So much stronger
No more pain
Happy, not depressed
Actually, the list goes on but it's starting to feel like bragging. The 28 Day Weight Loss Challenge has changed my life and I can't tell you how much that means to me and my family! Thank you!"
Alyson Hackett has lost 1.5 stone
Alyson says, "I realised since joining the 28 Day Weight Loss Challenge that my shape has changed and I feel more body confident than ever! 
One of the changes I've seen is on my back, I've always felt that I carry my weight here and would hate seeing myself in the mirror. 
Yes, I've lost 22lbs but the 28 Day Weight Loss Challenge has given me so much more.
I'm no longer an emotional eater, I know how to portion control, I don't rely on the scales or see myself negatively, my fitness has improved, I'm stronger, more determined and I don't suffer headaches anymore. 
I've lost a total of 22lbs since joining the 28 Day Weight Loss Challenges and will continue my journey!"
Well done on your epic results ladies!
Inspired To Take Charge Of Your Own Weight? Join Our 28 Day Weight Loss Challenge!
Our 28 Day Weight Loss Challenge is home to hundreds of delicious, healthy recipes; fat burning exercises; and 24/7 support.
Our affordable and effective program is aimed to help busy mums like you lose the baby weight.
Every week you are given a different meal plan to follow and each month we add NEW recipes to our Challenge Recipe Hub. That way, you'll never get bored and stay on weight loss track while digging into healthy, yummy recipes. Some mums also choose to add in Healthy Mummy Smoothies to their meal plans, but it's totally up to you.
Learn more about our 28 Day Weight Loss Challenge HERE.
If you would like a sneak peek at some of the meals, snacks and exercises from the 28 Day Weight Loss Challenge you can download our FREE recipe packs HERE.