We love to celebrate the amazing weight loss journeys of our Healthy Mummy 28 Day Weight Loss Challenge mums and these mums' wins are well worth celebrating!
See how these mums have lost their weight thanks to The Healthy Mummy
Sinead O'Rooney shared this incredible before and after pic as part of our 'Flashback Friday' on the Healthy Mummy UK Facebook page and the feedback was a surprise to her – the likes just kept on climbing!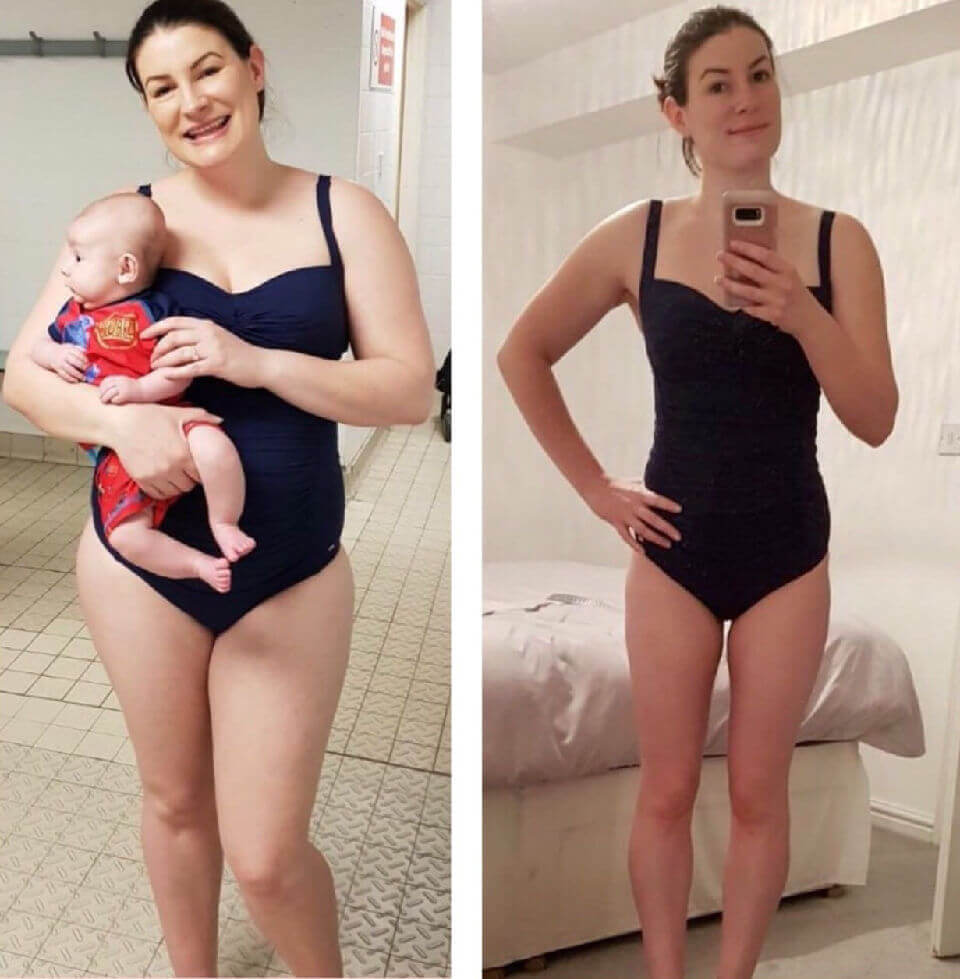 Victoria Zinopoulous has come so far!
Victoria says,"Despite the fact that I have a lot more confidence with my body since I started The Healthy Mummy 28 Day Weight Loss Challenge, there are still days when what I see in the mirror makes me unhappy!"
"I still weigh more than when I had my son. My shape has changed and I am a lot less toned, but then I found this old picture of me when I weighed 14st.  And I realised, I might not be where I want to be yet, but I'm a long way from being that girl again! She hid away and made excuses not to do things. That's not me anymore! I was so unhappy then." 
"I look at that picture and I know if I've got myself this far, I can keep going! I'm not looking for perfect, just happy and healthy!"
"I know taking pictures when you're not happy with the way you look is a terrifying and daunting prospect, but it's so important in helping you see your journey. Make sure you do it. I promise one day you'll be glad you did!"
Siobhan Docherty has dropped from size 16 to a 10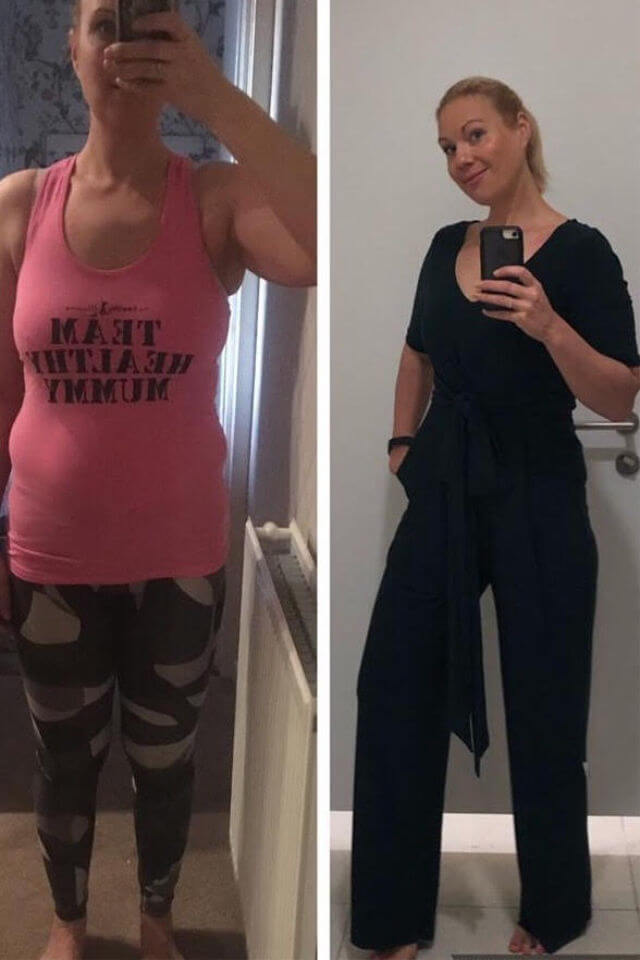 Siobhan says, "This first photo I took a month after starting The Healthy Mummy 28 Day Weight Loss Challenge!"
"I was wearing a size 16 and really unhappy with my weight!"
"Flash forward to 10 months later and now just been out shopping for a new jumpsuit and took all size 10's and they all fit! Wouldn't have believed at the start of the year I would comfortably be wearing a 10!"
"Feeling fitter and healthier than ever and it's all thanks to The Healthy Mummy."
Tracey Bentley loves the before and after photos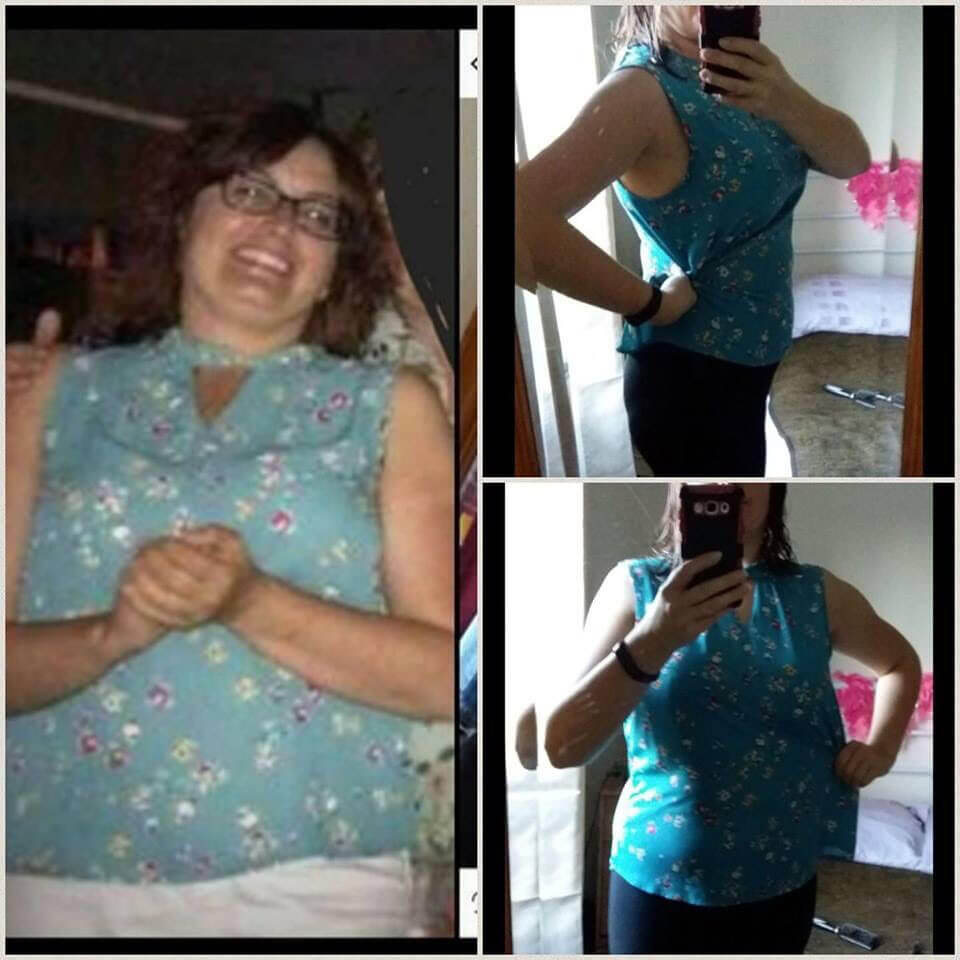 Tracey says, "The pic on the left was me 6 months ago. I had already been exercising for about  2.5 months at this point and had managed to go from a size 18 to a tight size 16."
"I bought this top as a last resort. I couldn't find anything I really liked and this sort of fitted but I felt like I was being squeezed in."
"I tried it on today being a size 13 lol and I couldn't believe the difference."
"It really goes to show you have to do the photos, even if you don't post them on here. We look at our bodies every day and are so critical of it that we don't actually see the changes its going through."
"Don't rely on the scales, they never show the true picture."
Jeanette Stubbins loves the inspiration from progress photos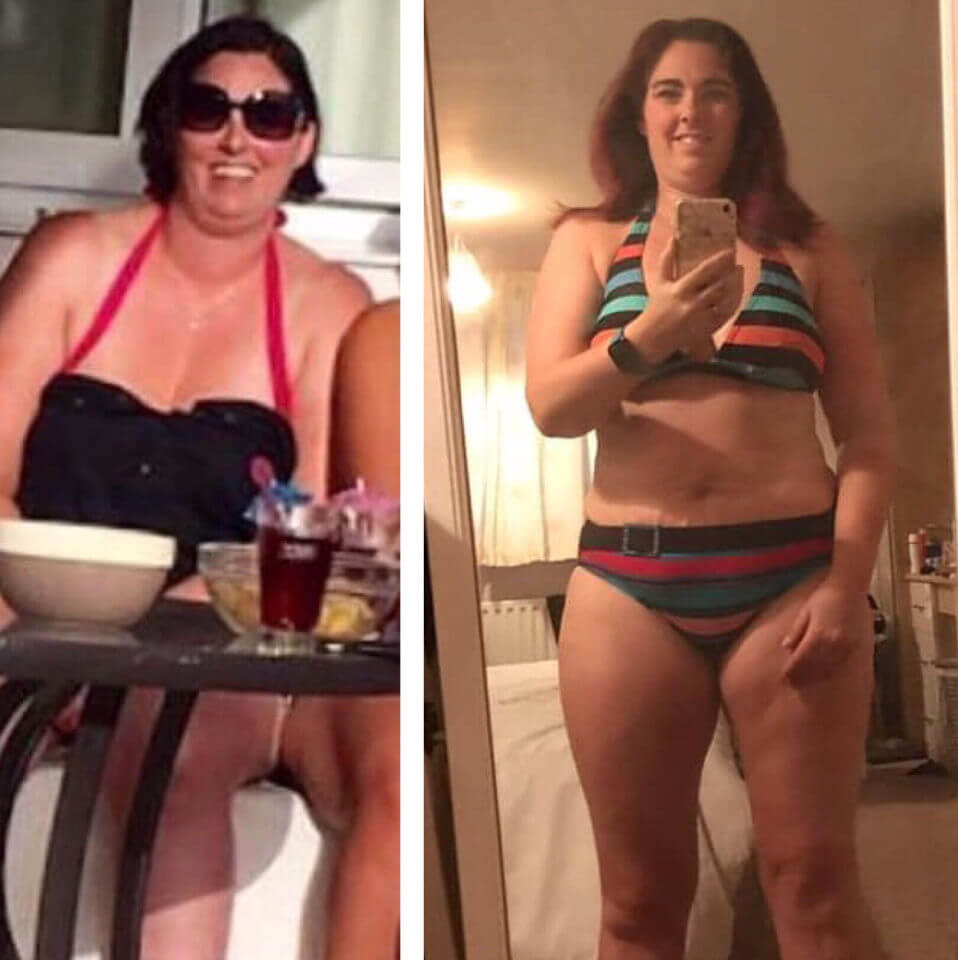 Jeanette says, "I didn't recognise myself, I knew it was time to take action."
"The Healthy Mummy has been so good for me. Progress photos are so inspirational. I know that they are not always flattering but they really show how far you've come."
Sar McGowan is happy and content with herself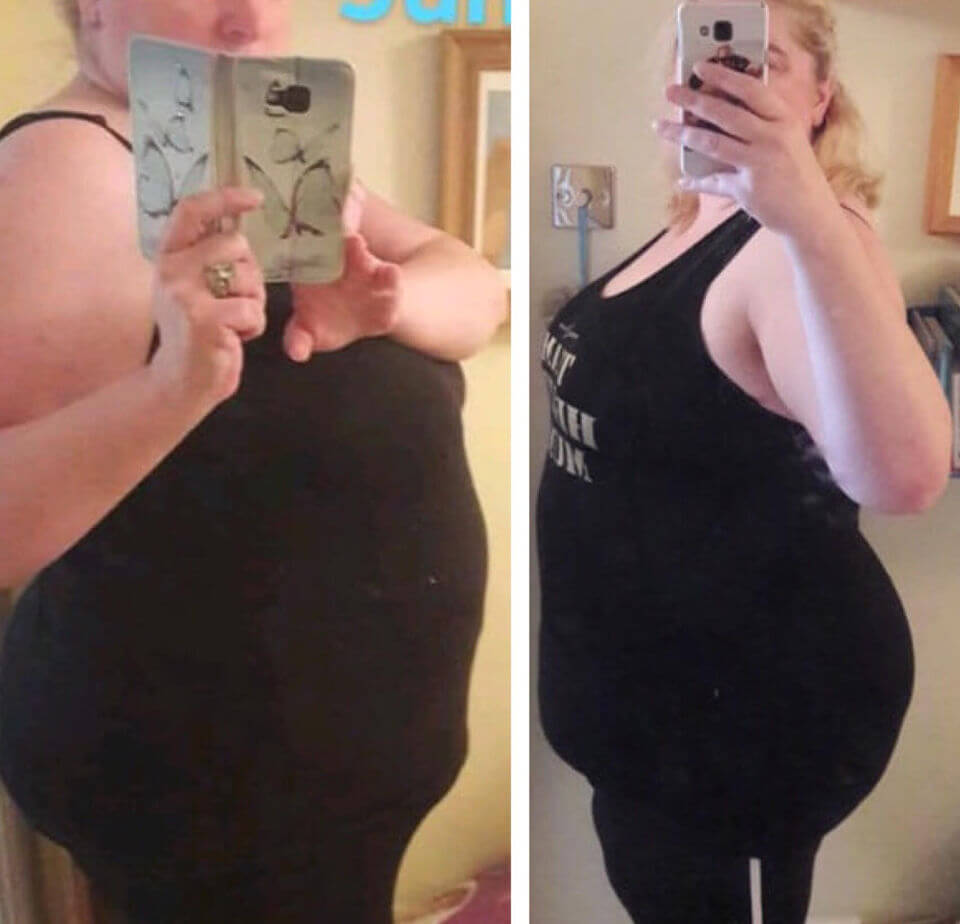 Sar says, "I wish I'd known 7 months ago just before I joined The Healthy Mummy that I could be as happy and content as I am now – back then I was at rock bottom, the heaviest I have ever been with no confidence, self respect or self worth, hiding away from the world as I felt so ashamed of who I had become."
"The pic on the left below is me on my first day of joining The Healthy Mummy. I was excited to be trying something to sort myself out, but so scared I would end up failing and let myself and my family down again."
"I wish I hadn't wasted so much energy on being worried and anxious. I haven't looked back since joining The Healthy Mummy and starting my first 28 Day Weight Loss Challenge 6 months ago." 
"I have lost two stone, three dresses and so many inches but it is the gains that have made the biggest impact on my life and my family."
"I am now more confident than I ever thought I could be, I have a healthy relationship with food and myself for the first time in my life."
"I feel content with who I am becoming, not just for me for my children and hubby. I join in when out with the kids instead of sitting on the sidelines trying to blend into the background."
"The biggest impact for me was when I looked in the mirror and realised I saw me staring back at me for the first time in years instead of the person that I had become who I didn't recognise. That was a huge moment for me and an emotional one. I didn't really believe I would see 'me' again staring back before The Healthy Mummy." 
"All of my achievements have been thanks to the The Healthy Mummy lifestyle that not only makes you physically the healthiest you can be but also helps your soul and mental health to be the healthiest you can be."
"Above all, the support group and the angels within it have had the biggest, most positive impact on my life…I struggle to put into words how much they have done to help me on my journey back to me. The support, kindness, encouragement, inspiration that you receive from everyone is overwhelming and beautiful – it truly is the most positive and amazing group of women I have ever known and I am honoured to be a part of it." 
"I have a long way to go still until I reach my end goals but I feel like I am already winning and I am excited to see where my journey takes me!"
"Thank you all of you for helping this mummy learn to be happy and to find herself again so she could be the best she could be!"
Fiona Singleton is amazed how the weight just fell off her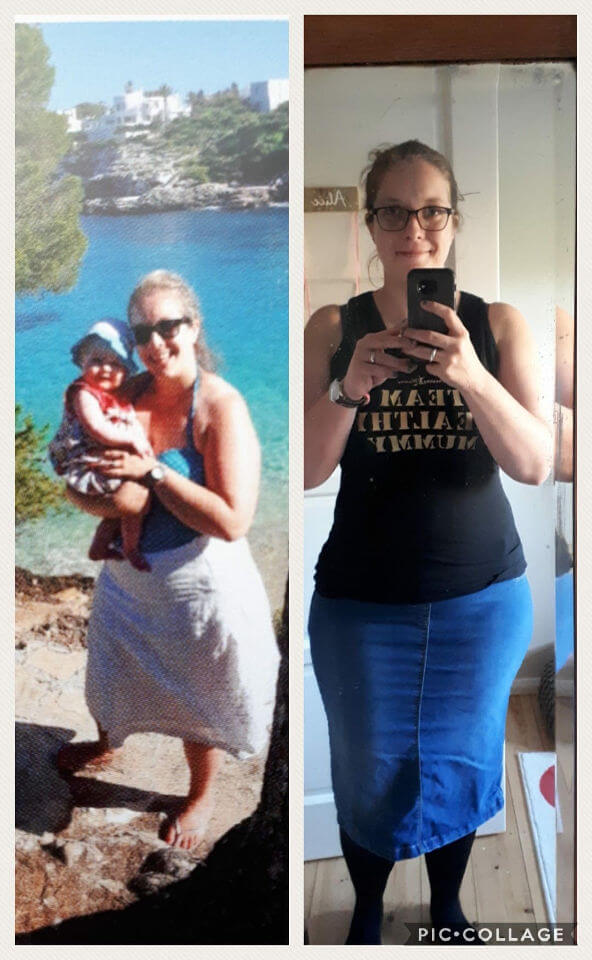 Fiona says, "The first photo is from our family holiday over a year ago. I was still breastfeeding so not even at my "heaviest". Then I went back to work, struggled with the new routine and the winter nights and put on more weight."
"Six months ago I found The Healthy Mummy. I was amazed at how the first months weight just fell off me."
"Since then I've had steady maintainable losses. I've gone from 16st 10lbs to 14st 12lbs so far, in 6 months."
"The last time I was this weight was roughly 12 years ago when I was at university!"
"Then to add to this, today at my yearly asthma review the nurse was so impressed with my weight loss."
"Still more to go but I actually believe it's achievable as The Healthy Mummy just fits in with my life!" 
Thank you, ladies and well done on your weight loss! And remember everybody – take progress photos!
More on the 28 Day Weight Loss Challenge
Our 28 Day Weight Loss Challenge is a family-friendly, breastfeeding-safe program designed FOR MUMS to help them tackle their health and lose the baby weight. 
Every week you are given a different meal plan to follow and each month we add NEW recipes to our Challenge Recipe Hub. That way, you'll never get bored and stay on weight loss track while digging into healthy, yummy recipes. Some mums also choose to add in Healthy Mummy Smoothies to their meal plans, but it's totally up to you.
Learn more about our 28 Day Weight Loss Challenge HERE.
If you would like a sneak peek at some of the meals, snacks and exercises from the 28 Day Weight Loss Challenge you can download our FREE recipe packs HERE.