During winter, the idea of hibernating under the duvet is PRETTY appealing. And for dinner, you'll probably think of tucking into a big bowl of pasta or something stodgy to warm you up.
But if you're trying to lose pregnancy weight, you've probably heard things like 'carbs are the enemy!' and 'no carbs after 3pm!'
Well here at the 28 Day Weight Loss Challenge HQ we want to let you know that you CAN have carbs on a healthy weight loss plan. And you should!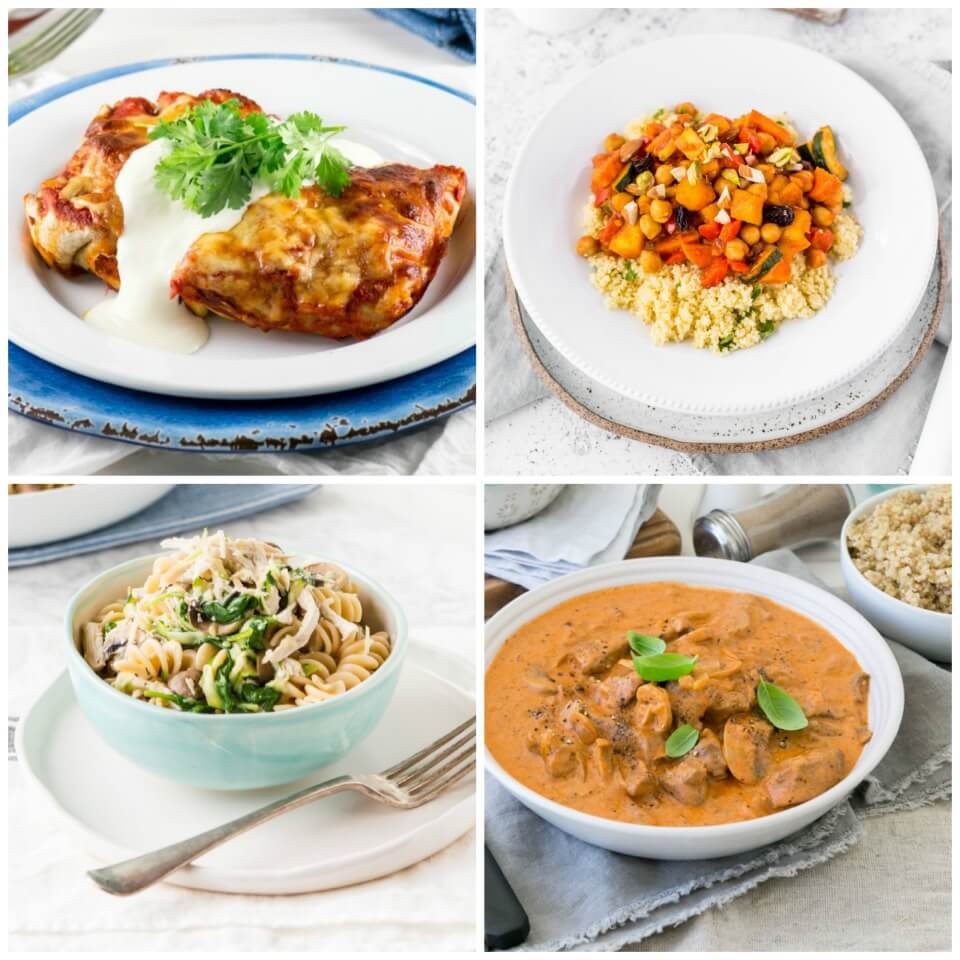 As part of the 28 Day Weight Loss Challenge you'll find recipes that include carbalicious goodies such as pasta, rice, oats, quinoa, potatoes and more.
Why? Because we know that good quality carbohydrates are an important part of a balanced diet. AND we know that they help keep you satisfied for longer, AND they'll help you stick to the meal plans offered on the 28 Day Weight Loss Challenge.
It's the no deprivation way of losing weight!
So if you are a carb-lover like we are here at the Healthy Mummy, feast your eyes on some of the delights from the 28 Day Weight Loss Challenge below.
5 recipes for carb-lovers that will help you lose weight
You'll notice that the 28 Day Weight Loss Challenge recipes all recommend choosing the wholemeal or wholegrain version of pasta, rice, wraps etc.
And the portions are not too big, so you won't get the belly bloat that some people feel after a carb-rich meal. So what are you waiting for? Dive in!
Chicken Enchiladas using wholemeal wraps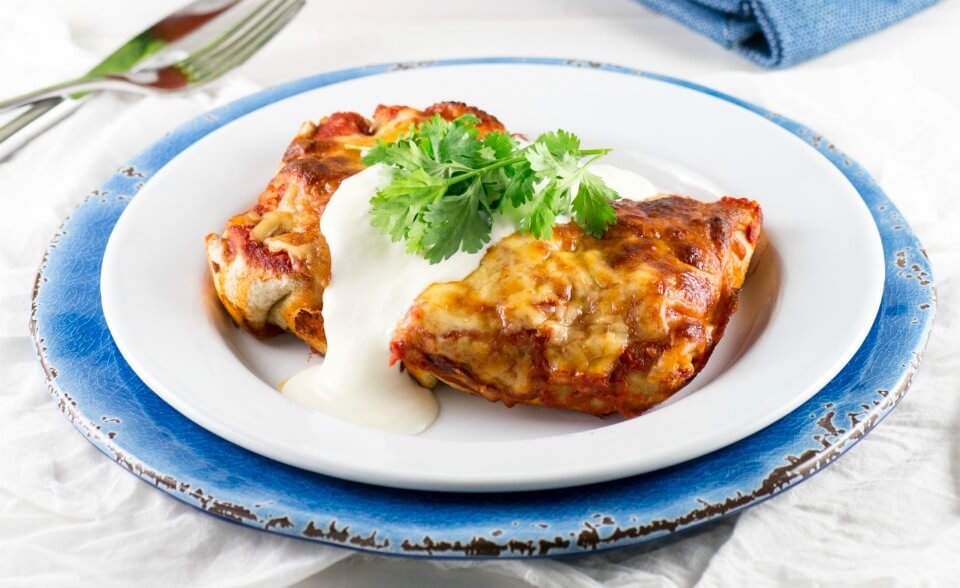 448 calories
Assemble everything ahead of time and place in the oven 40 minutes before you're ready to serve dinner. This recipe is available here.
Creamy Chicken and Mushroom Pasta using wholemeal pasta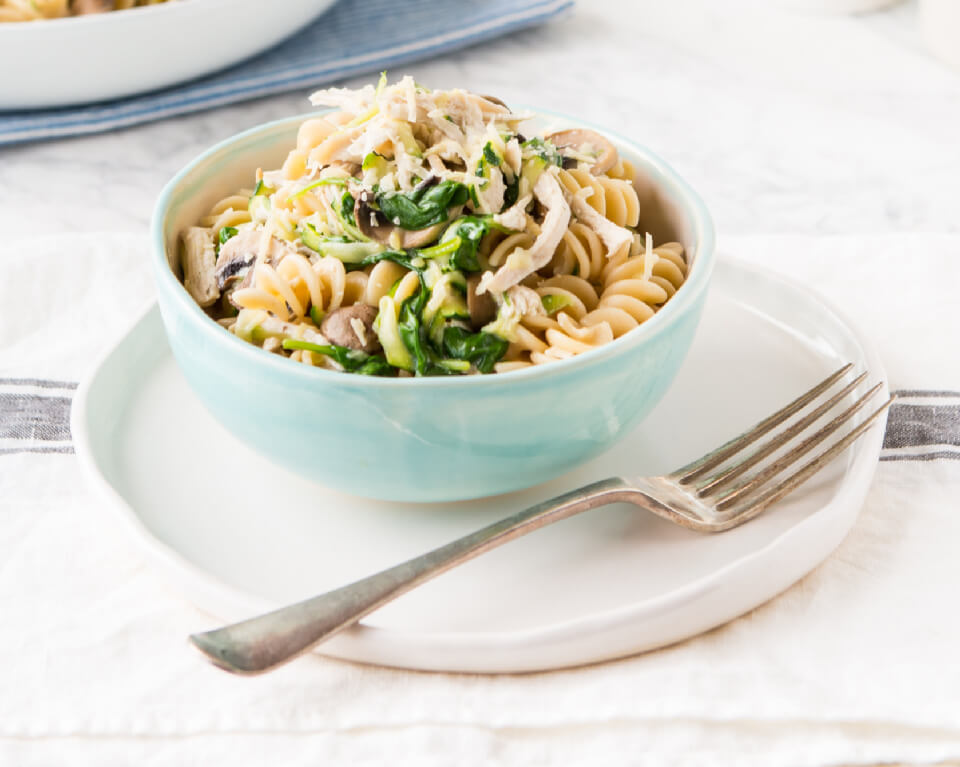 406 calories
The creaminess of this dish makes it a family favourite. It also reheats well for a quick lunch the next day (if there's any left!). Have this 28 Day Weight Loss Challenge recipe on the table in just 15 minutes.
Ingredients (Makes 4 servings)
300 grams wholemeal pasta, any shape
200 grams chicken breast fillets
2 tsp extra virgin olive oil (10 mls)
1 clove garlic, crushed (3 grams)
1 cup mushrooms, chopped (75 grams)
1 courgette, grated (110 grams)
3/4 cup reduced-fat milk of choice (187.5 mls)
2 tsp plain wholemeal flour (5 grams)
1/4 cup grated Parmesan (36 grams)
1 cup baby leaf spinach (30 grams)
Method
Cook pasta according to packet directions. Slice the chicken.
Heat oil in a large frying pan over medium heat. Add the garlic, chicken and mushrooms and cook for 2 minutes. Add the courgette and cook a further 2 minutes.
Whisk flour into milk and gradually pour into the pan, stirring well. Add Parmesan and simmer for 3-4 minutes until sauce has thickened.
Add spinach and cook for another minute until spinach has wilted. Add drained pasta to sauce and toss to combine.
Divide between four bowls to serve.
Spanish Rice with Chorizo using brown rice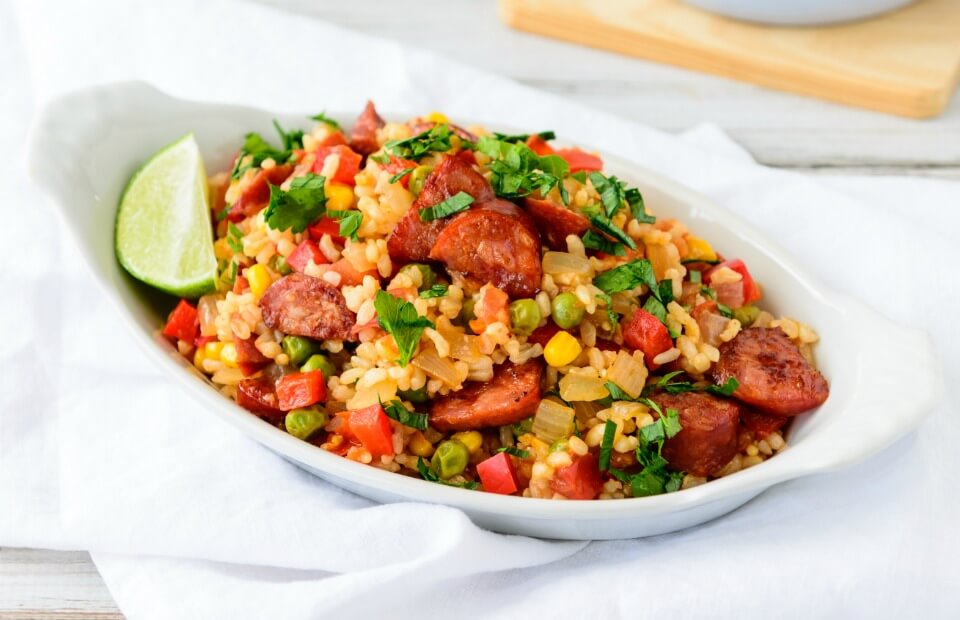 409 calories
This simple recipe is so easy to throw together, while the paprika and chorizo give it the Spanish flavour. The best part is, you can make it with leftover rice in minutes. Get the recipe here.
Moroccan Style Vegetables with Mint Couscous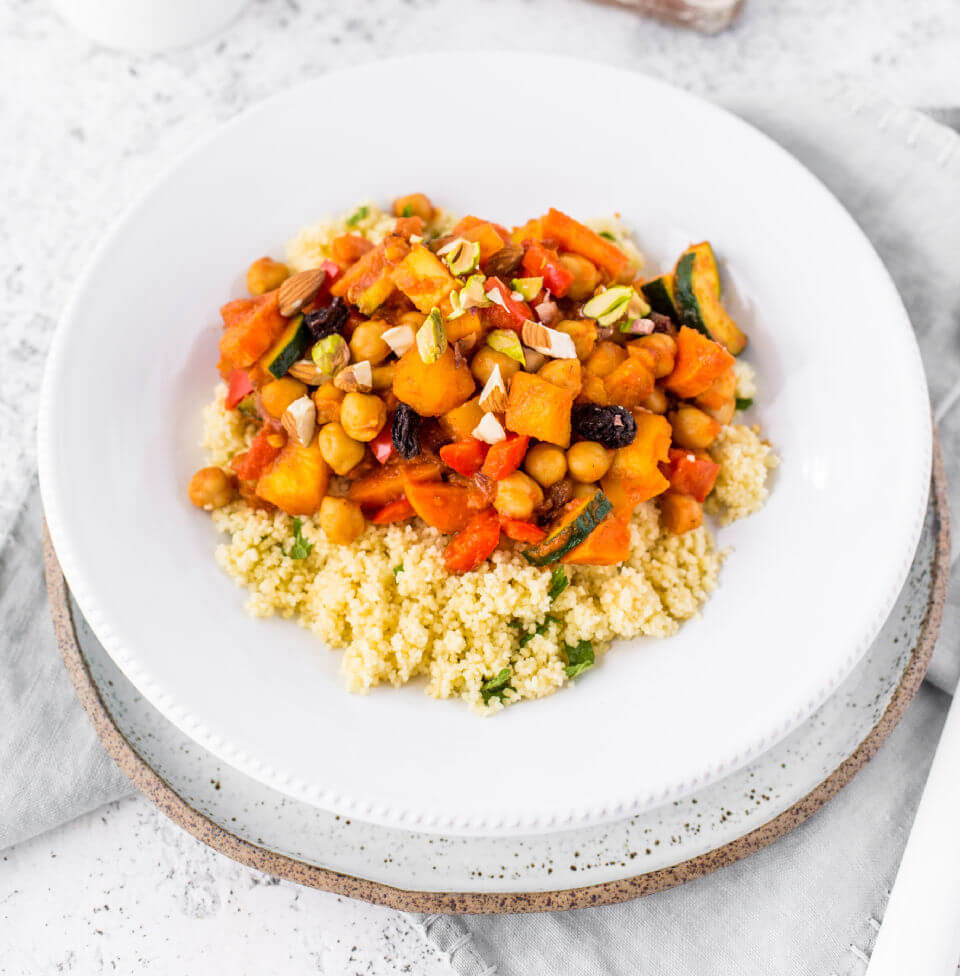 408 calories
A delicious vegetarian main meal with lots of flavour but very easy to put together.  This recipe is available to members of the 28 Day Weight Loss Challenge.
Beef Stroganoff with Mushrooms & Quinoa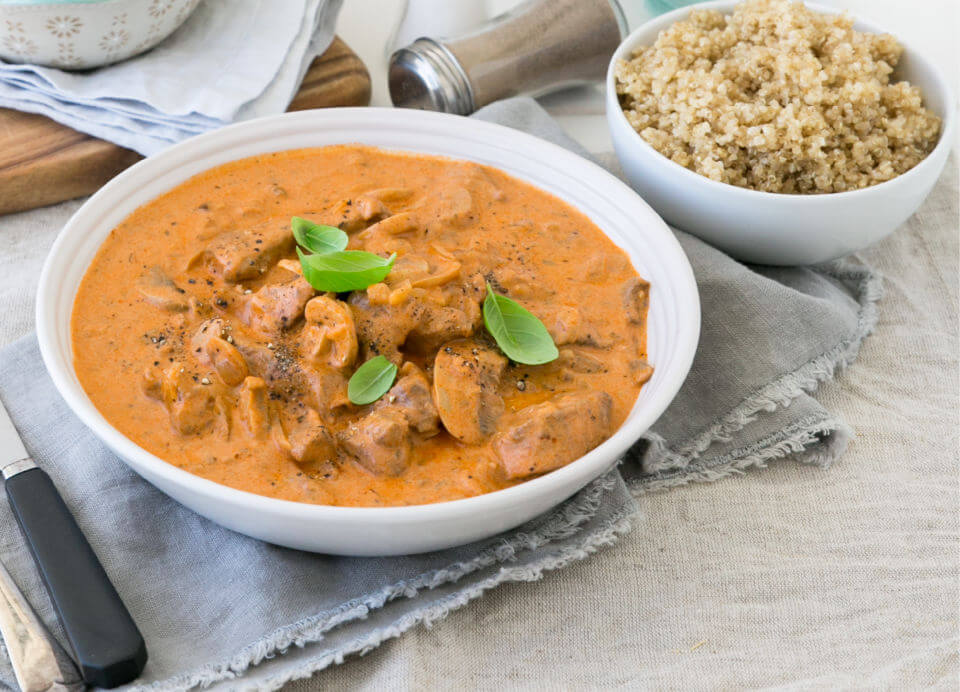 438 calories
You can also make this 28 Day Weight Loss Challenge recipe with chicken for something different. Members can access this recipe in the challenge hub.
Want to lose weight in a healthy way?
If you are interested in kickstarting your weight loss and want to improve your energy – not to mention – improve your overall health and wellbeing – our 28 Day Weight Loss Challenge is an awesome program to check out. 
Our 28 Day Weight Loss Challenge includes:
28 days of at home exercise routines (no gym needed) – with video instruction
Customisable and breastfeeding friendly meal plans (including a 7 day cleanse)
Time-efficient exercises for busy mums – under 30 mins
Challenge combines Pilates exercises with interval and circuit training (HIIT)
Suitable for basic to advanced fitness levels
Home to thousands of EASY-TO-MAKE recipes!
To learn more about our 28 Day Weight Loss Challenge click on the link.