Hi – My name is Rhian and as well as being a busy mum of two young boys – I am also the founder of The Healthy Mummy which I am super proud to say is transforming the lives of millions of mums all over the world.
I thought I would show you how EASY it is to make healthy and great value meals the whole family will love – something we are famous for at The Healthy Mummy!
The Healthy Mummy is a health and weight loss program created for busy mums and we started back in 2010 when I was pregnant and wanted to create a supportive and holistic program for mums (you can read my story here) and now millions of mums use our famous 28 Day Weight Loss Challenge and Healthy Mummy Smoothies every day.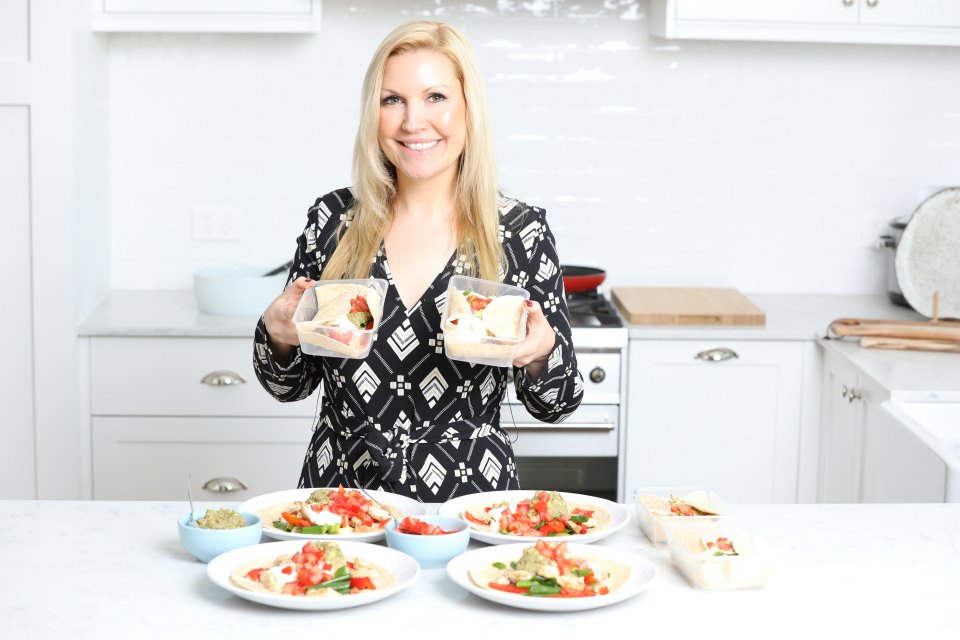 My meal prep day
One of the BIG things I like to do and show mums is that healthy eating doesn't need to be expensive!
So today, I did a little bit of meal prep! Well quite a lot actually! I made 40 serves of weeknight meals for a family of four for under £1.50 per serve.
How you can feed your family 40 weeknight meals for under £1.50 per serve
The Healthy Mummy meals are designed with a holistic approach, with no food group being cut out, everything in moderation and most importantly, delicious!
This took me three hours to do which means I don't have to cook again for the week and because I'm cooking in bulk, I'm saving so much money – so although it is hard work  – it is 100% worth it!
The finer details
I made eight meals, enough for a family of four for two weeks
I spent just over £46 on groceries
I made 40 serves of dinners PLUS leftovers
All food is healthy and yummy and has all the macronutrients you need
What I made
All the food is from the 28 Day Weight Loss Challenge and you can see over 4,000 recipes in the challenge when you join.
A few of the recipes are on the blog already so you can check them out straight away (the links are below).
Courgette & Bacon Slice (71p per serve)
Dinner plus leftovers – great for lunchboxes or another meal
Ingredients:
cooking oil spray
6 free-range eggs, whisked (300 grams)
1/2 cup reduced-fat Greek natural yogurt (130 grams)
1/2 cup reduced-fat milk of choice (125 mls)
1/2 cup wholemeal self-raising flour (60 grams)
1/2 cup reduced-fat cheddar cheese, grated (120 grams)
2 small courgettes, grated (220 grams)
1 brown onion, finely diced (100 grams)
1 medium carrot, grated (70 grams)
4 bacon rashers, lean & trimmed, diced (108 grams)
Method:
Preheat oven to 180C / gas mark 4 and spray a large baking dish with cooking oil.
In a large mixing bowl, combine whisked eggs, yogurt and milk. Add grated cheese, courgette, onion, carrot and chopped bacon. Fold in flour. Stir to combine.
Transfer to the prepared dish and bake for approx. 40-45 minutes (or until golden and a skewer can be removed from the centre clean).
Serve with a fresh salad or steamed veggies.
Beef & Vegetable Stir Fry (£1.50 per serve)
Dinner and leftovers for lunch or another meal
Honey Soy Chicken & Salad (£1.07 per serve)
Dinner & leftovers for lunch or freeze the chicken component for another dinner
Chicken Fajitas (£1.40 per serve)
Dinner plus leftover chicken can be used in lunchboxes or freeze for another dinner.
Ingredients:
400 grams chicken breast fillets
1 tbsp lemon juice (15 mls)
1 tsp dried oregano (1 grams)
1 tbsp extra virgin olive oil (15 mls)
cooking oil spray
4 spring onions, sliced (60 grams)
1 red pepper, sliced (100 grams)
1 green pepper, sliced (100 grams)
4 wholemeal tortillas (240 grams)
1/3 cup reduced-fat Greek natural yogurt (87 grams)
1 medium avocado, mashed (120 grams)
2 tomatoes, chopped (200 grams)
Method:
Slice chicken into strips. Whisk together lemon juice, oregano and extra virgin olive oil and place in a zip lock bag with chicken strips and refrigerate for 1 hour.
Lightly spray a non-stick frying pan with cooking oil over a medium heat. Add chicken and cook for about 3-4 minutes before adding the red and green peppers and spring onions and cook until the vegetables are soft and the chicken is cooked through.
Serve tortilla topped with chicken and veggie mix, a dollop of yogurt, a dollop of mashed avocado and tomato pieces. Wrap and enjoy.
Chicken & Corn Nuggets (91p per serve)
Dinner plus extra nuggets for lunchboxes or freeze for another dinner.
What are macronutrients?
Healthy Mummy nutritionist, Cheree says if you're following a weight loss meal plan and making sure you are eating the right amount of calories for your needs but are still not getting results, then looking at your macro split may be the answer for you!
"Macronutrients are fats, carbohydrates and protein. When you adjust the percentages of each group that you consume across the day, you can target specific goals like weight loss, weight management, or muscle gain.
Looking at the macronutrient balance for health and weight loss a higher protein intake may result in overall body fat loss for some people. Higher fats can help reduce hunger, provide fuel for energy, help brain function and keep hormones balanced.
However, higher fat in other people can result in slowed weight loss, impaired digestion, and if you are not looking at the types of fats you are eating, you can consume too many saturated fats and increase your risk of heart disease.
The carbohydrate percentage of the split will also vary depending on what your body responds to as a fuel source. If you are doing lots of exercise, then leaning towards a higher carb split, may give you better results. Carbs also provide you with fibre, which is essential for health as it regulates digestion, prevents constipation, and balances blood sugar. If you have a low carb split, you might not consume enough fibre.
A lot of people recommend a macro split of 40% carbs, 30% protein and 30% fat, however, for weight loss the split can vary depending on the person, and it should look more like carbs 10-30%, protein 25-50%, fat 25-40%.
Keep in mind that this balance is achieved across the day, for example, if you eat breakfast with higher carbs, then eat a lunch with more protein," said Cheree.
My tips on how to save MORE money when meal prepping
Prepare your vegetables and marinate meats the night before. This will intensify the flavours and make the meat more tender.

Feel free to skip searing off your meats before placing them in your slow cooker. It really doesn't make much difference to the texture of the meat if you're slow cooking. The same goes for onions. Just cut them smaller beforehand.

Greens are best added in the last 30 minutes of cooking, otherwise they tend to lose their colour and go very limp.

As soon as you have finished slow cooking a meal, portion it into small, airtight containers, and cool in the fridge. Once cool, place in freezer for a later date.

Have appropriate storage containers and label what you've prepared.
Results from mums using The Healthy Mummy Plans
Chloe has lost 6 stone
Chloe says, "I was 19 stone, am gluten intolerant and was breastfeeding so The Healthy Mummy was exactly what I needed!"
She went on to put her health as a number one priority and went on to lose 6 stone in the next 15 months all while continuing to breastfeed.
"I then fell pregnant with baby number 3 and had my first Healthy Mummy pregnancy. I avoided a big weight gain unlike my two previous pregnancies and am coping with the sleepless nights so so much better -thank you!"

Ebannie Daly
New mum Ebannie from Horsham, Victoria says "I joined the 28 Day Weight Loss Challenge and enjoy doing the exercises. I'm finding the food in the 28 Day Weight Loss Challenges super yummy". Although Ebannie lost a whopping 8 stone she prefers not to take much notice to the scales anymore. The clothes clothes speak for themselves. She has dropped from a size 24 to a size 8 top.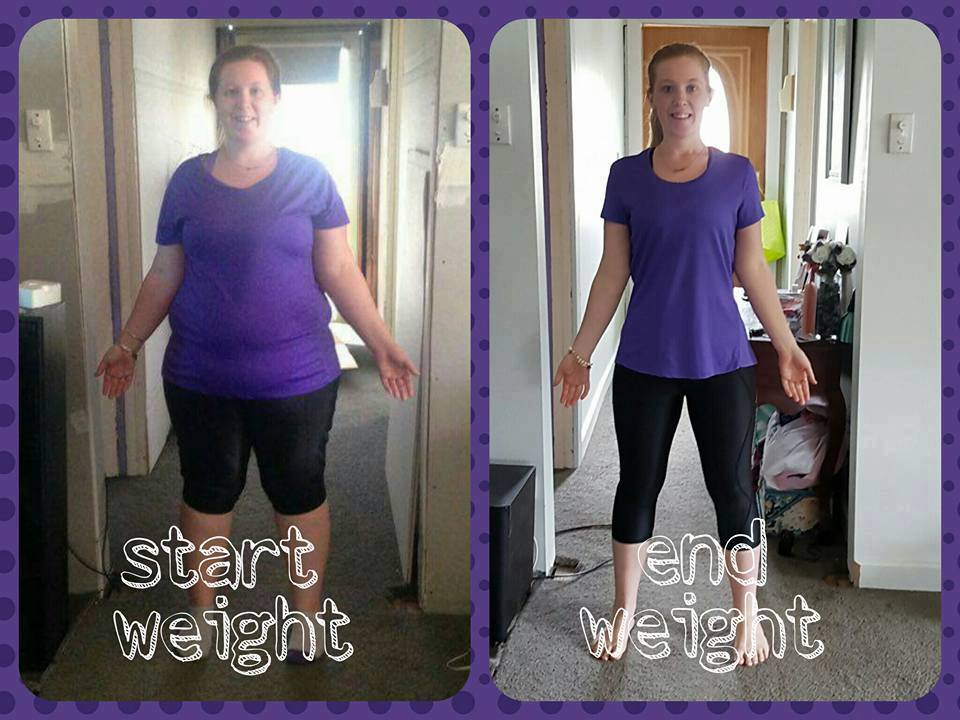 Bethany Harrison
A self confessed couch potato who couldn't stand up for longer than 10 minutes without pain in her legs and feet is now training for 50km marathons. Bethany has lost 9 stone (almost HALF her weight) dropping from 18 stone to 10 stone with the Healthy Mummy 28 Day Weight Loss Challenges. Bethany says "This is the only program I have come across that cares for the person as a whole".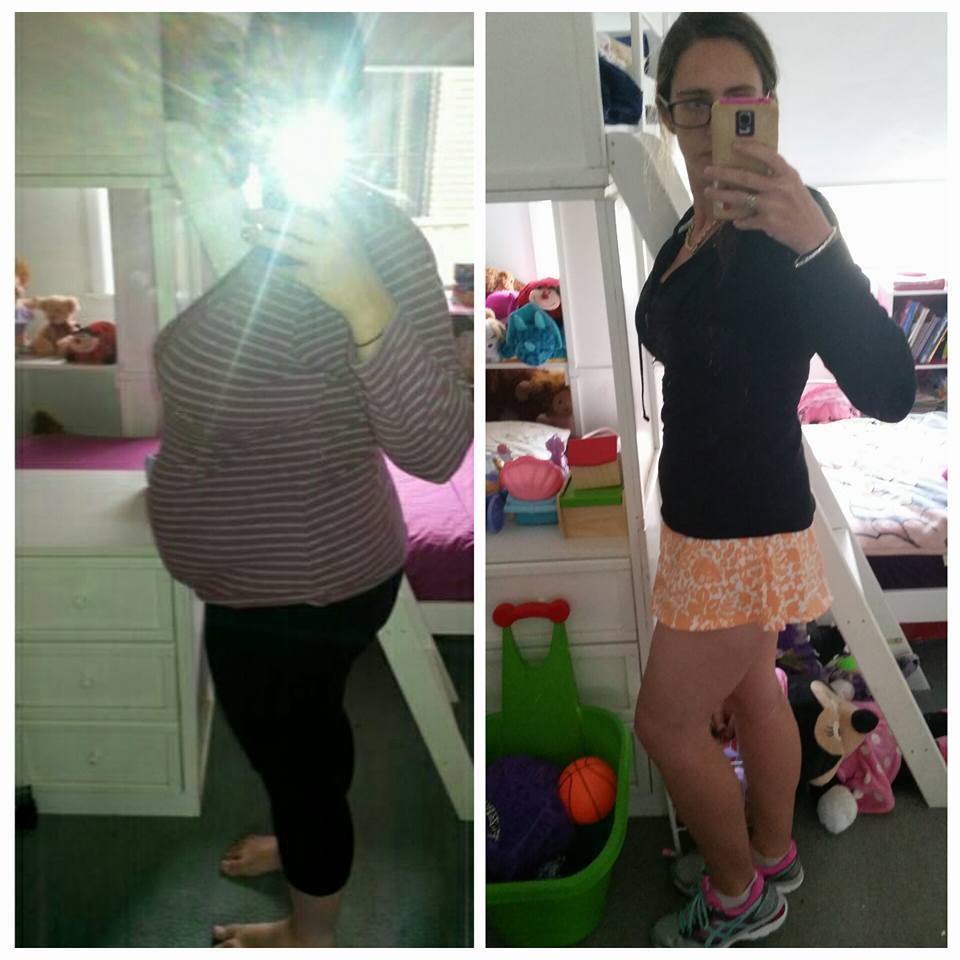 Renee Harrison
Mum Renee from Central Queensland has overcome depression and anxiety stemming from an abusive relationship and transformed her body losing 8 stone.  She says "previously I lived day by day, but now I embrace life as it were my last day on the earth!".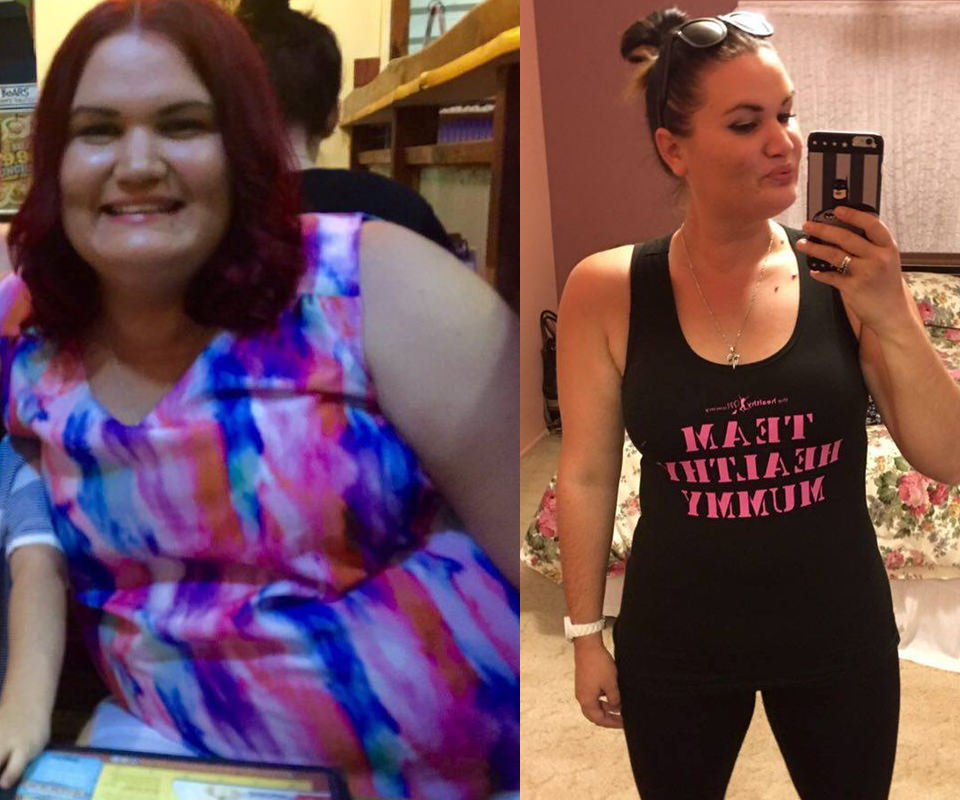 Jo Hart
Jo Hart not only rocks her new bikini, she has lost 6 stone with The Healthy Mummy 28 Day Weight Loss Challenges. She says "I am proud of the change I have made for not only me but for my family too".
No pressure
We are absolutely not here to put pressure on mums to lose weight. We instead offer support, advice, plans and products to help mums lose weight when they are 100% physically and emotionally ready to do so – which could be a few months post birth or a few years. Everyone is an individual and we treat them as such.
The aim of the The Healthy Mummy focus is to educate mums how they can make small changes to their life to become healthier and also show them how they can change their life to a healthy one for them and their family.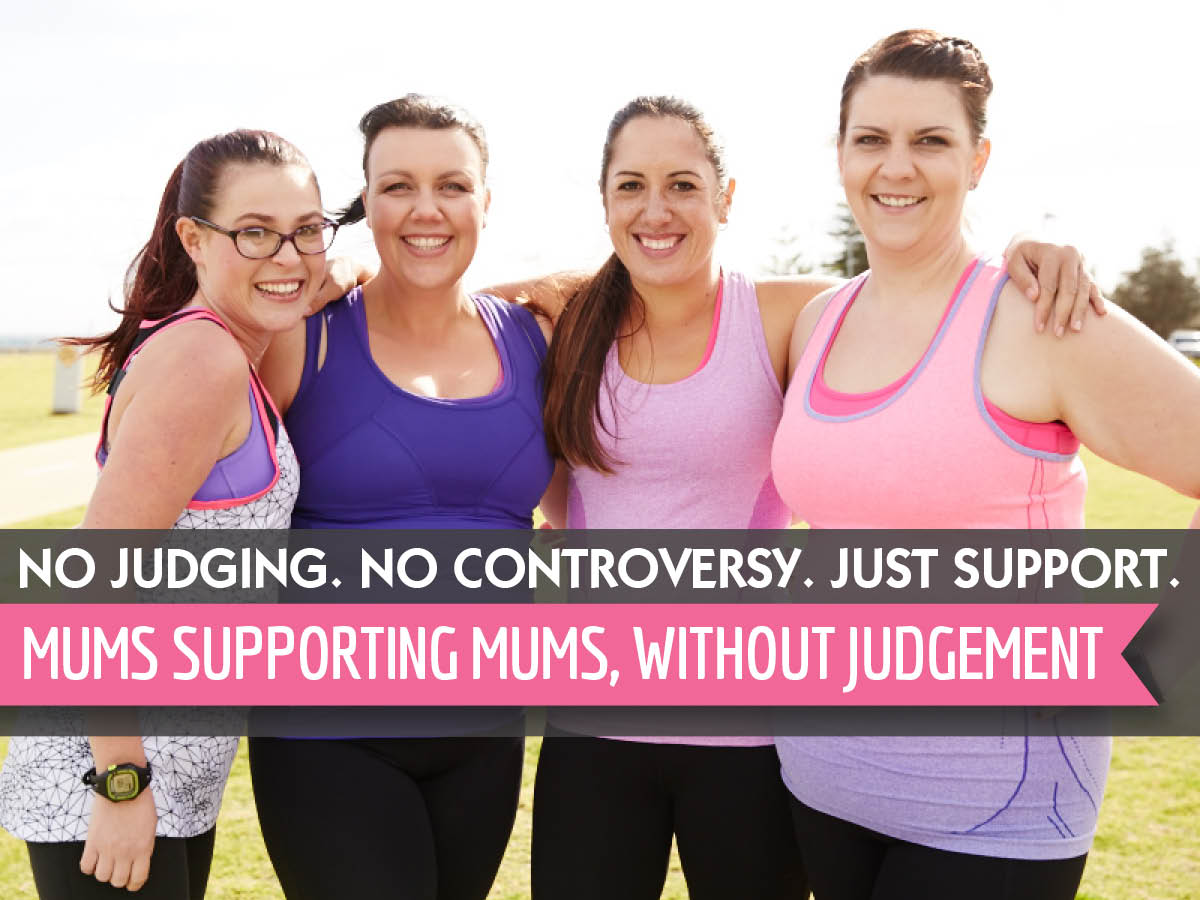 It is not about making extreme changes to your life or about becoming a health and fitness fanatic and is instead about making health fun and part of your life as well as giving useful healthy life information across all aspects of a mums life
The Healthy Mummy has an expert team of nutritionist and exercise specialists who create all the products, meal and exercise plans and
Find out More About the 28 Day Weight Loss Challenge Here
More on the 28 Day Weight Loss Challenge
Want access to thousands and thousands MORE healthy recipes just like these? Then be sure to check out our 28 Day Weight Loss Challenge.
Our 28 Day Weight Loss Challenge is a family-friendly, breastfeeding-safe program designed FOR MUMS to help them tackle their health and lose the baby weight. 
Every week you are given a different meal plan to follow and each month we add NEW recipes to our Challenge Recipe Hub. That way, you'll never get bored and stay on weight loss track while digging into healthy, yummy recipes.
Learn more about our 28 Day Weight Loss Challenge HERE.