Hi I'm Rhian and I am the founder of the Healthy Mummy, the mums-only weight loss company that has helped thousands of mums all over the world lose weight.
As a busy working mum with two little boys, I am often exhausted by the end of the day. But that doesn't stop my kids asking 'what's for dinner, Mum?' – so I always plan ahead, using recipes from the 28 Day Weight Loss Challenge.
These are my 8 go-to recipes for those nights when I'm just too tired to cook:
When I'm tired I don't want to be standing in the kitchen stirring/mixing/grating/sautéing. I want something quick and easy that the whole family can enjoy together. These recipes from the 28 Day Weight Loss Challenge fit the bill perfectly!
1. Pitta pizza
I always keep pitta bread in the freezer to make a quick pizza for dinner. The boys love helping me with this, and we all just add our own toppings. There are loads of pitta pizza recipes in the 28 Day Weight Loss Challenge recipe hub.
2. Picnic Plate
My family and I often like just making a big platter of tasty nibbles to eat for dinner. Sometimes we even pull out the picnic rug and eat it in the garden!
Just grab some hummus, carrot and red pepper sticks, olives, fried haloumi and some nice prosciutto or ham. I was inspired by the Mediterranean Tasting Plate, which you can find in the 28 Day Weight Loss Challenge.
3. Chicken Pesto Pasta Salad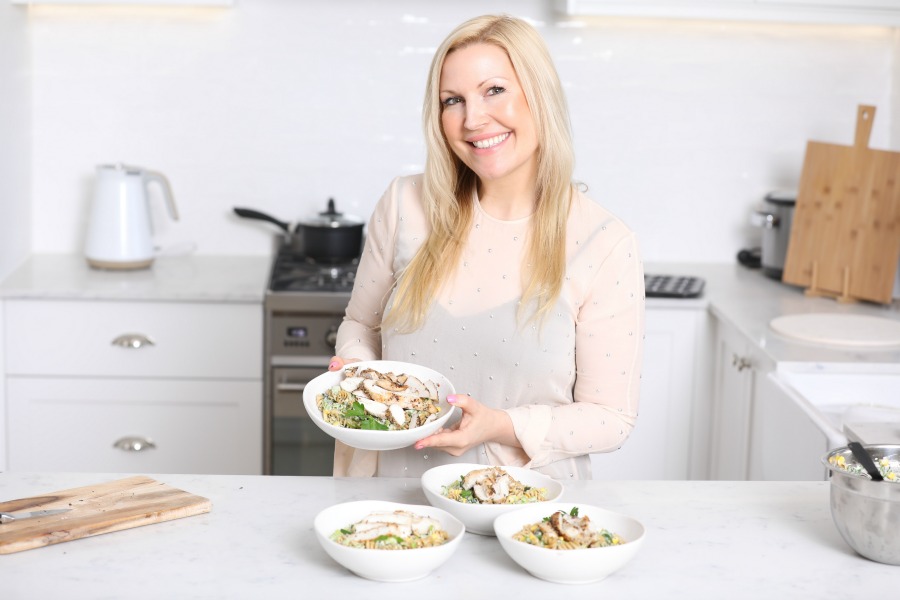 Now I cheat a little bit with this recipe and use leftover cooked chicken to make this pasta salad EVEN FASTER. I often use whatever veg I have on hand (chopped up super small) to bulk it out.
4. Homemade Burgers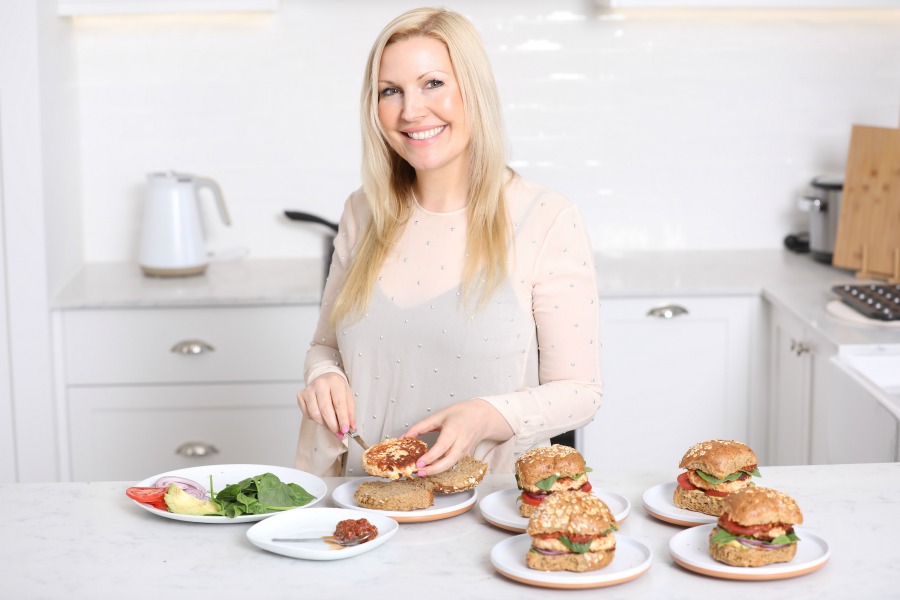 When I bring home turkey mince (or pork, beef or lamb!) I turn it into burger patties and then freeze them (with baking paper between each one) as we are MASSIVE burger fans.
Then I can whip them out in the morning to defrost in the fridge, pick up some fresh rolls and serve homemade burgers for dinner. Better than any take-away and SO MUCH better for you.
Dragon Sauce Turkey Burger recipe here
5. Slow cooker ragu for pasta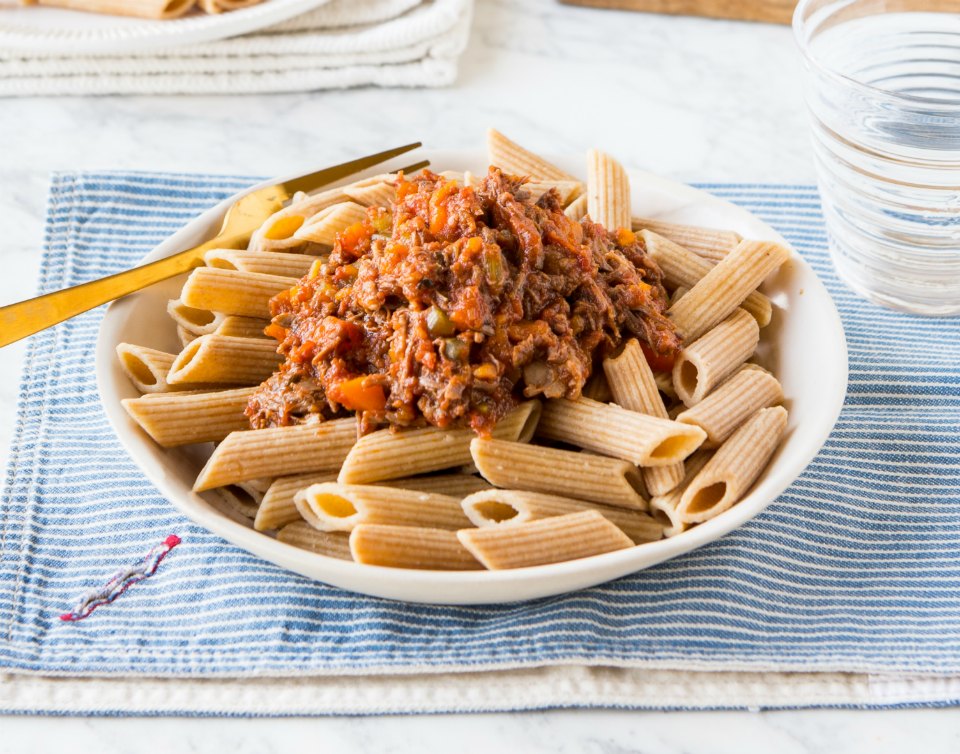 This amazing recipe allows you to just throw all the ingredients in the slow cooker and come home to a lovely dinner. All you need to do then is cook some pasta.
Slow cooker ragu for pasta recipe here
6. San Choy Bau
I keep the already-prepared mince filling for this in the freezer at all times, because all four of us LOVE it for dinner about once a fortnight.
It's then just a matter of defrosting it in the fridge throughout the day, heating it up, and popping everything in the lettuce wraps (for the adults) and wraps (for the kids).
7. Honey Soy Chicken Veggie Noodle Bowls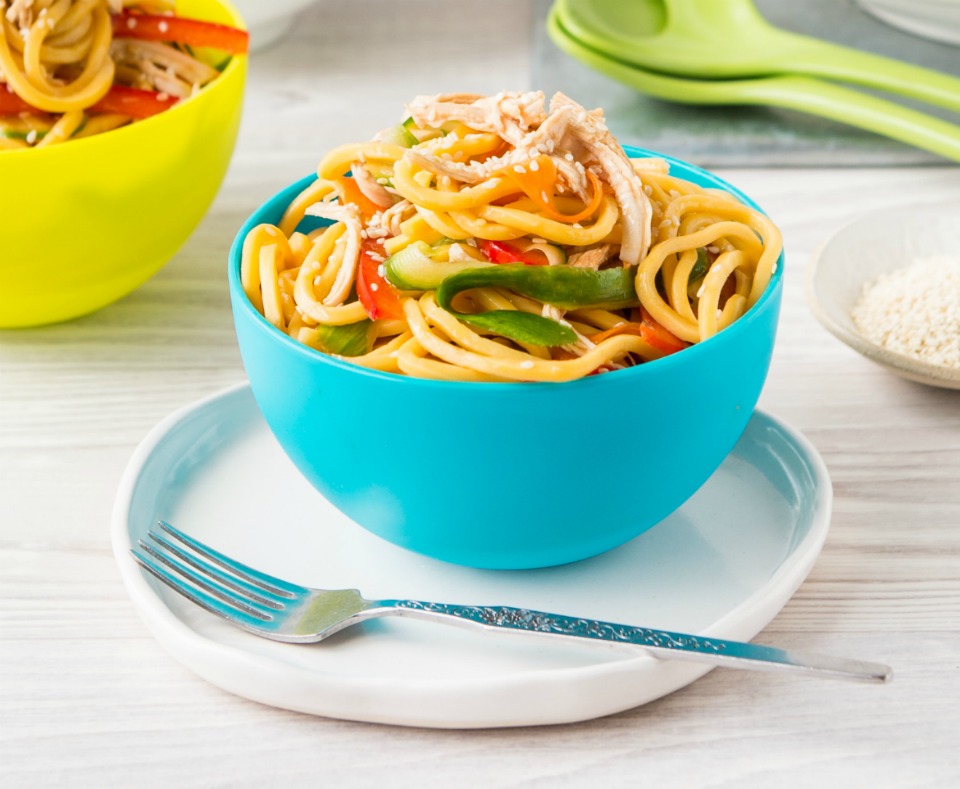 My boys love noodles, and this recipe makes the most of leftover cooked chicken (so you don't need to do any actual cooking!).
Just chop up the veggies and chicken, heat the noodles as per the packet directions, and bring it all together.
This recipe is available in the 28 Day Weight Loss Challenge recipe hub
8. Lamb Tagine with Pistachios and Chickpeas

We all love lamb, so I'll often make this using lamb shoulder in the slow cooker (so I'm not stuck in the kitchen!). The slow cooker is the best thing to use when you are tired and busy!
Access thousands of recipes on the 28 Day Weight Loss Challenge!
Our 28 Day Weight Loss Challenge is a family-friendly, breastfeeding-safe program designed FOR MUMS to help them tackle their health and lose the baby weight. 
Every week you are given a different meal plan to follow and each month we add new recipes to our Challenge Recipe Hub. That way, you'll never get bored and stay on weight loss track while digging into healthy, yummy recipes.
Learn more about our 28 Day Weight Loss Challenge HERE