Is there anything better than coming home from work/errands/school drop off to the smell of dinner waiting for you?
This kind of heaven can be yours if you plan ahead and pull out your trusty slow cooker to do all the hard work for you, using recipes from the 28 Day Weight Loss Challenge.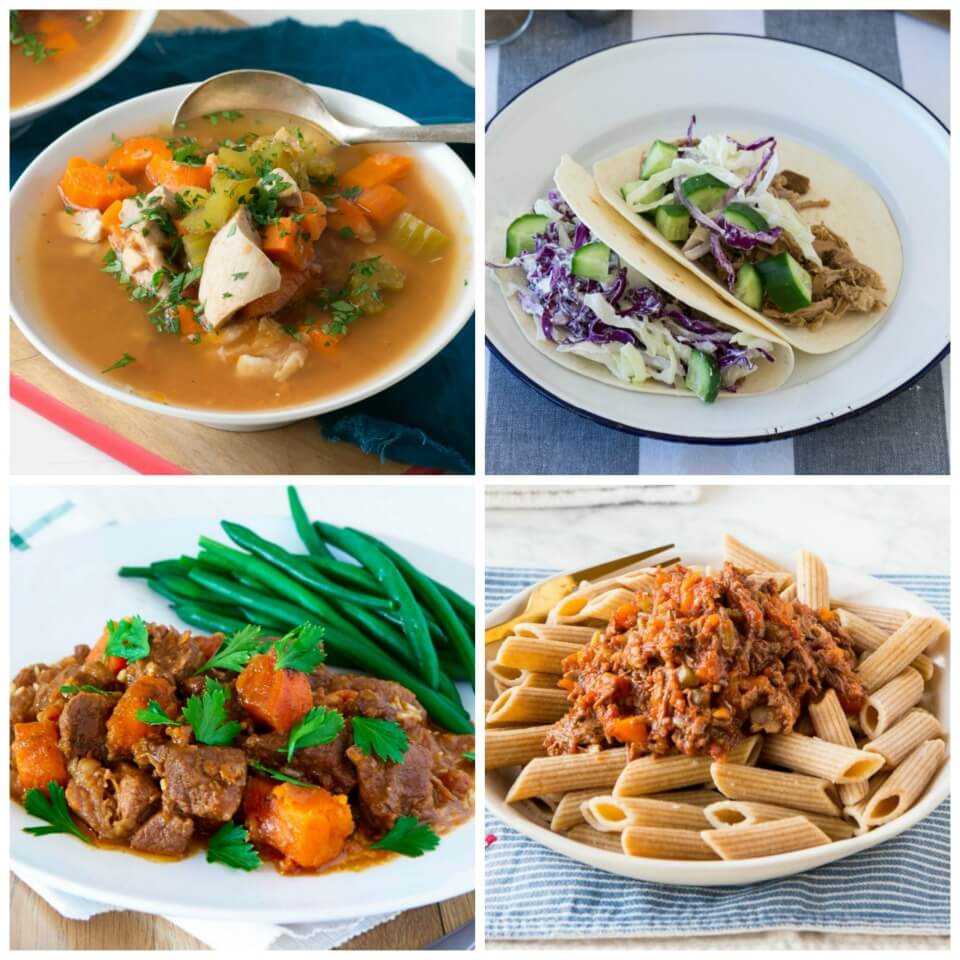 Slow cooking has many benefits, besides being able to walk away and get on with your day (which we think is pretty great).
Slow cooked meals from the 28 Day Weight Loss Challenge tend to be budget and family friendly, easy to prepare and clean up from and are loaded with nutrients that are sometimes lost when cooking quickly, using high temperatures.
Once you've tried a few slow cooking recipes, you'll never look back and can stock the freezer with a range of healthy meals.
That way you won't be tempted to call for a take away, as you'll have soups, curries and casseroles ready to go in the freezer. Just double the recipes, or save leftovers to use for another meal.
4 slow cooker recipes that make insanely good leftovers
1. Slow Cooker Beef with Sweet Potato and Green Beans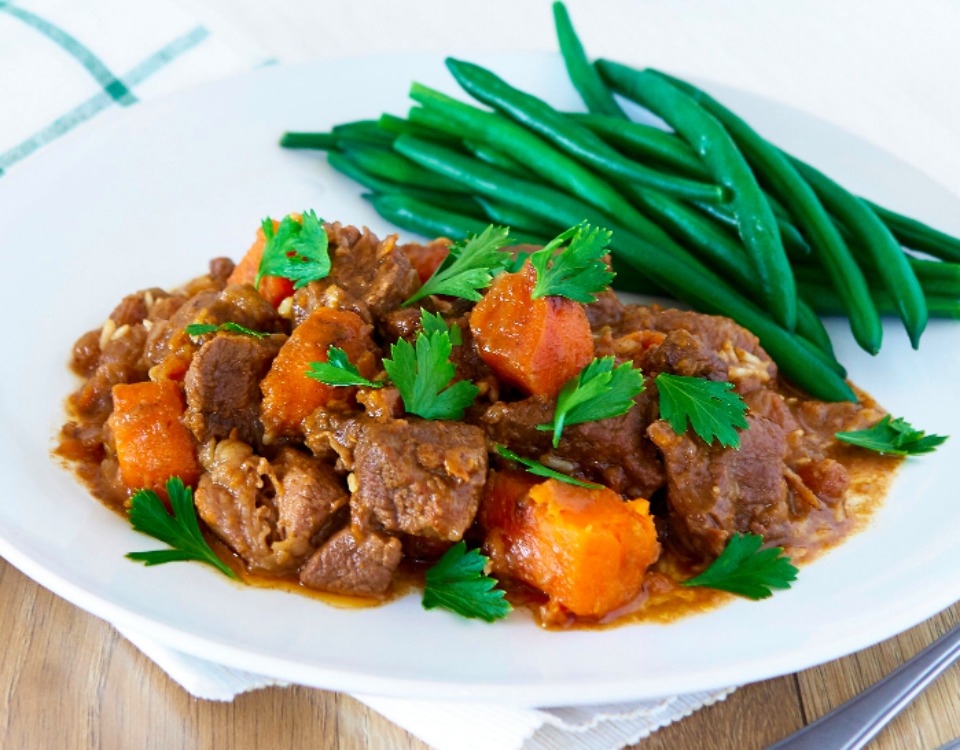 Load the slow cooker in the morning with all the ingredients for this delicious stew and let the cooker do all the work so you have a healthy meal ready at dinnertime, just 359 calories. This freezes well too – just defrost it overnight in the fridge the night before you want to eat it.
Ingredients (makes 6 servings)
800 grams stewing steak e.g. casserole steak
2 tbsp extra virgin olive oil (30 mls)
2 brown onions, peeled and diced (200 grams)
2 cloves garlic, peeled and finely sliced (6 grams)
1 tsp smoked paprika (1 grams)
1 tsp cinnamon (1 grams)
1 small sweet potato, peeled and chopped (160 grams)
1 & 1/2 cups liquid beef stock, salt reduced (375 mls)
2 bay leaves, fresh or dried (0.5 grams)
2 tbsp peanut butter (32 grams)
3 tbsp sultanas (45 grams)
1/4 cup brown rice, uncooked (40 grams)
2 tbsp lemon juice (30 mls)
2 tbsp fresh parsley (10 grams)
2 cups green beans, trimmed (240 grams)
Method
Turn slow cooker onto the high setting. Cube steak.
Heat 1 tablespoon of the oil in a frying pan over a medium-high heat. Brown the steak all over in the pan, then drain off any excess oils and place the meat into the slow cooker.
Heat the other tablespoon of oil and then cook the onion for 8-10 minutes, until soft.
Add the garlic, cinnamon and paprika to the frying pan and stir for one minute.
Add the sweet potato and stir until coated with the onion and spices.
Transfer all to the slow cooker.
Add the stock and the bay leaves to the slow cooker, reduce the heat to low and cook for 4 hours.
Put the slow cooker back to the high setting, and stir in the peanut butter.
Sprinkle the sultanas and the brown rice into the pot and stir again.
Cook for a further 60 minutes.
Just before serving, add lemon juice and combine. Steam green beans.
Divide beef between 6 bowls and sprinkle over with some parsley. Serve with beans on the side.
2. Slow Cooker Ragu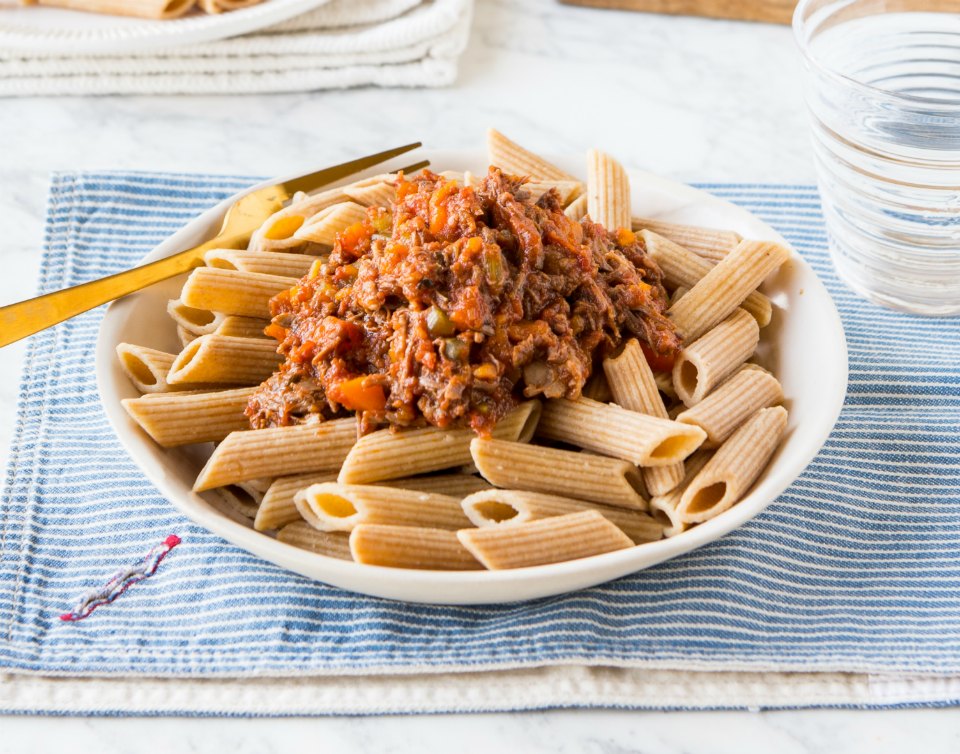 If ever a sauce was made to be doubled, this is it. Freeze single or family sized portions to use on a cold night when you come home late. You'll be so glad you did. Just 333 calories (why not add a green salad too?).
Ingredients (makes 4 servings)
400 grams stewing steak e.g. casserole steak
400 grams tinned tomatoes
2 medium carrots, finely chopped (140 grams)
2 sticks celery, finely chopped (80 grams)
1 tbsp tomato paste (16 grams)
1 clove garlic, crushed (3 grams)
2 tsp dried Italian herbs (2 grams)
1/2 cup liquid beef stock, salt reduced (125 mls)
400 grams wholemeal pasta, any shape, cooked
Method
Cut meat into cubes.
Place all the ingredients, except pasta, into a slow cooker and cook on low for 6-8 hours.
If you don't have a slow cooker, then place all the ingredients in a heavy based saucepan on the stovetop.
Simmer, covered with a lid, over a low heat for 2 hours.
Remove lid and continue to simmer for a further 45 minutes – 1 hour to thicken.
In the last few minutes of cooking press down on the meat with a fork or masher and the meat will fall apart and mix with the sauce.
Divide cooked pasta evenly between 4 bowls.
Serve with a portion of ragu on the top.
If you want to serve the ragu with something other than pasta (such as a salad, a jacket potato, or with a slice of toast) the calories for the ragu only are 195 per serve
3. Curried Chicken and Lentil Soup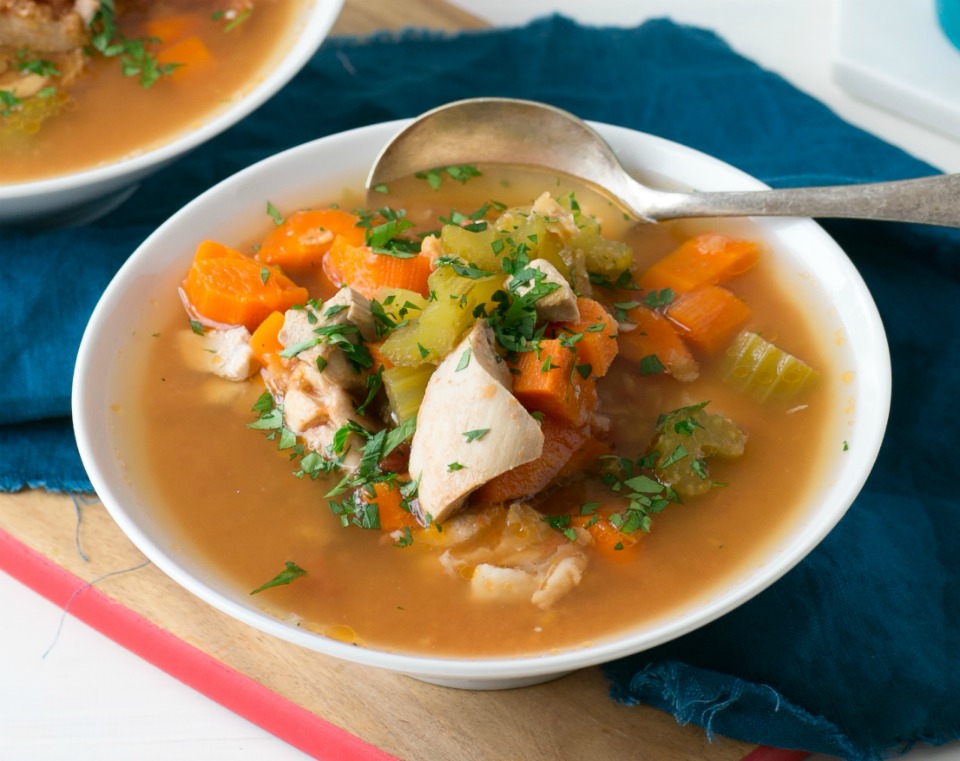 Soups really benefit from a low slow cook, and this recipe is comfort food at its best. Whether you cook it in the slow cooker or on the stove, it's winner winner chicken dinner and just 327 calories. Then freeze single serves to use for a quick and easy lunch another day.
Ingredients (makes 4 servings)
500 grams chicken thigh fillets
2 medium carrots, diced (140 grams)
2 stalks celery, diced (80 grams)
1 tbsp curry powder (4 grams)
1/2 cup dried red lentils, rinsed (90 grams)
4 cups liquid chicken stock, salt reduced (1000 mls)
2 cups water (500 mls)
400 grams tinned tomatoes
1/2 cup fresh parsley, chopped (30 grams)
1/2 cup fresh coriander, chopped (30 grams)
1/3 cup reduced-fat Greek natural yogurt (86.7 grams)
Method
Trim chicken of excess fat and slice into strips.
IF USING STOVETOP: Lightly spray a saucepan with some cooking oil spray and sauté carrot and celery for 3-4 minutes. Add chicken, curry powder and brown for 2-3 minutes. Add lentils, stock, water and tinned tomatoes. Stir to combine. Bring to a boil then reduce to a low simmer for 1 hour.
IF USING A SLOW COOKER: Place all ingredients excluding the parsley, coriander and yogurt in the cooker on a low setting for 6 hours.
For both methods of cooking divide soup between 4 bowls and top with chopped parsley and coriander and a dollop of yogurt. Leftovers can be stored in the fridge in an airtight container for 3-4 days or freeze to defrost and enjoy for another meal.
4. Slow Cooked Seasoned Pork with Crunchy Salad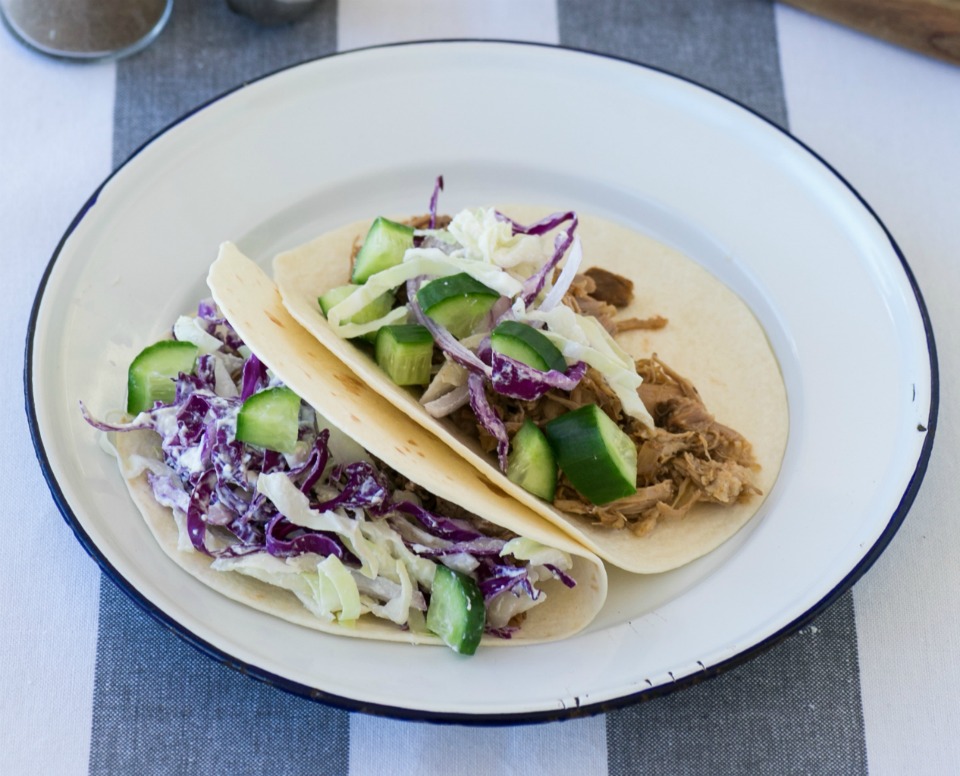 If you haven't jumped on the pulled pork bandwagon, consider this your official invitation. You can either cook this in the oven or the slow cooker.
Serve it that night with the tasty coleslaw and it's just 368 calories.
Why not use a bigger pork shoulder and then use leftovers to top a jacket potato another night, or in a wrap with some avocado, cheese and leafy greens, or as a topping for your homemade nachos.
Ingredients (Makes 4 servings)
Cooking oil spray
3 cloves garlic (9 grams)
1/4 tsp cinnamon (0.3 grams)
1/2 tsp smoked paprika (0.5 grams)
1/4 tsp ground coriander (0.3 grams)
1/4 tsp dried oregano (0.3 grams)
1 brown onion, diced (100 grams)
165 mls lemon juice
125mls orange juice
400 grams pork shoulder, trimmed (or cook a 1.5kg-2kg joint and freeze leftovers)
2 cups red cabbage, shredded (200 grams)
2 cups white cabbage, shredded (100 grams)
1 green apple, grated (100 grams)
1/2 red onion, grated (50 grams)
1 cucumber, diced (200 grams)
1/3 cup reduced-fat Greek natural yogurt (86.7 grams)
8 mini tortilla wraps (192 grams)
Method
Preheat oven to 160C / gas mark 3.
Lightly spray an ovenproof casserole dish with cooking oil spray over a medium-high heat.
Add the garlic, onion, cinnamon, paprika, ground coriander and dried oregano.
Saute 1-2 minutes until the onion softens.
Add in ½ a cup of the lemon juice and all the orange juice and mix to combine well.
Remove mixture from the heat and allow it to cool slightly.
Place the pork into the dish and cover all over with the juice and spice mix.
Place some foil over the top of the dish and cover with the lid.
Cook in the oven for 3 hours or until the meat is very tender and falls apart when shredded with two forks.
If using a slow cooker then place everything from the dish into the cooker and cook it on low for 8 hours.
Allow the pork to cool slightly then pull apart with two forks and combine shredded meat with cooking juices.
Prepare the salad by combining the cabbages, apple, onion and cucumber.
Combine the yogurt and remaining 2 tablespoons of lemon juice and drizzle over salad, toss to combine well.
Heat wraps according to packet directions. Add some shredded pork and crunchy salad to each wrap and serve. Serve 2 wraps per person.
Lose weight on the 28 Day Weight Loss Challenge!
If you want to improve your overall health and wellbeing but don't have the budget for a gym membership or fancy pre-made healthy meals – our 28 Day Weight Loss Challenge is an awesome program to check out. 
Our 28 Day Weight Loss Challenge includes:
28 days of at home exercise routines (no gym needed) – with video instruction
Customisable and breastfeeding friendly meal plans
Time-efficient exercises for busy mums – under 30 mins
Challenge combines Pilates exercises with interval and circuit training (HIIT)
Suitable for basic to advanced fitness levels
Home to thousands of EASY-TO-MAKE recipes!
To learn more about our 28 DAY WEIGHT LOSS CHALLENGE CLICK HERE.