Is there anything better than coming home from work/errands/school drop off to the smell of dinner waiting for you?
This kind of heaven can be yours if you plan ahead and pull out your trusty slow cooker to do all the hard work for you, using recipes from the 28 Day Weight Loss Challenge.
Slow cooking has many benefits, besides being able to walk away and get on with your day (which we think is pretty great).
Slow cooked meals from the 28 Day Weight Loss Challenge tend to be budget and family friendly, easy to prepare and clean up from and are loaded with nutrients that are sometimes lost when cooking quickly, using high temperatures.
Once you've tried a few slow cooking recipes, you'll never look back and can stock the freezer with a range of healthy meals.
That way you won't be tempted to call for a take away, as you'll have soups, curries and casseroles ready to go in the freezer. Just double the recipes, or save leftovers to use for another meal.
4 slow cooker recipes that make insanely good leftovers
1. Slow Cooker Beef with Sweet Potato and Green Beans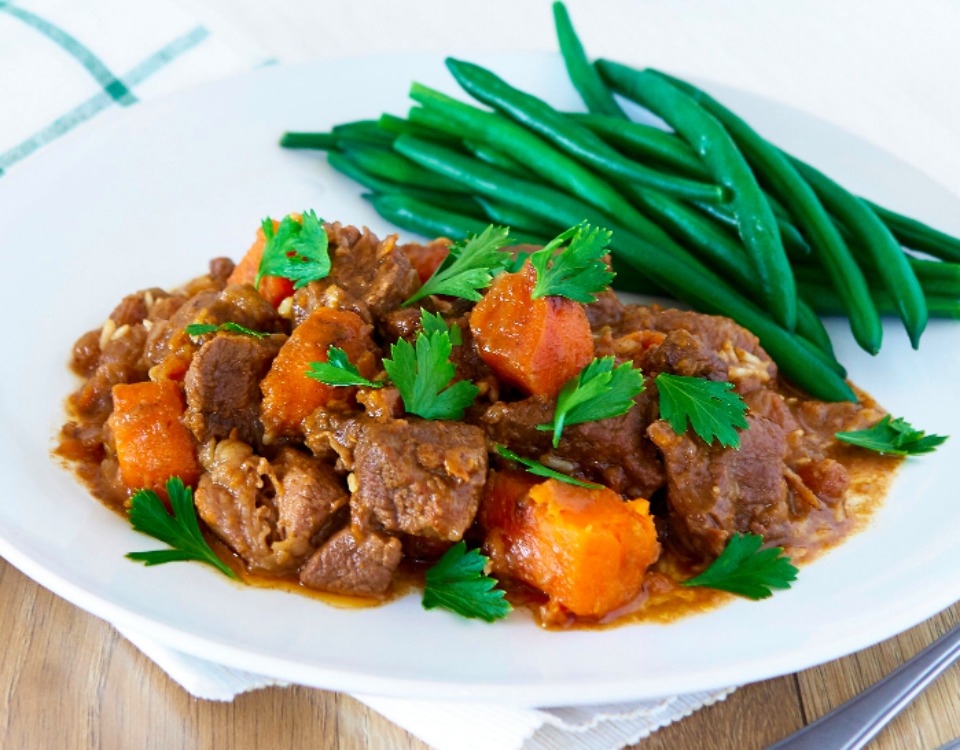 Load the slow cooker in the morning with all the ingredients for this delicious stew and let the cooker do all the work so you have a healthy meal ready at dinnertime, just 359 calories. This freezes well too – just defrost it overnight in the fridge the night before you want to eat it.
Ingredients (makes 6 servings)
800 grams stewing steak e.g. casserole steak
2 tbsp extra virgin olive oil (30 mls)
2 brown onions, peeled and diced (200 grams)
2 cloves garlic, peeled and finely sliced (6 grams)
1 tsp smoked paprika (1 grams)
1 tsp cinnamon (1 grams)
1 small sweet potato, peeled and chopped (160 grams)
1 & 1/2 cups liquid beef stock, salt reduced (375 mls)
2 bay leaves, fresh or dried (0.5 grams)
2 tbsp peanut butter (32 grams)
3 tbsp sultanas (45 grams)
1/4 cup brown rice, uncooked (40 grams)
2 tbsp lemon juice (30 mls)
2 tbsp fresh parsley (10 grams)
2 cups green beans, trimmed (240 grams)
Method
Turn slow cooker onto the high setting. Cube steak.
Heat 1 tablespoon of the oil in a frying pan over a medium-high heat. Brown the steak all over in the pan, then drain off any excess oils and place the meat into the slow cooker.
Heat the other tablespoon of oil and then cook the onion for 8-10 minutes, until soft.
Add the garlic, cinnamon and paprika to the frying pan and stir for one minute.
Add the sweet potato and stir until coated with the onion and spices.
Transfer all to the slow cooker.
Add the stock and the bay leaves to the slow cooker, reduce the heat to low and cook for 4 hours.
Put the slow cooker back to the high setting, and stir in the peanut butter.
Sprinkle the sultanas and the brown rice into the pot and stir again.
Cook for a further 60 minutes.
Just before serving, add lemon juice and combine. Steam green beans.
Divide beef between 6 bowls and sprinkle over with some parsley. Serve with beans on the side.
2. Slow Cooker Ragu