When it comes to feeding your family, it's hard to go past a tasty pasta dish. You may have thought that pasta would be off the menu when you're trying to lose pregnancy weight.
But if you choose healthier options like these, keep your portion sizes in check, and serve it with a big salad on the side you can still enjoy it while you follow the 28 Day Weight Loss Challenge.
These 4 recipes are all kid approved and can all be made in just 30 minutes or less. Why not make extra and use leftovers for lunch the next day?
1. Creamy Carbonara
470 calories per serve
You might have thought that carbonara would be off the weight loss menu due to the high fat content. But that doesn't have to be the case if you just make a few tweaks here and there, without compromising on taste.
2. Creamy mushroom and bacon ravioli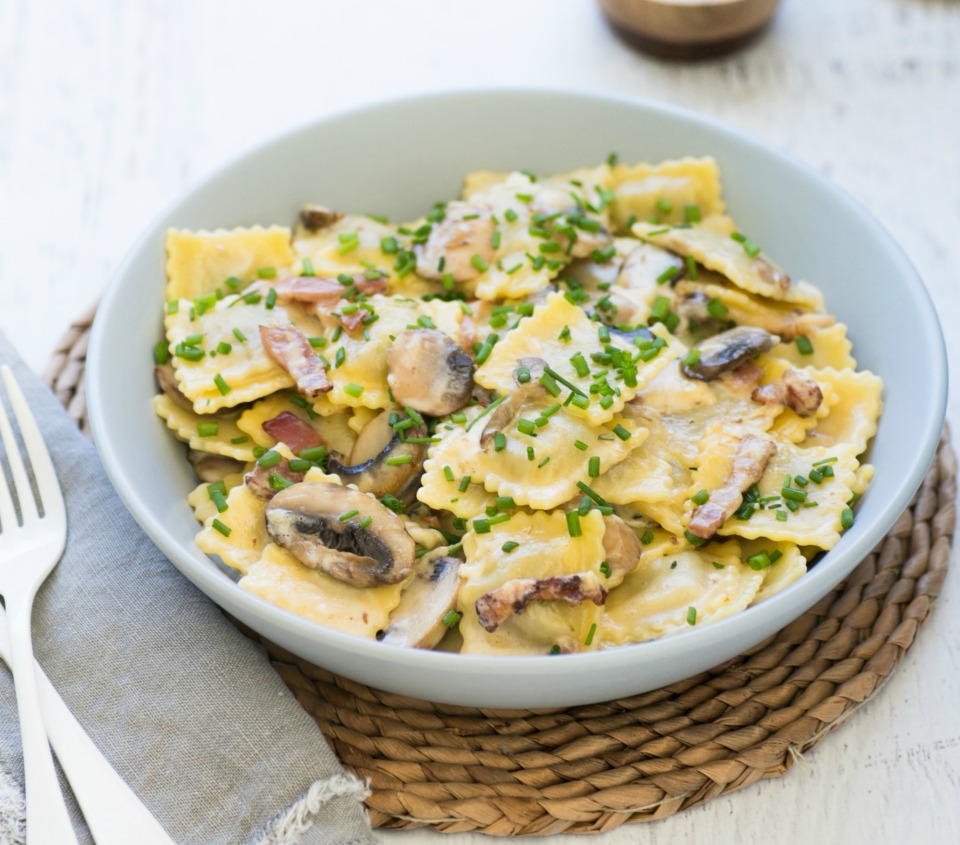 328 calories per serve
Using just a few key ingredients means it isn't hard to have a healthy meal on the table that the whole family will love. This comes directly from the 28 Day Weight Loss Challenge.
Ingredients
500 grams fresh beef ravioli
1 tablespoon extra virgin olive oil (15 mls)
4 bacon rasher, lean & trimmed, diced (108 grams)
2 cups mushrooms, sliced (150 grams)
pepper
200 mls reduced fat cream
2 tbsp grated Parmesan (24 grams)
2 tbsp fresh chives, chopped (10 grams)
Method
Prepare ravioli according to packet directions. Drain and set aside.
Heat oil in a frying pan over medium-high heat. Add bacon pieces and cook for 2- 3 minutes or until golden. Add mushrooms and cook for a further 2-3 minutes until tender. Season with pepper.
Add cream and cook for 2-3 minutes to heat through and combine with other ingredients. Sprinkle over grated Parmesan and stir to combine and melt into sauce.
Add prepared ravioli to the pan and toss to combine with sauce. Add a little hot water or liquid chicken stock if needed, to loosen sauce and cover ravioli.
Serve ravioli and sauce in a bowl and sprinkle with fresh chives.
Recipe serves 4 at 328 calories per serve
3. Mushroom Kale and Pine Nut Pasta