Sometimes here at Healthy Mummy HQ we think we kind of know a thing or two when it comes to Christmas baking. Mince pies – tick. Fruit cake – tick. Fudge – tick.
And then along comes a revelation like this that just blows everything we thought we knew out of the water.
Did you know that you can use your gingerbread people biscuit cutters to make ADORABLE reindeer biscuits?
That's right! Check out our recipe below for a fantastic sugar free gingerbread dough that can be used for gingerbread people, reindeers, stars, or whatever festive cutter you happen to have on hand!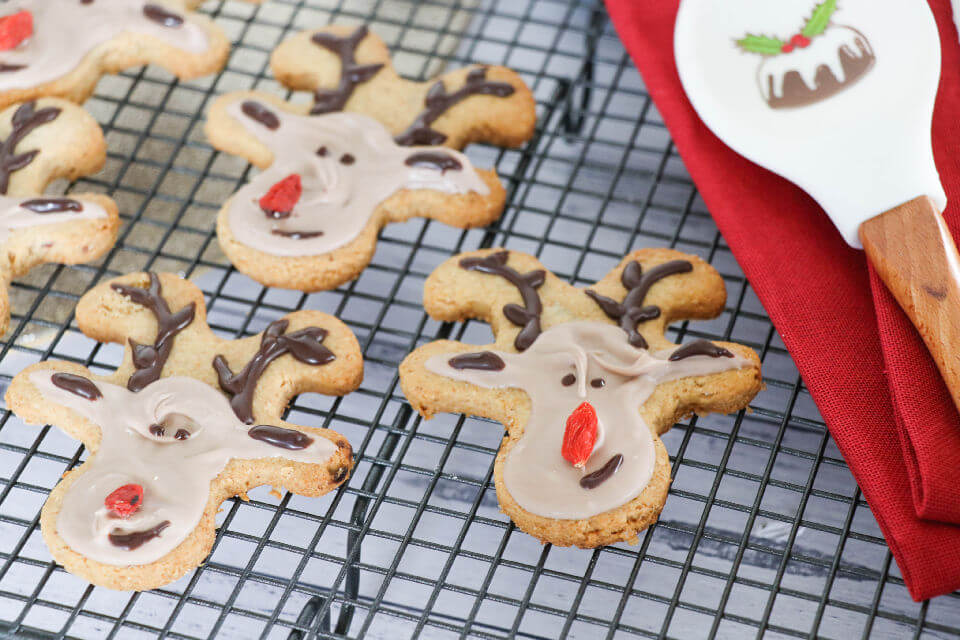 We think these little reindeer biscuits are SUPER cute and will be so fun to make with the kids this Christmas.
PLUS there's a dairy free option if you need it. Want even more festive recipes? Check out the recipe hub on the 28 Day Weight Loss Challenge more recipes like this!
Reindeer Biscuits
Ingredients
Biscuits
2 cups plain wholemeal flour (240g)
1 cup ground almonds (144g)
1/4 cup unsalted butter, cubed (60g) – or use olive/coconut oil (62ml)
1/4 cup honey (60ml)
5 Medjool dates, pitted (75g)
1 egg (50g)
1 tsp baking powder (2.5g)
1 tsp ground cinnamon (1g)
1 tsp ground ginger (1g)
1/2 tsp allspice or nutmeg (0.5g)
1/2 tsp vanilla extract (2.5ml)
Reindeer decorations
30 Goji berries
100g white chocolate
50g dark chocolate
piping bag
Method
Biscuits
In a large mixing bowl, combine flour, almond meal, baking powder and the spices.
In a second bowl, combine the butter cubes (or oil), honey, dates, vanilla and egg. Using a hand blender, blend these wet ingredients until well combined. Alternatively, use a food processor or blender.
Add the butter mixture to the flour mixture and mix well to combine.
Turn the dough out onto a clean surface and roll out to around 3mm thick.
Line a baking tray with baking paper and place dough onto tray.
Cover with another piece of baking paper and place in the fridge to firm up.
Just before removing from the fridge, pre-heat the oven to 150C / gas mark 2.
After an hour, remove from the fridge and use your gingerbread cutter to cut the dough into shape. Re-roll leftover dough and keep cutting biscuits from it to use it all up.
Return to the lined baking tray and place into the oven.
Bake for 15-20 minutes, checking regularly.
When starting to turn golden brown, remove from the oven and set aside to cool.
Reindeer decoration
Melt the white chocolate with 10 dark choc chips in the microwave or on a double boiler to make the light brown.
Pipe onto cookie to create the shape of the reindeer's head. Stick the goji berries on for the nose before the chocolate has set.
Melt the remaining dark chocolate and carefully pipe out the reindeer's antlers, inner ears, eyes and mouth.
Makes around 25 biscuits, at 82 calories each.
Lose weight with the 28 Day Weight Loss Challenge
Our 28 Day Weight Loss Challenge is a family-friendly, breastfeeding-safe program designed FOR MUMS to help them improve their health and lose the baby weight. 
Every week you are given a different meal plan to follow and each month we add NEW recipes to our Challenge Recipe Hub. That way, you'll never get bored and stay on weight loss track while digging into healthy, yummy recipes. Some mums also choose to add in Healthy Mummy Smoothies to their meal plans, but it's totally up to you.
Learn more about our 28 Day Weight Loss Challenge HERE.
If you would like a sneak peek at some of the meals, snacks and exercises from the 28 Day Weight Loss Challenge you can download our FREE recipe packs HERE.