Who loves baking and making treats to share during the festive season?
We stepped into Healthy Mummy Libby Butler's kitchen to take a peak at how she keeps the kids satisfied during the Christmas season. "While there isn't much I can do to avoid my kids indulging in sweets, chocolates and candy canes," she says, "I know I can balance it out by having healthier snacks available at all times!"
10 healthy Christmas themed snacks for the kids
With multiple social gatherings in the lead up, not to mention the week of festivities while celebrating Christmas, having easy-to-make, healthy, kid-friendly snacks is a great way to keep Christmas at a stress level of zero.
What Libby made:
1. Spicy Ginger Cookies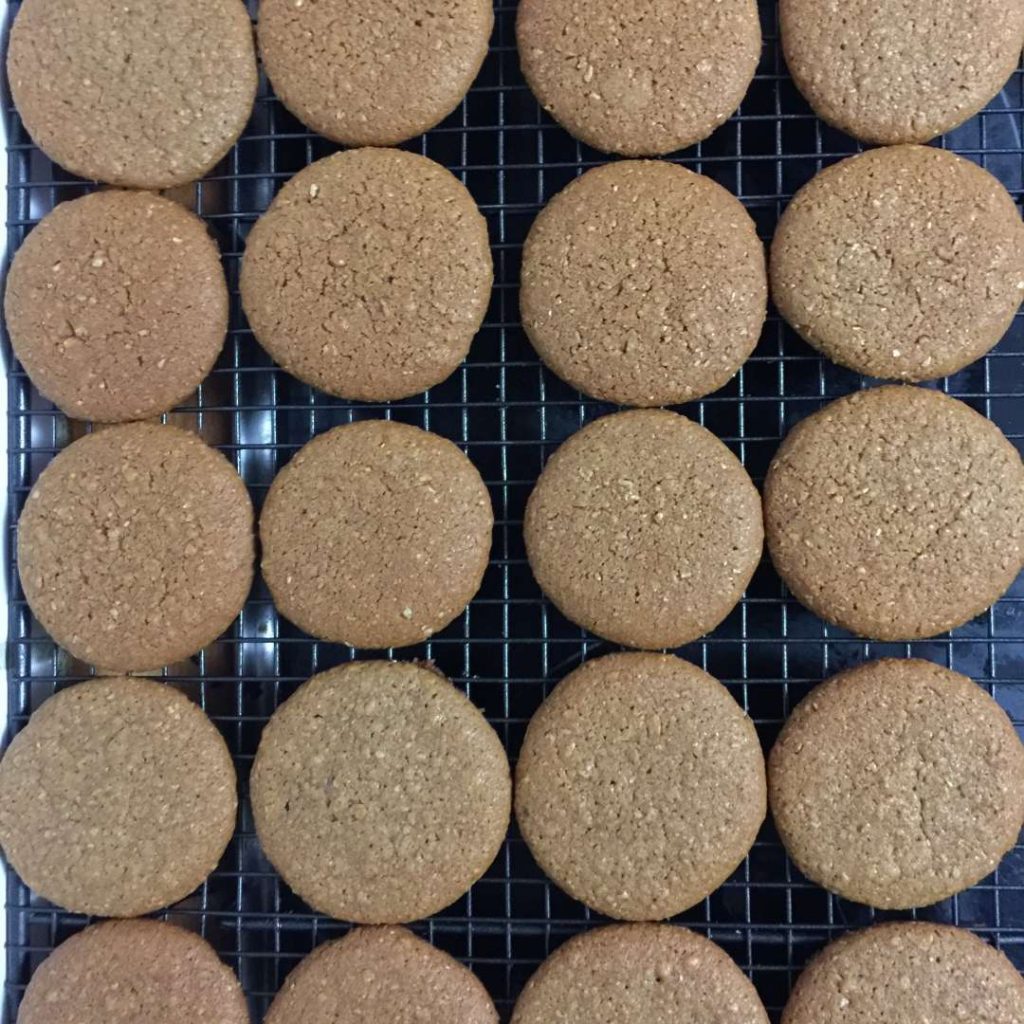 "We are a family of Ginger Nut lovers – hubby always stocks up on packets of these biscuits as he loves them with a cuppa of an evening. I like to cook these Spicy Ginger Cookies for a little longer so they achieve the Ginger Nut crunch – absolutely delicious and hubby and the kids LOVE them!"
This recipe is available for Challenge members on the 28 Day Weight Loss Challenge recipe hub.
2. Gingerbread Stars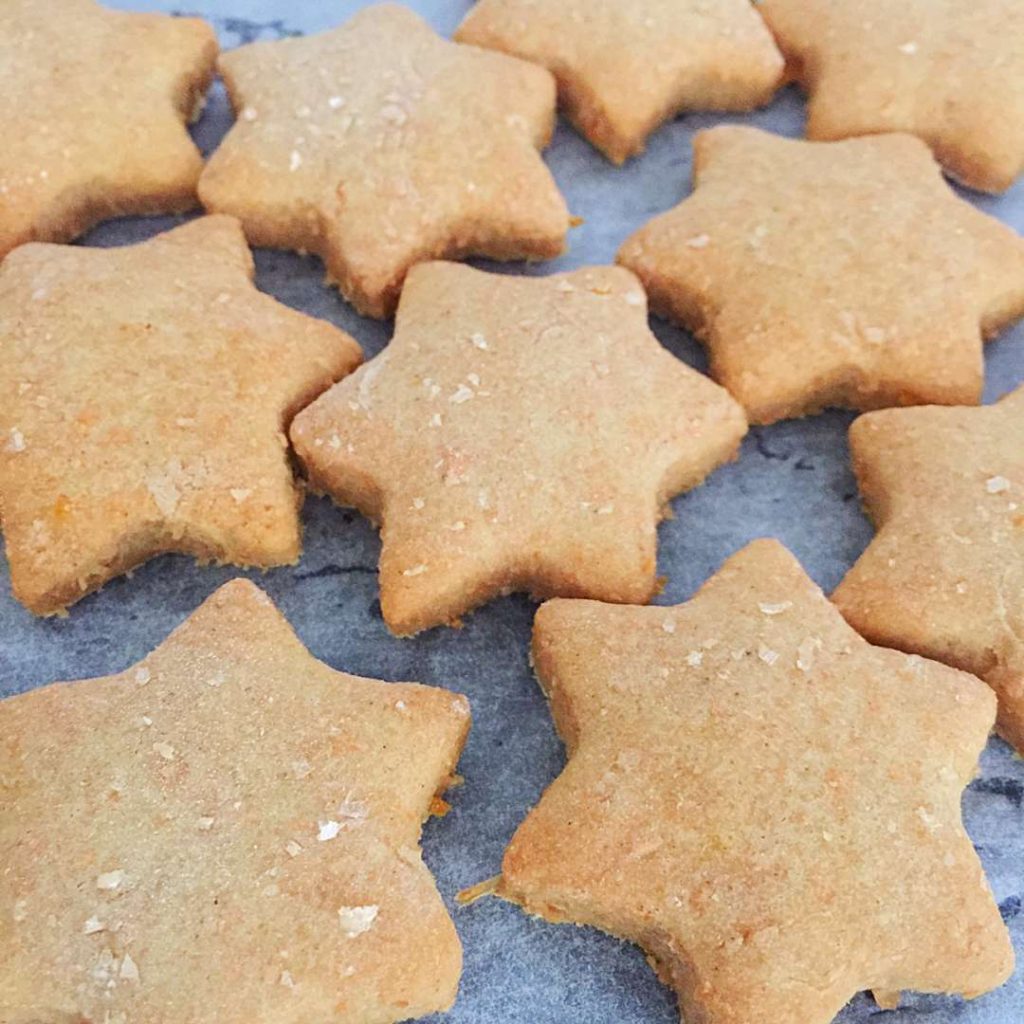 Get the kids to help you with the preparations and package up in cellophane bags to give to family and friends as healthy homemade Christmas gifts. "My daughter and I like to bake these and package as gifts for her school teachers. Very similar to making traditional gingerbread, with less butter and sugar! Get the children involved in cutting out the star shapes!"
Ingredients (makes 5 servings)
1/2 cup plain wholemeal flour (60 grams)
1/2 cup rice flour (65 grams)
1 tsp level bicarbonate soda (2.5 grams)
1/2 tsp ground ginger (0.5 grams)
1/4 tsp mixed spice (0.3 grams)
1 tsp orange zest (4 grams)
2 tbsp fresh orange juice (30 mls)
1/3 cup honey (83.3 mls)
2 tbsp reduced-fat milk of choice (30 mls)
30 grams butter
Method
Preheat oven to 160C / gas mark 3 and line a baking tray with baking paper.
Combine plain flour, rice flour and bi-carbonate soda in a bowl. Add spices and orange zest.
Place a saucepan over a low heat and add orange juice, honey, milk and butter. Stir until butter has melted. Set aside to cool. Combine liquid mixture with dry mixture and combine well (dough will be quite firm).
Once it comes together, turn dough out onto a clean surface dusted with some flour.
Divide the dough in half and shape into 2 balls. Wrap each ball in cling wrap and place in the fridge for 15 minutes.
Remove from the fridge and roll out until 1cm thick. Using a small star-shaped cookie cutter, cut biscuits from dough and transfer to prepared baking tray (about 5cm apart).
Combine leftover dough, roll out and cut out more biscuits until all dough is used. You should have enough dough for approximately 10 biscuits.
Bake for 6-7 minutes until golden. Biscuits will still be soft, but will harden as they cool.
Cool on tray for 5 minutes then transfer to a wire rack.
Store in an airtight container in the pantry for up to a week. 2 biscuits makes 1 serve.
194 calories per serve
3. Reindeer Logs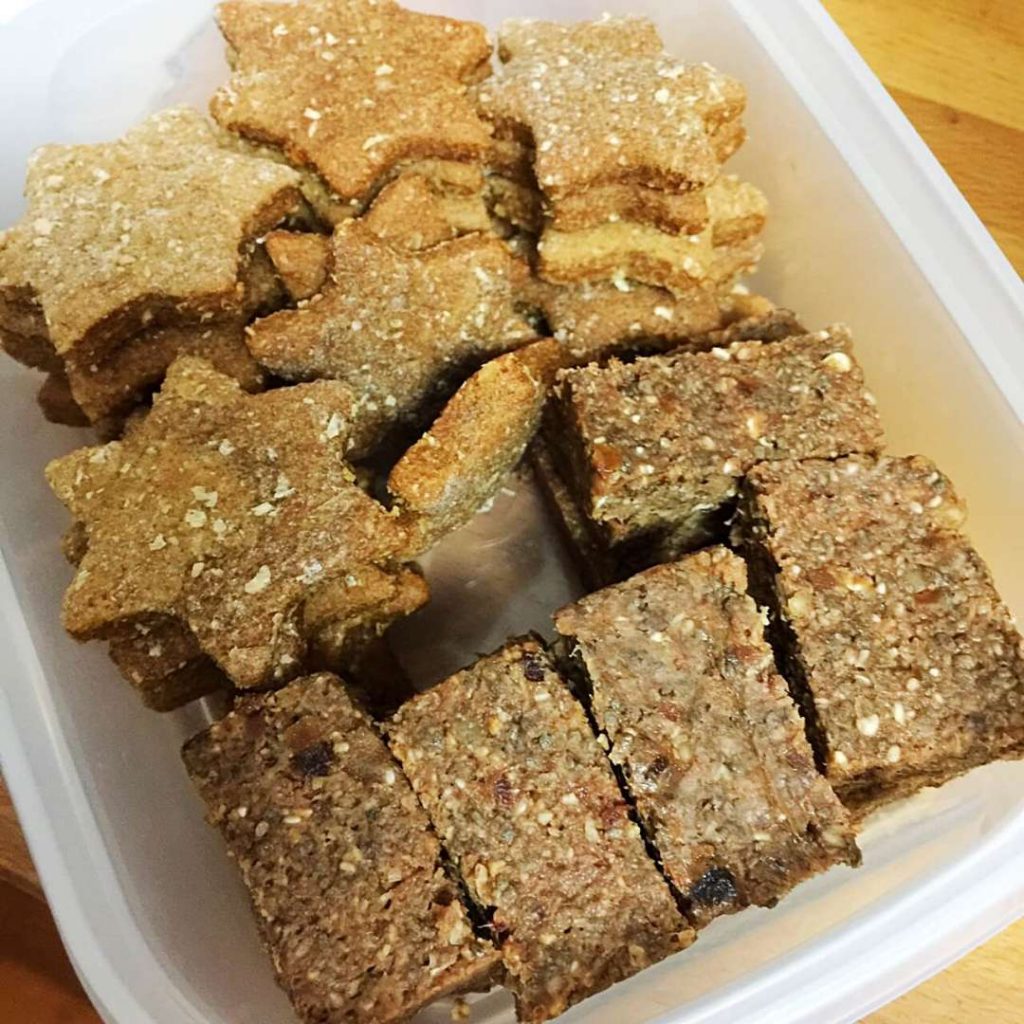 "Packed with nutrients and antioxidants, this yummy dairy-free, no-bake treat freezes well and I love to have it on hand for snacks or to add to a Christmas platter, when I'm asked to bring a plate."
This recipe is available for Challenge members on the 28 Day Weight Loss Challenge recipe hub.
4. Choc Mint Balls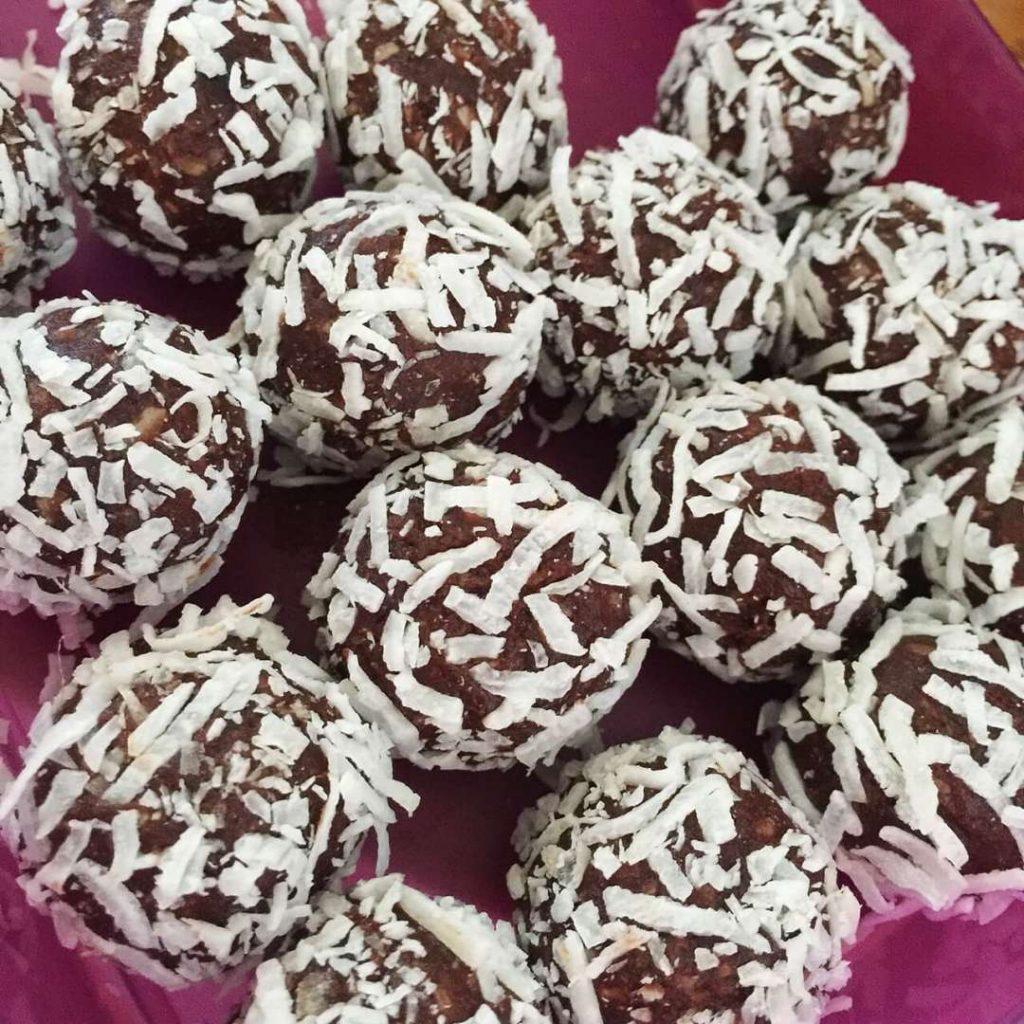 Free from gluten, dairy, grains, and refined sugar but they do not lack in taste! Freeze for a chilled chocolate snack.
"My kids love nothing more than getting their hands dirty and preparing their own snacks! They love rolling their own balls for lunchboxes or to take away with us. 
This is a simple mix that I can blitz up in the food processor and then move onto the next item on my baking list, while they roll them all up for me! (note: they will vary in shape and size)."
This recipe is available for Challenge members on the 28 Day Weight Loss Challenge recipe hub. Or try your hand at some of our other favourite bliss ball recipes.
5. No Bake Christmas Bliss Balls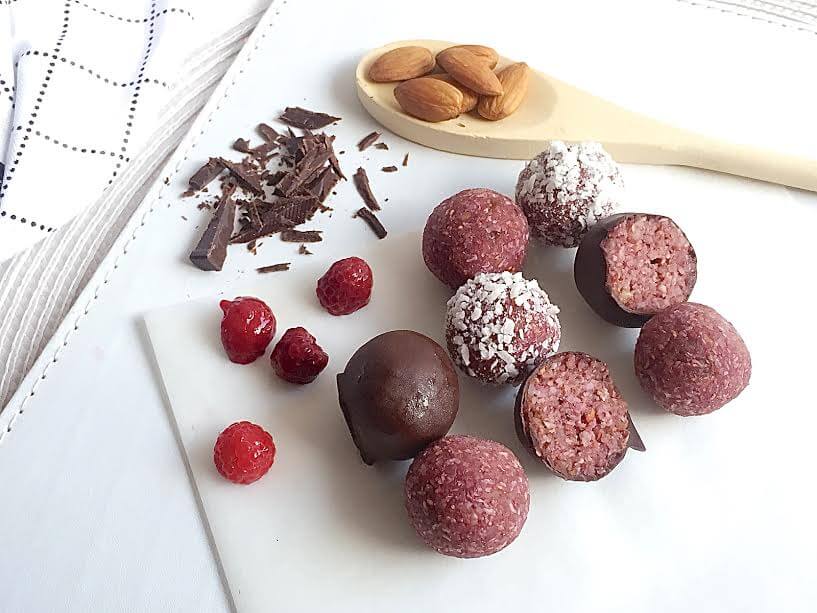 No oven needed! Choose from any of our delish
Bliss Ball
recipes then make them festive, by getting the kids to help you roll the balls in some ground pistachios (green) or processed goji berries (red).
6. White Chocolate Goji Fudge

"Another sweet snack I like to pre-prepare in Christmas shaped moulds and store in the freezer for snacks or to add to party platters. These also make great gifts, as long as you can keep them refrigerated. They are gluten free, look pretty and taste great too! You can substitute chopped nuts or another dried fruit if your little ones aren't keen on the goji flavour."
Ingredients (makes 6 servings)
1/3 cup instant milk powder (23.3 grams)
1/4 cup ground almonds (37.5 grams)
1/4 cup coconut flour (31.3 grams)
2 & 1/2 tbsp coconut oil, melted (37.5 mls)
1 & 1/2 tbsp rice malt syrup or honey 22.5 mls)
2 & 1/2 tablespoons goji berries (25 grams)
3 tsp water (15 mls)
1 tsp vanilla extract (5 mls)
Method
Line a small rectangular dish or container with baking paper.
Combine all ingredients and mix well.
Press into base of the container and smooth the top. Refrigerate to set (at least 30 minutes).
Cut into 6 slices to serve, 1 slice is 1 serve.
Store leftovers in an airtight container in the fridge.
171 calories per serve
7. Date and Pretzel Reindeers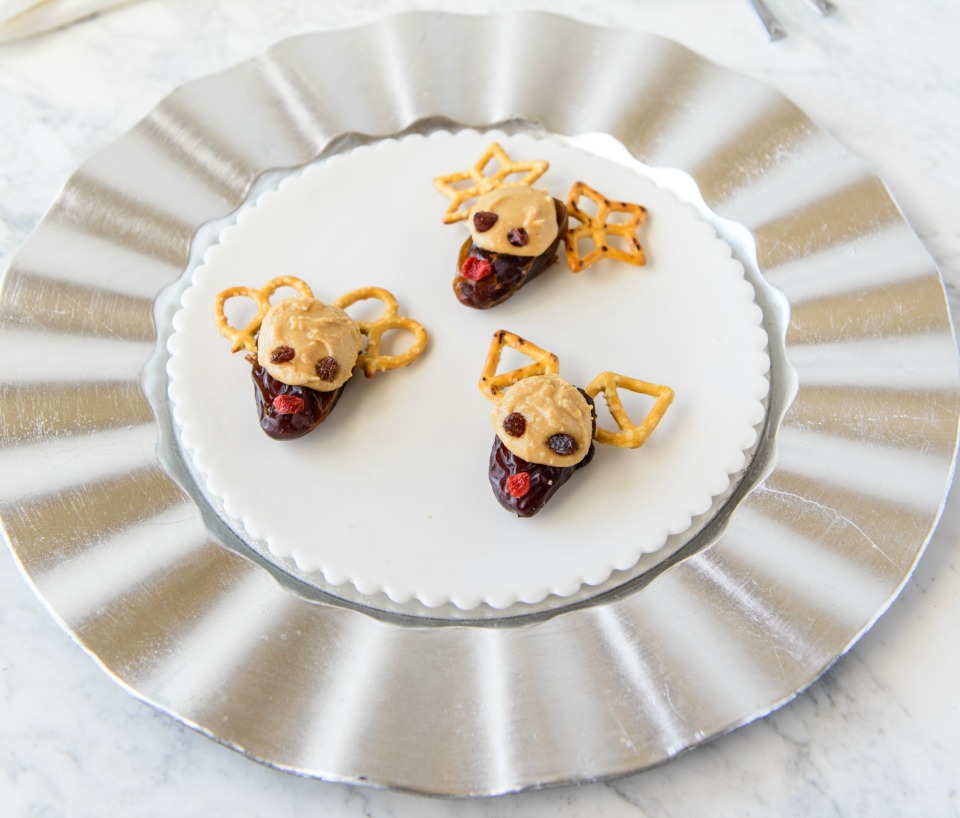 Christmas treats made healthy when these adorable Date And Pretzel Reindeers come into the mix. Not only do these tasty little bites look fantastic, they also taste great thanks to the sweet and salty combo of dates, peanut butter, goji berries and pretzels.
Ingredients (Makes 1 serving)
3 pitted, dried dates (45 grams)
1 tbsp peanut butter (16 grams)
1 tsp coconut flour (2.5 grams)
3 goji berries (2.4 grams)
6 currants (6 grams)
6 mini pretzels (12.6 grams)
Method
Make a small slit in the top of the dates. Remove pits, insert the edge of two pretzels into each date to make antlers and gently press closed to hold in place.
Combine peanut butter and coconut flour. Place a teaspoon of the mixture on each date just under the pretzel antlers to make a face. Stick two currants into the peanut butter to make eyes, and a goji berry onto the end of the date as a nose.
Three reindeers is one serve.
You can make these in advance, just store in a single layer in an airtight container in the fridge for 3-4 days.
200 calories per serve
8. Healthy Sausage Rolls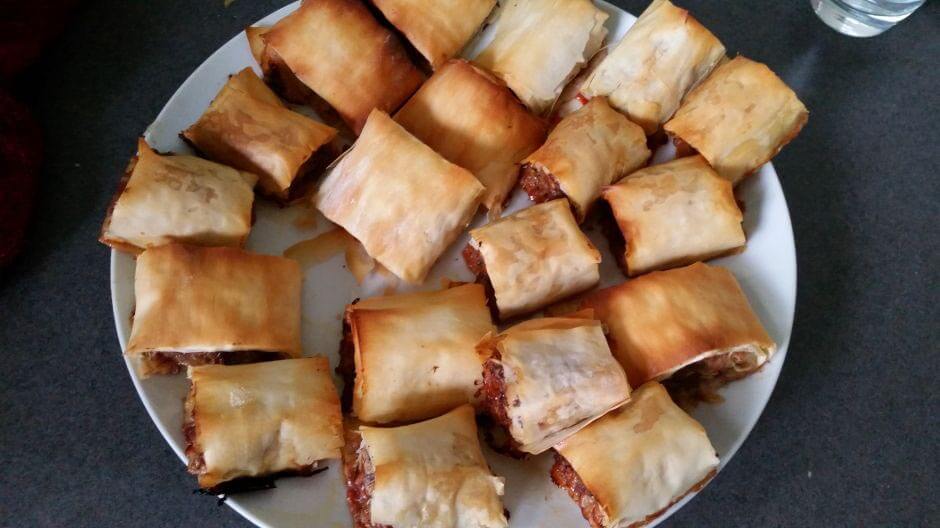 The perfect party snack! "No child will know that these are packed with veggies! I love making my own sausage rolls to either serve fresh from the oven, or freeze ahead of time for easy to grab school lunches or to feed the kids at social gatherings."
Check out the recipe HERE
9. Healthy Strawberry Santas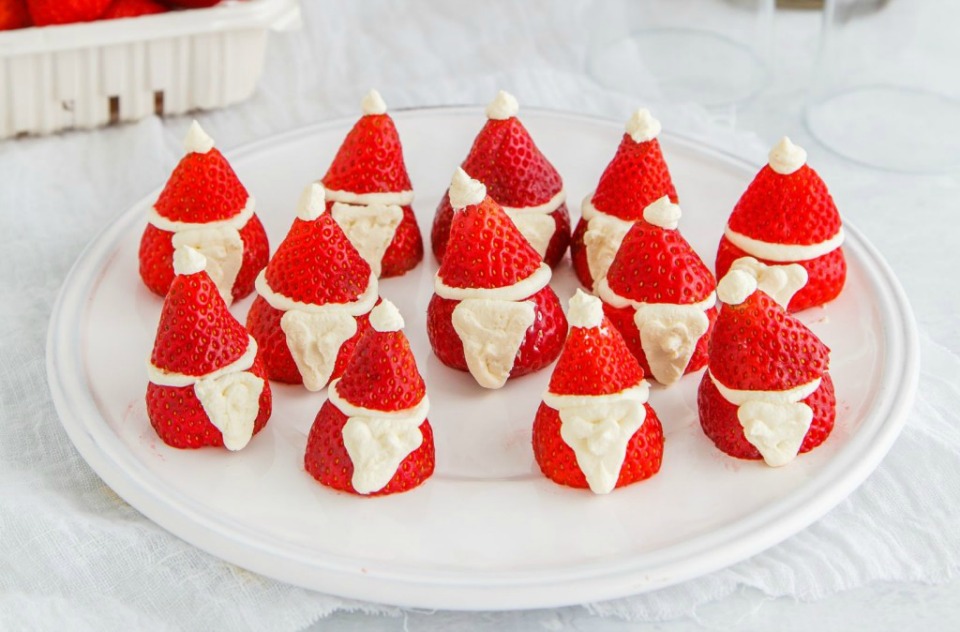 Instead of using calorie heavy pastry or biscuits, strawberry Santas use delicious, fresh strawberries and replace the traditional whipped cream that is often a staple of festive desserts with low fat cream cheese. Fantastic for the kids' table at a Christmas party.
Ingredients (Makes 2 servings)
1 punnet strawberries (250 grams)
1/2 cup light cream cheese (130 grams)
1 tbsp lemon zest (16 grams)
Method
Wash and pat dry the strawberries.
Cut the top off the strawberries removing the green leaves, so that the strawberries can stand up flat on a plate.
Cut the bottom 1/3 of the strawberries off and reserve for Santa's hat.
Combine the cream cheese and zest. Fill a piping bag with the cream cheese and carefully pipe a triangle shape onto the wide part of the strawberry to form Santa's beard.
If you don't have a piping bag use a zip lock bag and fill with cream cheese mix then snip off a small corner to use instead.
Add a small dollop of the cream cheese at the small top of the strawberries and place the small pieces you cut off on top to represent Santa's hat.
Place in the fridge and chill for 10 minutes before serving. This recipe makes 2 serves so divide equally to serve.
152 calories per serve
10. Santa Chocolate Brownies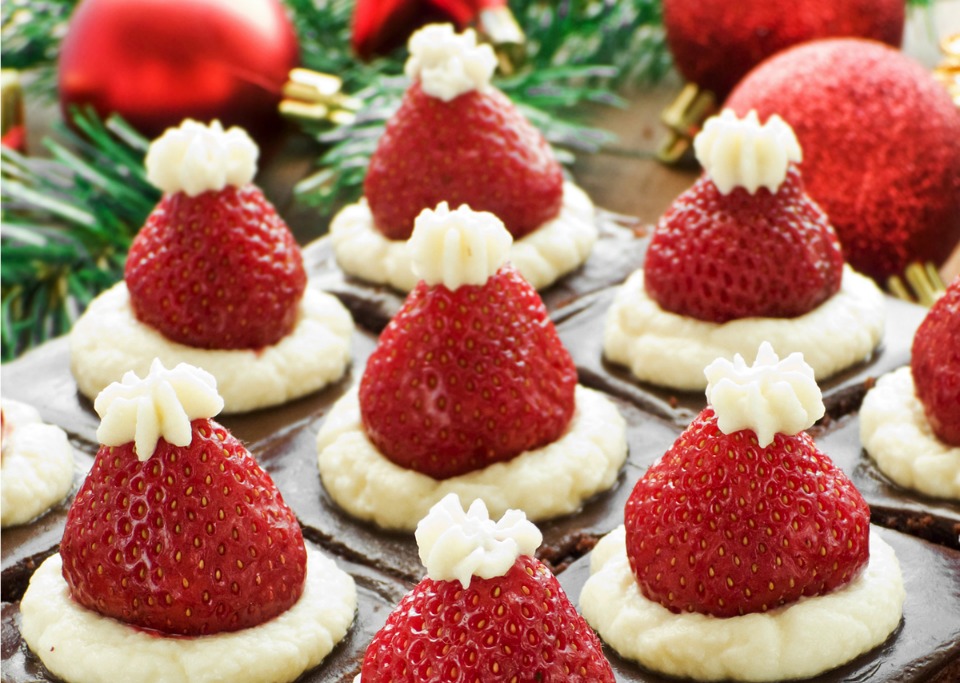 A delicious and healthy chocolate brownie your kids are guaranteed to love. At 230 calories your guests will also LOVE them and they're pretty enough to added to any Christmas table.
Get the recipe HERE and add your cream and strawberry topping!
Check out the 28 Day Weight Loss Challenge.
Our 28 Day Weight Loss Challenge is a family-friendly, breastfeeding-safe program designed FOR MUMS to help them to lose the baby weight.
Our Challenge entails:
28 days of at home exercise routines (no gym needed) – with video instruction
Customisable and breastfeeding friendly meal plans
Time-efficient exercises for busy mums – under 30 mins
Challenge combines Pilates exercises with interval and circuit training (HIIT)
Suitable for basic to advanced fitness levels
Home to thousands of EASY-TO-MAKE recipes!
To find out more on the 28 Day Weight Loss Challenge click here.