Deidre Turner is a mum of five little boys, including two sets of twins. Early on in the game, she knew she would have to get organised in order to survive.
Writing on her blog, Deidre says, 'I wanted to be one of those mums who seemingly had it all together, instead of being the hot mess who was always late and forgot her baby wipes.'
She was drowning in the day to day chaos that comes with raising kids.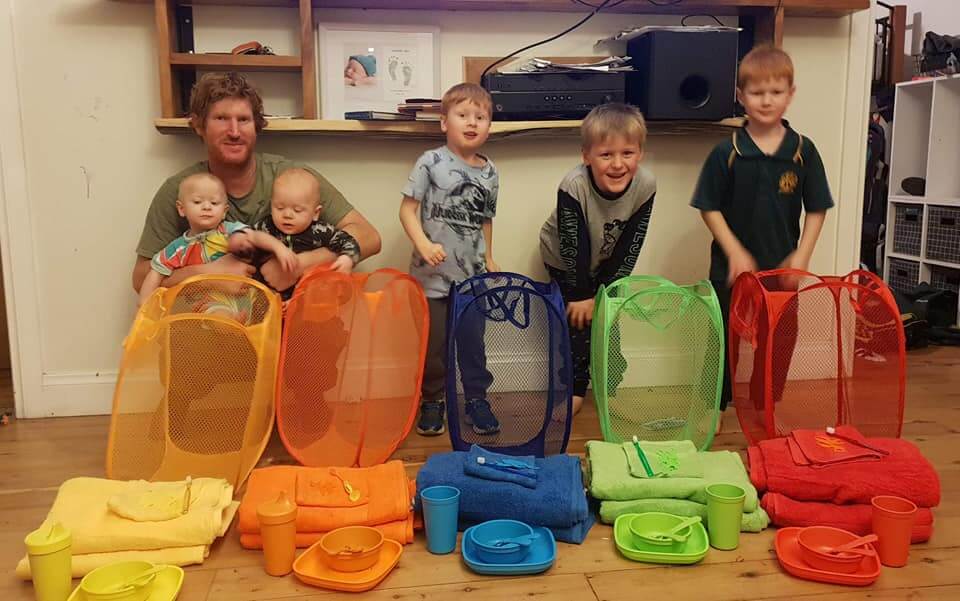 Finley (12 months, yellow), Nathaniel (12 months, orange), Maximus (4 years, blue), Sebastian (6 years, green) and Theodore (6 years, red).
In her colour coding blog post, the Aussie mum shares what life was like pre-hack.
'My morning routine consisted of microwaving my coffee repeatedly, changing dirty nappies, making the thousandth 'choccie milk' and digging madly through mounds of clean washing while screeching 'where are your shoes!' at my 5 year old twins, while they stared absently at the TV, one sock on, school shirt inside out and half a jar of Nutella plastered across their faces.'
Yeah, we can all relate.
Even when she asked the boys to help her tidy up the house, it didn't get her anywhere.
Deidre continues, 'Requests to pick up after themselves were met with 'it's not my towel/plate/cup'. The fairies were messing up my place apparently (insert eyeroll here). So I started Googling what other large families did and stumbled across colour coding.'
That's right, people. Each of Deidre's five boys has their own colour so that there are no more arguments about who has left their wet towel on the bathroom floor.
Deidre explains more, 'This is the very simple idea that each child has their own colour in a variety of items and is responsible for it.'
Thank to the genius system, Deidre's boys now have their very own items in either red, green, blue, yellow and orange, including:
2 towels
1 face washer
1 plate
1 cup
1 bowl
1 cutlery set
1 toothbrush
1 drink bottle
toy storage
1 laundry hamper (for clean laundry to be put away from)
And so far, it's working just great for this busy mum.
'The idea of the kids having their own colour is that they are responsible and accountable,' Deidre states. 'It's easy to see who is not putting their belongings away and it's easy for them to find and care for their own things.
Already I've seen positive results, with the kids automatically taking their own dishes to the kitchen sink and hanging their towels up on the towel hooks.
At a glance I will be able to tell who has left their stuff lying around and it will eliminate the 'that's not my plate' type excuses and arguments about wanting a certain plate or cup.'
Deidre we take our hats off to you, this is such a great way of bringing some calm and order to what could be a very chaotic home otherwise!
You can read more from Deidre at Aussiemum Unleashed
Are you ready to kick-start your weight loss?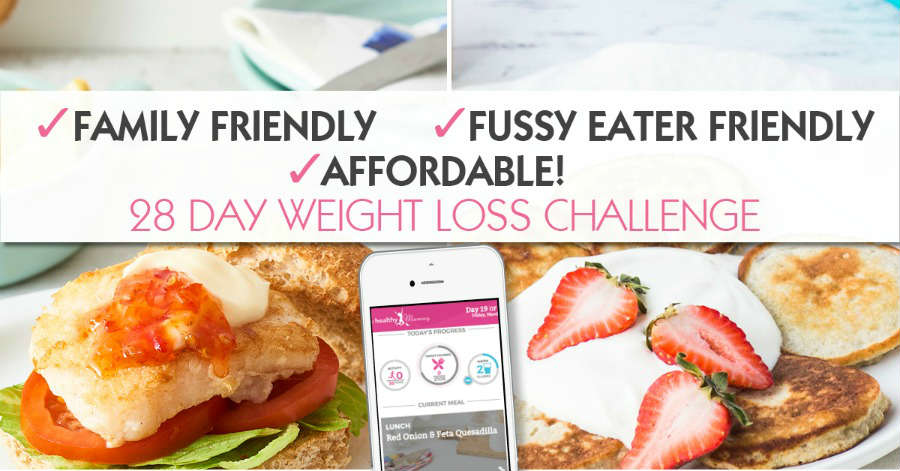 Want to shift your baby weight but feel like you have NO TIME in your day to exercise and eat healthily? That's where the Healthy Mummy's 28 Day Weight Loss Challenge can help.

Our Challenge entails: 
28 days of at home exercise routines (no gym needed) – with video instruction
Customisable and breastfeeding friendly meal plans
Time-efficient exercises for busy mums – under 30 mins
Challenge combines Pilates exercises with interval and circuit training (HIIT)
Suitable for basic to advanced fitness levels.
Home to thousands of EASY-TO-MAKE recipes.
To find out more about joining the 28 Day Weight Loss Challenge for £1 click here.
PLUS – connect with THOUSANDS of other mums on the 28 Day Weight Loss Challenge by joining our free support community here