Mum Melanie Lewis has been living the Healthy Mummy lifestyle for 2 years and at just 9 months postpartum she has lost WHOPPING 6.64st and says "I couldn't feel any better". 
With her spectacular weight loss results and body transformation, Melanie's confidence is SOARING!
Find out how she has achieved her incredible results below.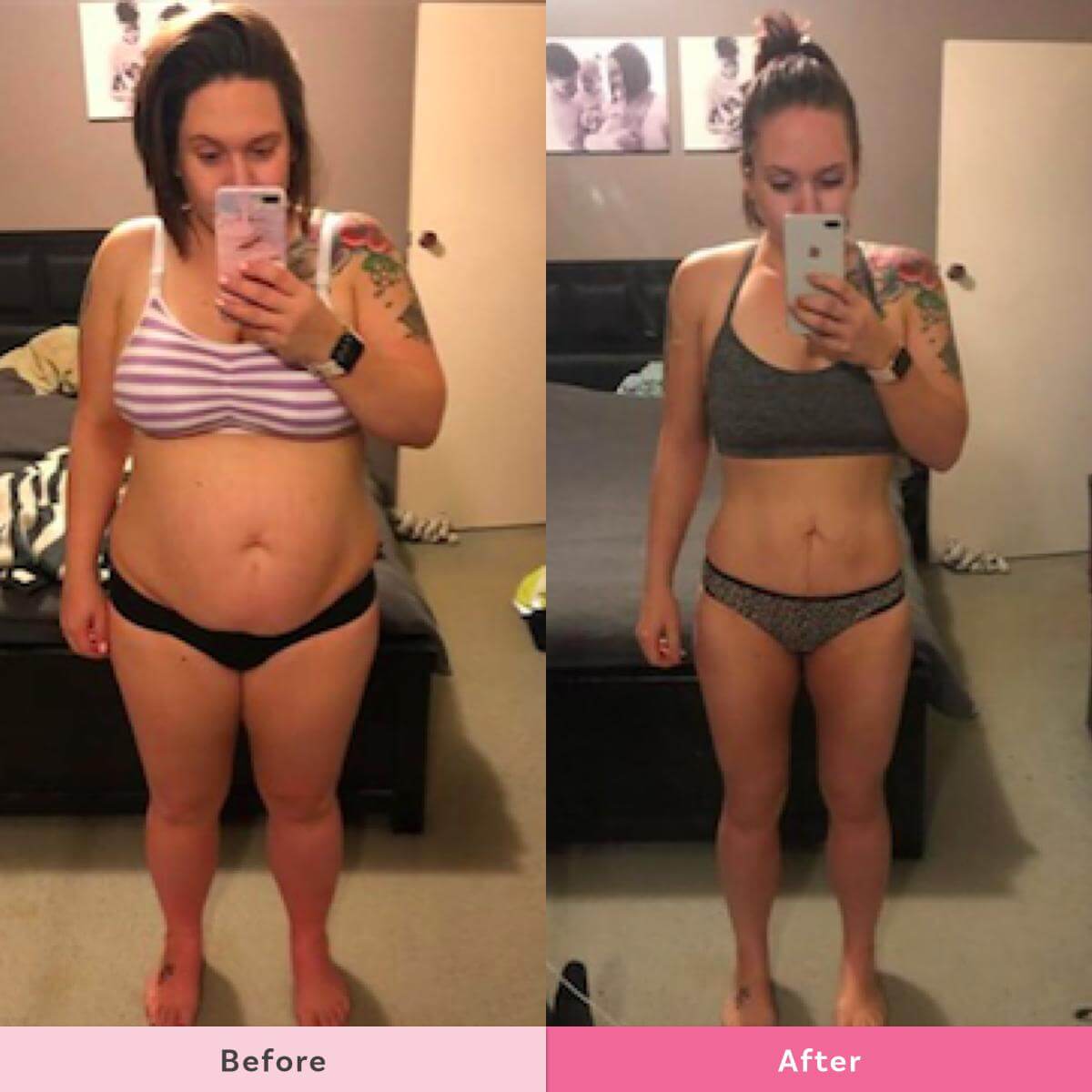 Mum-of-two Melanie shows what hard work and dedication to living a healthy lifestyle can do.  She shares her weight loss journey below.
Joining The Healthy Mummy 28 Day Weight Loss Challenges
Melanie signed up to The Healthy Mummy 28 Day Weight Loss Challenges in April 2017 after she had her first baby.
She weighed 17.14st at the time.
Weight loss results and a second pregnancy
By December 2017 after losing 5.5st in 10 months (getting down to 11.5st), Melanie fell pregnant with her second baby.
Keeping active during pregnancy
Determined to maintain her healthy lifestyle during her pregnancy Melanie exercised up until she was 38 weeks pregnant and only gained about 3.9st during the whole pregnancy.
In August 2018 Melanie had a beautiful healthy baby boy.
Starting The Healthy Mummy program again after 2nd child was born
By October 2018 Melanie was ready to start her healthy mummy journey again.
She says "I was so worried during my second pregnancy that I'd never get my pre-baby bod back but here I am even better 9 months later.  I'm now lighter than when I fell pregnant with my son".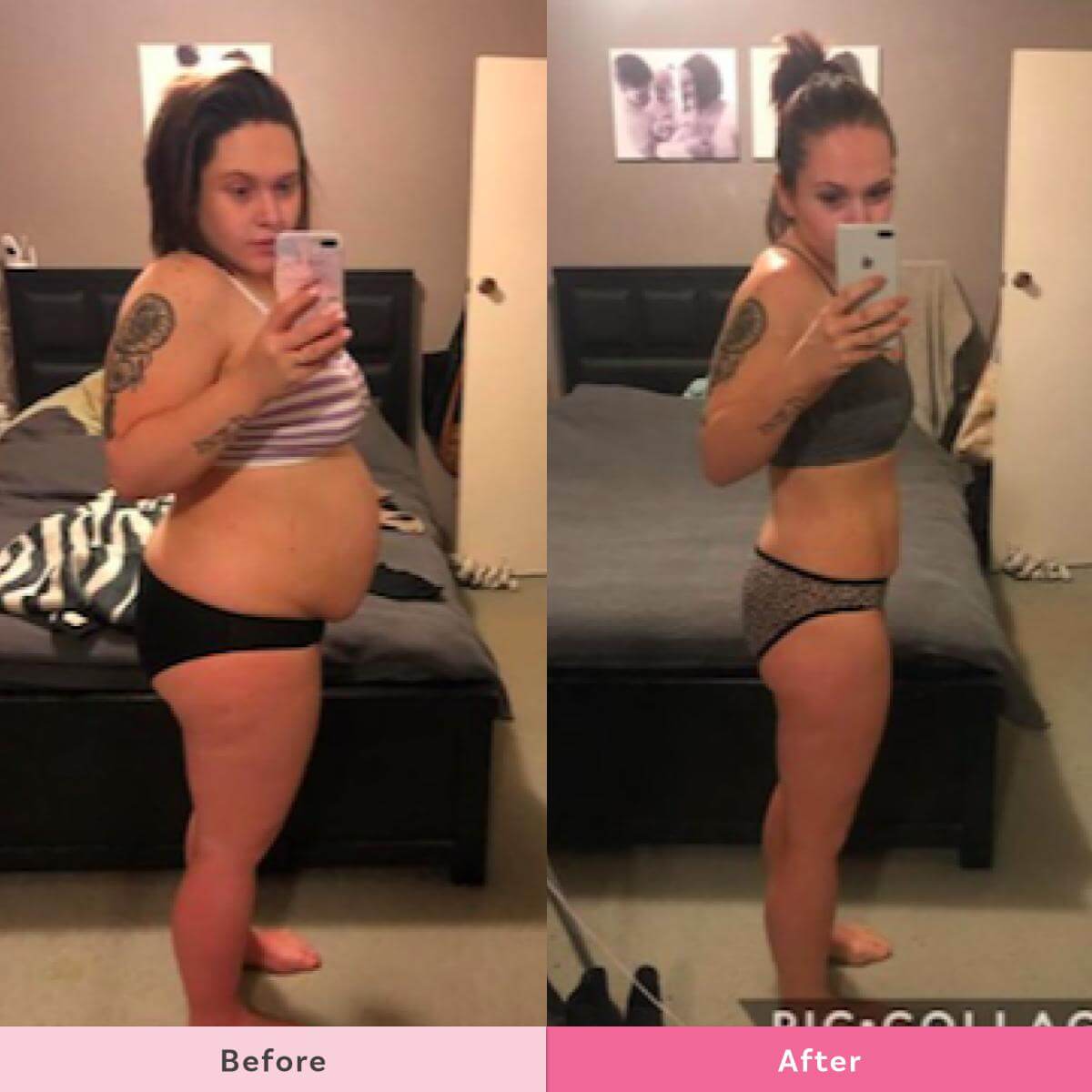 Weight loss results – 6.64st in 9 months
Melanie says, "I'm down a total of 6.64st in 2 years I've had 2 beautiful babies (a 2 year old and a 9 month old).
 I never thought I'd be in the 60's by the end of the year and look at me now here I am 10.5st.
I am 3.74lbs off my goal weight for 2019. Maybe I might even make it into the 50's this year".
How Melanie achieved her results.
As a Healthy Mummy 28 Day Weight Loss Challenge lifetime member Melanie is the first to admit that The Healthy Mummy is a lifestyle, not a diet.
She says "When I first started after I had my daughter 2 years ago I would have two Healthy Mummy Smoothies a day (for the first two months dropping back to one smoothie a day) and I'd exercise five times a week".
After her recent birth, she says "I now have a smoothie every day and I continue to eat good healthy food from the Challenge meal plan (she swaps around meals to suit her family) and exercise to keep my mental state right as well as my physical appearance.
Exercise routine
At 6 weeks postpartum Melanie says "I was back at my local Bootcamp doing what I could do and felt comfortable doing. I listened to my body and that's the best thing I could have done. It's allowed me to be where I am now instead of rushing straight back into fitness!
I found walking wasn't enough for me. I do a HIIT cardio boxing class almost every day then a circuit class with weights once a week and I run up to 20km per week as I'm now training for a half marathon".
The Healthy Mummy gave me confidence
"I'm so glad I found The Healthy Mummy 2 years ago. The Healthy Mummy has helped me find myself and the confidence I lacked before I had kids!"
If you are wanting to lose weight and improve your energy – not to mention – help improve your overall health and wellbeing – our 28 Day Weight Loss Challenge is an awesome program to check out.
Our 28 Day Weight Loss Challenge includes:
28 days of at home exercise routines (no gym needed) – with video instruction
Customisable and breastfeeding friendly meal plans (including 7 Day Cleanse)
Time-efficient exercises for busy mums – under 30 mins
Challenge combines Pilates exercises with interval and circuit training (HIIT)
Suitable for basic to advanced fitness levels
Home to thousands of EASY-TO-MAKE recipes!
To learn more about our 28 DAY WEIGHT LOSS CHALLENGE CLICK HERE or purchase our Smoothies.