With a plan to one day (after kids) be able to recapture the active woman that she was before kids, lead Sue to put herself second.
Prior to having her son, the mum of 3 says she used to be one of 'THOSE fit people'. She ran, swam, and played sports of all kinds, but as we all know, having a family means they come first! As a result, she put herself and her health on the backburner.
After starting the 28 Day Weight Loss Challenge Sue has found herself again and has lost 2.5st!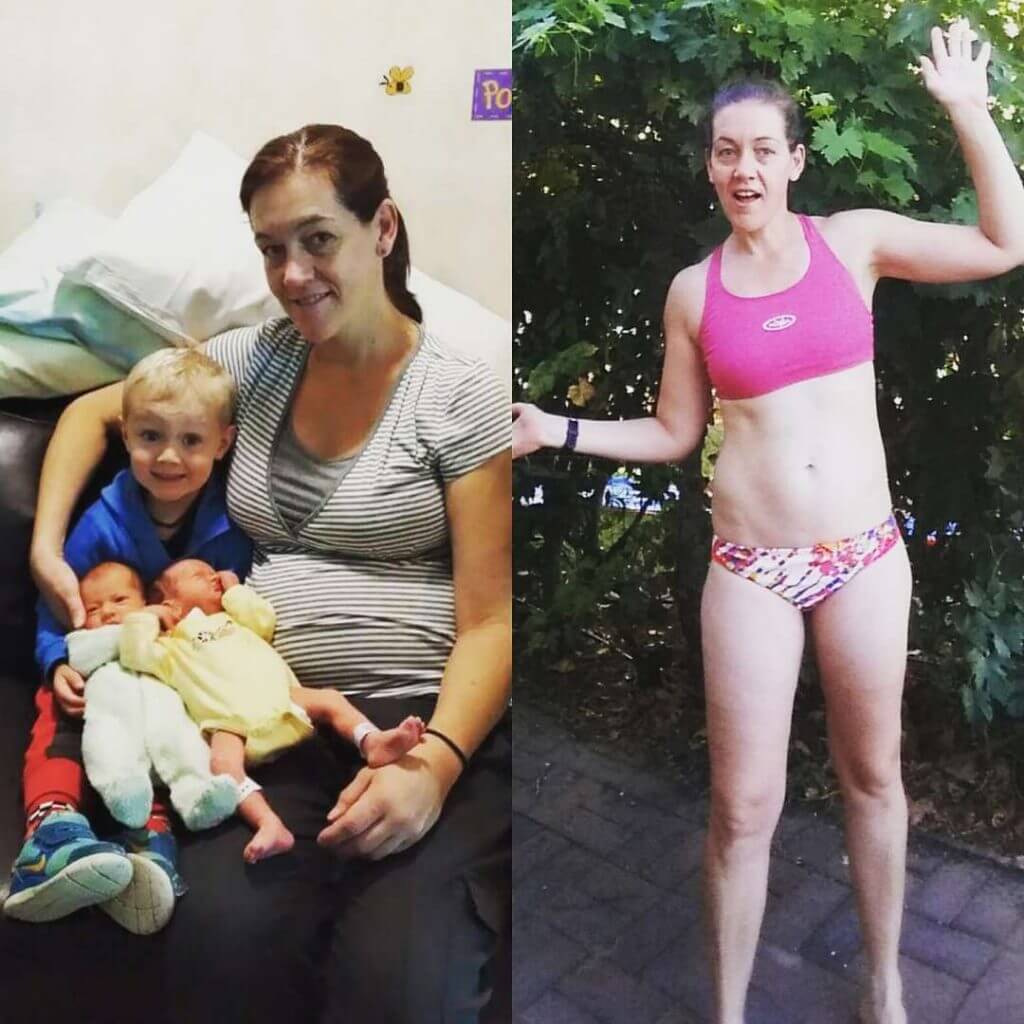 The Healthy Mummy has changed Sue's body from the inside out
At 178cm tall Sue currently weighs 11.9st with an aim to get to 10.9st, which is her pre-baby weight. "I weighed over 12.8st after the birth of my twin girls 3 years ago, so I feel like a new person!," she says. 
The 28 Day Weight Loss Challenge has changed Sue's body from the inside too as she says she previously had iron levels that were too low to donate blood.
"I never EVER got periods or ovulated – for about 10 years and now this too has returned. The Healthy Mummy lifestyle has helped me to reinvent my body from the inside, changes which others can't see and changes which I love."
Sue's children have been such a blessing in her life and after having all her kids, she managed to breastfeed them all up to 12 months old.
Her weight loss journey has not been without its obstacles, she says, "I have PCOS and as such all my kids were IVF kids. I didn't ovulate at all, and had to have insane cocktails of drugs through my IVF just to conceive my kids.
My twin girls were my 7th and final try to become pregnant a second time, after going through chemical pregnancies, ectopic pregnancies, failed cycles and more."
As the 28 Day Weight Loss Challenge aims to promote a healthy and sustainable eating plan to maintain weight loss, Sue has learnt about food and exercise and living in harmony.
She says, "The 28 Day Weight Loss Challenge has helped me to accept my body for what it has done, and what it continues to be capable of. It has helped me to be a positive role model for my kids, my family and my friends. Not only about self image, but that mums truly can do anything they set their minds to!" AMEN!
"I am a meal prep fiend"
Shopping seasonally, with the 28 Day Weight Loss Challenge, Sue selects meals that fit with fruit, vegetables and proteins that are in season, on special or growing in the garden.
She says, "it saves me huge amounts of money, and means I get the best diet possible."
Meal prepping on Mondays, things can get slightly chaotic with 3 year old twins and a 6 year old son, it also means Sue can spend more time with her family in the kitchen.
"My son the other day told me he wanted to be a Healthy Mummy. He asked me 'Do they have Healthy Daddies too? Cos I can't be a healthy mummy', my family sees what I do everyday, how I live my life and they love it. They aspire to mirror it, and I love that!" Sue says.
The two favourite 28 Day Weight Loss Challenge recipes in Sue's house are Mexican Lasagne and the Weetabix Balls.
How Sue exercises now
Sue recently completed a half marathon in 2 hours, a lifelong goal of hers and she wants to one day complete a full marathon!
Owning a spin bike means that even if the weather is terrible, the kids are clingy or Sue can't leave the house, she can still spin!
"Even if it's after they go to bed, and even if it's just for a short time. I'd say my exercise tip, is to find ways to incorporate exercise into your every day. Even if it's not a lot, every bit counts," Sue says.
By taking small steps, Sue was able to remain positive, knowing that nothing happens overnight!
"If I fell off the wagon (and I did) there's no point in beating myself up over it. The important part is that I learnt from my mistakes, recognised my weaknesses and turned them into a positive that meant I didn't go and do it again anytime soon!"
Join Sue on the 28 Day Weight Loss Challenge!
If you are inspired by Sue's before and after pics and want to take charge of your own health and weight – then join our 28 Day Weight Loss Challenge TODAY.
With more than 4,000 delicious (and healthy) recipes, 350 exercises & 24/7 support – the 28 Day Weight Loss Challenge is designed (and proven) to help busy mums like you lose weight!