Yes, you read that title correctly – a HEALTHIER version of a Penguin chocolate biscuit with just FIVE ingredients and UNDER 100 calories! Boom!
Can we all just take a moment to say a massive THANK YOU to 28 Day Weight Loss Challenge member Melanie for sharing this recipe with us?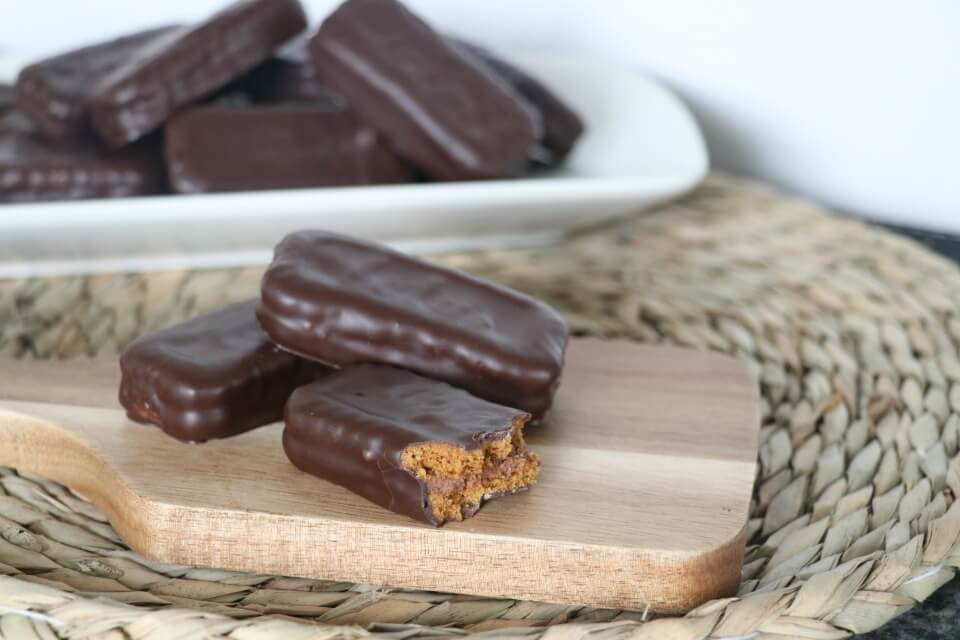 Melanie says her homemade version of the Penguin chocolate biscuit 'is a lot lower in sugar, made from healthier substitutions, and can even be made vegan (by choosing vegan-friendly chocolate).'
Make them to suit your own tastes, with milk chocolate, dark chocolate, or white chocolate – but remember these are a treat so be sure to have people to share them with. They're THAT good!
We don't expect you to live without chocolate on the 28 Day Weight Loss Challenge. Join today to access chocolate-based recipes such as Chocolate Mousse Cups, Chocolate Mint Bark, or Chocolate Coconut Truffles – and all of these have five or less ingredients! Winning!
Need more healthier chocolate recipes RIGHT NOW? Try our Choc-Banana Loaf Cake, or the irresistible Sweet Potato Chocolate Brownies.
Healthier Penguin Chocolate Biscuits
Ingredients
60 grams dark chocolate (70% cocoa)
1/2 tbsp tahini (6g)
1/2 tbsp chilled coconut cream solids (8g)
1 tsp of coconut cream liquid from the tin (5ml)
1 tsp maple syrup (5ml)
8 Lotus Biscoff biscuit pairs (available from major supermarkets)
Method
Chill coconut cream by either putting in the freezer for 20 minutes, or in the fridge for 8 hours.
Melt 20g of the dark chocolate in a microwave safe bowl, add the tahini and mix well.
Once slightly cooled to room temperature, add the chilled coconut cream solids. It will look like the chocolate has split at first, however add the maple syrup and coconut cream liquid (from the tin), and stir well to smooth the mixture back out. The mixture should become quite thick like chocolate icing.
To each Biscoff biscuit half, add 1 teaspoon of the chocolate mixture, and top with the other half of the pair. Chill for approximately 1 hour, or until the chocolate centre is completely firm.
Melt remainder of dark chocolate, and dip the biscuits in to coat entirely. Return to the fridge until chocolate is set, or until you are ready to serve.
Recipe makes 8 biscuits at 99 calories each
More on the 28 Day Weight Loss Challenge
Want access to thousands and thousands MORE healthy recipes just like these? Then be sure to check out our 28 Day Weight Loss Challenge.
Our 28 Day Weight Loss Challenge is a family-friendly, breastfeeding-safe program designed FOR MUMS to help them tackle their health and lose the baby weight. 
Every week you are given a different meal plan to follow and each month we add 100+ NEW recipes to our Challenge Recipe Hub. That way, you'll never get bored and stay on weight loss track while digging into healthy, yummy recipes.
Learn more about our 28 Day Weight Loss Challenge HERE.