When you know that 60 per cent of our body's muscle is in our butt and thighs, it makes sense that this area should be a priority when it comes to exercise.
But besides looking great in jeans, having a strong, toned butt and thighs will help to reach your weight loss goals on the 28 Day Weight Loss Challenge too.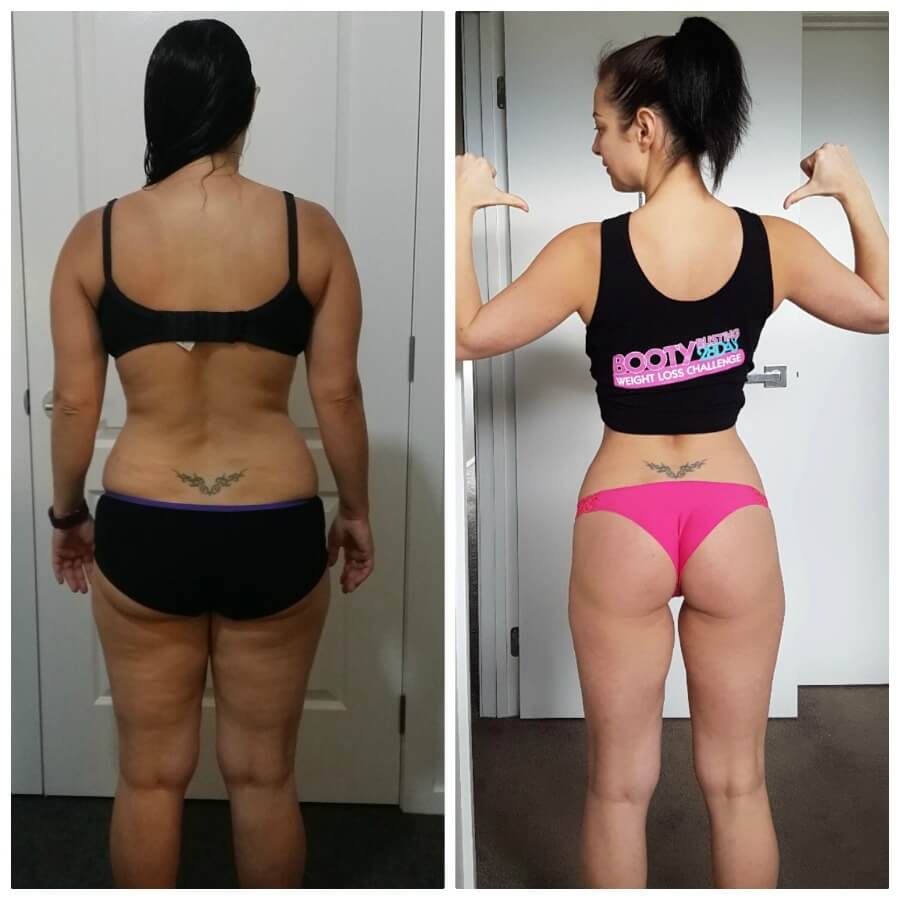 How? They support you in all movements, such as bending, lifting and twisting. So if your butt and thighs are strong, you'll also experience better fat burning, in ALL areas of your body.
Read Julia's story here (pictured above) where she shares exactly how she managed to pull off that incredible butt transformation on the 28 Day Weight Loss Challenge.
How can start toning my behind?
This September, the 28 Day Weight Loss Challenge is focused on exercise to boost your booty, with easy to follow workout videos that target these key areas.
The Butt and Thigh workout videos are short routines that are designed to lift the butt and tone the legs, increase overall fat burning and strengthen the lower body.
More benefits
But wait! There are even more amazing benefits to strengthening the butt and thighs, such as:
reduced back pain
a stronger pelvis
better supported knees and ankles
strengthening your core
improving your balance, and
increasing your body's fat burning potential
Which exercises should I do?
Many exercises work these important muscles, however squats and lunges are key, as they activate a variety of muscles while strengthening the entire lower body and core at the same time.
That's why you'll see these exercises feature a LOT in the 28 Day Weight Loss Challenge app. Why not try doing 20 squats right now? There's no time like the present!
Check out our BOOTY BUSTING exercises for yourself from Healthy Mummy Fitness Trainer Wendy:
Ready to tone your booty? Join us on the 28 Day Weight Loss Challenge and take part with thousands of other mums who want to tone up and strengthen their behinds! The Healthy Mummy is right behind you!
Want a sneak peek of the food on the Healthy Mummy's 7 day cleanse?
You will NEVER go hungry on the 7 day cleanse. In fact, we think you'll love the recipes that we have suggested for you!
How about breakfasts like Vanilla Chia Pudding that you can prepare the night before to make mornings a breeze?
Or snacks such as Coconut and Cashew Bites that you can make and store in the freezer to grab and go.
You'll enjoy meals like No Rice Sushi, which take next to no time to prepare and are packed full of healthy ingredients (such as salmon and avocado that can help bust cellulite).
They'll fill you up while also giving you energy, and helping you to reduce stomach bloat.
And YES there are desserts too, such as Orange & Yogurt Panacotta that require just four ingredients and only a few minutes of prep time.