When your newborn has lumps, spots or bumps on his or her body, it's only natural to be concerned. But newborn rashes are actually incredibly common.
The thing is, when should rashes really make you worry? And what can you do to help alleviate the symptoms that come with these rashes?
It's going to take some time for your newborn to get used to their new surroundings. They no longer live in a bubble of warm water and thus, their body, including skin, is going to need to adapt to these changes.
Most baby rashes are harmless and will go away on their own or with minor adjustments (such as changing the washing detergent or eliminating certain foods from your diet if breastfeeding.)
However in very rare cases, a rash is the sign of a serious infection, such as meningitis, which will require immediate medical attention. Always consult your doctor if you are concerned about a rash in your newborn.
The most common newborn rashes
Erythema toxicum
Characterised as blotchy red skin (caused by minor irritation from bub's new surroundings) that appears usually within the first 48-72 hours after birth, erythema toxicum can be terrifying for a first-time mum. But it's completely harmless and common (half of all newborns develop it) and it will clear up after a few days. Phew.
Milia 
These little white spots (caused by blocked pores) on a newborn's face are temporary and nothing to worry about. About half of all newborns will develop this and they will usually go away within the first month.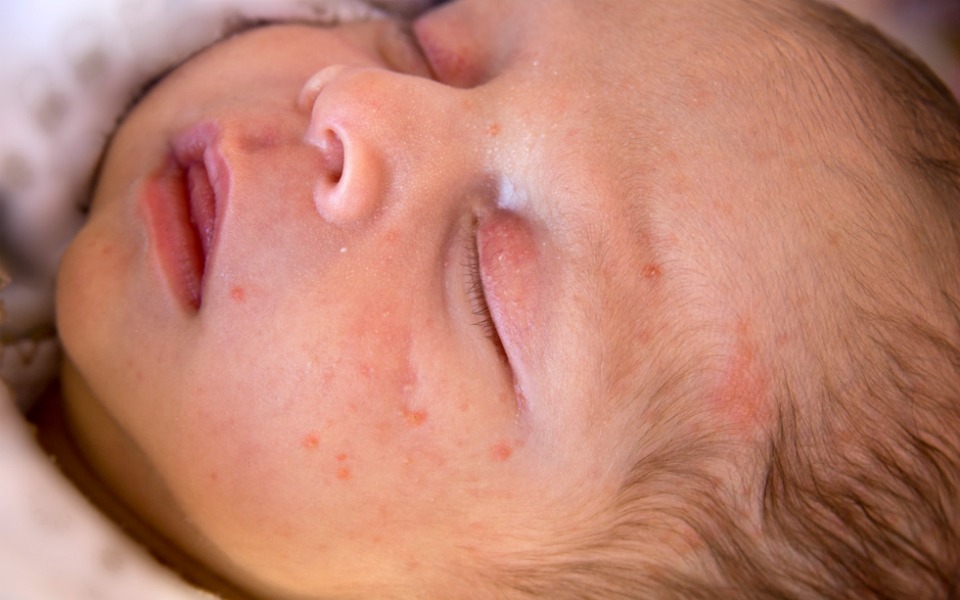 Baby acne
In addition to the little whiteheads, some babies will also get little pimples on their cheeks and nose. Known as baby acne, these usually clear up around the six week mark.