You've worked hard to lose weight on the 28 Day Weight Loss Challenge and can see the light at the end of the tunnel. But that light weighs about one stone and just won't budge.
For so many mums, it is tough to lose the last stone to get to their goal weight (whether that's pre-baby weight or another goal they have chosen). Really tough.
For some reason our bodies seem to want to hold onto those last few pounds as a bit of a security blanket.
But today we have some tips that might just help. A lot of them may be common sense, but others you might see as being quite strict.
But that's OK because it may only be a few weeks that you need to be so tough on yourself before you see results and hit maintenance mode. Many of the mums still use the 28 Day Weight Loss Challenge when they are maintaining their weight loss (as you can adjust the calories per day depending on your goal).
1. Get strict – while you may not be into counting calories, you might just find that when you work out your BMI and the corresponding daily calorie recommendation that you are over consuming each day. Every little bit helps, so why not spend just a few weeks counting calories until you are confident that you are eating the right amount.
2. Start swapping – so eggs and spinach instead of toast or cereal; try using 50:50 water and milk in your porridge or muesli; fill your plate with veggies and salad instead of rice or pasta; use lettuce or cabbage as 'wraps' instead of sandwiches.
3. Up the protein – ensure that you are eating enough protein in your meals and snacks. This helps you to feel fuller for longer and gets your metabolism firing. Think nuts, seeds, boiled eggs, poached chicken, natural peanut butter, tofu.
4. Cut back on the treats – if you are really trying everything then why not go for it and try really cutting back your treats for a few weeks. It might mean all the difference so it is worth a go if you think you can manage it. Find some healthier snack choices on the 28 Day Weight Loss Challenge.
5. Say no to alcohol for a while – even the odd glass of wine adds up in terms of calories. And with no nutritional value it could be a quick and easy way to see results.
6. Mix up your repertoire – our bodies get used to the same old same old.
7. Stay focused – one day at a time is all we can do. Don't let a bad day turn into a bad week. So if you have a slip up, dust yourself off and remember that tomorrow is another day closer to your goal.
8. Get support – try chatting to a friend or other mum who has lost weight. Pick their brain and see if they have any insight for you about anything you are missing or not doing. Jump onto the Healthy Mummy Facebook group and be inspired by the mums, advice and stories on the page
9. Boost your metabolism – get your insides to do all the work. Fire up your metabolism and the calories will burn themselves. Read our top picks for weight loss boosting foods here.
10. Move move move – for some people, a daily walk and some weekly strength training is enough to see great results. For others, you might need to get more of a sweat on to see the benefit. Try alternating your walks with jogging or a light run. Increase your strength training as this helps to build muscle which means you will burn more calories even from your daily movements. Use the challenge app if you want some structured exercises that you can do at home without equipment.
Are you ready to kick-start your weight loss?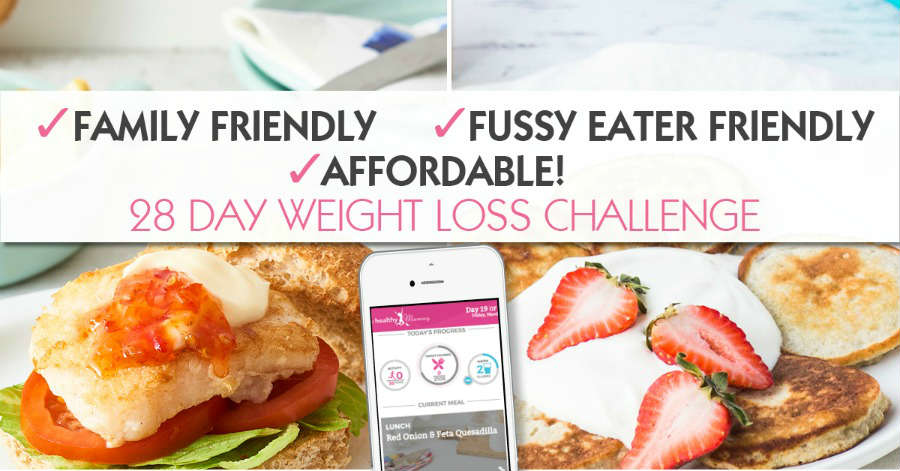 Want to shift your baby weight but feel like you have NO TIME in your day to exercise and eat healthily? That's where the Healthy Mummy's 28 Day Weight Loss Challenge can help.

Our Challenge entails: 
28 days of at home exercise routines (no gym needed) – with video instruction
Customisable and breastfeeding friendly meal plans
Time-efficient exercises for busy mums – under 30 mins
Challenge combines Pilates exercises with interval and circuit training (HIIT)
Suitable for basic to advanced fitness levels.
Home to thousands of EASY-TO-MAKE recipes.
To find out more about joining the 28 Day Weight Loss Challenge for £1 click here.
PLUS – connect with THOUSANDS of other mums on the 28 Day Weight Loss Challenge by joining our free support community here.