With all the changes going on in our body during pregnancy, embarking on a maternity photo shoot is often the last thing we feel like doing!
But once you have seen these 10 insanely creative and beautiful maternity photos provided by our Healthy Mummy community mums, we hope you might be inspired to give it a go.
10 Creative And Beautiful Maternity Photo Shoot Ideas
1. Take A Milk Bath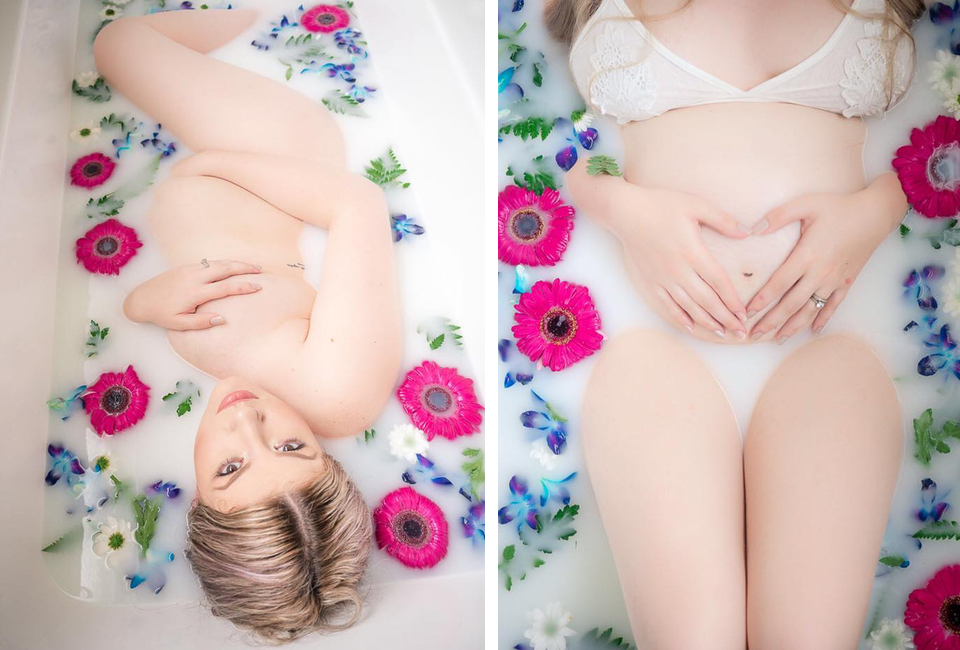 We love the artistic nature of this shot.  It's both colourful, yet calming and pure.
Briell O'Neil says she did the milk bath shoot in the comfort of her own home when she was 29 weeks pregnant.
"The overall process was pretty easy. We started off filling my tub with warm water and when it was around a quarter full; we began adding the powdered milk and cornstarch mixture. Then we used a whisk to evenly distribute the milk powder and cornstarch," she says.
"When the tub was about two-thirds full, I got into the bath and my photographer started positioning the flowers around me. From there it was all fun!
"The great thing about milk baths is the ability to create something unique and personal. I was able to choose the colours and flowers I loved. The blue orchids were a personal touch to me because they were my wedding flowers."
2. Wear A Flowing Dress With A Long Trail