We love Cinnamon Sticks!!  More than that, we love Cinnamon Sticks made in an Air Fryer because they are both delicious and lower in calories than traditional deep fried ones.
All you need are a few simple ingredients and you are on your way to enjoying hot, crispy homemade Cinnamon Sticks with Chocolate Dipping Sauce.  Plus you can be sure the kids will delight in this recipe too!!
This recipe is from our NEW range of Air Fryer recipes in the Healthy Mummy App, as part of the 28 Day Weight Loss Challenge . Whip up a batch of these tasty Spanish doughnuts for a sweet snack any time.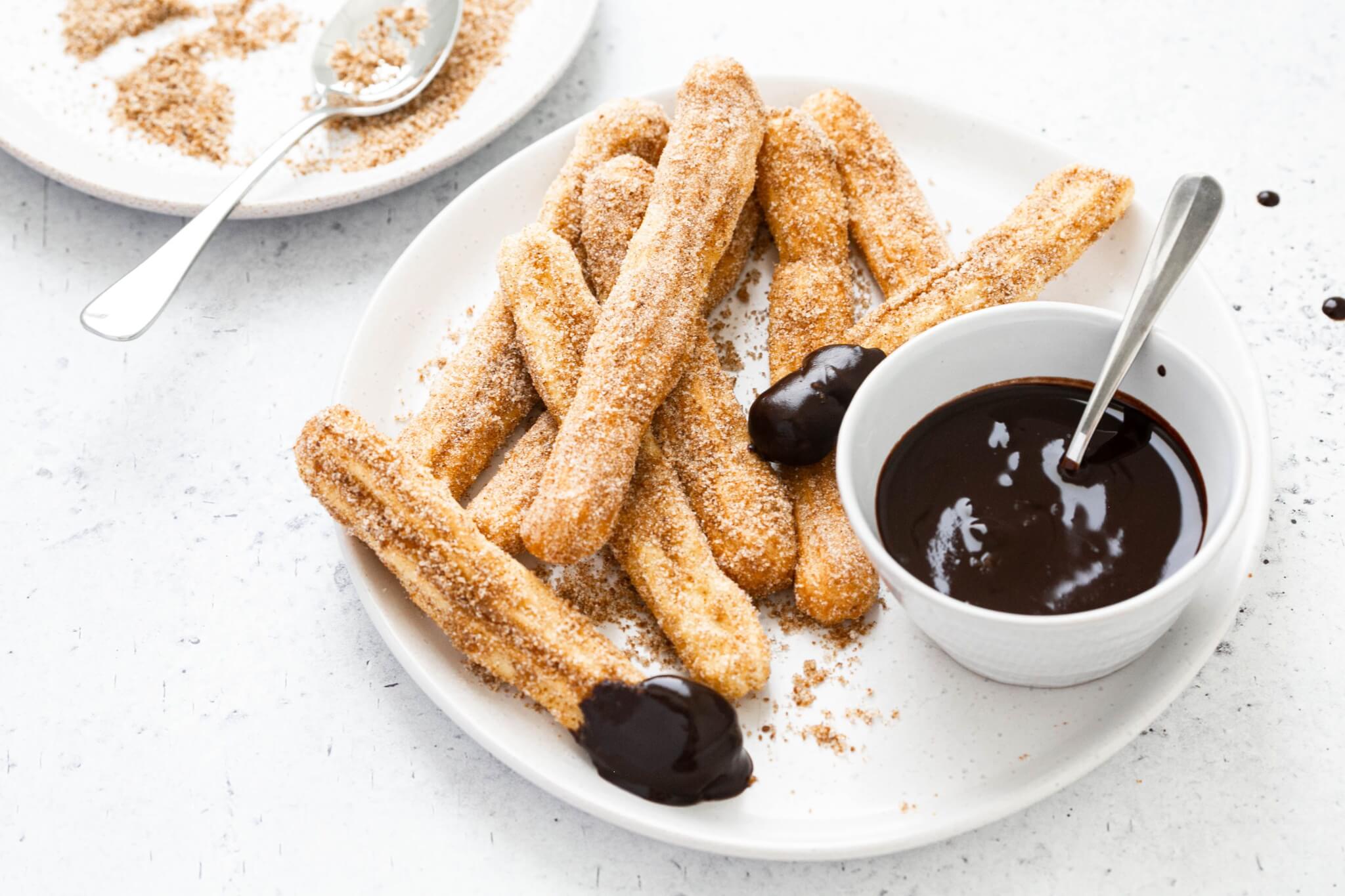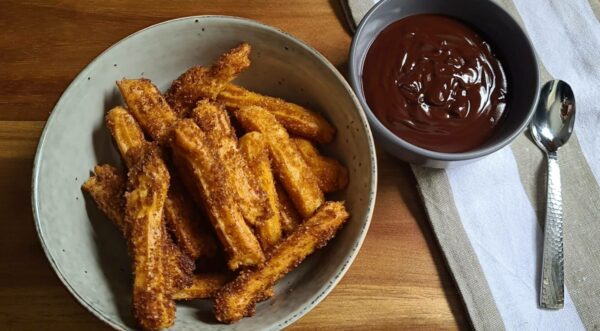 | | |
| --- | --- |
| Servings | 4 sticks per serve 5 cm each |
| | |
| --- | --- |
| Servings | 4 sticks per serve 5 cm each |
Preheat the air fryer to 180c.

Heat a small saucepan over medium-high heat, add water, salt and ¼ cup of butter and bring to the boil.

Reduce heat to low. Add the sifted flour and stir continuously for until a smooth dough is formed. Continue cooking on the low heat, stirring constantly, until dough begins to pull away from the sides of the saucepan, this should take 2-3 minutes.

Once the dough is ready pour into a large bowl. Allow to cool for 1 minute.

Stir the dough mixture again to let out any excess heat.

Add the eggs one at a time, ensuring each egg is completely mixed through.

Add 2 tsp of cinnamon to the dough and stir thoroughly.

Spoon the dough into a piping bag and place in the fridge to chill for 20 minutes.

Using the piping bag pipe 8 (5cm long) pieces of dough into your air fryer basket, ensuring no dough is touching.

Cook the cinnamon sticks for around 10 minutes or until golden. Repeat this process with the remaining dough.

Once all the cinnamon sticks are cooked combine the sugar and remaining cinnamon in a small bowl and melt the remaining 2 tbsp of butter in the microwave for 30 seconds.

Brush the cooked cinnamon sticks with the melted butter and then roll in the sugar mixture to coat.

Melt the dark chocolate in the microwave 15 seconds at a time until completely melted, chocolate can burn easily so it is important to take your time.

Once chocolate is melted prepare a tray with baking paper, lay the cinnamon sticks on the tray and drizzle with melted chocolate.

Place in the fridge for 5 minutes to allow chocolate to set.

4 Sticks is one serve. Store leftovers in an airtight container in the fridge for 2 days.
Want more Air Fryer recipes? Check out the 28 Day Weight Loss Challenge
This recipe from our  28 Day Weight Loss Challenge and is a yummy example of just SOME of the delicious, healthy and easy to make snacks and meals you can tuck in to.  
With over 4,500 recipes to choose from our 28 Day Weight Loss Challenge helps you eat well (and deliciously) with ease and while losing weight.
You can learn more about our Challenge HERE.