This decadent and indulgent recipe from the 28 Day Weight Loss Challenge is a twist on the classic favourite 'Caramel Slice' using those delicious little biscoff biscuits and biscoff spread!
With three layers of loveliness, this recipe has a biscoff biscuit base, an oozy caramel filling made with dates, cashews and biscoff spread, and topped with two different types of chocolate. All the layers working together to bring you the most glorious of indulgent slices. 
What's more a serve of this yumminess is just 191 calories meaning you can indulge and enjoy it without the guilt!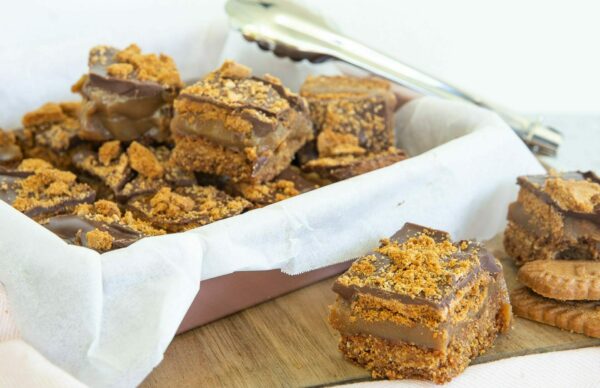 | | |
| --- | --- |
| | |
Preheat oven to 160°/ gas mark 3 and line a slice tray with baking paper.

Soak dates and cashews and set aside.

Place the base ingredients (reserving 2 biscuits for the topping) into the food processor or blender and blitz until well combined.

Press base mixture into the prepared tray and bake for 30 minutes.

Once cooked, remove from the oven and allow to cool.

In the meantime, make your caramel. Drain and rinse cashews and dates, place into a food processor or blender. Add vanilla and biscoff spread and blitz until smooth.

Pour the caramel over the cooled biscuit base. Spread it out using the back of a spoon and set aside.

Combine the two chocolates together and melt them over the stove or in short bursts in the microwave to ensure they don't burn.

Drizzle the melted chocolate over the top of the caramel layer top with remaining crumbled biscoff biscuits and set in the fridge for two hours.

Once set, remove your slice from the fridge and cut into 30 pieces.

One piece is one serve. Store the remaining slice in an airtight container in the fridge or freezer.
Biscoff Caramel Slice: 191 calories per serve
If you love the taste of biscoff and a classic caramel slice, have a look at these two other delicious recipes.
Get this recipe and other amazing recipes just like it on our 28 Day Challenge

Each month our 28 Day Weight Loss Challenge gives you a meal plan, exercise routine and tips and advice to help you be the best version of yourself.
Do you find yourself victim to emotional eating? Take the stress out of putting so much emphasis on food and diet and try our 28 Day Weight Loss Challenge which has been described by 100,000's of mums as a lifestyle change!
With a weekly meal plan consisting of 3 main meals and 3 snacks – The Healthy Mummy's 28 Day Weight Loss Challenge can help you stick to a healthy food plan and hit your weight goals.
You can find out more or join the 28 Day Challenge HERE.