We love sharing success stories. These five mums have shared with us their fantastic weight loss achievements. They have all lost their ideal weight on their weight loss journey but have gained so much more than just confidence along the way.
Definitely worth celebrating. Be proud ladies!
Mums share their weight loss triumphs
These five fantastic mums lost weight and found their self-confidence thanks to Healthy Mummy.
They have each followed The Healthy Mummy 28 Day Challenge and not only lost weight and changed their body shape, but also seen some massive improvements to their mental health and overall attitude.
Mercy Winters
Mercy completely changed her diet from unhealthy convenience foods a lifestyle of healthy foods. She has more energy now and her self-confidence has rocketed as a result of the changes she has seen.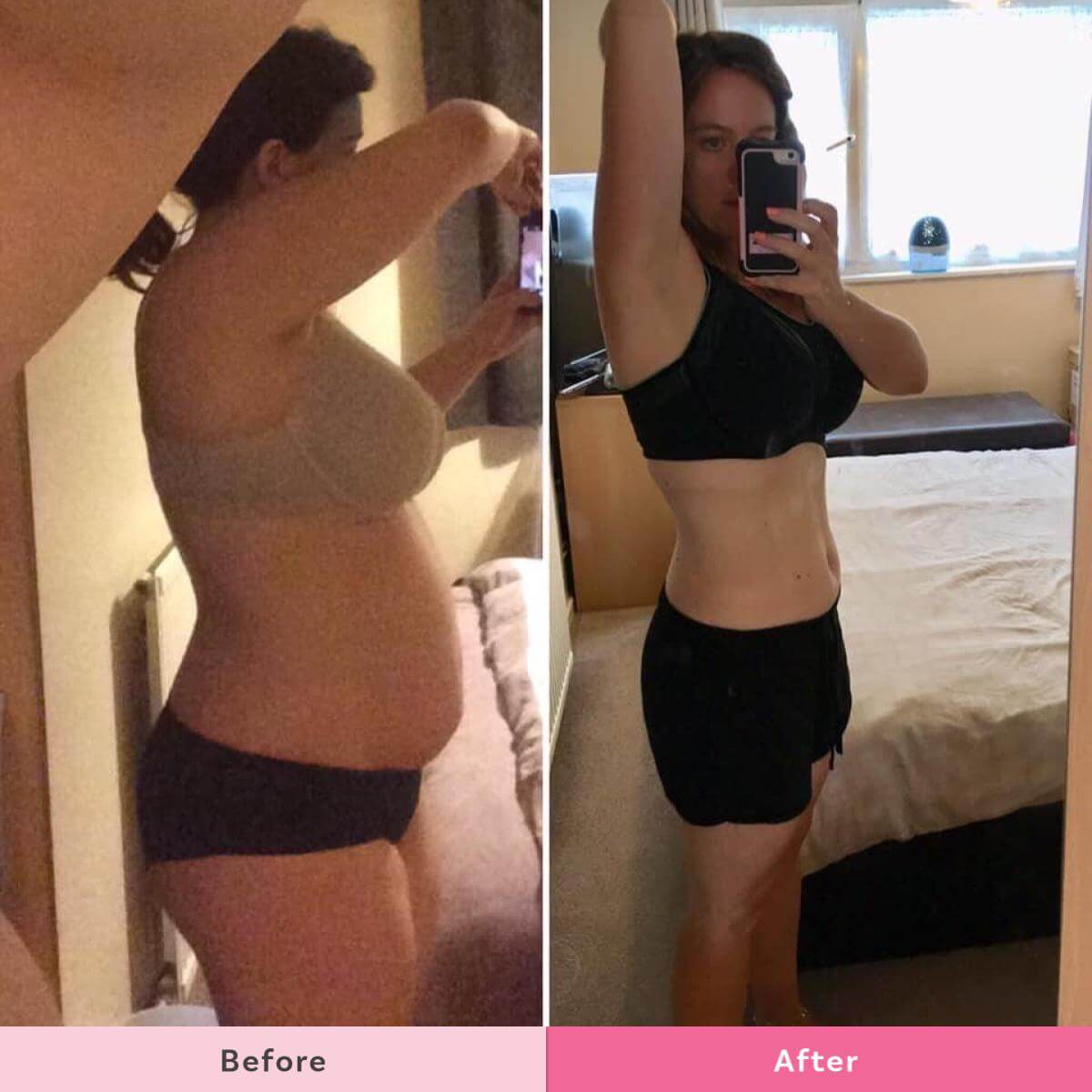 Mercy Says: "Left photo – bloated, uncomfortable, zero self-confidence, always tired, lived on junk food and used chocolate and fizzy drinks to get myself through the day. I took this photo probably a year before I started HM, and it was never supposed to be seen by anyone else. But it's such a good photo to use as a comparison. I don't know exactly how much I weighed that this point, probably getting near to 13 stone.
Right photo – the smallest and healthiest I have ever been. Fuelled by healthy foods. No longer constantly picking or binging on chocolate. My self-confidence is probably higher than ever in my whole life. There is still so much work to be done, maintaining, toning etc, and my journey is far from over, but I am at a point where I am comfortable and happy when I look in the mirror.
"I would never have got to this point without Healthy Mummy. I live by the motto 'it's not a diet, it's a lifestyle' and it's so true. I've not given up chocolate or cake or chips forever. If there is an occasion for these things then I'll join in. But I won't eat the whole sharing bar of chocolate or 3 slices of cake – that's the difference. Everything in moderation. Thank you Healthy Mummy!"
Get the FREE Healthy Mummy Takeaway Makeover recipe book here
Joanna Bowness
Joanna has the confidence now to rock her short shorts on holiday and be proud of her body as she teaches her children about living a healthy lifestyle.
We are so happy that the Healthy Mummy 28 Day Challenge has helped Joanna find her energy and spark after years of struggling with her self-image. We think she's done just wonderfully and her story is inspirational!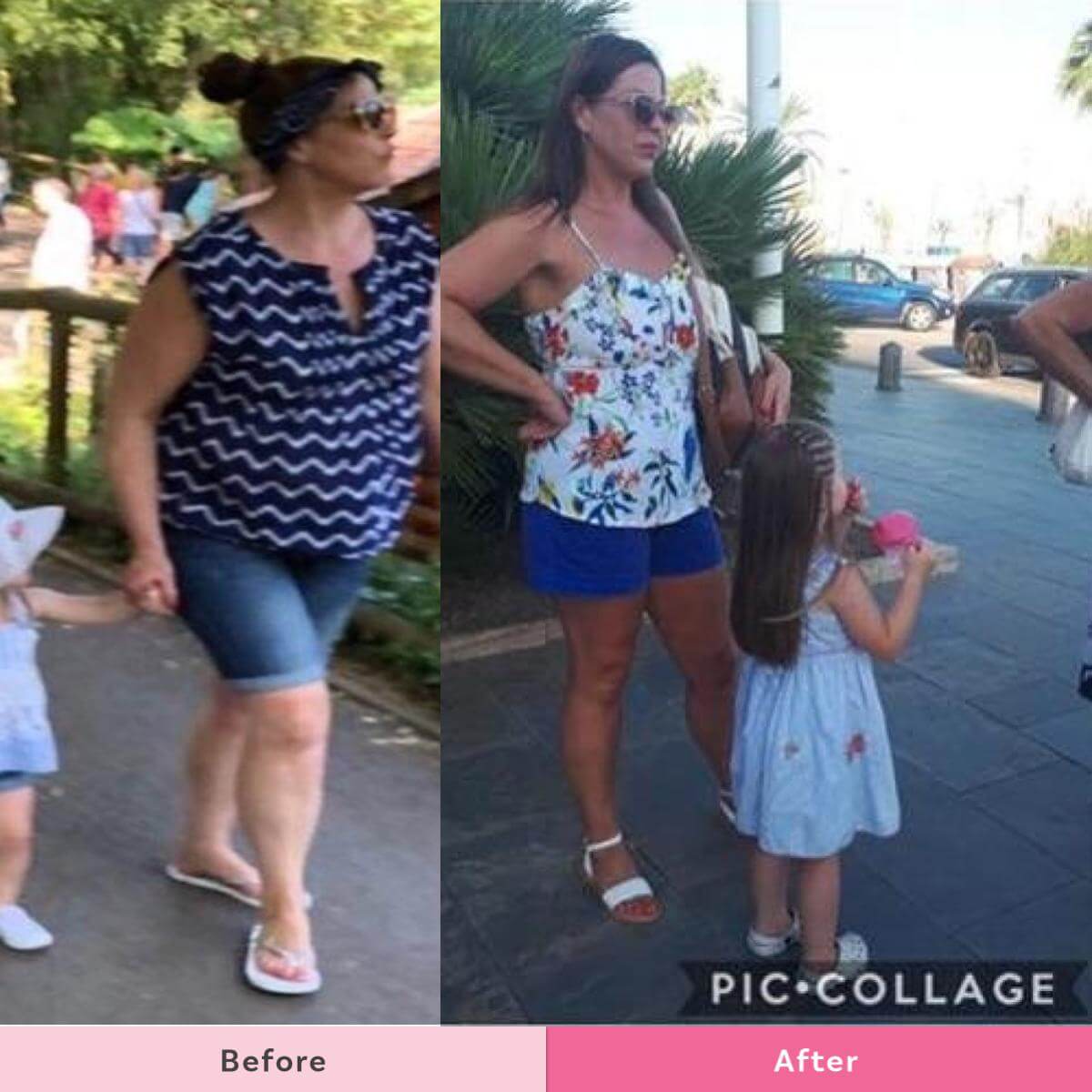 Joanna Says: "So picture on the top right is of me at 20 and coming in at a size 26 dress size!!!! I used to pretend I was happy with my body and this was what life would be for me as I had been overweight from the age of 8 bullied through primary and secondary school to the point of depression and anxiety.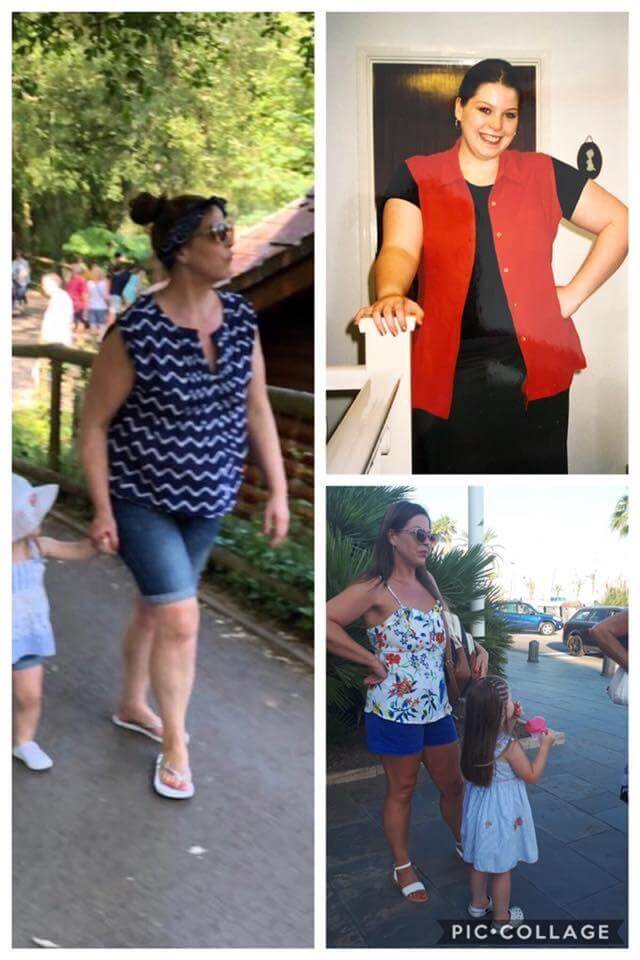 "Doctors didn't pick up on that then, especially not with children, so nobody actually clicked there was a lot more wrong with me than just being tubby as it was called!!
"I was put on slimming tablets at the age of 11 and it still angers me to this day the way I was made to feel growing up. I was a beautiful young girl who struggled with comfort eating and it escalated to excessive weight gain and a life long struggle with back issues and weak ankles caused by my weight being so high from a young age.
"It's made me a very conscious mummy when it comes to my four children and thankfully they are all fit and healthy with great amounts of energy and all eat brilliant food which has got even better with healthy mummy recipes.
"The picture on the left is of me in May 2018 coming in at a size 18 and feeling very down and uncomfortable and hating being out in public.
"Anxiety and depression were creeping in again and I was at a point where I needed to make a change which is when I started to cut out choc treats and bread plus a 5k walking workout at home in the safety of my living room every morning.
"I saw a weight loss of a stone but then stagnation set in and no more weight came off.
"Step in Healthy Mummy!!!! It completely gave me the noticeable changes I needed to see in order to stay on track!!!
"The picture on the bottom right is of me on holiday two weeks ago wearing clothes I wouldn't of dreamed of wearing 20 years ago 10 years ago or last year!!!
"Although I only started my journey with healthy mummy in April I have seen such an improvement in my energy levels and how much more patience.
"I have for my kids and partner and motivation to get out and do things!!
"Confidence has soared although I still feel very uncomfortable some days and very wobbly and aware that I still have a long way to go but I know I'm going to reach my goal!!!
Over twenty years I've looked for something that works for me and this does!!
"My body shape has changed so much in just 3 months!!
"Although I was working out before signing up to Healthy Mummy I wasn't seeing results which is when you start to slip and slide into bad habits.
"After 3 months on Healthy Mummy my abs are becoming more visible I can feel the muscle in my tummy is actually there!!!
"As for my thighs well what can I say look how short the shorts are!!! Seriously can't believe I'm wearing clothes that I used to dream of wearing!!!!
Thank you Healthy mummy, you rock!!!!"
Elizabeth Clare
Elizabeth has bravely battled through negative environments and body image issues for years and finally found that the Healthy Mummy 28 Day Challenge has given her the support and tools to change her body and draw on her incredible inner strength to support her mental health.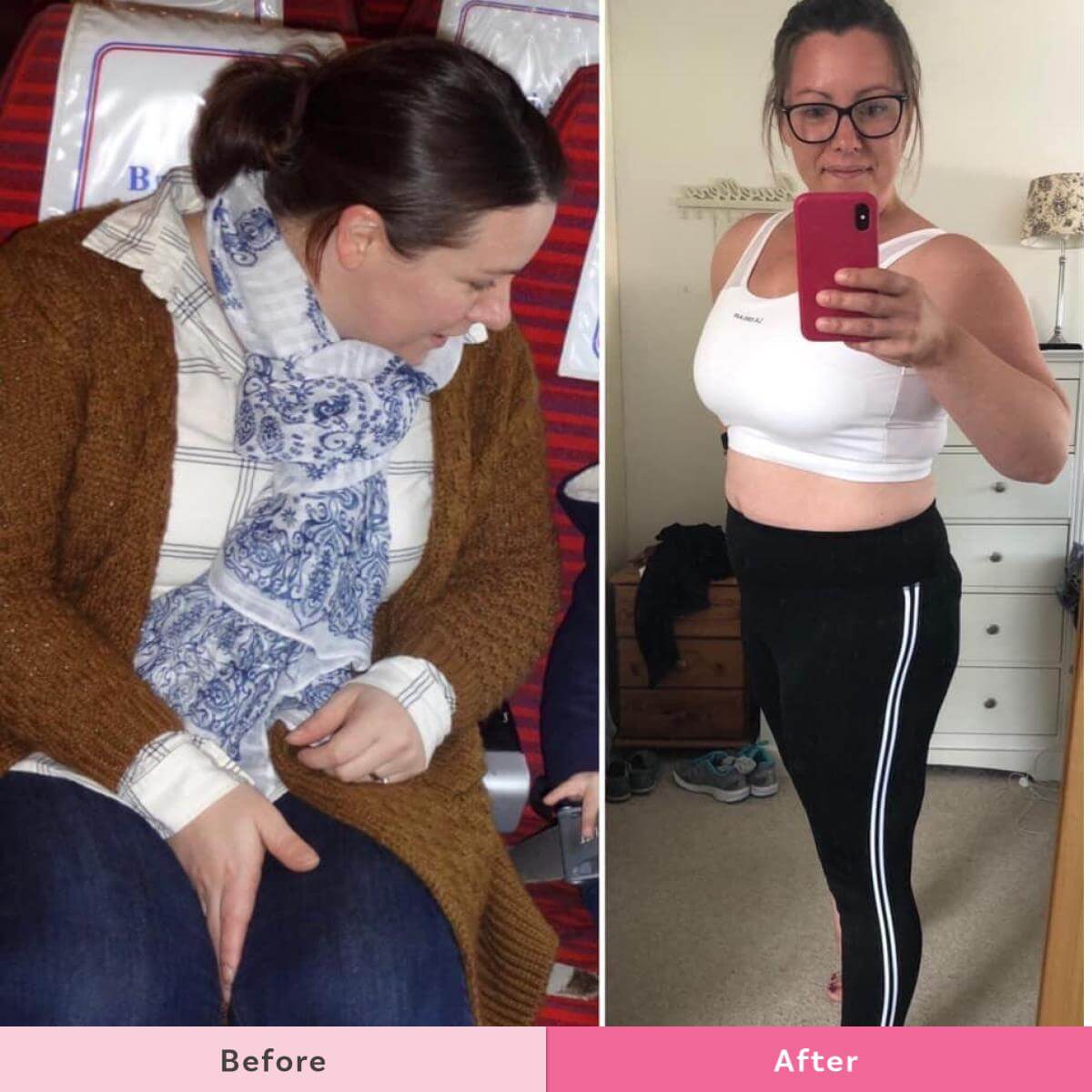 Elizabeth says: "I don't tend to bare all (well this much anyway). But I was needing to give myself kick.
"My weight loss/health journey has been one of MANY twists and turns, roundabouts and just MAHOOSIVE boulders.
"I've had to re-navigate many times to get back on track.
"I've battled with my weight since I went to Uni, studying to be a Staff Nurse, I was working shifts as well as studying and also partying. I lost my way completely both how to look after myself and who I was.
"Once working in a hospital as a newly trained nurse I became victim to work bullying which resulted in me just eating and drinking my way through life.
"This then started my numerous years of trying all the diets, weight loss programs, quick fix exercise programs.
"Fast forward 15 years…..a long time out of that toxic environment and I am still working on me!
"The difference being that I am not surrounded by negativity and bullies.
Yes I have had days where I want to give up (this week)
Yes I've had days where I haven't been on plan.
Yes I've had days where I've thought I can't do this (this week)
"But, I've learnt that each day is a new day, not week, not month, but each day I can start again.
Each day I can try my hardest.
Each day I can wake up and see what a difference there is.
"I'm not that young and spritely anymore but I know I'm not old and I can still make that change. It just may take that little bit longer than when I was in my 20s. But all I can do is wake up each day and try."
Ruth Shewan
Ruth has found the Healthy Mummy community hugely supportive for her weight loss and healthy living lifestyle. She is also seeing all kinds of non-scale victories (NSVs) since she joined the Healthy Mummy 28 Day Challenge and has learned to love her body.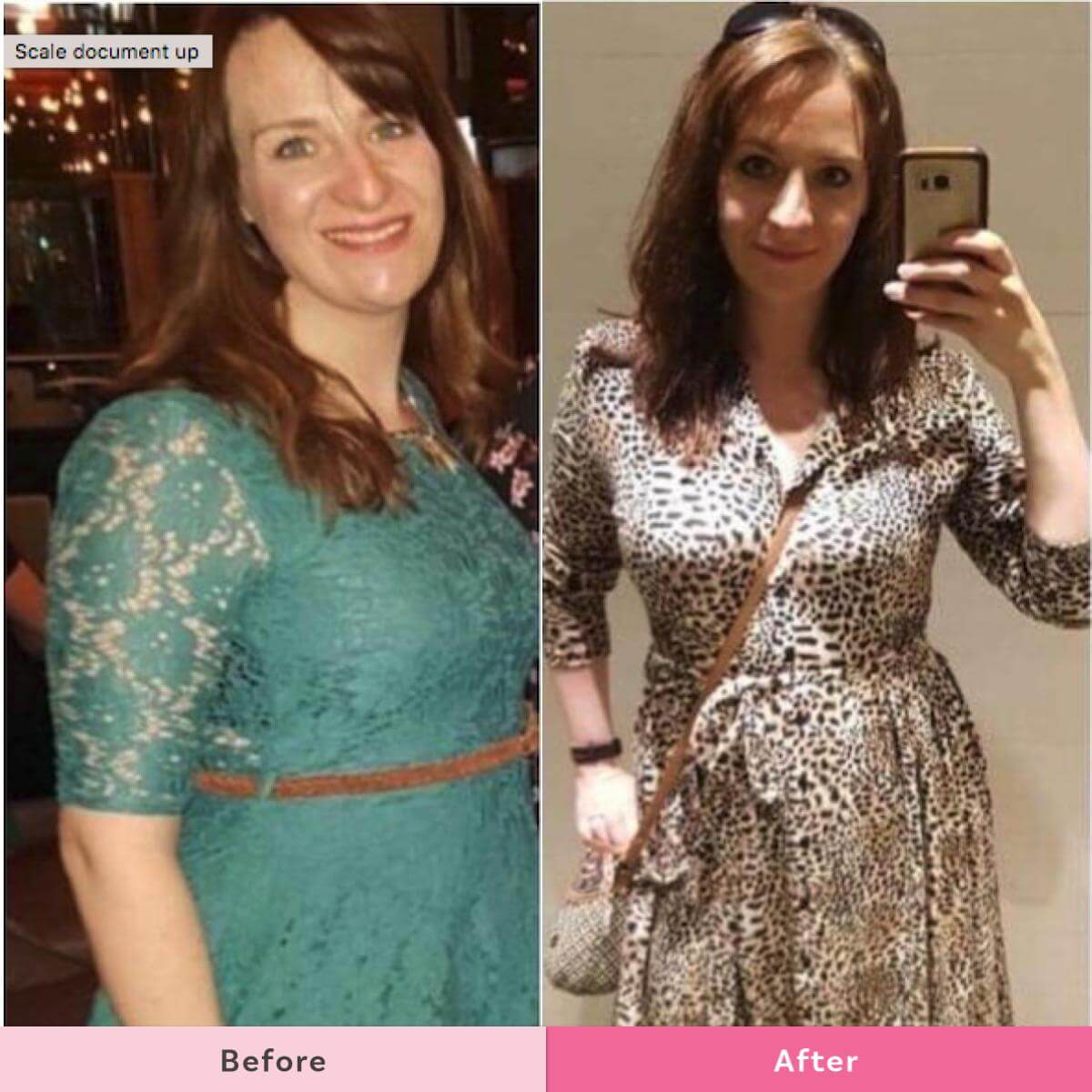 Ruth says: "I've been feeling bloated and not great this week. However last night I braved the great Scottish weather for an outdoor concert in this lovely dress with hubby. I didn't care that my 'peely wally' legs (as my mum calls it) were on show or that I didn't have control pants on and my tummy jiggled when I walked.
"I felt great – and I'm so glad I've reflected back this morning on how far I've come and what Healthy Mummy has done for me.
For me it's not just about weight loss:
I now have a fantastic community backing and supporting me and I know I can turn to
I love my body more than I ever have – and the fact that my tummy jiggles
I don't feel guilty about having a day or two off plan and I don't let it affect my mental health
My skin and nails reap the benefits of eating amazing healthy food
I have more energy since starting HM and it has provided me with the structure I needed to be a full time working mum and find that balance
The best part – I have access to all this for life without having to ever pay for it again.
"If there's one thing you do today – reflect on your journey. It doesn't matter if you've been on this journey for a year, a month or even a week – the benefits are instantaneous!"
Katy Tutty
Katy found that changes made through other programmes weren't always sustainable, until she discovered the whole lifestyle change of the Healthy Mummy 28 Day Challenge. She has changed her relationship with food by using non-food treats for rewards and finding time to make the Healthy Mummy exercises work for her.
Download the FREE Healthy Mummy 7 day meal and exercise plan here.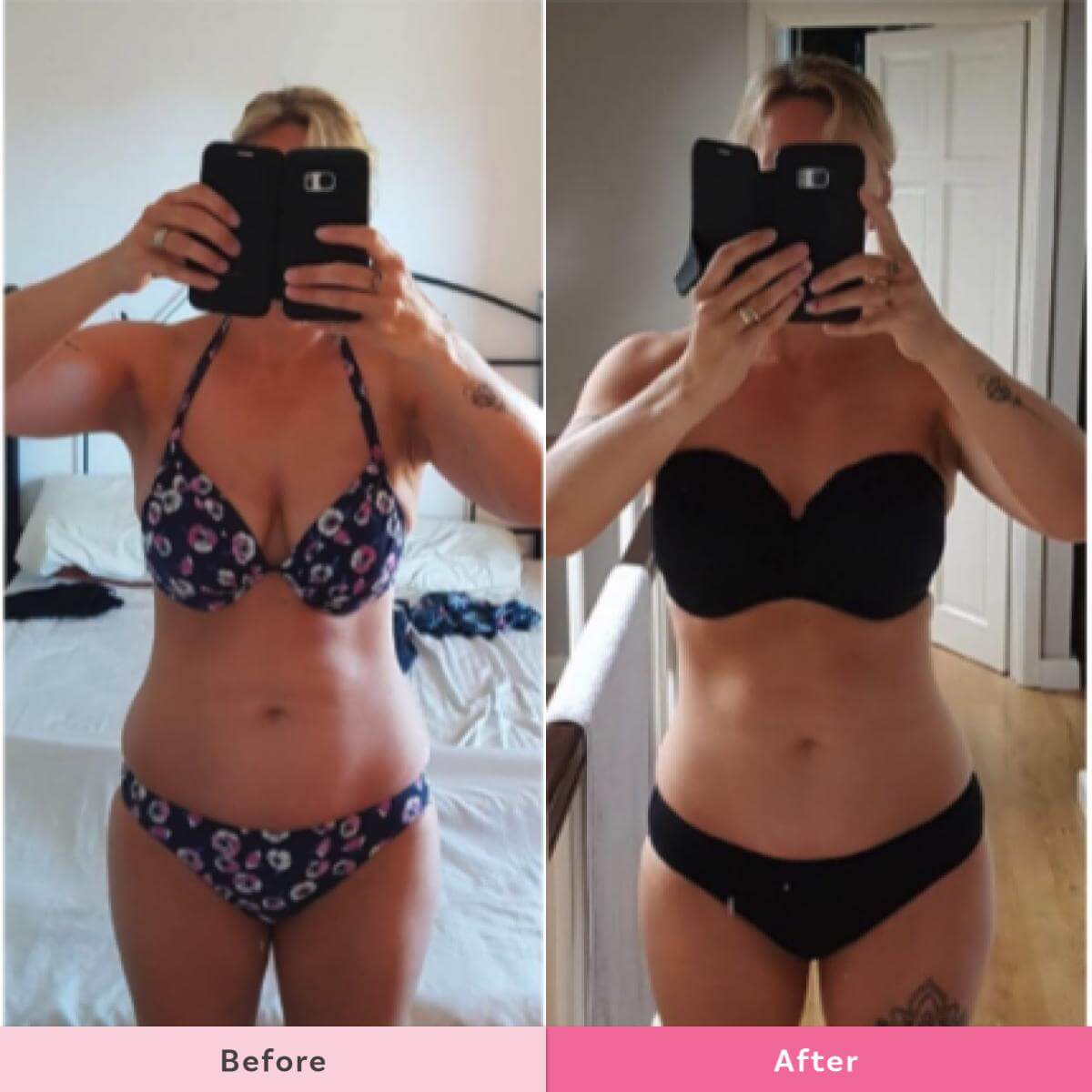 Katy says: "The picture on the right is from a year ago, I had been trying to keep my weight in check but the small changes never stuck and I was far from happy with how my body felt and looked.
I joined Healthy Mummy in September 2018, fast forward to now (picture on the left). I have lost 10lb in weight but my whole mindset has changed.
For weight loss to be successful you must treat it as a journey not a race to see how quick you can get there.
"Time can be hard to find for exercising but there's always an opportunity to fit something in – Squat while brushing your teeth, do star jumps while running a bath etc!
"Water intake is important and whilst the toilet trips are frequent to begin with your body adjusts
"Don't reward yourself with 'bad' food treats, save up and get clothes for your new figure, an activity day with your family or a tattoo!!

"I am so glad I found Healthy Mummy for me and my family and I'm pleased to say I'm a lifetime member so will continue this way of life for all of us to have an awesome fit and healthy future"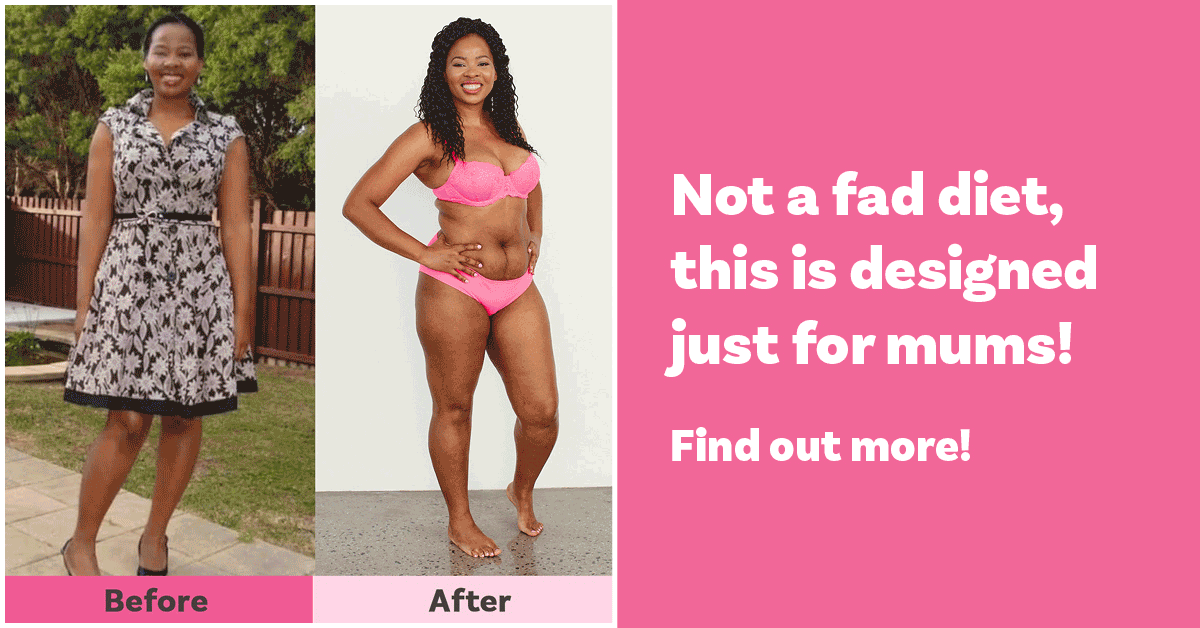 Join in now! The Healthy Mummy 28 Day Weight Loss Challenge includes:
Meal plans created by leading nutritionists
4,000 healthy, delicious and family friendly recipes in one app
Personalised shopping lists created at the touch of a button
Over 350 workouts designed by specialist fitness trainers that can all be done AT HOME
Daily inspiration and motivation from the My Coach feature
Calorie lookup and barcode scanner features so you can easily record your intake
All for 30p a day!
Healthy Mummy Smoothies are perfect to assist your weight loss journey and support your overall health.
Real Mums love them because of the huge benefits they contain:
High in protein, which builds lean, toned muscles and burns fat
High in fibre, for improved digestive health
Enriched with over 22 vitamins and minerals
Contain only 205 calories
Can be mixed with fruit, vegetables, nuts and other delicious and healthy ingredients
No caffeine or fillers
Breastfeeding friendly
Take control of your health, fitness and enjoy a healthier and more fulfilling lifestyle. Join now!