To help keep you motivated on the 28 Day Weight Loss Challenge, we have chosen these Motivating Mums to guide you along your journey.
This September, we share with you a group of women, who have all had great success with the 28 Day Weight Loss Challenge.
Today we introduce to your MOTIVATING MUMS, with a little bit about each mum, and their top tips for keeping you focussed and motivated for September!
Meet our September UK Motivating Mums
Nicole Louise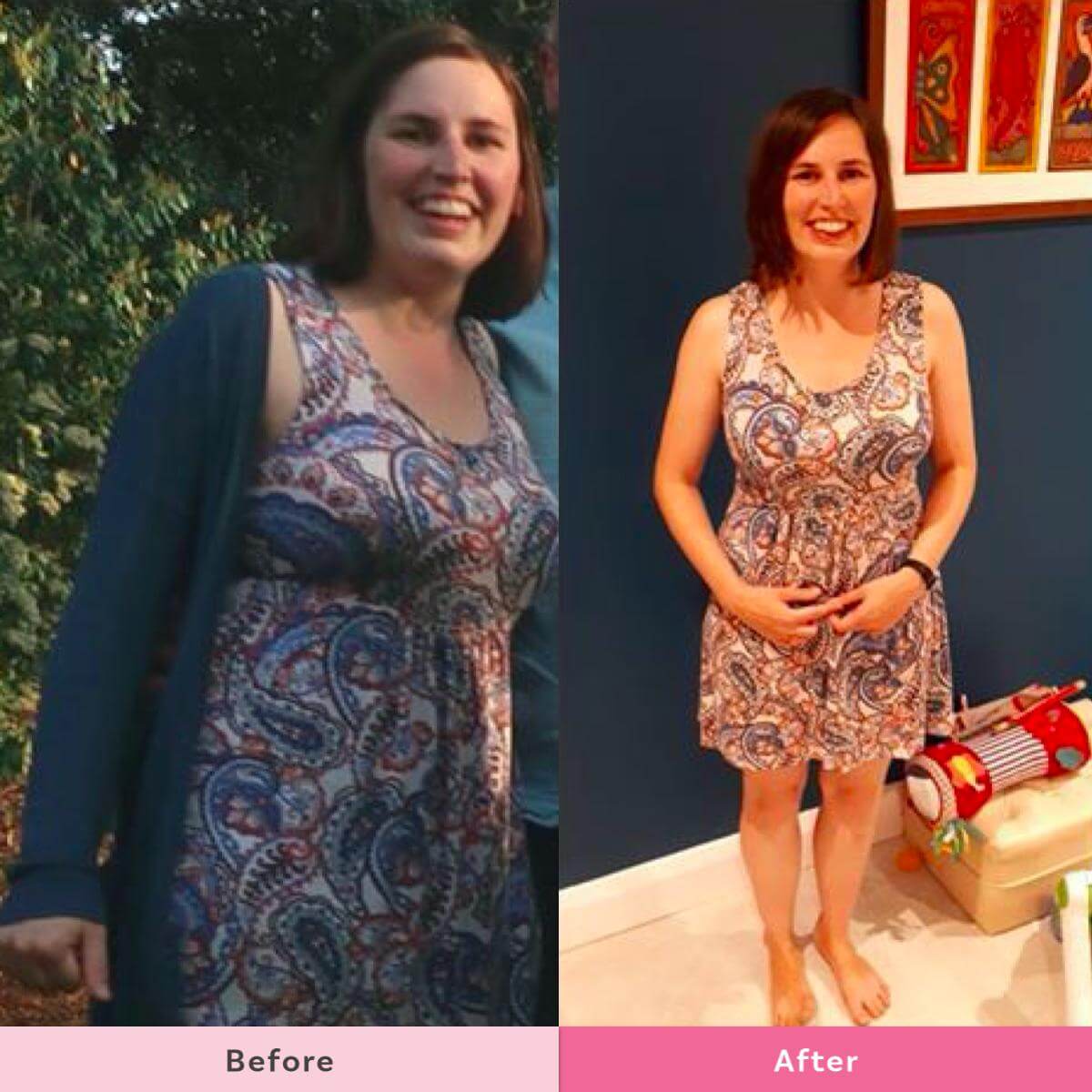 "Hello! My name is Nicole, I'm 31 and from Bournemouth. I have two kids…a boy aged 3 and a baby girl who is 6 months old.
"I have been doing the Healthy Mummy 28 Day Weight Loss Challenges since June. The advert came up on Facebook and I started with the trial and am now a lifetime member because I loved it so much!
"In 3 months I have lost 1 stone 1lb and I am hoping to lose another 5lbs to reach my target weight! Other than weight loss I have seen many other health benefits!
"Before The Healthy Mummy I was really tired (even though my little girl was a great sleeper), getting dizzy spells and did not exercise apart from the occasional walk. Since joining and also using Smoothies for breakfast regularly I have so much more energy and don't have any dizzy spells!
"I now make sure I do 10000 steps per day and an exercise video from the Healthy Mummy app! I now also love cooking… which my husband is very pleased about! My favourite recipes are Weetabix Slice,  Cookie Dough Bliss Balls  Mexican Soft Tacos and the Chorizo Egg Cups!"
Nicole's tips:
Take time to plan! Find a time to sort out a meal/snack plan for the week and a shopping list…. all can be handily done on the app! I like to write it down then transfer it to app!
Set mini goals…starting can be daunting but this is a lifestyle not a quick fix diet so take your time. I started by putting I wanted to lose 7lbs then changed my weight on app as the lbs came off. Last week I set a mini goal of doing dance fit every day and it feels so good to have achieved that mini goal!
Take pictures so you can look back at them and see your progress… that is a great motivator!
Nicole adds, "If you feel like giving up then have a buddy you can be accountable to and can be encouraged by. I am happy to help anyone out if they need a buddy! I am super excited to get stronger this September and share this journey with you all! Thank you Healthy Mummy!"
Rachel Pandy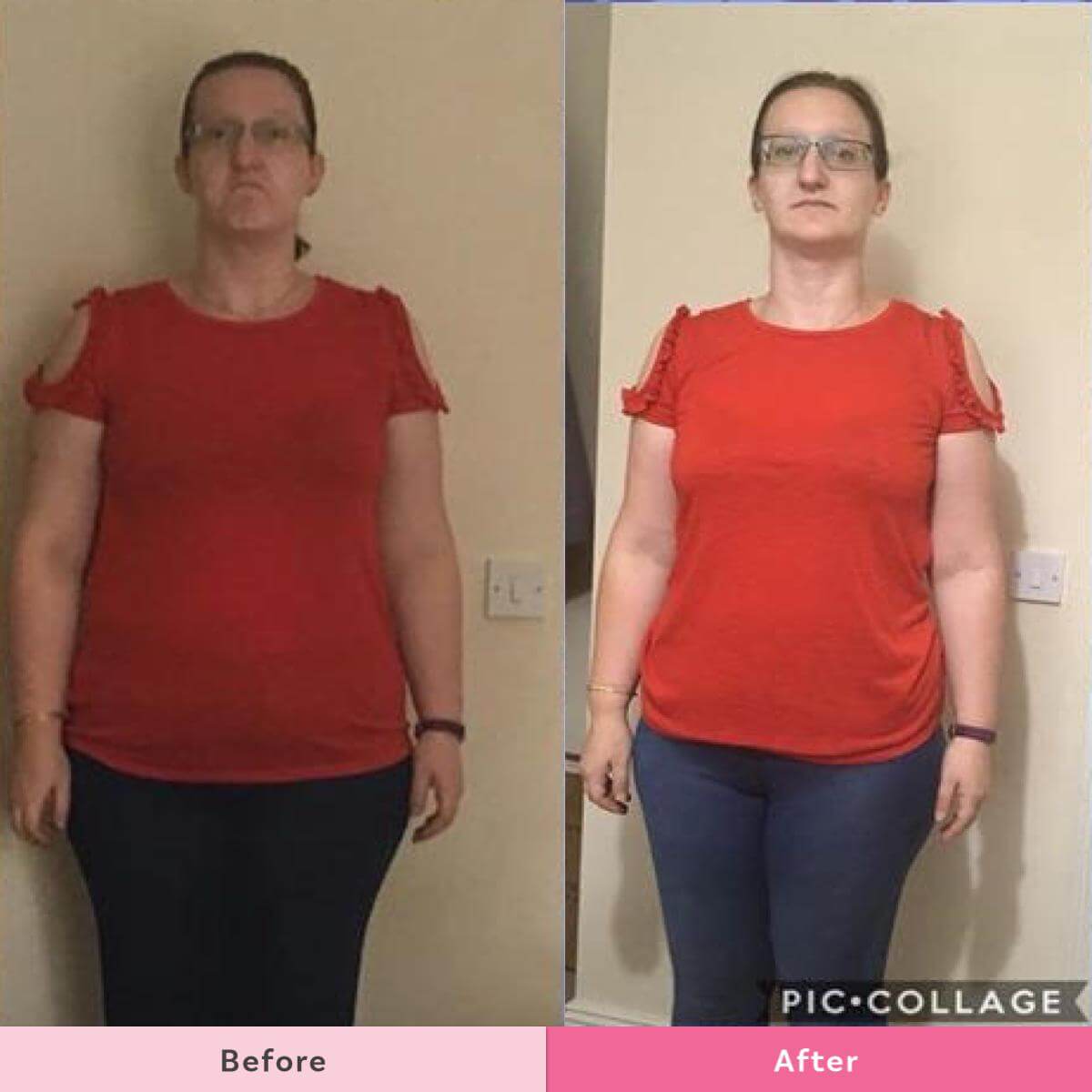 "My name is Rachel, I'm 32 from South Wales originally but now living in Sussex with my husband and 2 boys aged 5 and 4.
"I lost a lot of weight after my second child was born following a diet that I found unsustainable, so I soon put it all back on again. I've followed the Healthy Mummy on Facebook for a while but took Lifetime Membership this year and have lost 15lb since June.
"I would still like to lose at least another 2 stone. My main motivation is my desire to have another child. I want my body to be in the best condition before pregnancy so that I can enjoy it and not worry about high risks.
"The best thing I've found about the Healthy Mummy is that nothing is off-limits, there's a healthy version of just about everything, a few tweaks to my store cupboard (switching flours/sugars) and I've not looked back.
"I enjoy a Healthy Mummy Smoothie for breakfast, so that I can get something in me before getting the boys out and about. Firm favourite meals in our house are the Loaded Sweet Potato Fries, and anything with halloumi! We're big chocolate lovers, so enjoy the Choc Chip Banana Bread made into muffins and the Peanut Bubble Crunch (made with cashew butter due to little one's peanut allergy)."
Rachel's tips for anyone starting new:
Plan! Go through the meal plan, get your shopping in advance and make some time to prep. I'll repeat sweet snacks throughout the week so I'm just making one batch of something and I also have things like boiled eggs or veg sticks and hummus that don't take too long to prepare.
If you have a fussy family switch out meals to healthier versions of family favourites then gradually add in more variety.
Take photos and measurements regularly! Sometimes you don't feel like anything is changing but other people can see it!
Rachel adds, "Picture of me at my starting weight of 15stone 6lbs and my current weight 14stone 5lbs. Really looking forward to being a September Motivating Mum!"
Stephanie Dalton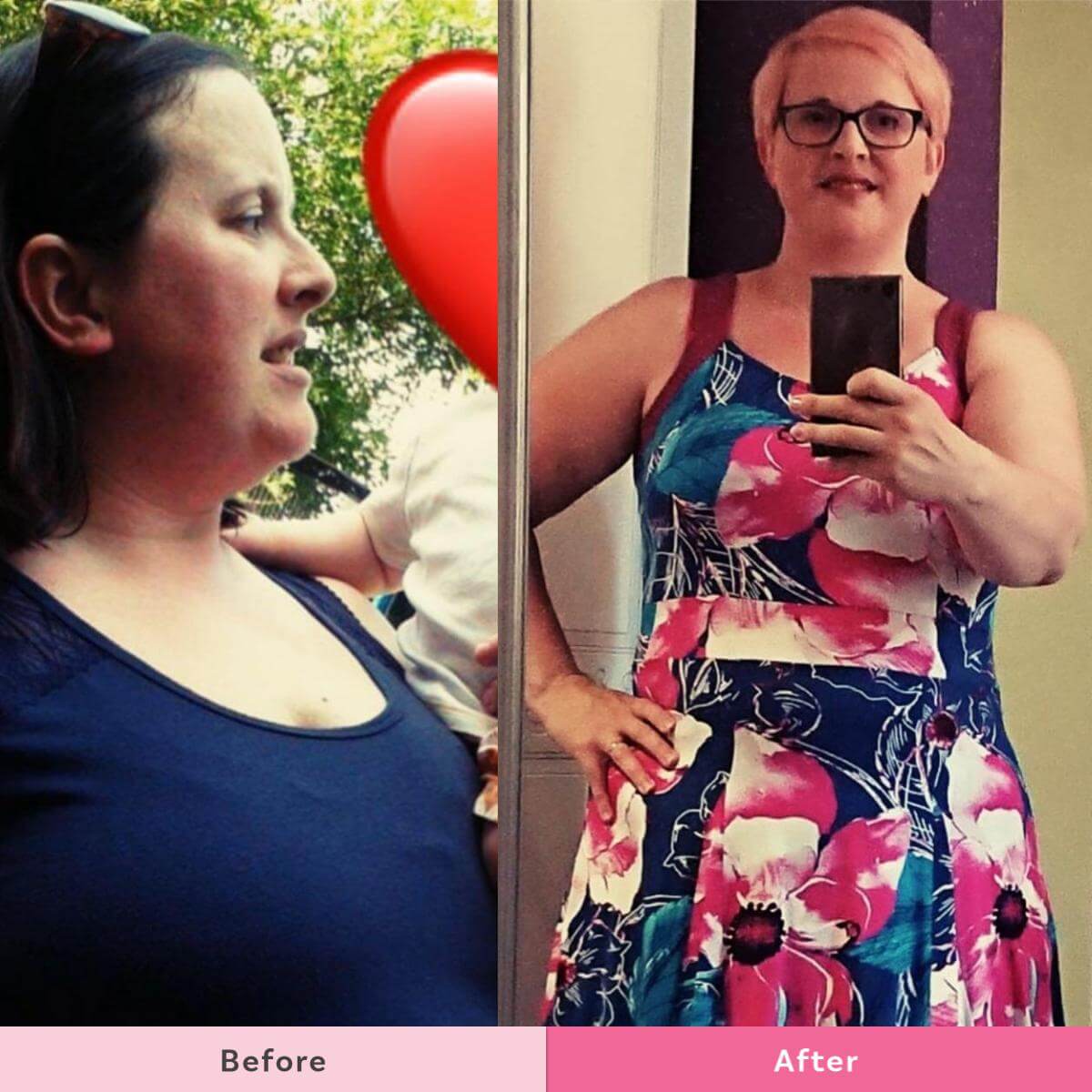 "Hi everyone, my name is Stephanie, I'm a 43 year old mum and step mum to a 21, 17, 16, 6 and 3 year old from Bournemouth.
"We've lived here for just over a year serving my husbands' Curacy and I discovered Healthy Mummy back in March and started the 28 Day Weight Loss Challenges properly in May.
"In 4 months I've lost 2 stone and 2 dress sizes but gained so much more, I love the 28 Day Weight Loss Challenges as it breaks the journey up into manageable chunks and also keeps the food varied.
So excited to be back as a motivating mum and share this with you all x"
Kate Hernandez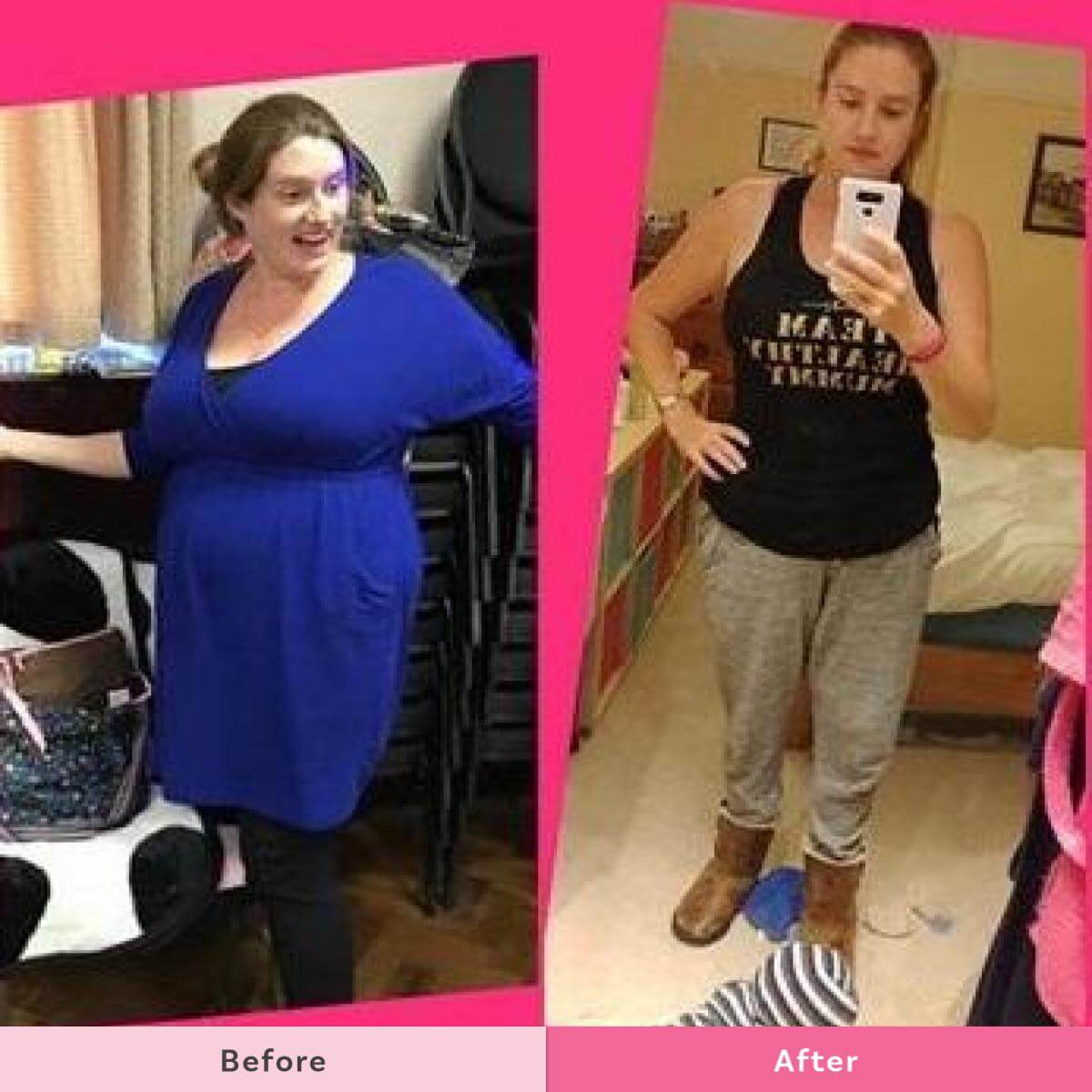 "My name is Kate, I am 34 years old and I have 2 kids – Zoe (4 next month) and Zach (18 months). I live in Hertfordshire.
So far with Healthy Mummy I have lost 2 stone in six months. I started doing Healthy Mummy Weight Loss Challenges in April 2018 and then lost my motivation in October 2018. In that time, I lost over 2 stone."
Kate's goals
one short term is to get to less than 12.5 st
more long-term one is to 11.3 st
Kate's favourite meal is the Stovetop Lasagna and her favourite snack is the Mint Choc Bubble Crunch.
Kate says, "I am doing the 28 Day Weight Loss Challenge as I know how good the food is, how happy I am when I am losing weight and feeling fit, how happy my family is when they get good food and I love seeing how my kids love joining in with exercise!
"My September goal is to get to under 12.5st (I think I need to lose about 6lbs but not sure as I haven't weighed myself for over a month!")
Kate's tips on how to keep going when you feel like giving up:
Just do it! 10 minutes is all it takes to get that heart rate up. Even if you don't feel like it, or the kids are hanging off you, just take 10 minutes for you!
Don't make excuses – think about how good you will feel when you have done a workout, and when you have cooked a tasty feast full of nutritious goodness!
Meal prep – even if it just snacks as that tends to be everyone's downfall. I have a Healthy Mummy drawer in my freezer so if I am peckish and thinking about unhealthy options, I can defrost a yummy choc chip muffin that fills me up and is not bad for me!
"I love having a Healthy Mummy Smoothie every day – I have made my own one up with almond milk, caramel smoothie powder, a shot of coffee and a tablespoon of chia seeds. Delicious, nutritious and filling! Feel more energetic and my skin is clearer with fewer spots."
Fiona Muir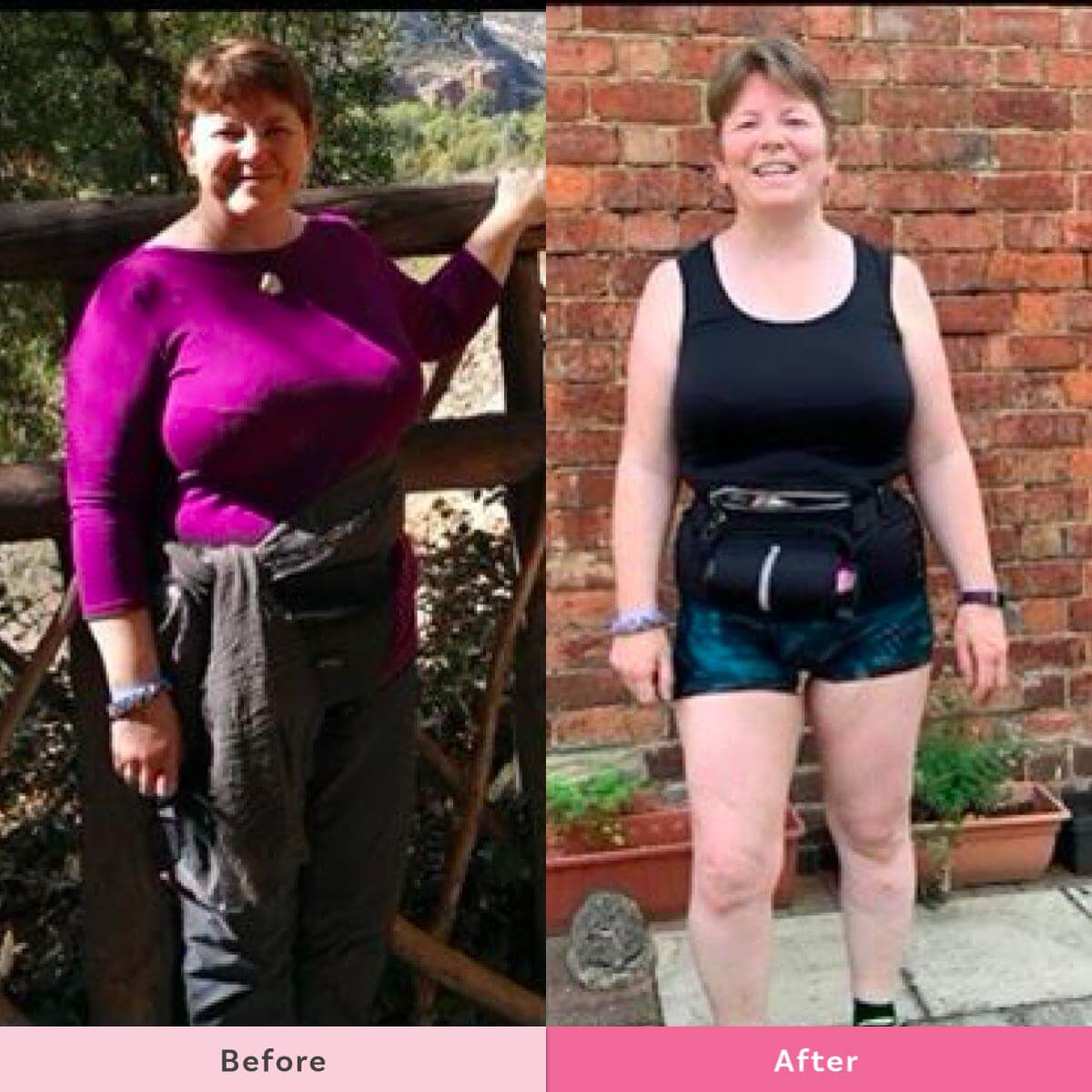 "I'm Fiona Muir, a 50 year old (and getting younger!) mum of 3. My daughter is 15 and I have twin boys who have just turned 12. We live in Northamptonshire and my husband Douglas is super supportive of my Healthy Mummy journey, in fact our family's Healthy Mummy journey really.
"I want to reach a healthy weight and BMI to enjoy life to the full with my lovely family.
"I started with Healthy Mummy just before Christmas weighing in at 12.5 st., more than I weighed with twins and want to get to about 8st 10lb. No time limit, just slow and steady.
"So far I've lost 1st 11lb so nearly halfway. I began in December by doing a couple of snacks from The Healthy Mummy and building up my freezer store then adding in meals as I got to grips with the app.
"I love loads of the meals, we have many favourites but Slow Cooked Beef Nachos is special, and I love to surprise friends with the Chocolate Avocado Treats!
"This Months Challenge I want to blast through my halfway mark and really get on the way to my final goal, it's been hard the last couple of months. Yet I haven't given up, partly through my family support but also the motivation I get from seeing the progress others have made with Healthy Mummy."
Fiona's tips on getting started
Use the app real-time, it really helps. I have it on my phone and desktop so I can add water or exercise or food anytime
Try something new – I started C25K and loved it
Ban yourself from the kitchen after a specific time of night! Has helped me several nights though it seems daft.
Fiona adds, "I also find Smoothies help when I need filling up, I have 1 or 2 a day, usually breakfast or a snack."
"Healthy Mummy benefits so far – fewer headaches, lots of energy, more confidence to give things a go. I tried Go Ape recently despite a dislike of heights. Before I'd have just watched."
Amanda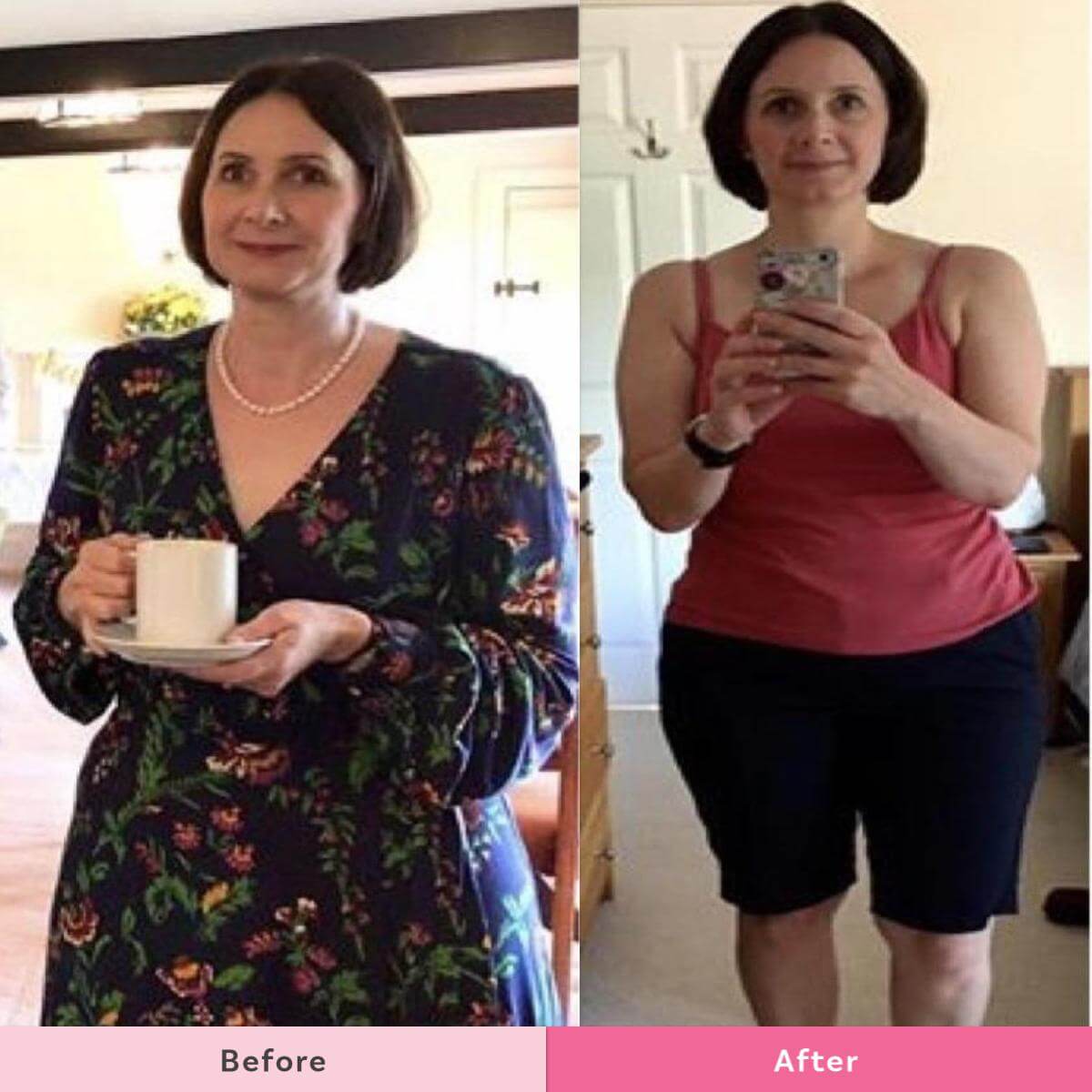 "I'm Amanda, age 45, from Oxfordshire. I have two boys age 9 and 7.
I'd love to lose around 1.4 st and feel fitter again, as well as more body confident.
So far I'm feeling much better in myself and more energetic and I've definitely stopped the upwards creep on the scales.
I joined the 28 Day Weight Loss Challenge in late June, but dabbled a little for the first 6 weeks before going pretty much all out in August.
My favourite meals (so far!) are Stovetop Lasagne (made with Quorn as I'm a vegetarian), red lentil dahl and ultimate bean nachos. And I love the no bake Muesli Bars as snacks.
Amanda's tips:
Start small – Getting started can be a bit overwhelming as it can be a big lifestyle change, so I'd recommend just dipping into the recipes to start with, maybe just two dinners and one snack recipe in the first week and build from there."
Exercise wise, again start small and just do a short beginners workout a few times a week, then build from thereby putting a couple together, and/or working out every day.
"It doesn't work for everyone, but I have learned over many years that I need to exercise first thing in the morning if I leave it until later in the day the chances of me just not going it increase massively!

I've been using Healthy Mummy Smoothies for a quick, healthy and easy breakfasts and lunches. Yum!
"Since starting the Healthy Mummy program my skin is clearer and it's early days but I feel so much more energetic. And the whole family is benefitting – hubby feels loads better too!"
Tracey Bentley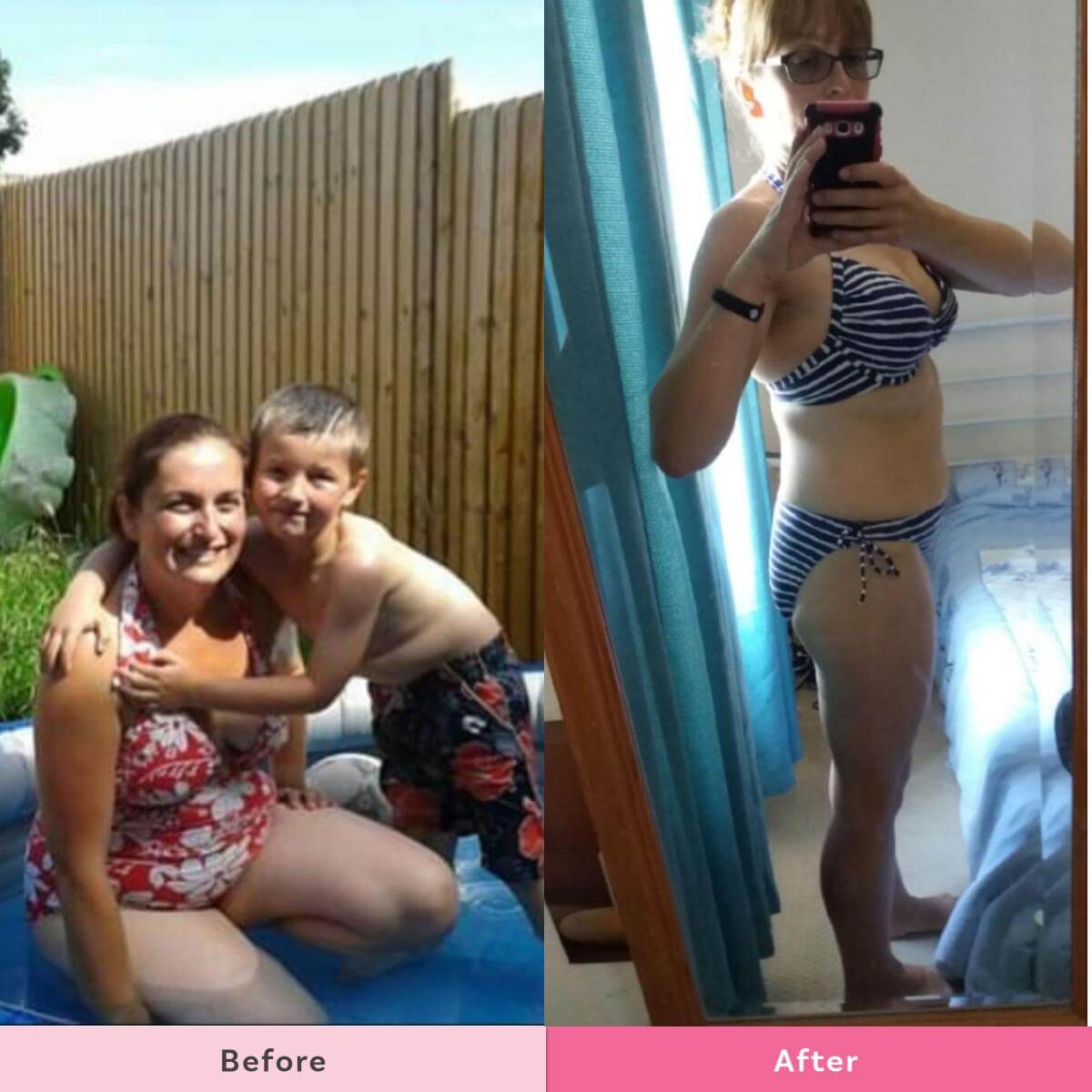 "I'm Tracey one of your Motivating Mums for the whole of September!!
I'm 42 and I have two rather tall children who like to eat me out of house & home. They are Mercedes who is 15 and about to embark on her final year of school and Jack who is 12 and who has found a new love of salads .
I started my weight loss journey in April 2018 and September will actually be my 1 year anniversary with the Healthy Mummy program, which has helped me lose 3 stones 7lbs to be now at my target weight. From 14stone to 10stone 7lbs. A size 18 to a size 10.
I still have quite a bit of toning to do and now the kids are going back to school next week I can get back on with my exercise and maybe even start running.
We love the family-friendly meals like chilli, the cucumber strawberry & halloumi salad, chicken enchiladas etc. And love the healthy carrot cakes, mint bubble crunch and obviously the magnificent Weetabix slice."
Isabelle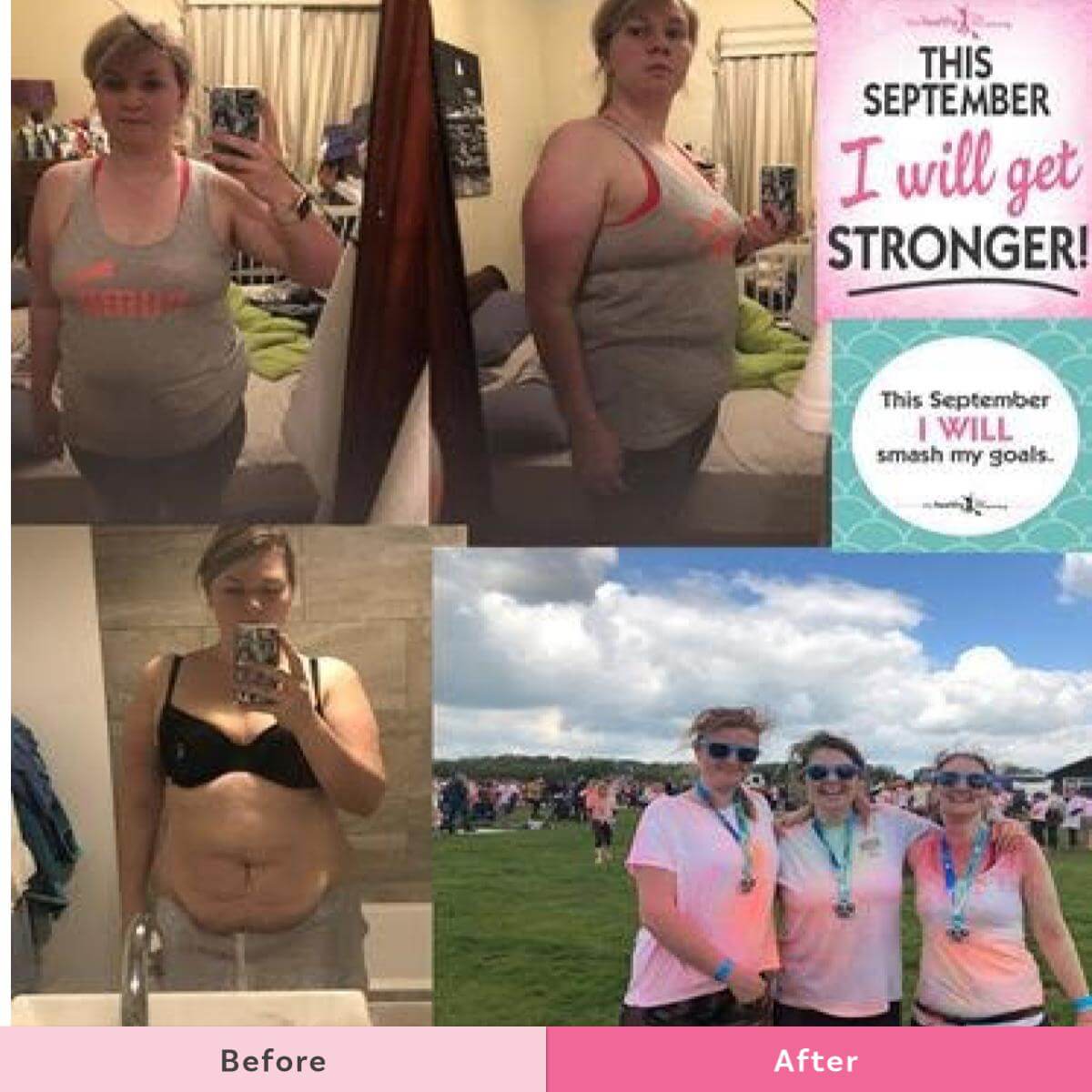 "Hi everyone I am Isabelle, 28, from Lincoln and I am so excited to be a September motivating mummy.
I have 2 children, Sydney, who is 2 and 1/2 and Hugo, who is 19 months.
I started my Healthy Mummy journey on 18th March 2019 and have loved the journey so far.
I am 2 stone lighter and 100% more active than I was before I started Healthy Mummy.
I used to be size 16/18 and now I can fit into a size 12.
I have to say I have a massive sweet tooth so the sweet snacks like the Chocolate Coconut Brownie and the Chocolate Chip Banana Bread are just amazing.
I have a  Healthy Mummy Smoothie every morning as it keeps me full until lunchtime and I find that I don't need a mid morning snack if I have a Smoothie for breakfast.
My goal weight is to be 10 stone and to keep being active, since starting the Healthy Mummy I have started running (which is not like me at all) and ran my first 5K in May (didn't even walk) which is a massive achievement for me as before Healthy Mummy I would have done no exercise."
Isabelle's 3 tips:
To prep like there is no tomorrow
Find an activity or hobby that you love as exercise won't feel like exercise
Plan your shopping before you go as it stops unwanted little mishaps in your trolley.
Isabelle adds, "I am eternally grateful for finding The Healthy Mummy as it has changed my life, the mummy's on the Facebook Private Support Group are some of the kindest and most supportive people. I am honoured to be chosen to be a motivating mum and I hope I do you proud Healthy Mummy!"
You too can change your life like these ladies have with our 28 Day Weight Loss Challenge!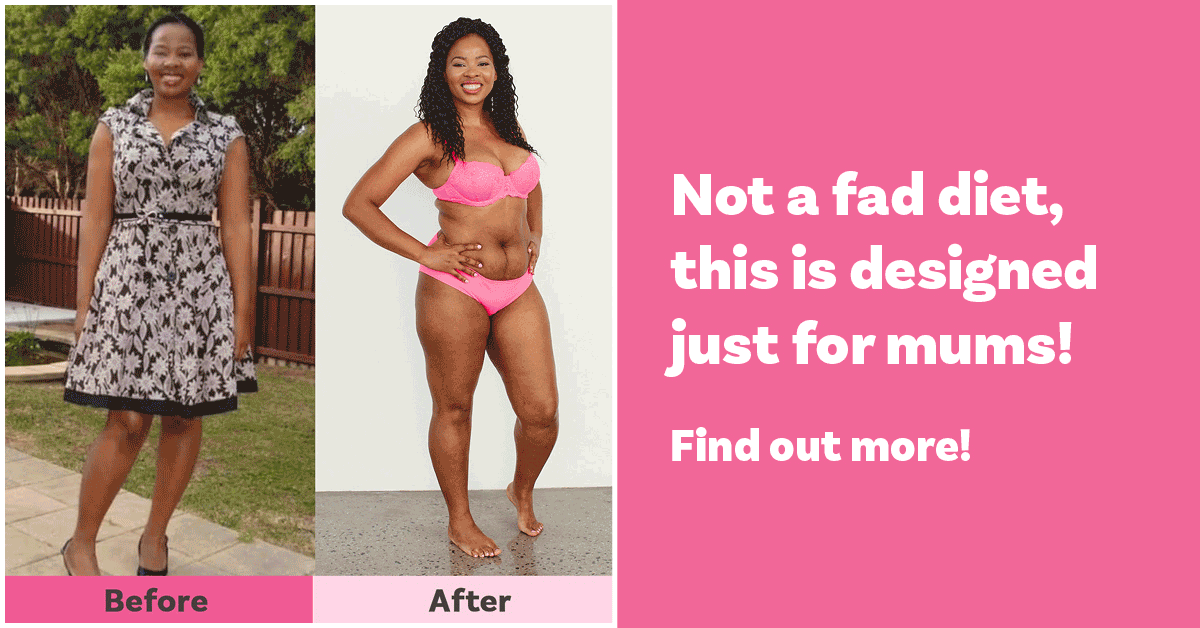 If you are on a mission to tackle your weight and overhaul your health – then our Challenge can help!
Our Challenge includes:
28 days of at home exercise routines (no gym needed) – with video instruction
New CHALLENGE THEME each month – so you'll NEVER get bored
Customisable and breastfeeding friendly meal plans
Time-efficient exercises for busy mums – under 30 mins
Challenge combines Pilates exercises with interval and circuit training (HIIT)
Suitable for basic to advanced fitness levels
Home to thousands of EASY-TO-MAKE recipes!
Find out more of the 28 Day Weight Loss Challenge here.
Want a sneak peek at some of the meals, snacks and exercises from the 28 Day Weight Loss Challenge? Check out our FREE recipe packs HERE.