Chocolate and bubbles are two things kids cannot seem to get enough of. So to keep the kids happy we have combined the two into this delicious Peanut Bubble Crunch!
With puffed rice, peanut butter and chocolate, the kids will absolutely adore crunching this scrumptious slice as an afternoon tea treat.
Plus it's perfect for you if following the 28 Day Weight Loss Challenge.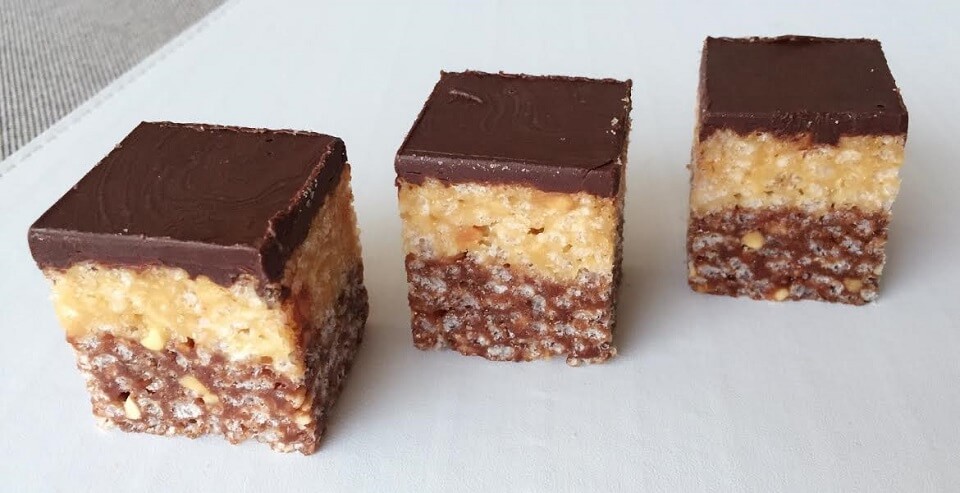 Ingredients
3

cups

puffed rice cereal (75g)

1/2

cup

peanut butter (96g)

1/2

cup

rice malt syrup or honey (125ml)

1

tsp

vanilla extract (5ml)

30ml coconut oil

2

tbsp

cacao

or cocoa powder (16g)

10

0

g

dark chocolate

(at least 70% cocoa)
Method
Line a 10cm x 20cm baking pan with baking paper and set aside

Add 1 ½ cups of

puffed rice

 to one bowl and the other 1 ½ cups of

puffed rice

 into a second bowl.

Over a low heat, melt the rice malt syrup, vanilla extract and coconut oil.

Remove from heat and mix through peanut butter

Pour half of the mixture into one of your bowls of

puffed rice

 and stir well to combine

Add your cacao/cocoa to the remaining peanut butter mixture, stir through then mix it into the second bowl of

puffed rice

.

Grab your lined pan and add one bowl of

puffed rice

 mixture to pan. Press firmly into the base (and we really do mean FIRMLY). For best results really take some time with this step.

Add the remaining bowl of

puffed rice

 mixture over the top and once again, press firmly so it sticks together.

Pop pan into fridge or freezer to set. (30mins – 60 mins will be enough)

Once the mixture is set, melt your chocolate using your preferred method.

Pour chocolate evenly over the top of the

puffed rice

 mix and pop back in the fridge to set (This should only take about 10 minutes)

Remove from fridge and cut into 18 squares with a sharp knife. 
 Recipe makes 18 pieces at 124 calories per serve. Store in an airtight container in the fridge.