The 28 Day Weight Loss Challenge is full of amazing inspirational women across the UK who have decided to put their needs back on the priority list.
Thanks to the three main meals and three snacks per day, they are eating well, not hungry all the time, and people are noticing the difference.
If you would like to join the thousands of mums following the 28 Day Weight Loss Challenge, find out more here and join us for just £1.
You might end up feeling like these 5 mums who say they feel like their old selves again, rather than just being 'mum' who puts their needs at the bottom of the to-do list.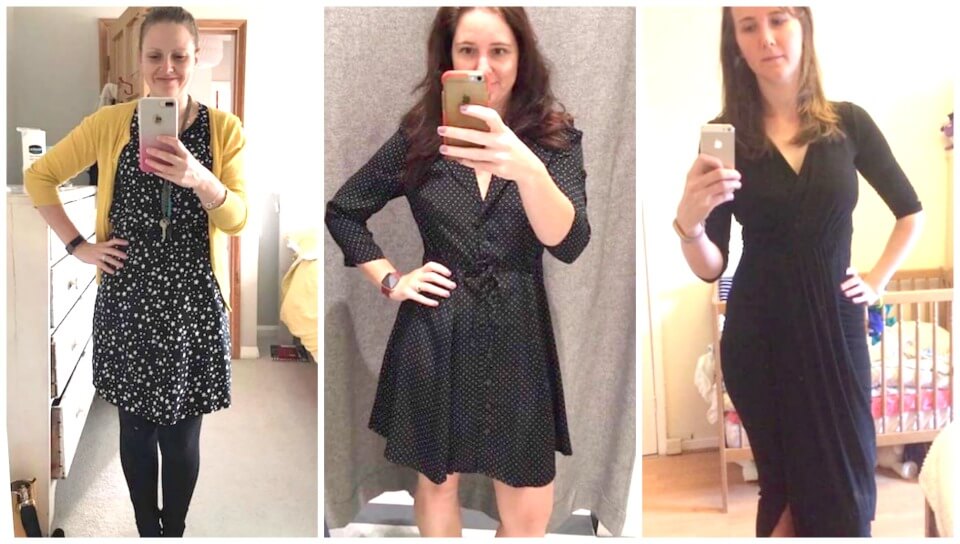 Let's hear what these real mums have to say about the 28 Day Weight Loss Challenge.
Lindsey Moriarty uses her freezer stash to save the day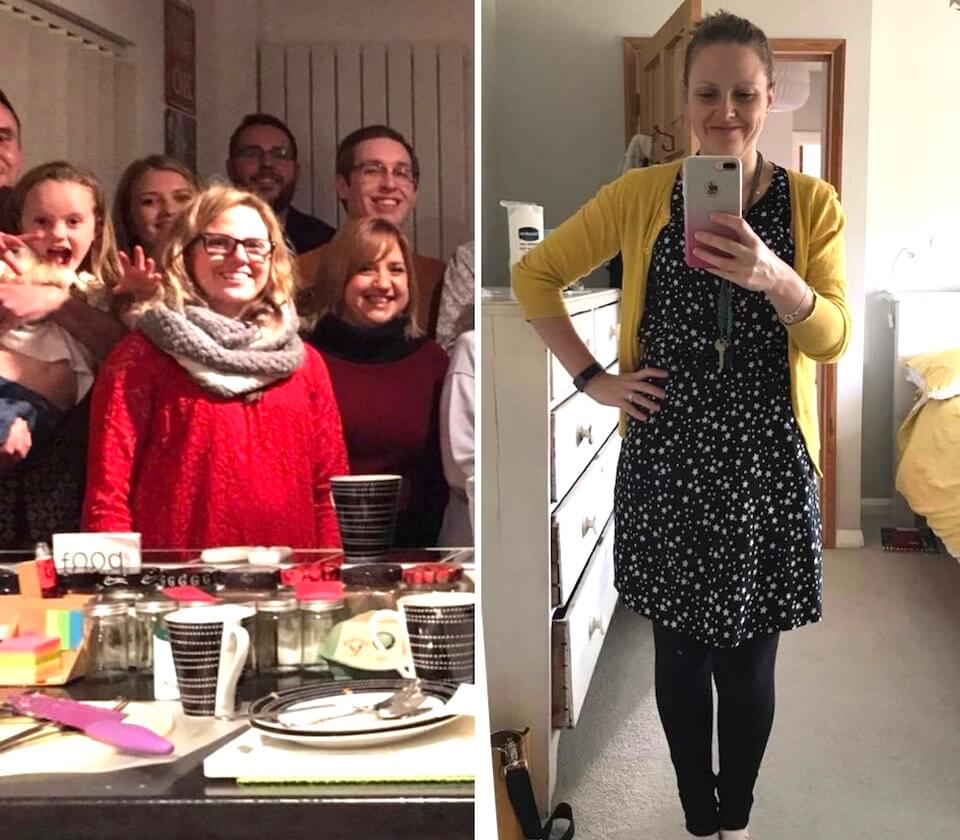 Lindsey says, "I have had a crazy six weeks at work. With 12 to 16 hour days and working weekends, the struggle has been real.
BUT thanks to my meal prep freezer stash, the Healthy Mummy Smoothies, the fact it was the 15 minute meal 28 Day Weight Loss Challenge (now that was great planning Healthy Mummy)…and the fact that even hubby can follow Healthy Mummy recipes – I've managed to stick to plan!
I'm sure that sticking with it has meant I managed to maintain that workload and lack of sleep – without getting run down or ill like I have in the past. It's also meant that I haven't been guiltily feeding the kids rubbish.
Last week it was an annual get together for my mums side of the family. The photo on the left was at the same get together last year. You can actually see me crouching to try and get out of the photo.
On the right is how I looked this year! A lot healthier and happier! Interestingly, no one asked if I'd lost weight. I considered being a bit upset about this but then I realised that actually I didn't care, it's not about that because I KNOW I feel so much better and fitter, I love the Healthy Mummy life and so do my kids and hubby.
Anyone who's worried about doing the 28 Day Weight Loss Challenge meal prep and planning time – I honestly don't know how I'd have got through the last six weeks without the app and meal plans.
It saved me huge amounts of time planning what to eat and mental energy thinking about food! I didn't need to panic late each night about dinner, grabbing rubbish ready meals or take away on the way home.
My daily 28 Day Weight Loss Challenge snacks meant I wasn't reaching for chocolate during the mid afternoon slump – and the workouts meant I was able to squeeze in some exercise even if it was only 10 mins. Seriously, Healthy Mummy has been a game changer for me!"
Want to try some of our recipes? Grab our FREE recipe packs here, featuring delicious and budget friendly recipes from the 28 Day Weight Loss Challenge.
Jeanette Stubbins has dropped from size 18 to a 12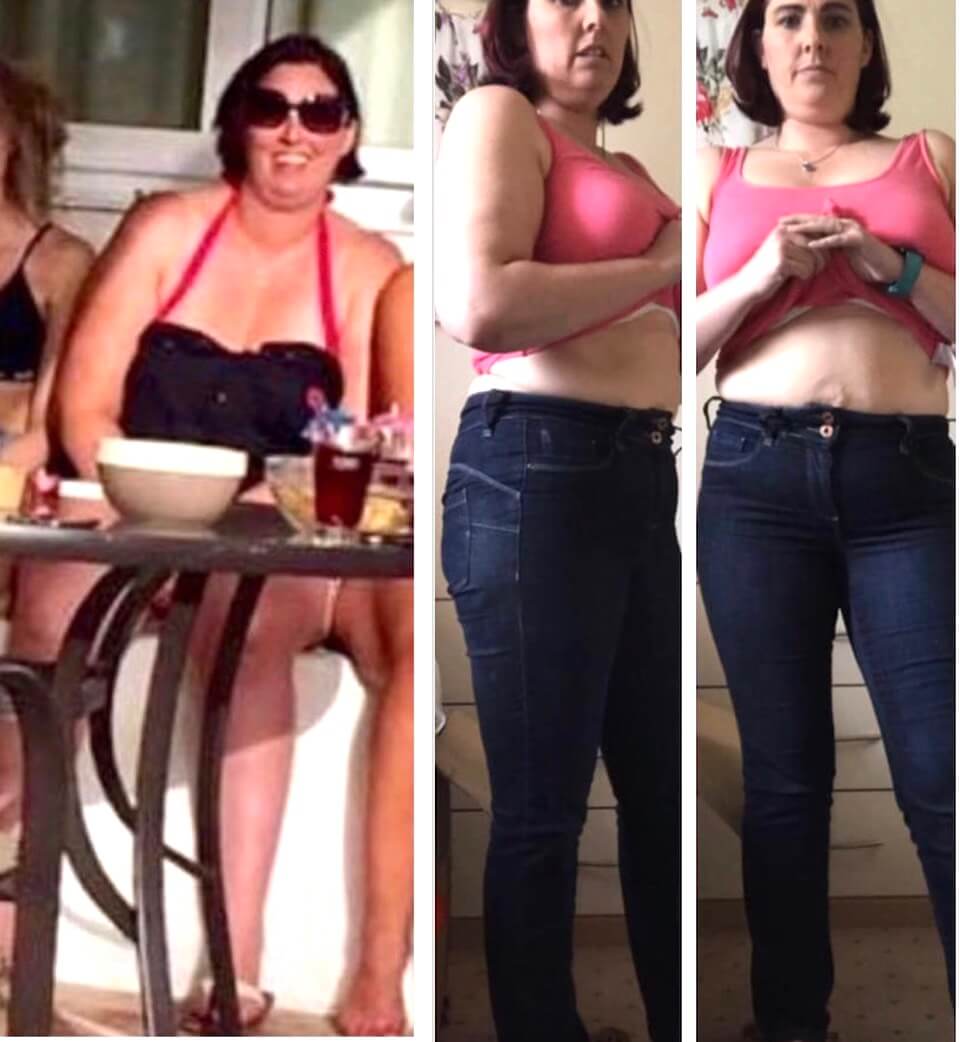 Jeanette says, "I have been on and off the 28 Day Weight Loss Challenge wagon for the last 9 months losing 2.9st.
Over the last 2 months I fell off the wagon and put on 9lbs. I have lost 6lbs again over the last 5 weeks and feel more motivated again.
The pictures show me how far I've come and the jeans in the pictures are a size 12 and I was an 18 when I started my journey ten months ago with the 28 Day Weight Loss Challenge. 
I am ready to get back on fully and thanks to all you gorgeous mummies I know I will achieve my goal."
Nikki Lea Eckley enjoys clothes shopping more now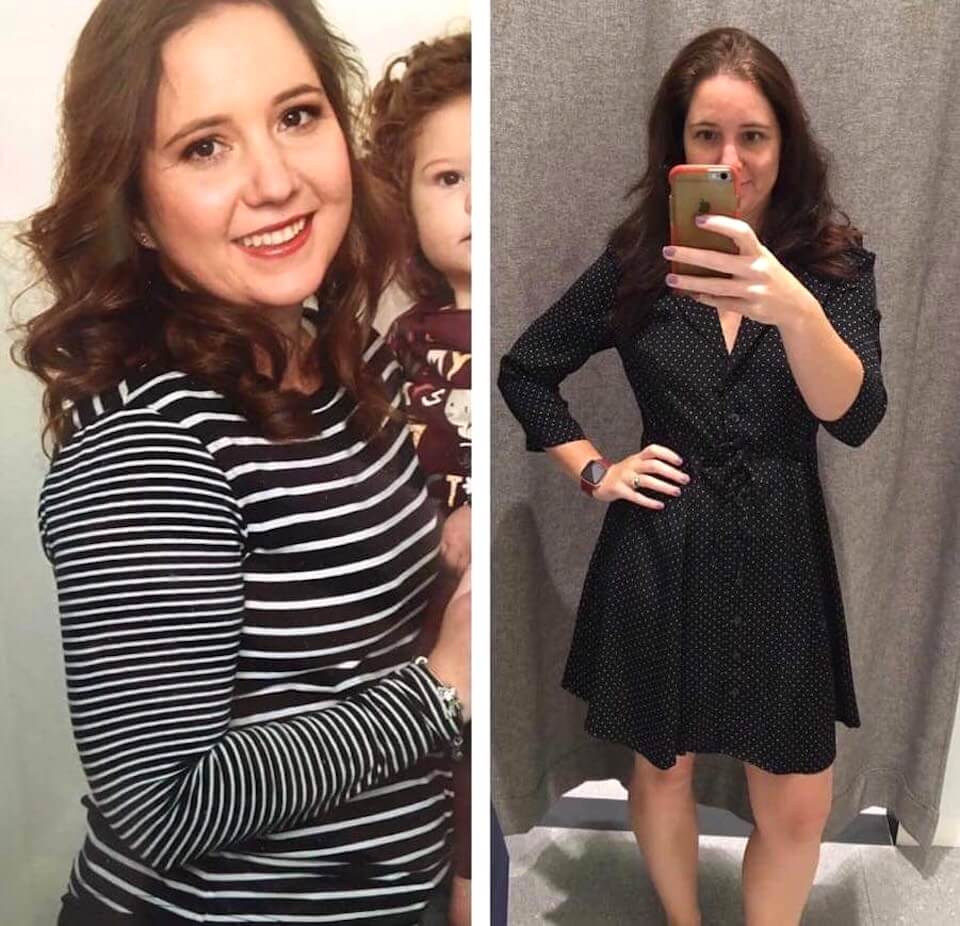 Nikki says: "Before joining the 28 Day Weight Loss Challenge I was a comfort eater… in a big way! After having my second daughter I suffered PND and ate my way through my emotions and as a result quickly ballooned from a size 10 to a size 16/18.
This family photo always makes me feel sad because I feel I cannot be proud of who I was then. My makeup and hair was all done yet I felt awful about myself.
Today, feeling a bit emotional I went for a walk, and ended up perusing the shops and I ended up comfort shopping. I love how this dress made me feel… no makeup or hair done yet I feel so much more comfortable in myself!
That is what the power of the 28 Day Weight Loss Challenge can do. It's not all about the weight loss. I have dropped down to a size 10/12 now but I really am so much happier in myself."
To find out more about joining the 28 Day Weight Loss Challenge for £1 click here.
Lisa Quinn was inspired to exercise by the other mums on the challenge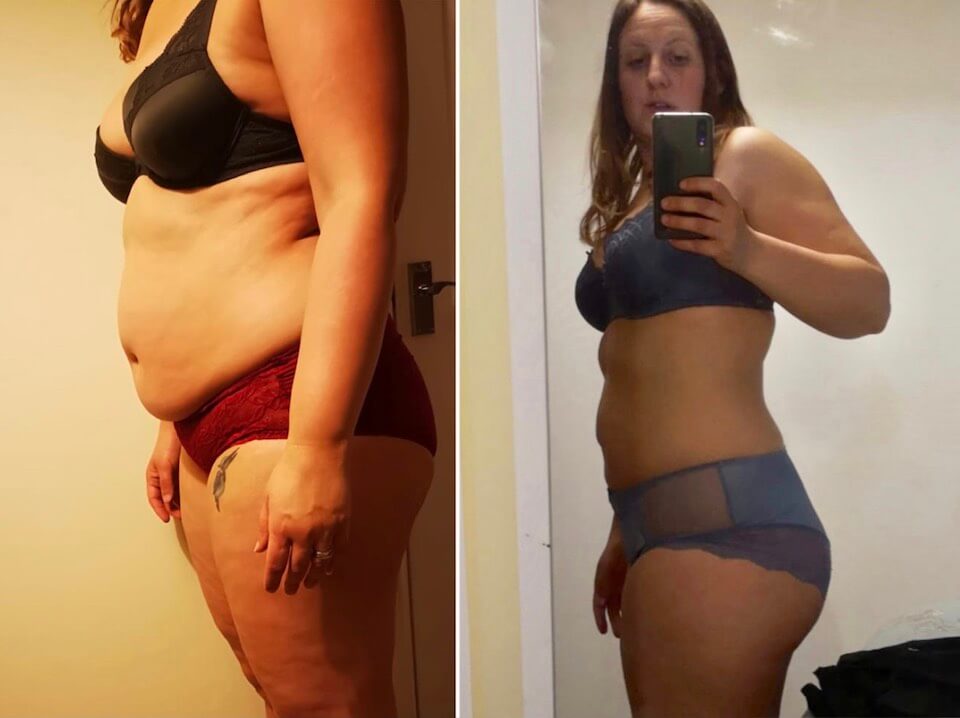 Lisa says, "I wasn't going to take progress photos today as I'm feeling bloated. But my husband walked in while I was getting dressed and said, "Wow, you can really see a difference on your stomach" so I thought I'd see if I could!
I started the 28 Day Weight Loss Challenge two months ago at my heaviest weight since having my son, who is now 17 months. I was fed up of hating what I saw in the mirror, hiding myself away, having no energy and feeling like a terrible wife and mother.
I'm on restricted duties at work as couldn't pass my fitness test and could see no way out of the situation. I was in constant pain with my back and hips and scared to exercise and make it worse.
I started with the food and after lots of inspiration from you lovely ladies I started dipping my toe into the exercises and found that it didn't make it worse, it made it better! My pain has decreased massively and I'm so much happier.
I've lost 8.5lbs since starting but I've gained so much more. Confidence, motivation, inspiration, a new zest for life and a wonderful community of ladies who support each other through the ups and downs."
Natalie Cowie says her life has changed for the better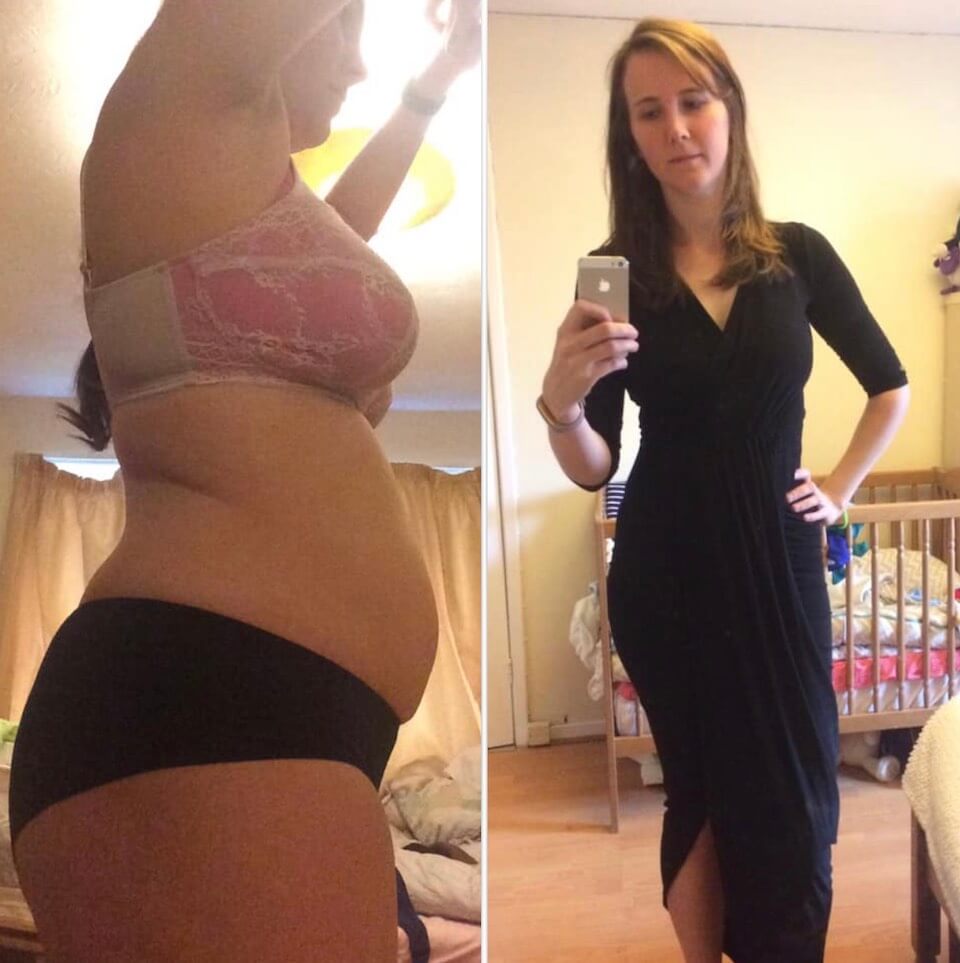 Natalie says, "Before joining the 28 Day Weight Loss Challenge I was overweight, unhappy and my confidence was rock bottom.
Taking time to take care of my health and appearance came bottom of the list too. As mums it's so easy to keep busy meeting the needs of our kids (and other half!) we forget about ourselves. I forgot who I was. I didn't even recognise that person in the mirror.
But that's all changed thanks to the Healthy Mummy's 28 Day Weight Loss Challenge!
I've found 'the old me' again. I'm happier, I'm more confident and now, when I look in the mirror, I see Natalie looking back, not just mum!"
Are you ready to kick-start your weight loss?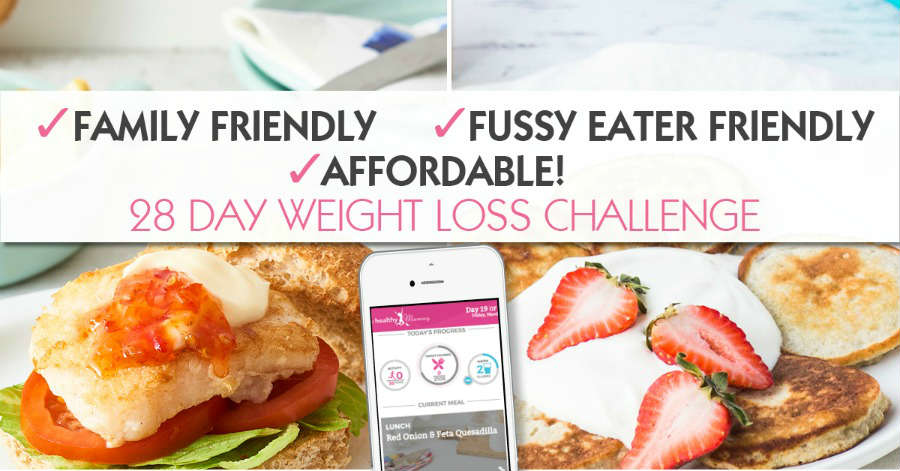 Want to shift your baby weight but feel like you have NO TIME in your day to exercise and eat healthily? That's where the Healthy Mummy's 28 Day Weight Loss Challenge can help.

Our Challenge entails: 
28 days of at home exercise routines (no gym needed) – with video instruction
Customisable and breastfeeding friendly meal plans
Time-efficient exercises for busy mums – under 30 mins
Challenge combines Pilates exercises with interval and circuit training (HIIT)
Suitable for basic to advanced fitness levels.
Home to thousands of EASY-TO-MAKE recipes.
To find out more about joining the 28 Day Weight Loss Challenge for £1 click here.
PLUS – connect with THOUSANDS of other mums on the 28 Day Weight Loss Challenge by joining our free support community here.