Hi I'm Rhian, The Healthy Mummy founder and mum of two hungry (and sometimes fussy eating) boys.
As a mum, I know how deflating it can be to open up your child's lunchbox in the afternoon and find uneaten food inside.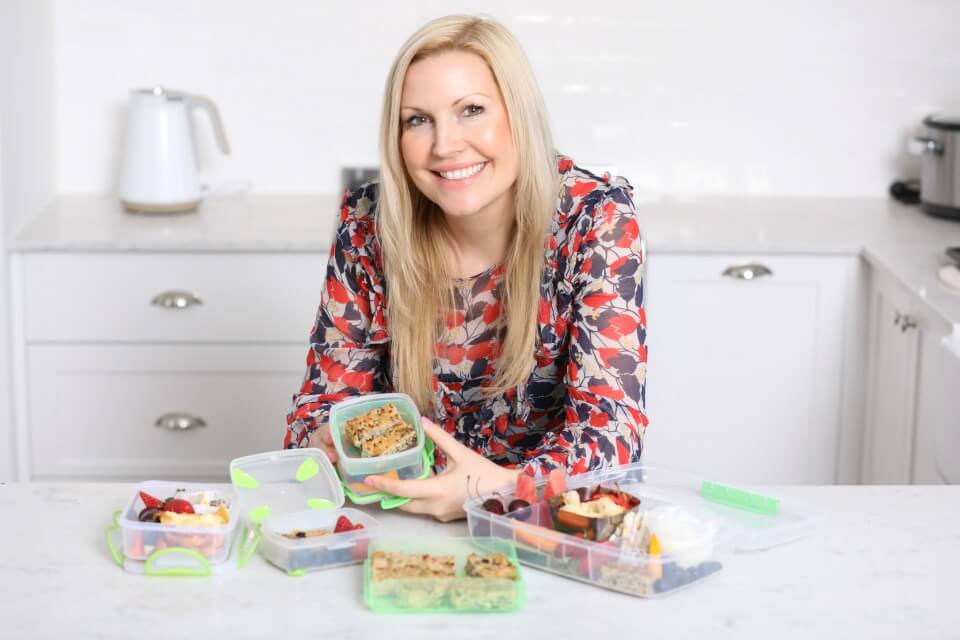 After kicking it around all day it usually ends up straight in the bin, which is such a waste of your time and money. Not to mention the kids aren't getting the nutrition they need to fuel them through their day.
As my business is all about mums, I wanted to give you all some tried and tested recipes that anyone can use to fill their child's lunchbox. Not only are they tasty, healthy, nutritious recipes – they're also kid approved!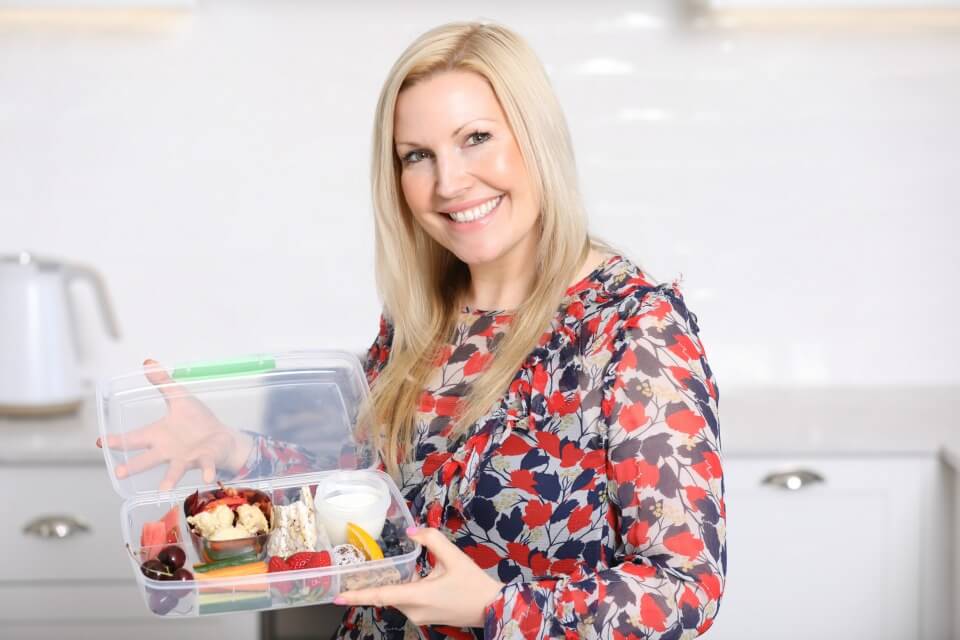 To get ahead with lunchbox prep, I did a big cook-up to show you how I prepare some lunchbox friendly food for my boys.
Hopefully this will give you some ideas for meals and snacks that you could prepare for your little ones.
Want more healthy lunchbox recipes? Scroll to the end of the blog to download our HEALTHY KIDS RECIPE BOOK for free!
Honey and Seed Slice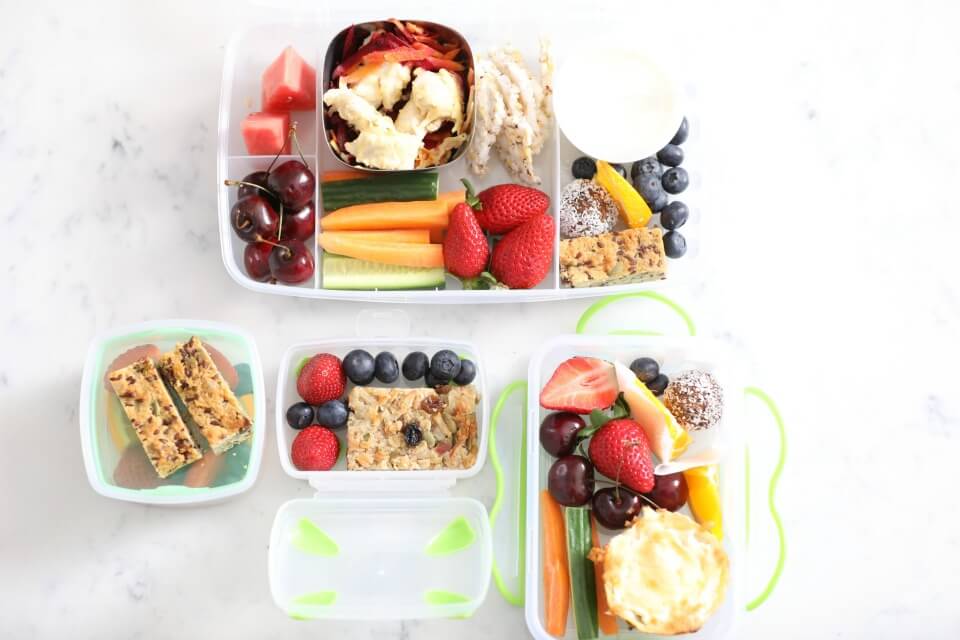 With nuts being a no-no for most schools, this seeded slice is a great alternative. Although it tastes mighty delicious, try to limit little ones to one slice per day, as the seeds, sultanas and coconut add up to a lot of fibre; while fibre is incredibly important, too much could be rough on a young digestive system.
Ingredients
1/2 cup pumpkin seeds (100g)
1/2 cup flaxseeds (100g)
1/2 cup sunflower seeds (100g)
1/2 cup shredded coconut (60g)
1/2 cup sultanas (or other dried fruit) (85g)
1/2 cup honey (120g)
100g coconut oil or butter
Method
Preheat oven to 150°C / gas mark 2. Combine seeds, coconut and sultanas in a large bowl.
Melt honey and coconut oil/butter in a saucepan and pour over the seed mixture. Stir to combine.
Spread the mixture evenly over a lined baking tray and press down until flat and around 1 inch thick.
Bake for 10 minutes or until browning on top.
Remove from the oven and allow to cool, then break or slice into 21 pieces. Store in an airtight container in the fridge.
Lasagne Bites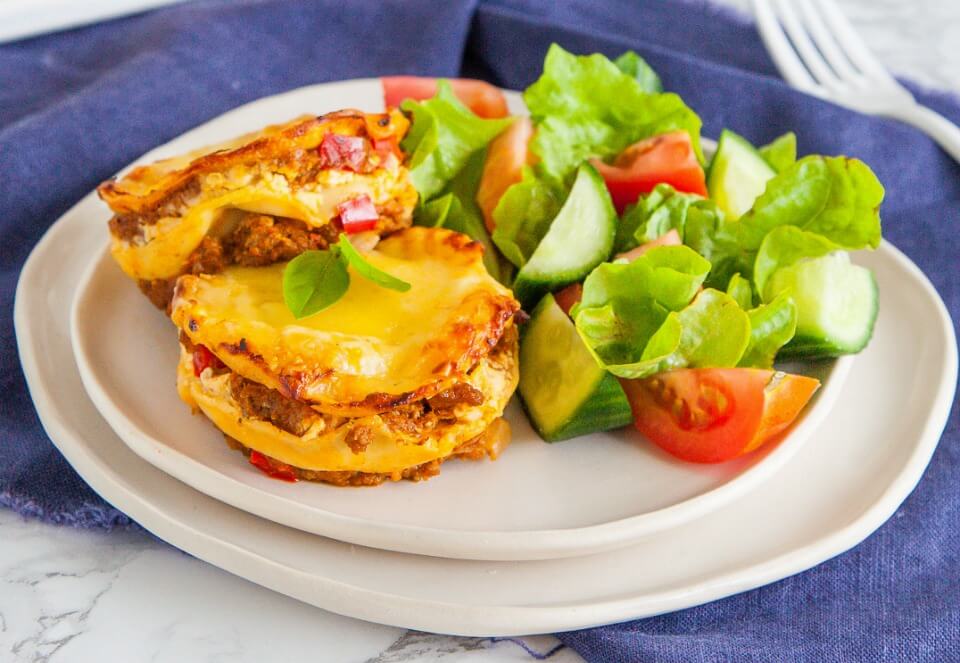 My kids love lasagne, but it's not exactly an easily transported meal. That's where these lasagne bites come in! They're the perfect size for little hands to hold, and you can get some veggies into their day. I always make extras as they're great for my own lunch too with a simple salad.
Ingredients
2 tbsp olive oil (30ml)
1 medium onion, diced (100g)
2 garlic cloves, diced (6g)
400g beef mince
3 cups tomato passata (750ml)
1 tsp mixed herbs (1g)
1 red pepper, diced (100g)
9 fresh lasagne sheets (360g)
300g ricotta cheese
1 cup grated cheddar cheese (120g)
Method
Heat oil in a saucepan over a medium-high heat. Sauté garlic and onion for 1-2 minutes or until onion is translucent. Add mince and cook until browned, breaking up any lumps with the back of a spoon.
Add the passata, mixed herbs and red peppers. Stir to combine and cook for 10 minutes. Remove from the heat and set aside.
Preheat oven to 200°C / gas mark 6. Allow the lasagne sheets to come to room temperature. Use a standard drinking glass or cookie cutter to cut as many circles as possible out of the lasagne sheets. Tear any remaining pasta scraps into pieces.
Use a silicon muffin tray and line each hole with two strips of baking paper in a cross pattern (this will make bites easier to lift out). Fill each hole with 1 tbsp of meat sauce, topped with 1 circle of pasta (or a few pasta scraps), 1 tbsp of ricotta and a sprinkle of cheese. Repeat to make three layers, finishing with ricotta and grated cheese on top.
Bake for 20-30 minutes or until the tops are golden.
Allow to cool for 15 minutes, then use a knife to carefully loosen the edges of the lasagne bites and remove them from the tray.
Serve warm by storing in a thermos, or cool completely and serve cold in a lunch box. Leftovers can be stored in the fridge for 3 days, or frozen in individual portions.
Makes approximately 16 bites
Muesli Slice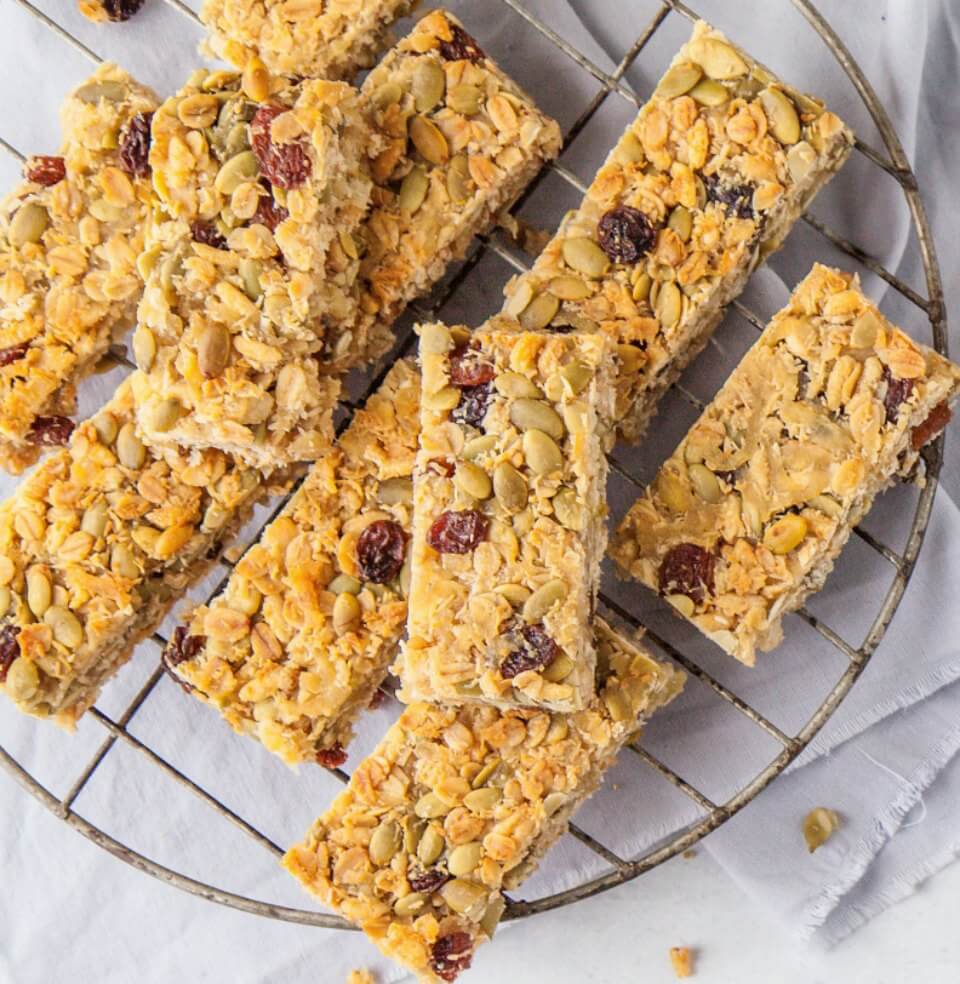 With commercial muesli bars often packed with sugar, it's a great idea to make your own. Stored in an airtight container, these bars from the 28 Day Weight Loss Challenge will keep in the fridge for up to a week.
Ingredients
2 apples, grated (200g)
100g butter or coconut oil
1/2 cup honey (120g)
1 cup rolled oats (100g)
1 cup puffed rice (25g) – you can buy this at health food shops
1/2 cup desiccated coconut (60g)
1/2 cup pumpkin seeds (pepitas) (100g)
1/2 cup sultanas (85g)
Method
Preheat oven to 200°C / gas mark 6.
Place grated apple, butter/oil and honey in a saucepan and heat for 10 minutes, stirring often, until the mixture starts to pull away from the sides when you stir it.
Combine the remaining ingredients in a bowl. Pour over the apple/honey mixture and stir to combine.
Pour mixture into a lined slice tin and flatten it out to 1.5-2cm thick. Bake for 15 minutes.
Remove from the oven and allow to cool. Refrigerate until firm, then cut into squares.
Parmesan Chicken Nuggets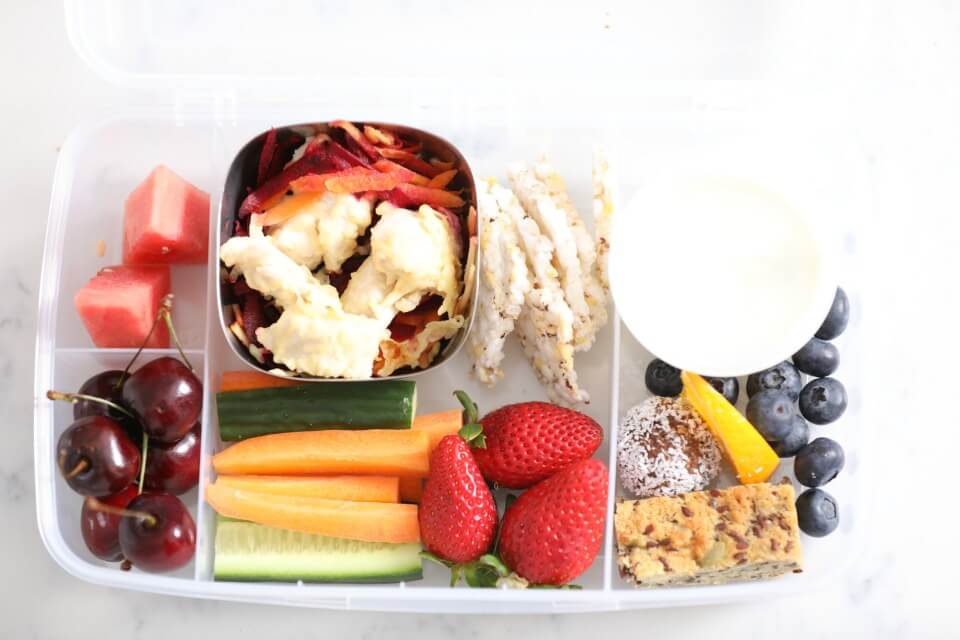 This wholesome alternative to store-bought nuggets uses chunks of chicken simply coated with parmesan. Send it along with some sticks of carrot and cucumber.
Ingredients
200g chicken thigh or breast, diced into 2cm pieces
1/4 cup grated parmesan (36g)
Method
Preheat oven to 200°C / gas mark 6.
Roll chicken pieces in the grated parmesan. Place on a lined baking tray and bake for 10 minutes or until the chicken is cooked through.
Refrigerate nuggets until completely chilled, then pack with an ice pack and a fork.
Makes enough nuggets for four serves.
Zesty Chocolate Balls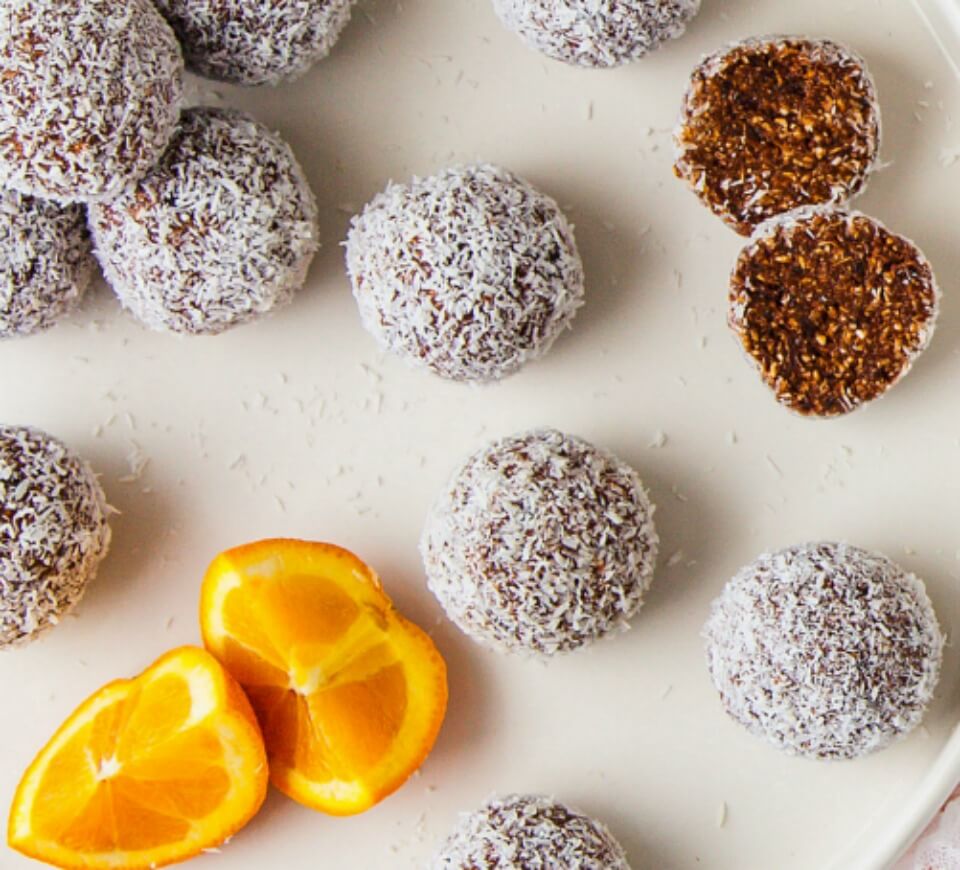 This delicious twist on traditional bliss balls uses prunes, which are a source of iron. With vitamin C from the orange, these are a good immune booster for the kids.
Ingredients
1 cup pitted dates (170g)
1 cup pitted prunes (125g)
2 cups rolled oats (200g)
1 tbsp cocoa/cacao powder (6g)
Zest of half an orange (32g)
1/4 cup fresh orange juice (60ml)
1/2 cup desiccated coconut (60g)
Method
Soak the dates in hot water for at least 30 minutes, then drain.
Place dates, prunes, oats, cocoa/cacao powder, orange juice and zest in a food processor and process until well combined.
Roll tablespoons of the mixture into balls and roll in the coconut.
Store in an airtight container in the fridge or freezer.
Want more healthy lunchbox recipes for FREE?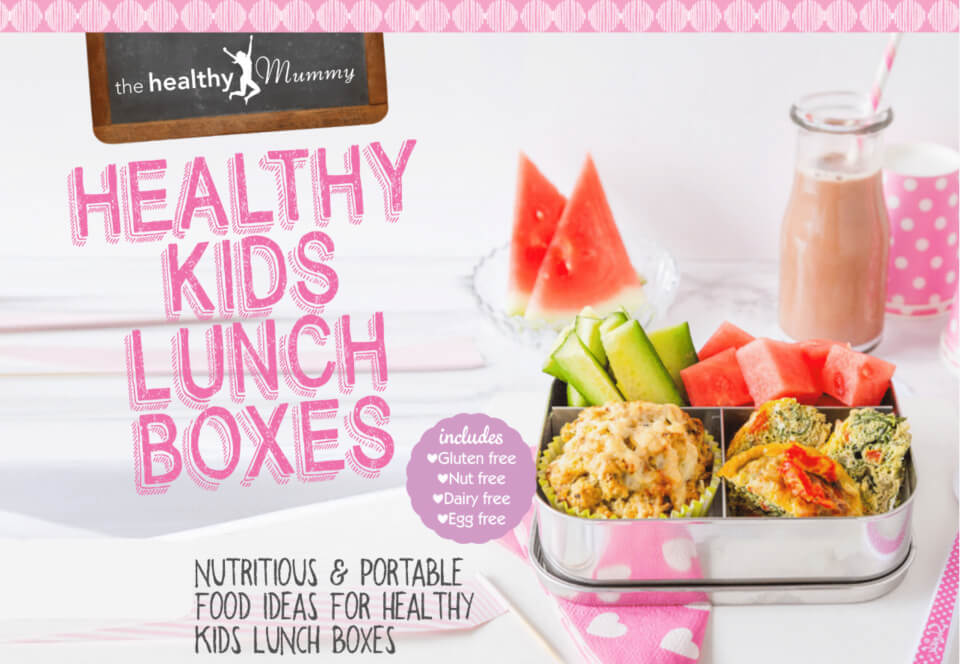 I am so excited to offer you our HEALTHY KIDS RECIPE BOOK today for FREE! Simply click on the link here to download your free copy. It's packed with over 100 nutritious and portable recipes that are perfect for lunchboxes.