This stunning  Christmas Pavlova Wreath comes straight from the 28 Day Weight Loss Challenge and is the perfect SHOW STOPPING but STRESS FREE dessert you need this Christmas!
If you want to spend less time cooking and more time eating with friends and family, but still wow a crowd, then this is the recipe for you!
Stunning & Stress Free Christmas Pavlova Wreath
Christmas can be an extremely busy (and stressful) time for mums and we're all for making things a little easier. The beauty with recipe, is that with a tiny bit of prep, you can have everything ready to go and assemble this stunner in a matter of minutes!
Shortcut 1
By using the 'ever so convenient' mini meringue kisses, you avoid all the hassle of whipping egg whites and making the meringues yourself. It's as easy as throwing them into your supermarket trolley.
Shortcut 2
This recipe calls for three amazing sauces to go with the Pav. Passionfruit Curd, Chia Berry Jam and Salted Caramel Topping. The Passionfruit Curd and Chia Berry Jam are simple and easy to make, and you pre-make them and put into containers in the fridge until you're ready to assemble. Natvia do a great No added sugar Salted Caramel topping, but you can use any no sugar brand. It's as easy as pouring it into a container!
Shortcut 3
Prepare your fruit by peeling and slicing the mango and kiwi and having the raspberries and blueberries in containers ready to go.
Assembly Time!
This is the fun bit and it really doesn't take long at all! Use any platter you have, and pop on your prepared decadent sauces. Lay down some greek yoghurt as a base and add the meringue kisses, prepared fruit, more yoghurt and dust with icing sugar. And that's it – done!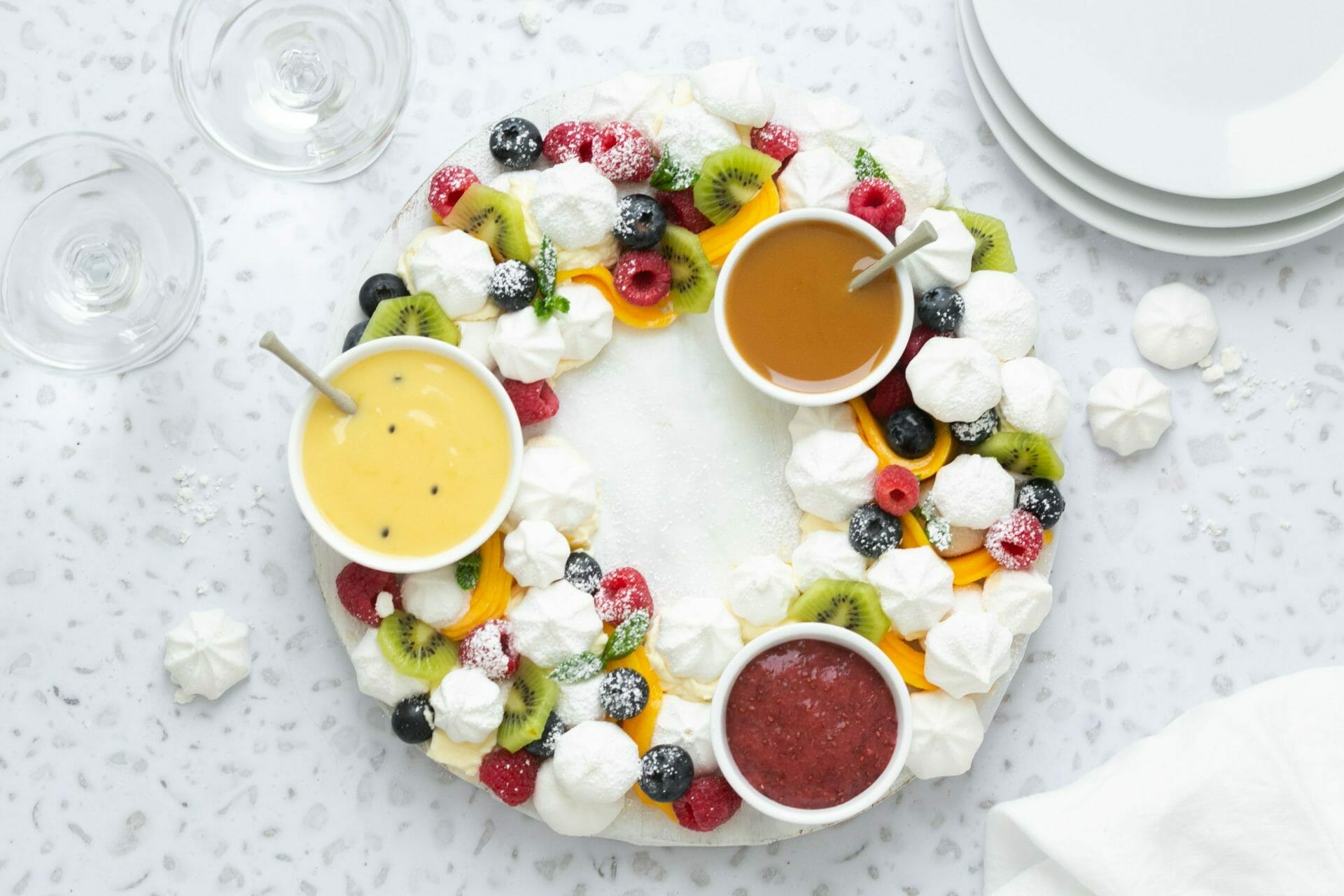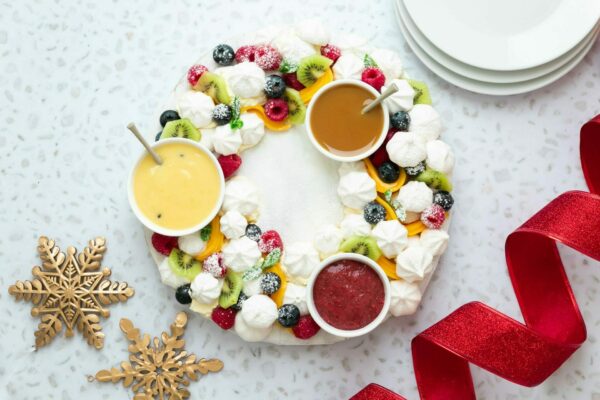 | | |
| --- | --- |
| | |
To make the passionfruit curd
Add 5 egg yolks only, 1 tbsp honey and the juice of 1 lemon to a saucepan whisk together over low heat, stirring constantly for 2-3 minutes until the mixture thickens, if you stop stirring or heat too fast you may end up curdling the eggs.

Once curd is thick and creamy add passionfruit and ricotta and stir through to combine.

Cover with cling wrap and allow to cool.
Place all ingredients in a small saucepan and stir over a low heat until the berries have softened.

Puree or mash lightly, until just a few small lumps remain.

Thoroughly stir in chia seeds in four lots so that they don't clump together. Pour into a jar or container.
Spread about ⅓ of the greek yoghurt onto a serving platter in a circle/wreath shape.

Arrange meringue kisses, dollops of remaining greek yoghurt and prepared fruit around the yoghurt wreath.

Dust with icing sugar and serve with trio of dipping sauces.
For more Christmas recipes, our Healthy Mummy Festive Cookbook is packed with healthy Christmas recipes.