We all love a treat at Christmas but they're not always kind to our waistlines! Now you can have your cake/rum ball/slice and eat it too with our naughty treats made nice.
With only weeks until the big day, the festive season is in full swing, and along with that comes all the traditional desserts and treats that seem to be designed to test your willpower.
If you're working towards a health and wellness goal or are part of the 28 Day Weight Loss Challenge, making good choices and being 'treat wise' is important.
Instead of missing out or hiding out in your room after dinner, why not try some of our naughty treats made nice recipe makeovers? With a few tweaks and changes, you can enjoy the festive season with your weight loss goals still on track for the New Year.
8 naughty treats made nice for Christmas
1. Healthy Peanut Butter Oreo Cookies
If you love choc-chip shortbread, try our Healthy Peanut Butter Oreo Cookies which are refined sugar free and taste amazing.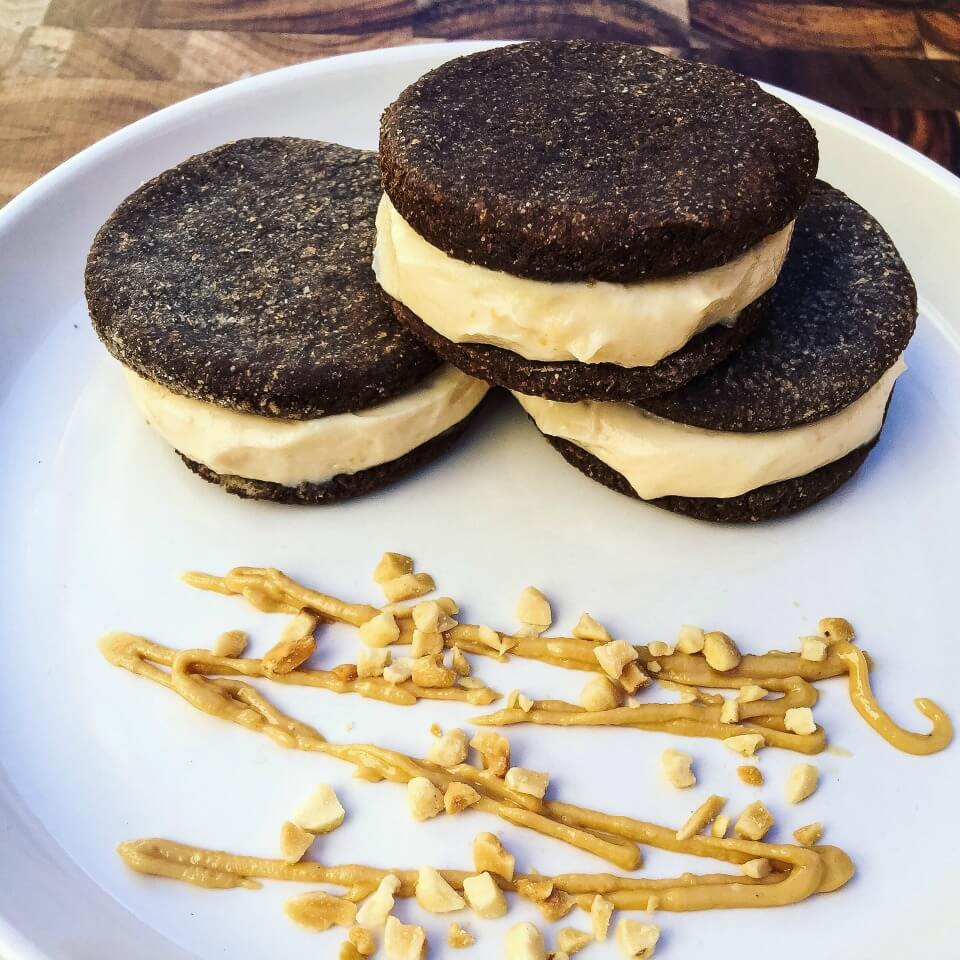 2. Healthy Hedgehog Slice
If you love a slice of slice, try our delicious Healthy Hedgehog Slice which uses dates, walnuts and puffed rice for a sweet treat without lots of added sugar.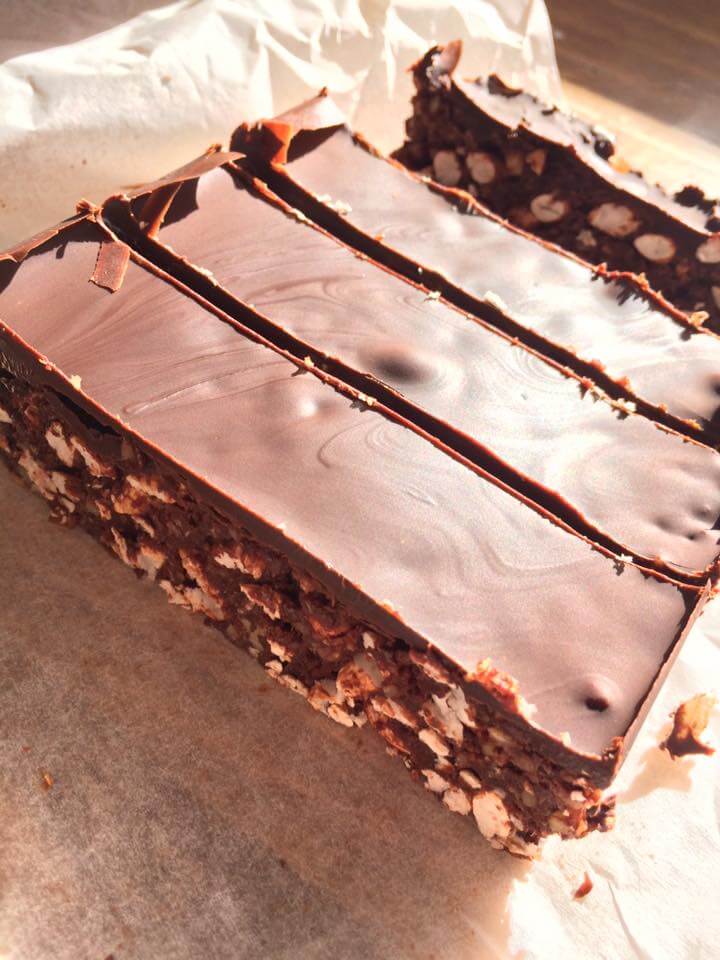 3. Healthy Ferrero Rocher Bliss Balls
If you love Ferrero Rocher, try these deliciously indulgent Healthy Ferrero Rocher Bliss Balls. All the taste with only 55 calories per ball!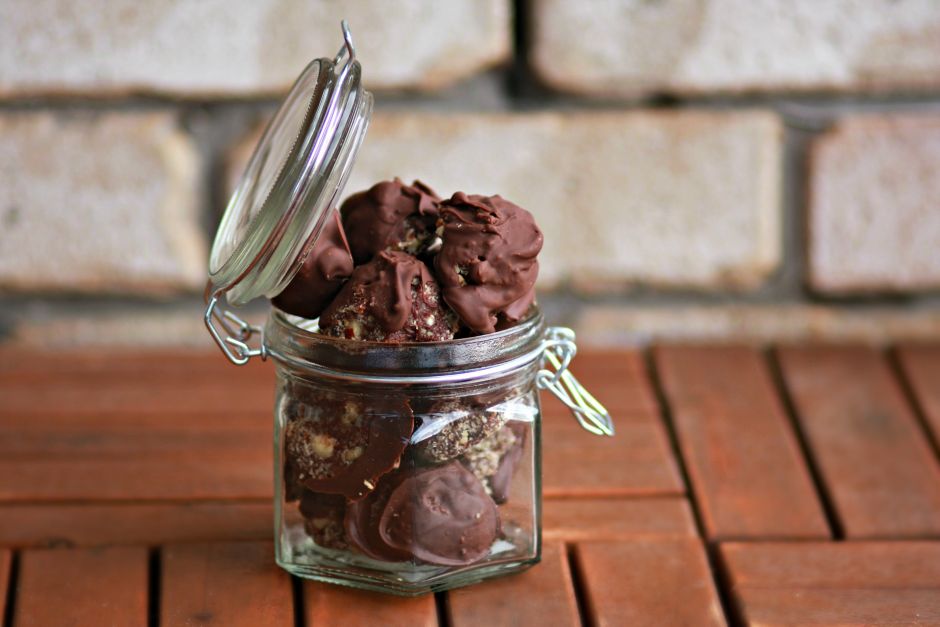 Ingredients (Makes 3 servings)
3/4 cup hazelnuts (90 grams)
1 tbsp cacao/cocoa powder (8 grams)
1 medjool date, fresh (15 grams)
1 tsp vanilla extract (5 mls)
Method
Put 1/2 cup of the hazelnuts in a blender or food processor and blitz until processed to a fine meal. Set aside 2 tablespoons of the meal, for rolling.
Add cacao/cocoa powder, date and vanilla, to the blender/food processor and process with the hazelnut meal until smooth.
Add a drop or two of water if required so mixture combines together.
Place mix into a bowl and freeze for 30 minutes or until firm.
Scoop out tablespoons of the mix to form 6 small balls and push a whole hazelnut from the remaining nuts, into the centre of each ball.
Roll balls in the leftover hazelnut meal to serve. Two balls is one serve.
Store leftovers in an airtight container in the freezer for up to 2 months.
185 calories per serve
4. Healthy Gingerbread Men
If you love gingerbread, try our healthy gingerbread recipe. It uses honey instead of sugar and you can make them into ANY shape you like, from people to stars to Christmas trees. Or why not try these cute Reindeer Biscuits?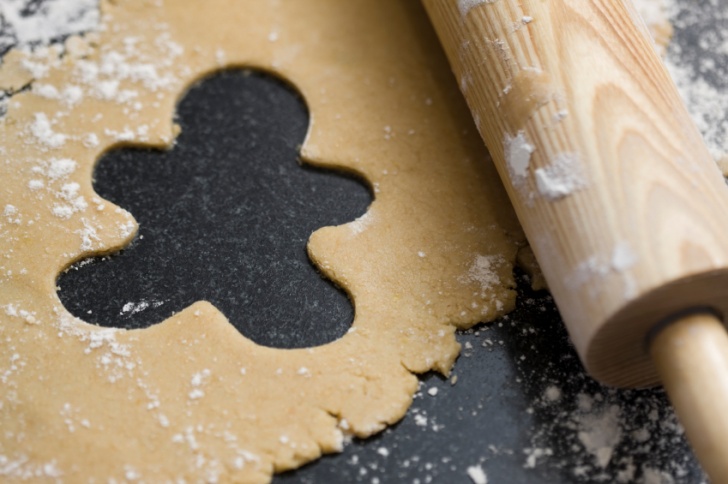 5. Vegan Choc-Chip Mini Cheesecakes
If you love cheesecake, try our Vegan Choc-Chip Mini Cheesecakes. The recipe uses no cream cheese or sugar, yet still packs a punch in the flavour and texture department.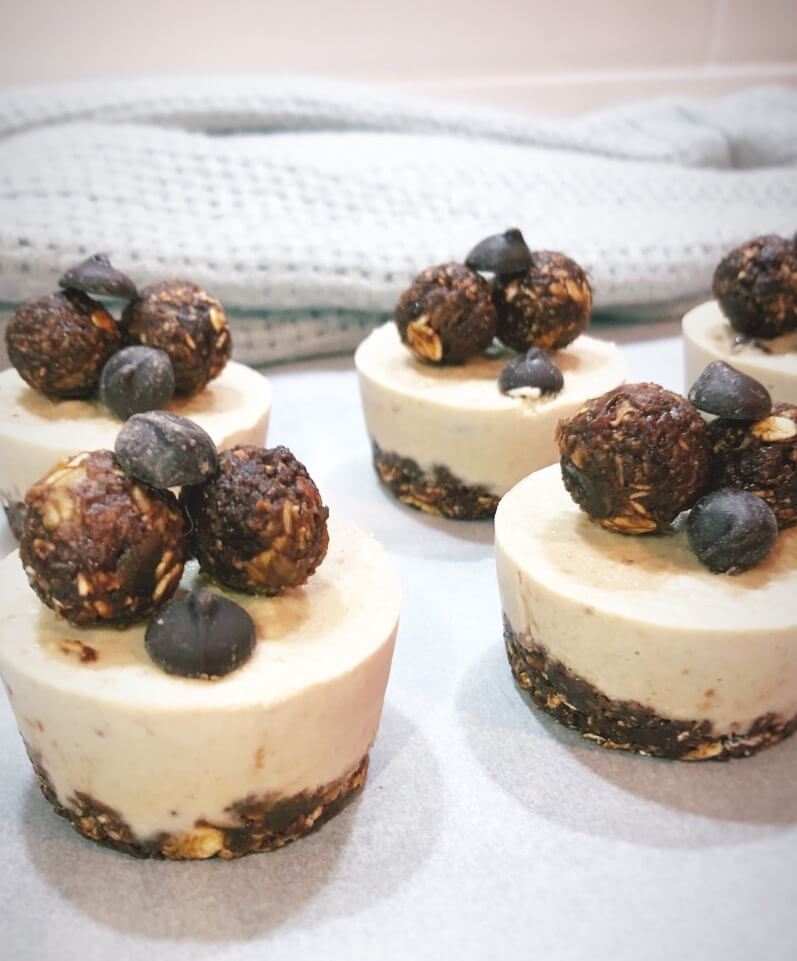 6. Triple Chocolate Cheesecake
Everyone needs a total show-stopping cake recipe and we reckon this Triple Chocolate Cheesecake fits the bill perfectly.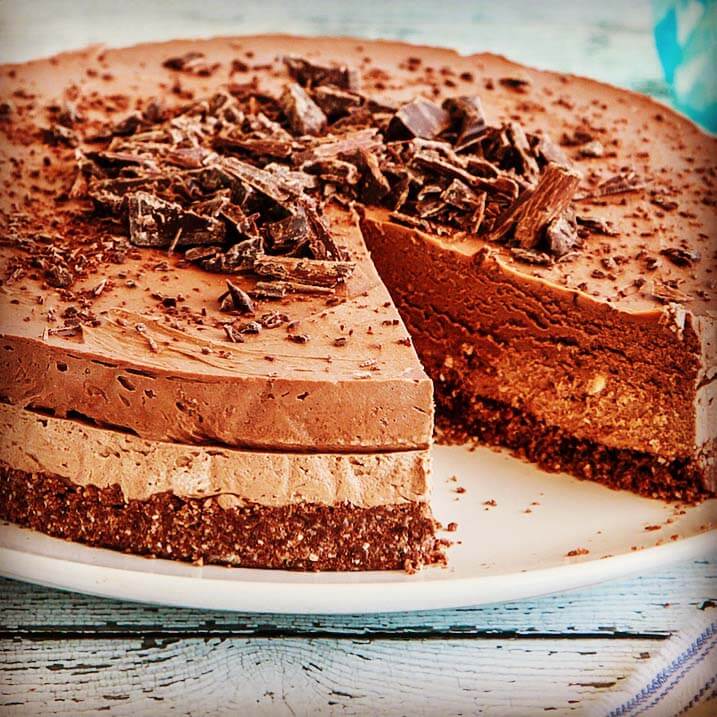 7. Easy Fruit Trifle
A healthy Christmas trifle? Yes, such a thing does exist! This Easy Fruit Trifle uses natural Greek yogurt, homemade pancakes and plenty of fruit for a fresh take on this classic.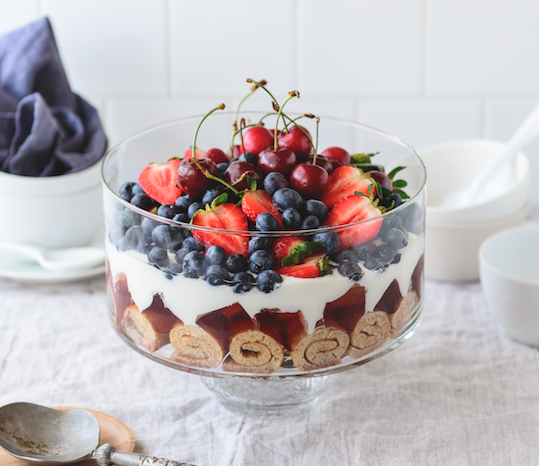 Ingredients (Makes 8 servings)
1 tablespoon powdered gelatine (16 grams)
1 & 1/4 cups water (312.5 mls)
1 cup apple & blackcurrant juice, no added sugar (250 mls)
1 cup wholemeal self-raising flour (120 grams)
2 free-range eggs, separated (100 grams)
1 cup reduced-fat milk of choice (250 mls)
1 teaspoon vanilla extract (5 mls)
2 cups reduced-fat Greek natural yogurt (520 grams)
1 cup strawberries or raspberries, fresh or frozen (200 grams)
1 cup blueberries, fresh or frozen (240 grams)
1 cup fresh or frozen cherries (200 grams)
2 tbsp crushed peanuts (30 grams)
Method
Start by making the jelly. In a large jug sprinkle gelatine over 1/4 cup of the cold water and leave for a minute or two to soften. Boil remaining cup of water and add to gelatine mix, stir until gelatine is dissolved and liquid is clear. Stir in 3/4 cup of the apple and blackcurrant juice, reserving remainder of juice for later. Pour jelly mixture into a shallow dish and refrigerate for several hours, or overnight, until firm.
When jelly has set make the pancake rolls. Place the flour in a mixing bowl and stir in milk, egg yolks and vanilla until smooth. In a separate small mixing bowl beat egg whites with an electric mixer until soft peaks form. Fold small portions of the egg white through the pancake batter until well combined.
Heat a non-stick frying pan over a medium heat. Scoop batter into pan using a 1/3 cup measure. Cook pancake until just golden on both sides, place on a piece of paper towel, roll tightly and set aside to cool. Repeat with remaining batter and sheets of paper towel to make approx 6 pancake rolls.
To assemble trifle gently unroll pancakes to remove paper towels, pancakes will keep their rolled-up shape. Slice each roll into 4 or 5 rounds. Arrange around the base of a large bowl and drizzle with remaining 1/4 cup of apple and blackcurrant juice.
Cut jelly into cubes and spoon over the pancake rolls. Sprinkle with nuts.
Top jelly with yogurt. Chop the berries and arrange with blueberries and cherries on top of yogurt. Refrigerate for at least 30 minutes or until ready to serve.
185 calories per serve
8. Healthy Hot Chocolate
Love a mug of steaming hot chocolate by the fire? Try this delish Chocolate Winter Warmer smoothie instead. All the taste, none of the nasty stuff.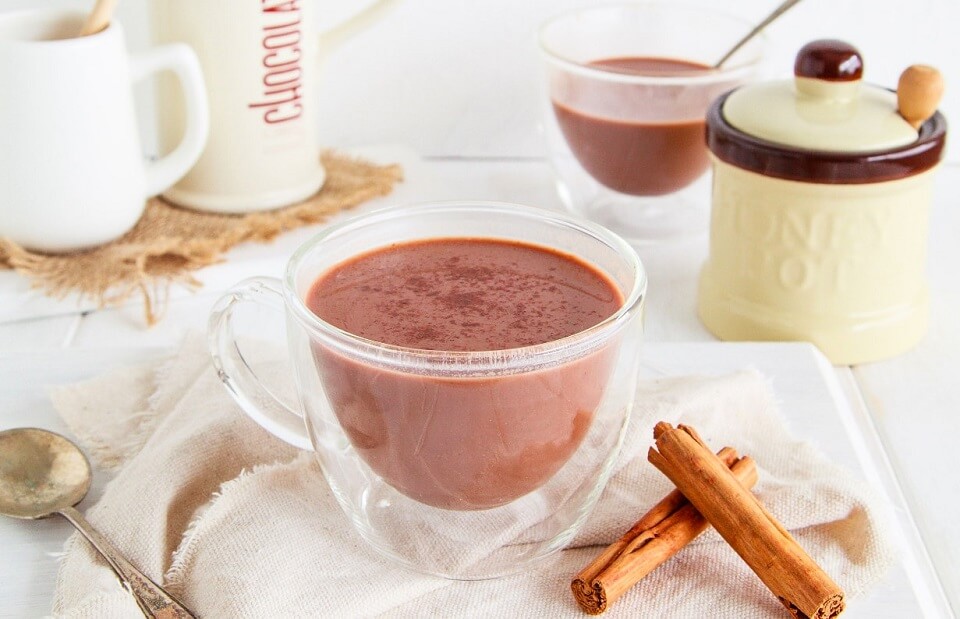 Want to stay on track during the festive season?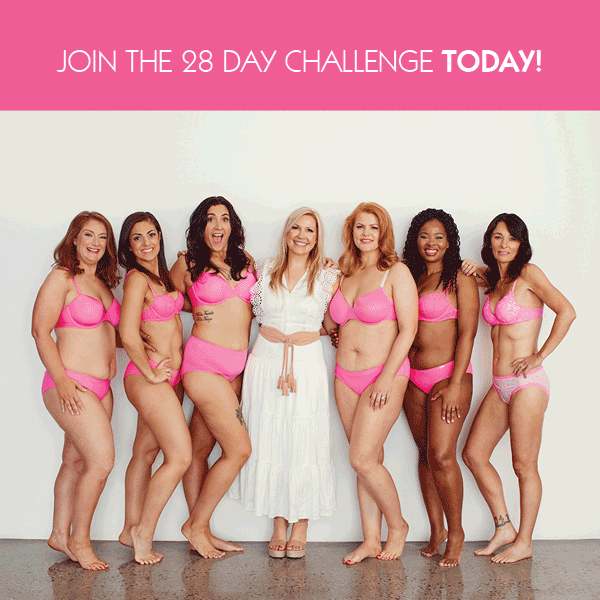 Be sure to check out our 28 Day Weight Loss Challenge.
Our 28 Day Weight Loss Challenge is a family-friendly, breastfeeding-safe program designed FOR MUMS to help them improve their health and lose the baby weight. 
Every week you are given a different meal plan to follow and each month we add NEW recipes to our Challenge Recipe Hub. That way, you'll never get bored and stay on weight loss track while digging into healthy, yummy recipes. The challenge is also able to be used during pregnancy.
Learn more about our 28 Day Weight Loss Challenge HERE.
If you would like a sneak peek at some of the meals, snacks and exercises from the 28 Day Weight Loss Challenge you can download our FREE recipe packs HERE.