There is a difference of 6 years, 37lb and 2 kids in this dress! Read how mum Hellevi is the fittest and healthiest she has ever been thanks to The Healthy Mummy's 28 Day Weight Loss Challenge!
Hellevi is a mum of two from Scotland. She joined the 28 Day Weight Loss Challenge eleven months ago.
Hellevi says, "Before having kids my weight would fluctuate like the stock market. Now (after 2 kids) thanks to the 28 Day Weight Loss Challenge I'd say I'm probably the fittest and healthiest I've ever been in my whole adult life."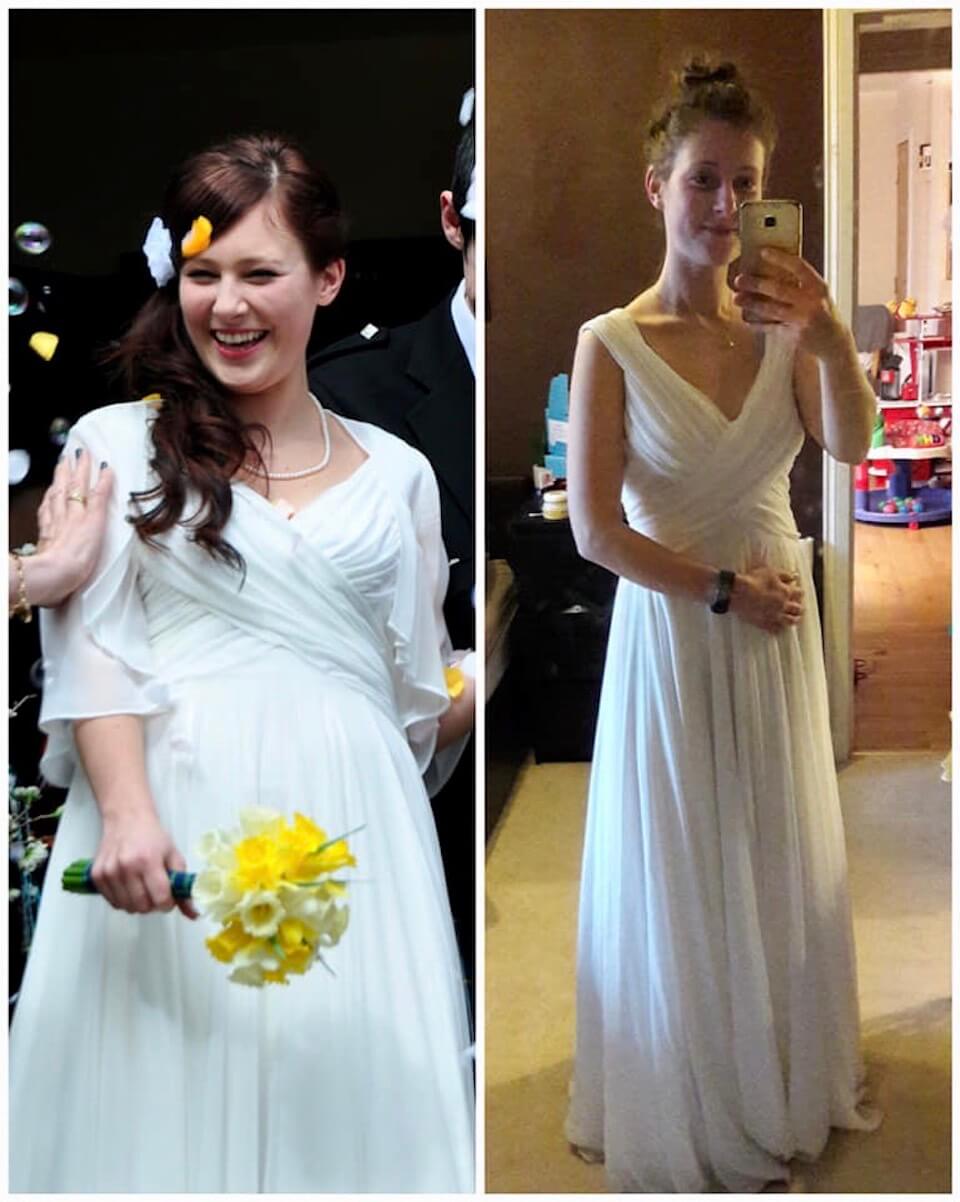 Trying on her wedding dress six years later
Speaking about trying on that special dress again she says, "I was clearing out my wardrobe and I found my wedding dress. I couldn't resist the temptation of trying it on.
It's been sitting in the wardrobe for 6 years and I never thought I'll be able to fit into it again. It was on the tight side when I wore it on our wedding day.
I bought the little cardigan a few days before the wedding to cover my arms as I felt really uncomfortable about showing my arms.
Well today after having had my 2 kids and joining the 28 Day Weight Loss Challenge it fits even better than on my wedding day!"
What keeps Hellevi motivated?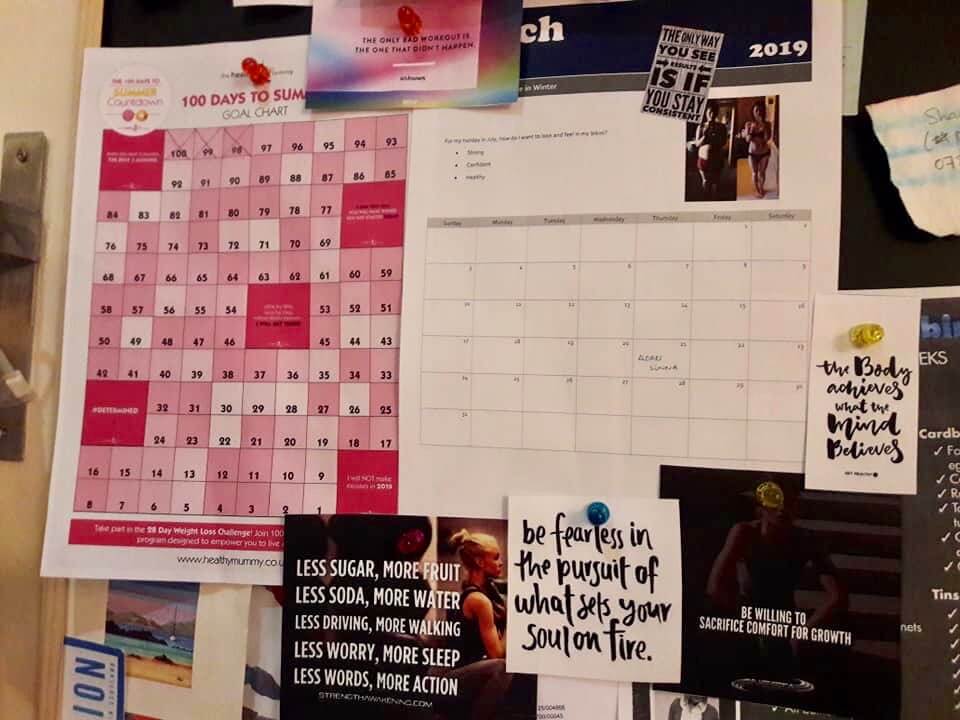 "My Motivation Board motivates me, it reminds me why I want to be healthy and what I want to achieve and how I will get there. It has helped me to refocus when I've gone off track.
It's a great reminder WHY I want to do this, each little victory I make has made me stronger and I make sure to keep it in a visible place.
I recently downloaded the free Healthy Mummy 100 days to summer countdown pack and the goal chart.  I want to feel good and confident in my bikini on our holiday in summer so I have stuck it to my board. It's definitely given me the motivation boost I needed.
Anyone struggling with motivation I recommend downloading it.
I also keep a gratitude journal and I'm not even kidding when I say that almost every day I write in there "Grateful for the Healthy Mummy and how it has changed my life."
Hellevi's top tips for starting out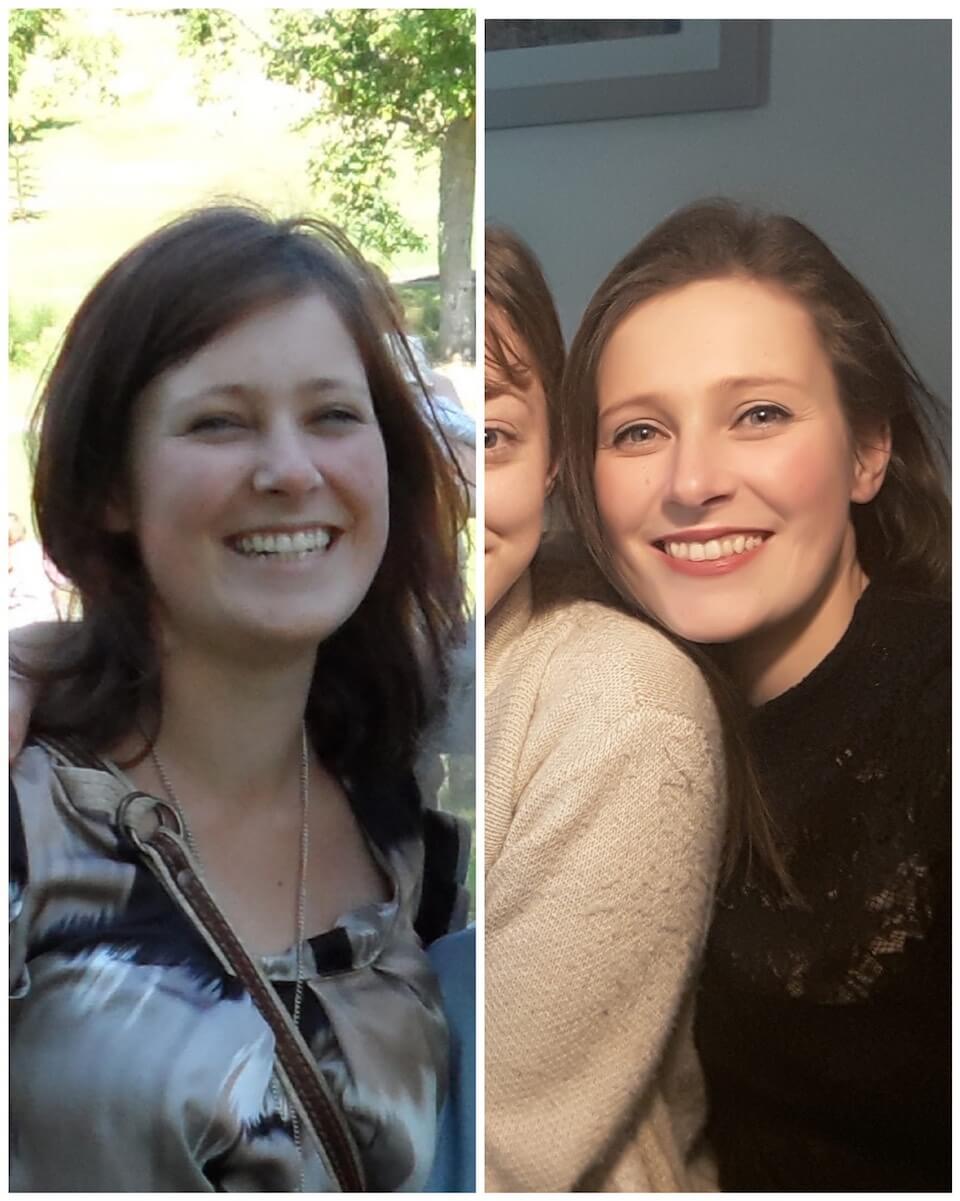 1) "When I first started out I found it all pretty overwhelming and doubts of whether I could do it filled my mind. So my advice would be to start by introducing one small change at a time (e.g. aiming to drink at least 2L of water a day, having 1 28 Day Weight Loss Challenge meal a day, walking 2x a week etc) and build on that. Small steps in the right direction go a long way.
2) Take photos and measurements.
3) Use the support available. It makes a huge HUGE difference knowing you're not alone, picking up useful tips and advice and having ladies cheer you on.
4) When you start slipping back into old habits remind yourself WHY you want to do this. Write it down and put it in a visible place."
Finishing off her chat with the Healthy Mummy, Hellevi says "The 28 Day Weight Loss Challenge is the ONLY weight loss program that has ever worked for me with lasting results and there is no reason why it wouldn't work for anyone else looking to become healthier and fitter.
Yes I've had my ups and downs along the way but what I absolutely love about the 28 Day Weight Loss Challenge is the support and understanding of what it's really like to be a mum and how hard it can be at times.
For the first time in my life I'm happy with how I look and this has had a massive impact on all aspects of my life."
Are you ready to kick-start your weight loss?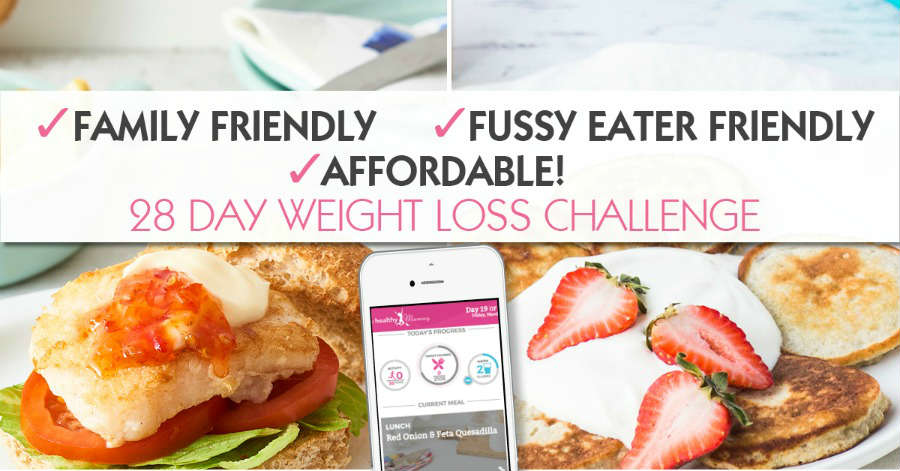 Want to shift your baby weight but feel like you have NO TIME in your day to exercise and eat healthily? That's where the Healthy Mummy's 28 Day Weight Loss Challenge can help.

Our Challenge entails: 
28 days of at home exercise routines (no gym needed) – with video instruction
Customisable and breastfeeding friendly meal plans
Time-efficient exercises for busy mums – under 30 mins
Challenge combines Pilates exercises with interval and circuit training (HIIT)
Suitable for basic to advanced fitness levels.
Home to thousands of EASY-TO-MAKE recipes.
To find out more about joining the 28 Day Weight Loss Challenge for £1 click here.
PLUS – connect with THOUSANDS of other mums on the 28 Day Weight Loss Challenge by joining our free support community here.