This October with your 28 Day Weight Loss Challenge, these 10 awesome mums will be here to give you advice, guidance and a big kick of motivation when you need it.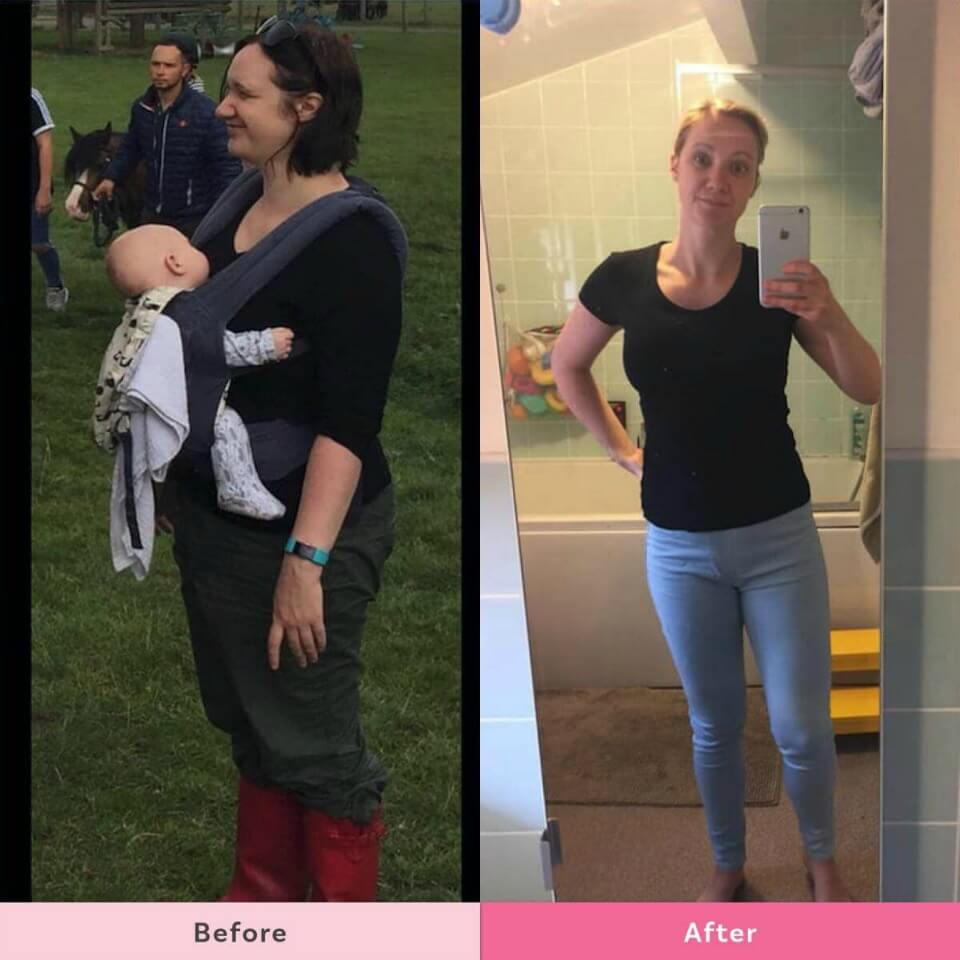 Meet your amazing October Motivating Mums
Today we introduce you to your 10 OCTOBER MOTIVATING MUMS, with a bit about each mum, and their top tips for keeping you focused and motivated.
We have chosen these 10 amazing  Mums to be with you every step of the way on the 28 Day Weight Loss Challenge!
Nikki McMahon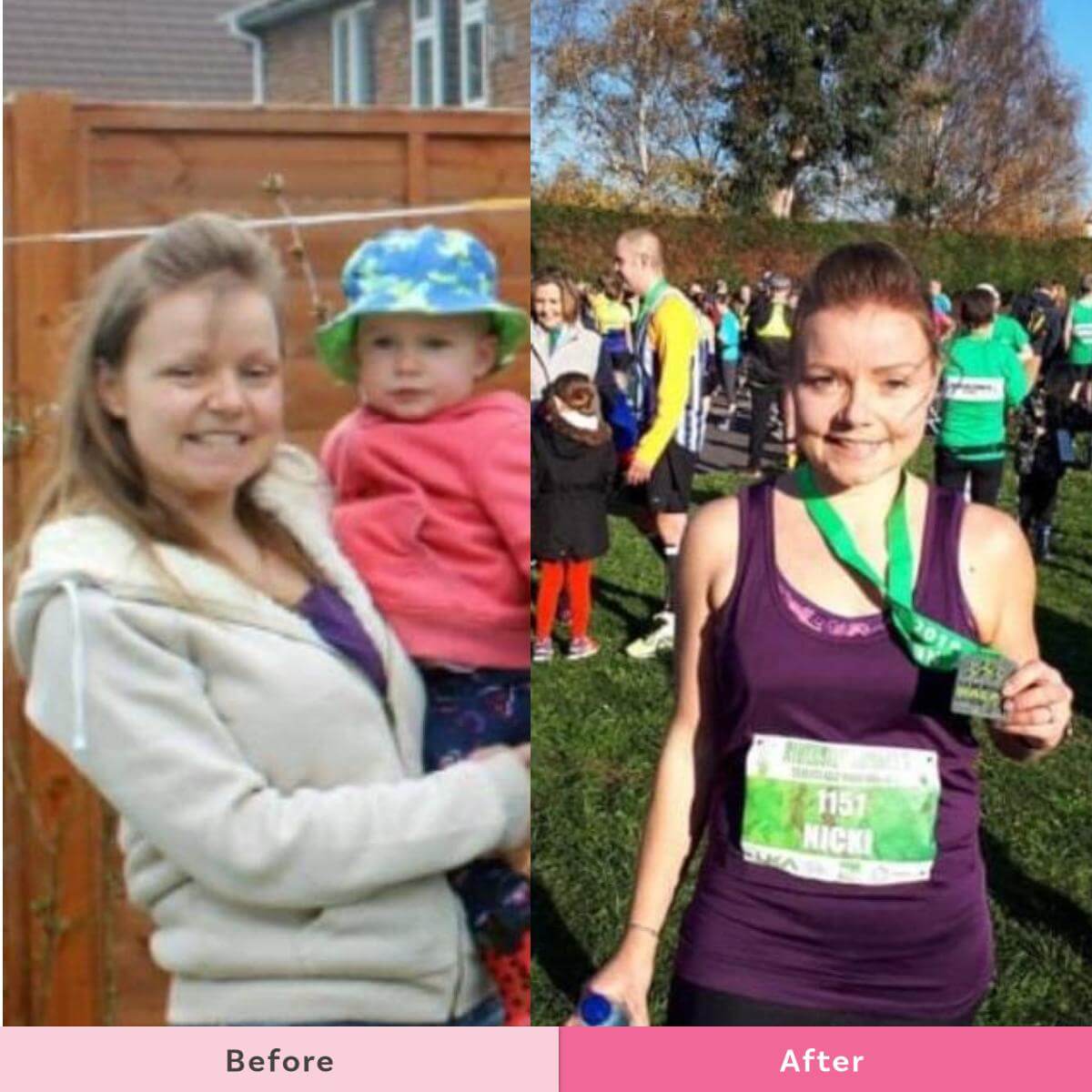 Nicki, 34, a mum of two from Cambridgeshire.
Nikki has lost over 1.5 stone on the 28 Day Weight Loss Challenge since June 2018.
Nikki shares, "I feel happier, healthier and more confident. It really is a lifestyle change. And even though sometimes holidays and meals out are on the cards the Healthy Mummy has taught me how to make healthy choices, but I have also learned that it is OK to eat off-plan occasionally and then just carry on."
Nikki's favourite recipes
Nikki shares her favourite 28 Day Weight Loss Challenge recipes and snacks.
"I have a few favourite meals such as the Mexican Lasagne, Chicken and Mushroom Stir Fry, the Greek Burgers just to name a few, there are so many delicious recipes to choose from.
My favourite snacks are the Raspberry Muffins, the Weetabix Slice and I love the Strawberry Oat Breakfast Bars. The kids absolutely love them too."
Nikki adds, "I love the Healthy Mummy Smoothies for breakfast and there are so many different yummy variations. My favourite is the strawberry flavour.
I continue with the 28 Day Weight Loss Challenge as I really want to focus on toning up now that the weight is off. When I first signed up I went for the monthly option but got hooked quickly and changed to a yearly subscription and as soon as the lifetime membership offer came out I paid for that as I can't be without the Healthy Mummy anymore."
Nikki's top 3 tips
Believe in yourself. Put your mind to it and you can do anything.
Plan your meals and stick to the plan.
Exercise. Try and fit exercise in when you can.
Amy Adams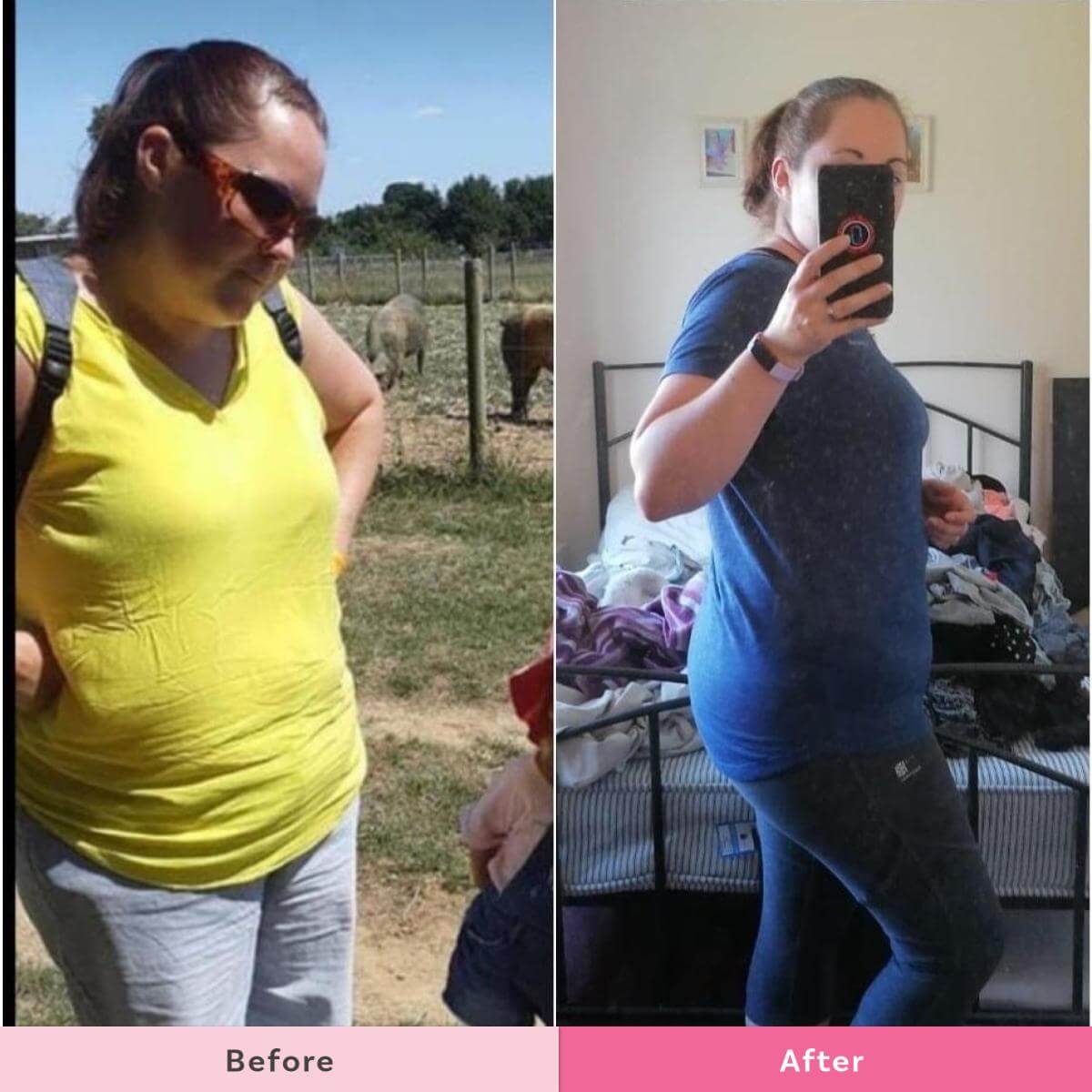 Amy, 34, a mum of one from Southampton.
Amy has been on the 28 Day Weight Loss Challenge for 11 months and lost 2 stone and also dropped two dress sizes!
Amy joined the 28 Day Weight Loss Challenge on a whim when there was a £1 offer.
Amy says, "What did I have to lose? Lots of weight that's what! I'm still here because it's a lifestyle that suits me and my family and the amazing support from the other Healthy Mummy community members.
I still have lots of weight to lose and muscle to gain. My current goal is 11 stone but I anticipate flexing that when I get there (which I will )."
Amy's favourite recipes
Amy shares her favorite recipes and treats on the 28 Day Weight Loss Challenge. 
"My favorite recipes from the 28 Day Weight Loss Challenge are the Slow-cooked Asian chicken, Spanish rice with chorizo, Tuna pasta bake and Chocolate weetabix slice. And the Mini Donuts! "
Amy adds, "Alongside the meals, I love the Healthy Mummy Smoothies. They are the simplest breakfast and are so filling. Even more so than porridge! I've been so surprised at the variety of combinations out there – something to suit everyone!"
Amy's top 3 tips
Take it slowly. Just tackle one element at a time. Water, dinner, snacks, exercise. Just do one at a time.
Try recipes you like first. Your palate will change over time so don't jump right in at the deep end with unfamiliar flavours.
Find a rhythm that works for you. Batch cooking, veg prep, snack prep. We all live different lives.
Amy says the added bonus of being on the 28 Day Weight Loss Challenge, "Aside from losing weight and the obvious benefits that come from that (less achy joints, day to day tasks are easier)  I've also noticed I sleep better and wake up more refreshed. That makes it easier to exercise and stay on plan. So it's an ongoing cycle."
Stephanie Dalton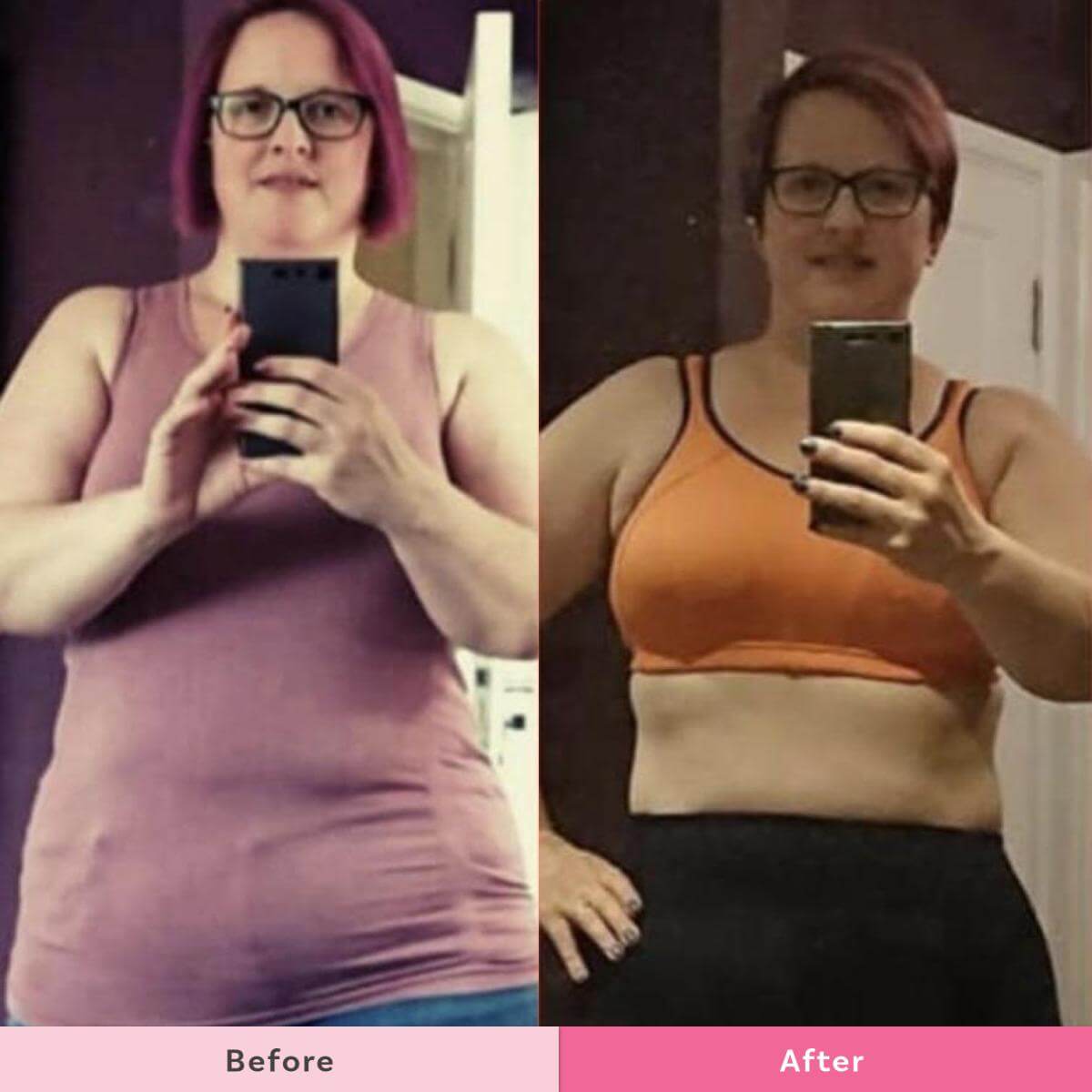 Stephanie, 43, from Bournemouth, has three older step-children aged 20, 17 & 16 plus an 18-month-old granddaughter. She also has an almost 7-year-old (birthday next week) and a 3-year-old.
Steph joined the 28 Day Weight Loss Challenge in April 2019 and in just under 6 months has lost 2.5 stone and gone from a size 20/22 to a size 16.
Steph shares, "I could not survive without my daily Healthy Mummy Smoothies and the difference they've made, particularly to my hair, is astounding.
I love the 28 Day Weight Loss Challenge as it breaks the journey into more manageable slots and each challenge teaches me something different about nutrition or fitness that I didn't know before.
"My goal is to lose another 2 dress sizes and build up muscle strength, let's face it I want visible abs. So excited to get to know you all as we smash October and all the new fitness challenges together."
Susie Wilson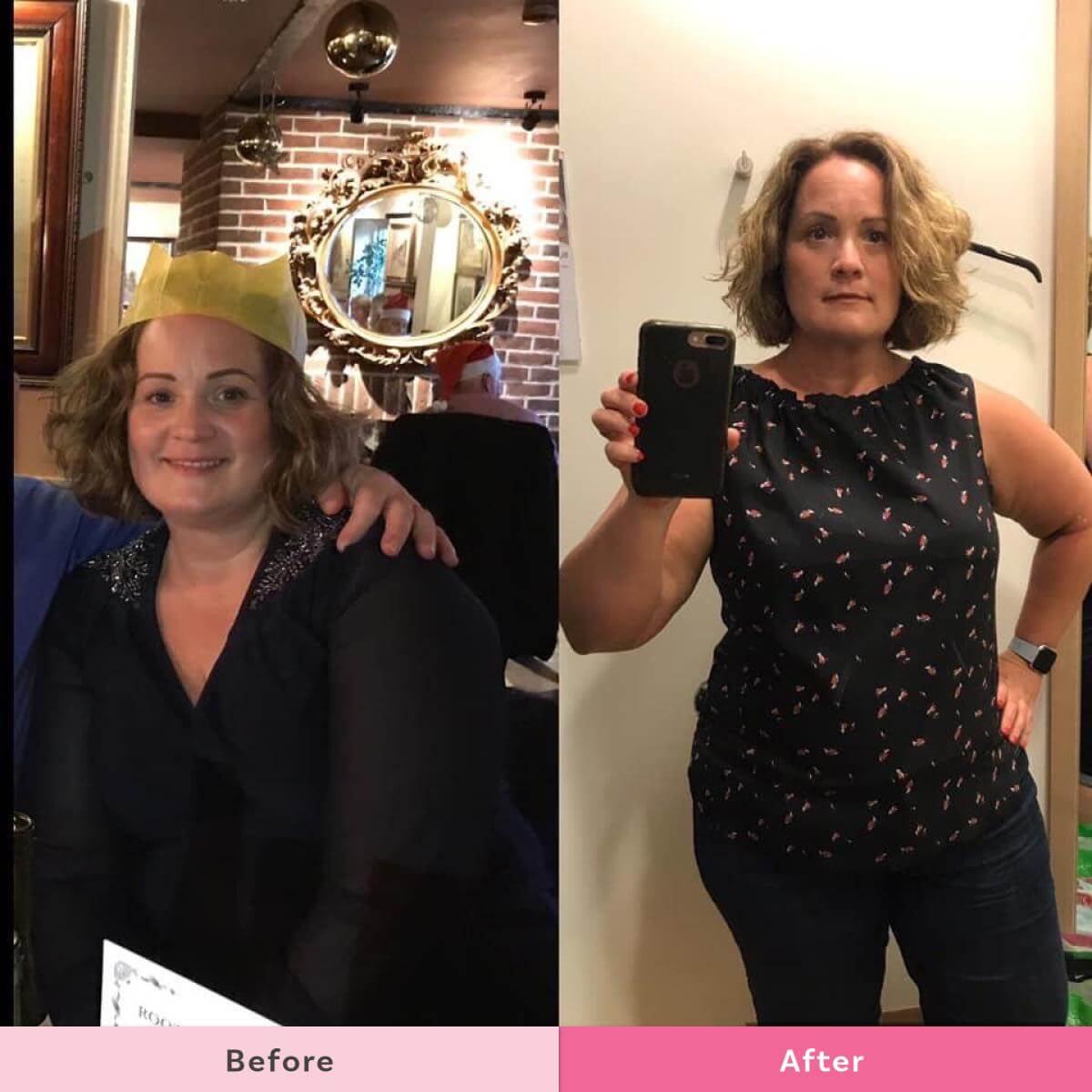 Susie, 45, is a mum of two boys (9 and nearly 6) from Orpington, Kent.
Susie is a part-time swimming teacher who gained 5 stone with her first son nine years ago, and has struggled to lose it ever since!
Susie says, "I've yo-yoed, fasted, tried most of the fad diets out there to be honest! None of it works! There is no quick fix.
"I stumbled onto the Healthy Mummy 28 Day Weight Loss Challenge in December 2018 and dipped my feet in and out until March or April 2019. Since then, I've lost 1.2 stone, and gained 6lb on holiday! (Damn the all-inclusive! ) But we've got to live & occasionally have fun, haven't we!
Susie adds, "September has been a good month so far, and I've got my exercise mojo back! I haven't weighed myself all month, so I'll be interested to see what that reveals on Monday!
Susie is PUMPED for October
"I'm getting ready and baking my favourite snacks tomorrow (Peanut Butter Bubble Crunch & Apricot and White chocolate slice!)
I'm so excited to be an October Motivating Mum. Especially as it coincides with the launch of STRONGER! I love strength training, so cannot wait. I'm PUMPED! PRIMED! Like a coiled spring! Ready to smash it! Boom!"
Janette Turner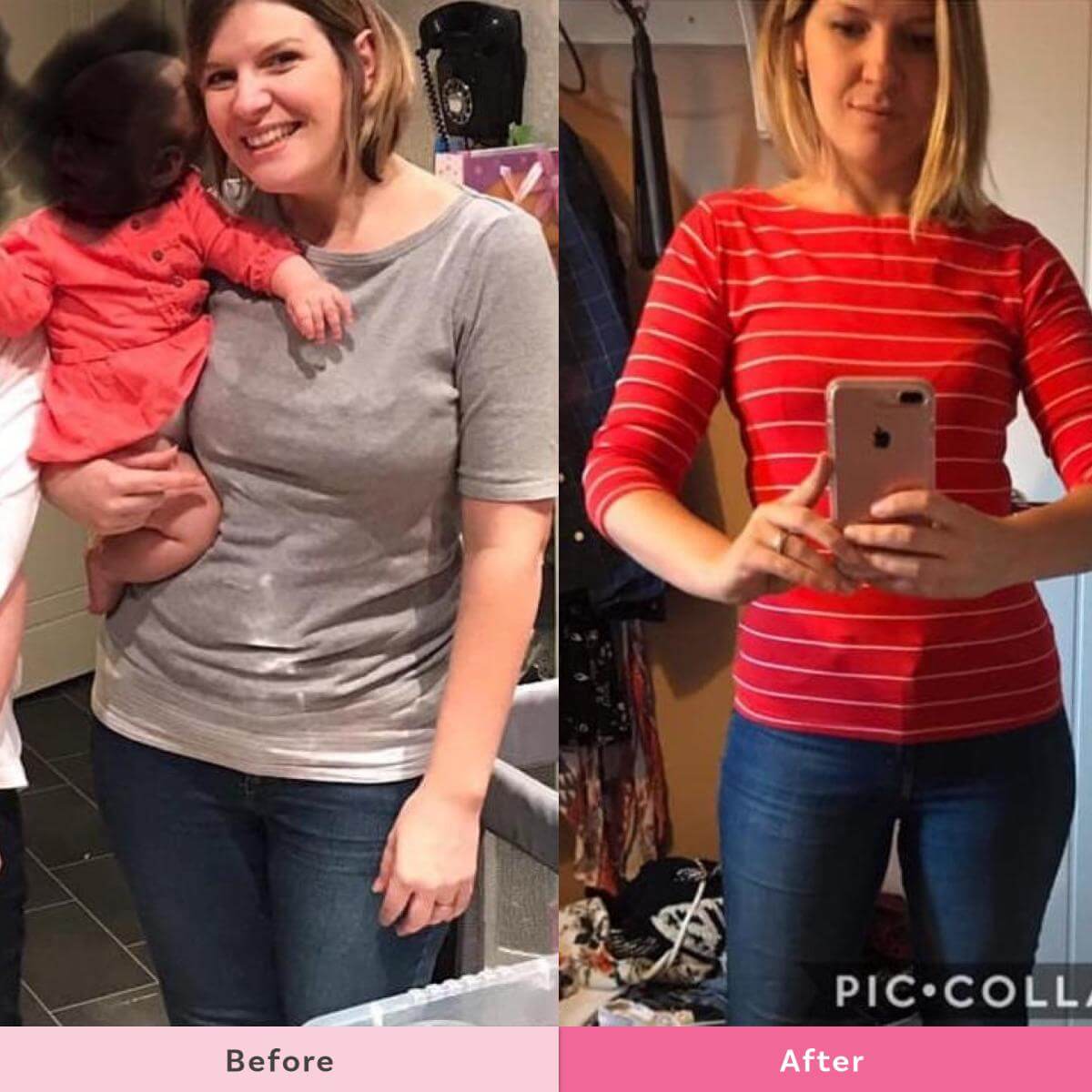 Janette, 34, is a busy working mum who's also studying to be a Chartered Accountant. She lives in Loughborough with her husband and two girls aged 3 and 15 months.
Janette has been on the Healthy Mummy 28 Day Weight Loss Challenge since March 2019. She signed up to the £1 offer after seeing a Facebook ad and hasn't looked back.
Janette, says "I've always been a bigger build and curvy/pear shaped but I found after having two kids I was rounder, bigger and relying on bad food and bad habits to get me through the day. I knew I needed to change something and Healthy Mummy was the answer.
I achieved my goal of a 1.5 stone loss in 3 months and signed up to lifetime membership. I wear smaller clothes now than when I was a teenager, and I do little or no exercise, that's my goal for October, to tone up, not watch the scales and focus more on the measurements. Oh, and to lose a few more pounds."
Not only has Healthy Mummy helped Janette lose weight, she says it has also improved her confidence and provided her with healthier food choices for the kids. "It's improved my health and endometriosis significantly!"
Janette's top 3 tip
Take it one step at a time. Don't flip your current life upside down, up your water intake, switch your snacks, little by little you'll reach your own level
Count calories. If you can't do everything at least count the calories, it really helps if you can't food prep everything you want to.
Don't let a bad food day ruin your week. Pick yourself up, dust yourself off and start again in the morning
Janette admits she is obsessed with the Peanut butter & banana breakfast bars. Just 3 ingredients, 25 mins, and breakfast is prepped for the week. Join the 28 Day Weight Loss Challenge to grab the recipe plus 1000's more.
"I'm really looking forward to being an October Motivating Mum! Let's do it!"
Jenni Hayward
Jenni, 37, is a mum to four boys aged 14, 13, 9 and 7, from Suffolk.
Jenni first dipped in and out of the Healthy Mummy 28 Day Weight Loss Challenge in 2018 and although she says she hasn't lost a huge amount of weight she has gained so much from learning about healthy eating & exercise.
Jenni shares, "I am determined to get back to it 100% this month so that I can start feeling full of energy again before my birthday at the end of October.
"My long term goals are to reach a healthy BMI (so at least 2 stone to lose) and also to improve my fitness and get STRONG!!"
Jennis' top 3 tips
Make small changes – it will be easier to stick to and all of those small changes will soon add up.
Don't be afraid to swap meals on the meal plan for other recipes from the app that you know your family will love.
Join the community. Make use of the amazing support on the Healthy Mummy Facebook group.
And lastly ,don't forget to drink plenty of water!
Jenni's favourite recipes
Jenni is a huge fan of the Healthy Mummy Smoothies and has one nearly every day for breakfast.
"My family's favourite recipes are the Peanut Bubble Crunch and the Chicken & Chorizo Pasta (though I may blend the mushrooms!! )
Jenni adds, "I am super excited to be a Motivating Mum for the 28 Day Weight Loss Challenge this October and can't wait to support everyone in smashing their goals for this month!"
Tamara Swales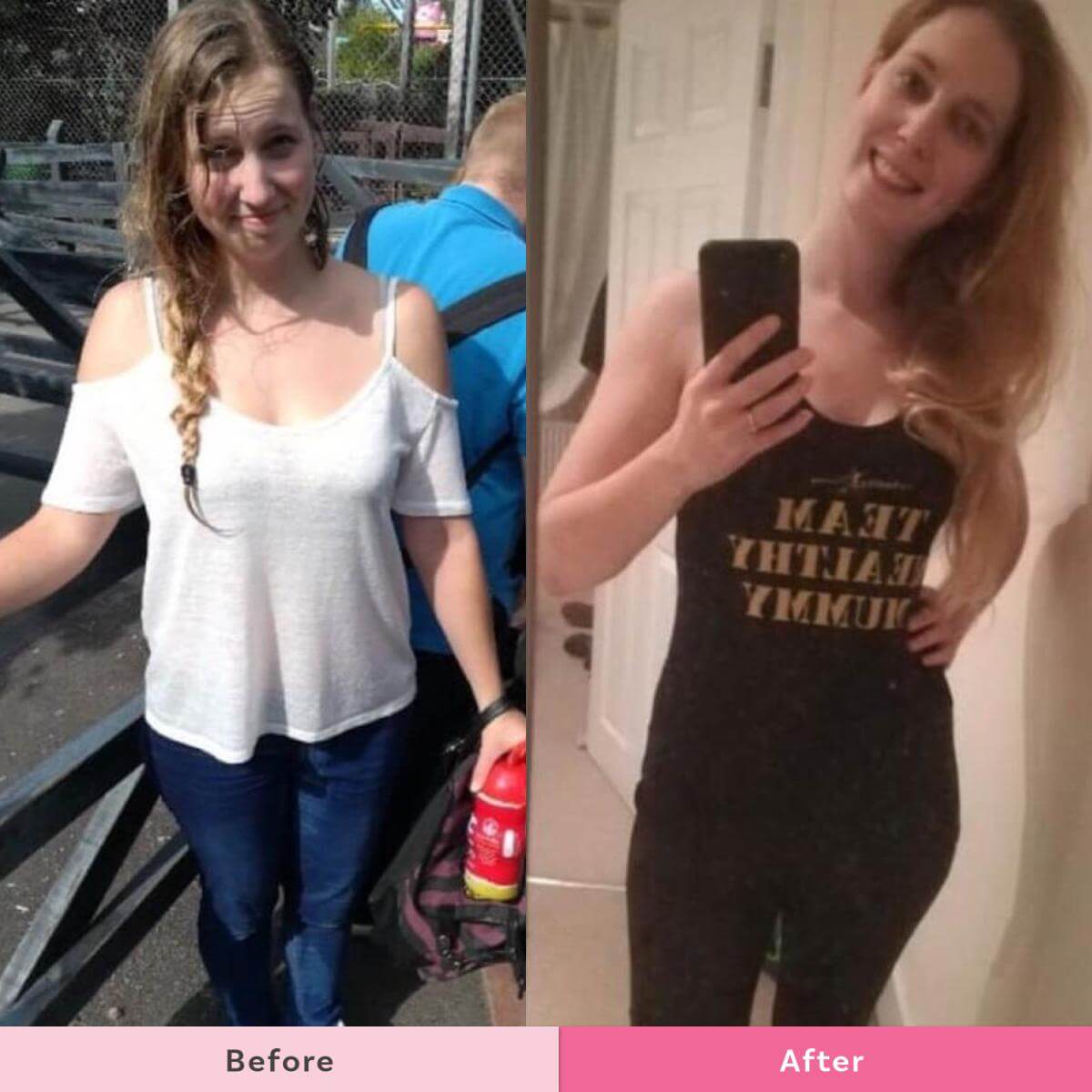 Tamara is mum to a two-year-old based in South West London.
Tamara has been following the Healthy Mummy 28 Day Weight Loss Challenge since October 2018 and managed to lose over a stone.
Tamara shares, "Unfortunately my mental health took a nose dive, and my diet along with it! I currently have 1.5 stone to lose."
Tamara's favorite recipes
Tamara admits picking just one favourite meal on the 28 Day Weight Loss Challenge is really hard to choose.
My top picks would be the Stovetop lasagne or the garlic chicken melt. "I'm obsessed with the Penguin bars and love the Strawberry breakfast bars."
Tamara says, "I'm doing the Healthy Mummy as it provides quick easy healthy recipes that my family all love, along with an ever-expanding exercise range!
I adore my Healthy Mummy Smoothies (banana boost especially) and tend to have them for breakfast most days."
Tamara's top 3 tips
Keep it simple! On weeks where I'm struggling, I simplify everything – snacks can be cheese and crackers or fruit and there's loads of meals that can be made quickly
Get moving! Even 5 minutes of exercise releases the endorphins and makes me want to carry on and eat healthier to not ruin the good work!
Prioritise yourself. Take some time away by meditating, having a bath or even a cup of tea to get you back in the right mindset.
Tamara adds, "There have been so many health benefits on The Healthy Mummy. My mental health has massively improved, I have more energy and my little boy has got so interested in what I'm cooking!"
Sar McGowan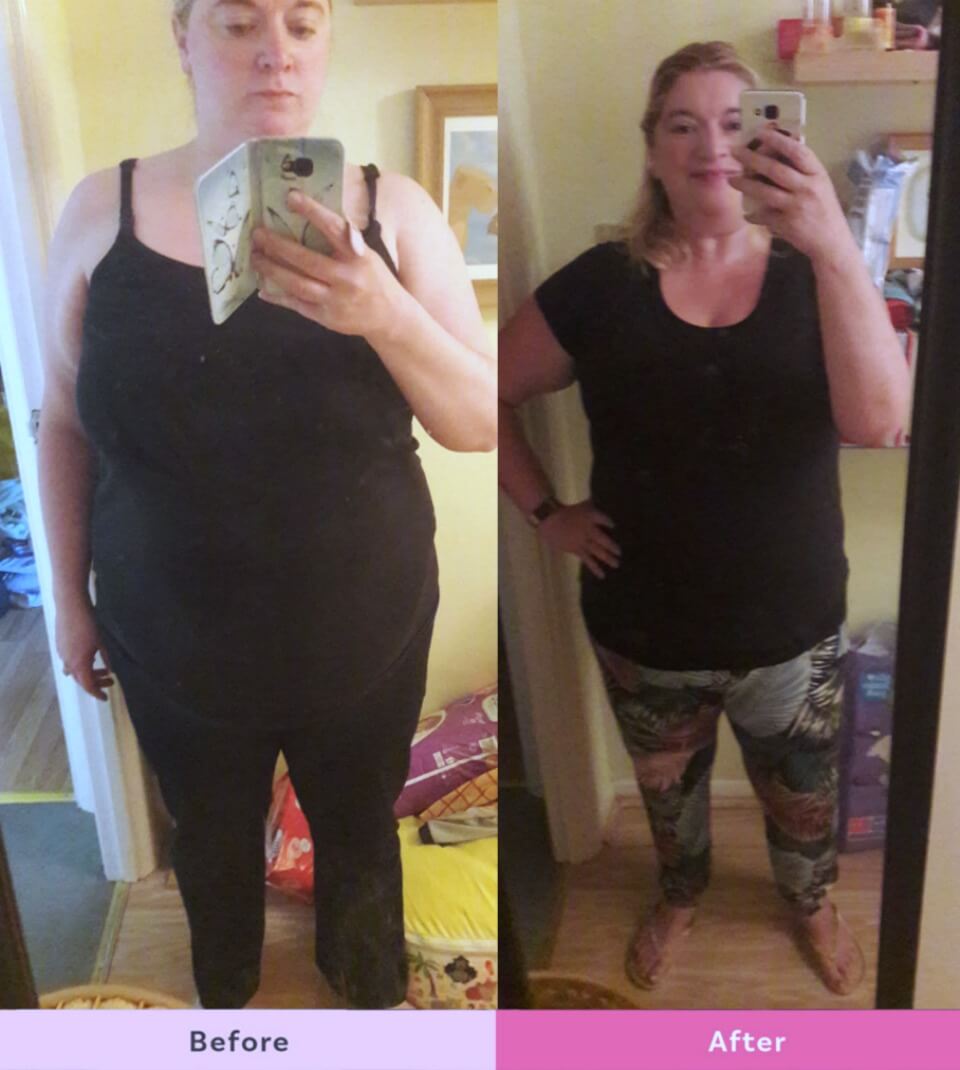 Sar, 38, has a beautiful 5yr old daughter, and a 3 yr old son, she lives in Woking, Surrey.
Sar has lost 2.5 stone, over three dress sizes and excess of 20 inches since joining in May 2018
Sar says, "I had reached rock bottom, both physically and mentally, I was at my heaviest weight and something had to give. That is when Healthy Mummy landed on my Facebook feed and I have never been the same since.
I have learned it is  OK, (good even) to look after myself. That I want to be the best I can be for me, for my children, forever and that I can achieve what I always thought was impossible.
My goal is to be the healthiest and fittest I can be so that I am the best role model I can be for my children. I have a long way to go before I reach my goal weight but The Healthy Mummy good habits are already rubbing off on my children so yay!
Sar's favourite recipes
Sar admits it is really hard to narrow down her favourite recipes and snacks from the recipe hub on the Healthy Mummy 28 Day Weight loss Challenge app, there are so many she loves.
Honey chicken with stir fry vegetable
Green Mac and cheese
Hearty minestrone
Choc chip banana bread as muffins
Mint choc bubble crunch
Choc mint balls (ok I love chocolate!!! )
2 ingredient pesto dip
"If you are looking for a dessert in the evening that is a little bit special, the Mini chocolate cheesecakes are absolute heaven in a bowl (and so easy to make!!)
I also love the Healthy Mummy Smoothies – they taste delicious, stop me from skipping meals and they give me the nutrients I need to energise me for the day without any unwanted sugars, fillers etc. They are a daily part of my plan now!"
Sar's top 3 tips
Be kind to yourself – life sometimes throws us a curveball or gets in the way but just put it behind you and get right back on the plan. Don't beat yourself up or think "I have failed!" You are human, one bad day won't ruin all your hard work – you got this!
Prep as much as you can so, for example, if like me you love chocolate and you are tempted, have the Healthy Mummy chocolate snacks in the freezer ready to grab instead – really helps to keep me from reaching for my hubby's choccy stash!!
Keep as active as you can. If I feel like I am tempted to give up and go off plan, I go for a walk or do a workout from the HM app. I find it stops me thinking about quitting, puts me in a better mood and energises me for the rest of the day.
"No matter what, always remember that the Healthy Mummy support group is always here for you too – reach out and lean on us when it gets tough, as it does for us all. You are not alone and we are behind you 110%!
I have noticed that through the Healthy Mummy lifestyle and positive philosophy promoting good health and overall wellbeing, my mental health has improved so much helping me gain confidence, self-respect and a healthy relationship with food for the first time in my life.
I have also found that my M.E. symptoms have improved since I started my first 28 Day Weight loss Challenge in June 2018. It has truly life-changing! I am determined to smash the October challenge and I am looking forward to sharing it with you all."
Laura Linklater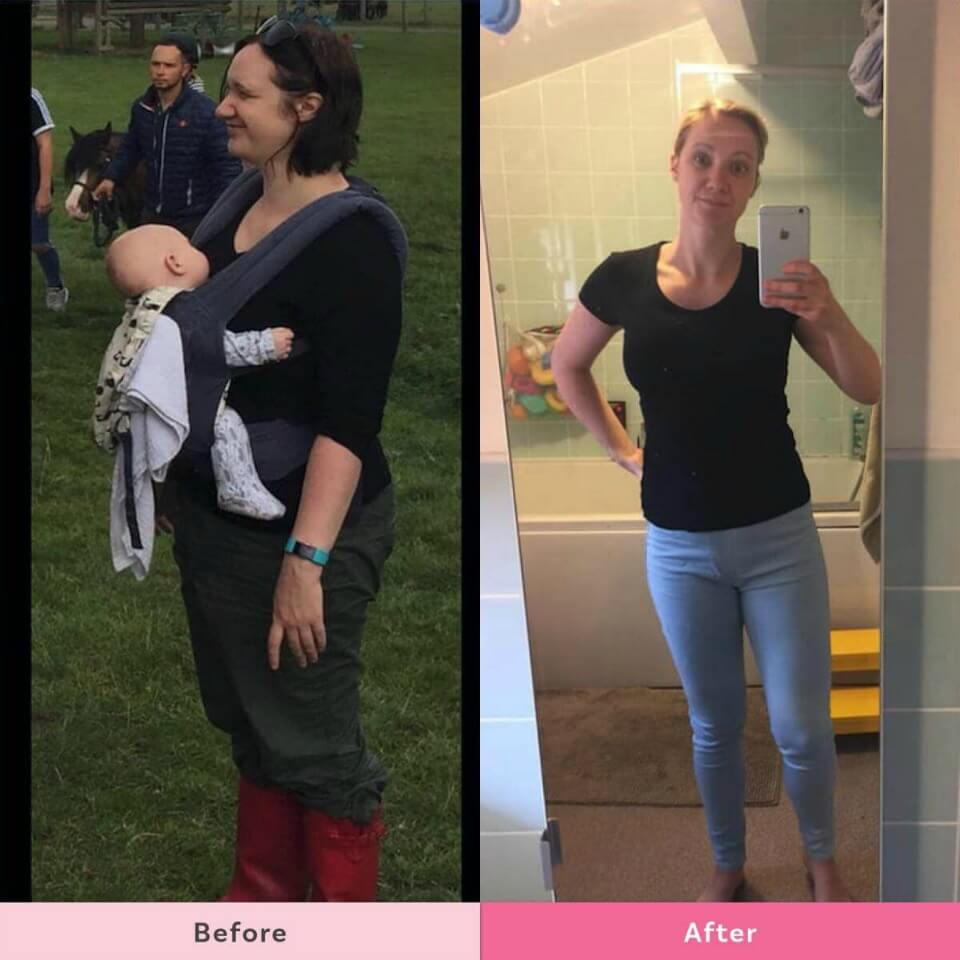 Laura, 34, has three children under four (4, 2 and 1) and lives in Otley, West Yorkshire.
She lost 4 stone with Healthy Mummy 28 Day Weight Loss Challenge and gone from 13 stone when she started in July/August 2018 to 9 stone in June 2019.
Laura's favourite recipes
Laura says her favourite meal on the 28 Day Weight Loss Challenge changes each week, but Chicken and chorizo enchiladas blew her away this week so currently, that wins!
"I eat a LOT of Snickers Mousse, so that's my favourite snack."
"I also love Healthy Mummy Smoothies. Especially Sneaky snickers, Paddle Pop and Pink Porridge."
I know it works.
It saves me time and money with the meal planning and shopping list.
It feels like self care every day.
I need to for my sanity!
Laura adds, "My long term goal is 8 stone 10, but I'm happy maintaining 9 stone. My body is changing as I add muscle, so it's toning more, but the scales stay the same. .. I'm not sure if I will lose any more, but I don't really want to if it means losing muscle tone."
Laura's top 3 tips
Have your non food treats list accessible and known to everyone. Make sure your partner/ kids/ mum/ colleagues/ friends know you don't WANT chocolate and takeaway as a treat anymore, but you'd be really chuffed if they'd make you a Healthy Mummy Pizza, then use the money that would have been wasted on takeaway for a posh face mask/ sending you for a coffee on your own for an hour at the weekend etc. Removing food from my internal rewards was nothing less than life changing.
Write down your why. It can be secret, it can be on your phone or in a diary. But pull it out and look at it.
Have something to aim for! Do some designer 2nd hand shopping and pick out something amazing in a smaller size. Hang on your bedroom door or somewhere prominent and look at and try it on lots. I bought a stunning NEW Joules dress for £10 in a size 12 and felt a million £ when I finally got it on!
Laura says since starting the Healthy Mummy 28 Day Weight Loss Challenge she has clearer skin, less reliance on coffee (as in from 5 cups to 1!) her aches and pains have gone and she even has thicker hair.
"Even after having a baby when it went thinner with previous pregnancies and really strong lovely nails. My mental health has also hugely improved as the epic stress (for me anyway!) of meal planning, shopping, cooking etc and finding snacks throughout the day for me and the kids is just gone from my shoulders now. It's wonderful!"
Anne Saxby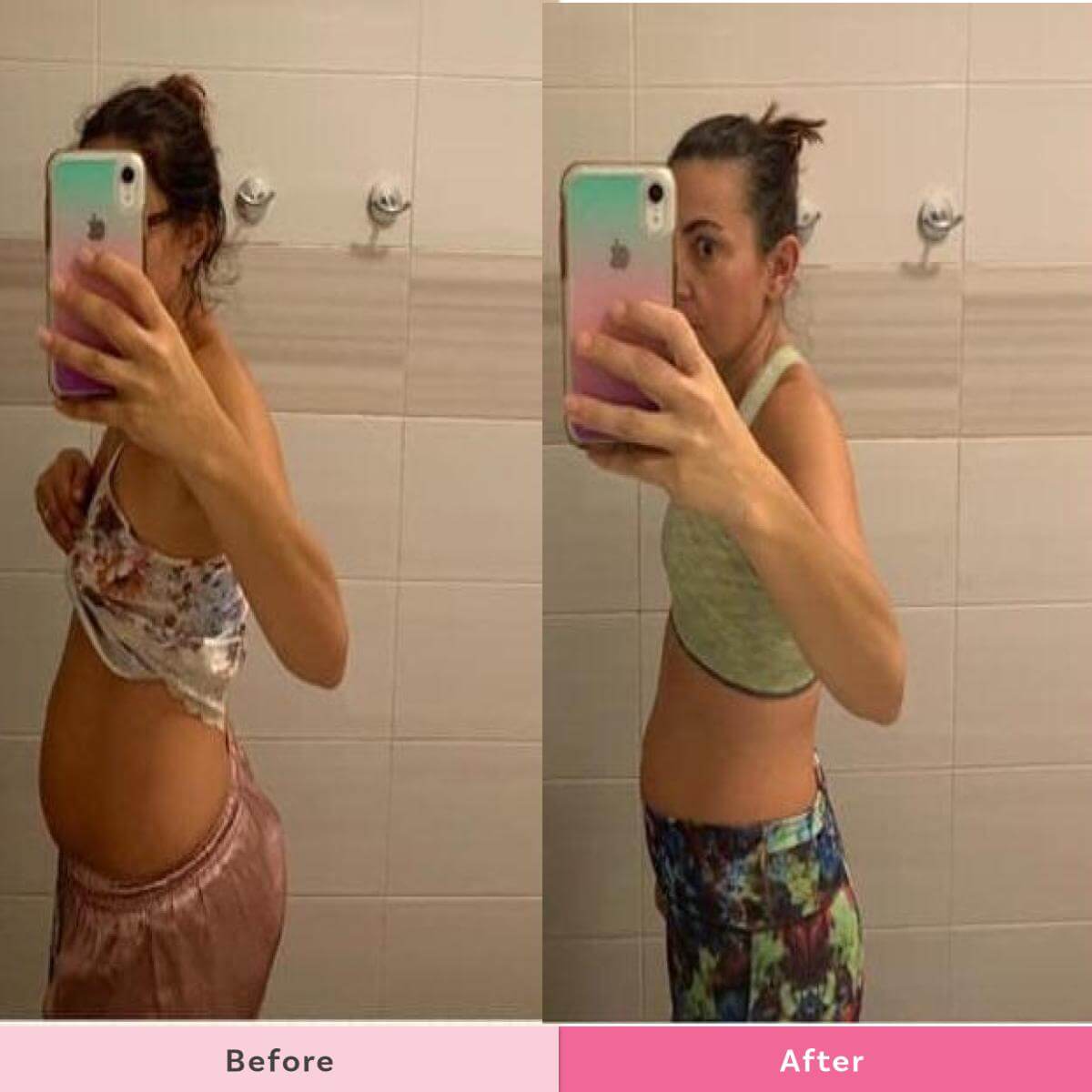 Anne, 41, (42 in October!) mum of four aged 13, 12, 9 and 6, who lives in Gibraltar.
Anne joined in the 28 Day Weight Loss Challenge in August 2019 and  hasn't looked back since!
Anne shares, "It's changed my life!!! I am more motivated, love exercising now (which was a chore before) and love overhauling my lifestyle and helping my family to make healthier choices!"
Anne's favourite recipe
"My favourite recipe so far is the Peanut butter chicken curry and my favourite snack the weetabix slice!"
Anne also loves the Healthy Mummy Smoothies. "I have them twice on weekdays and at least once on weekends! I love them! I have been more energised and positive since I started the Healthy Mummy and I have seen my body changing in such a short space of time!"
Anne shares, "I'm doing the 28 Day Weight loss Challenge to become fitter and healthier and to make a complete lifestyle change so that I can be a good role model for a healthy life for my kids!
My goal is to lose about 5kg and tone up and lose the mummy tummy!"
Anne's 3 top tips
Progress photos
Take measurements as the scales can lie
Remember your ultimate goal!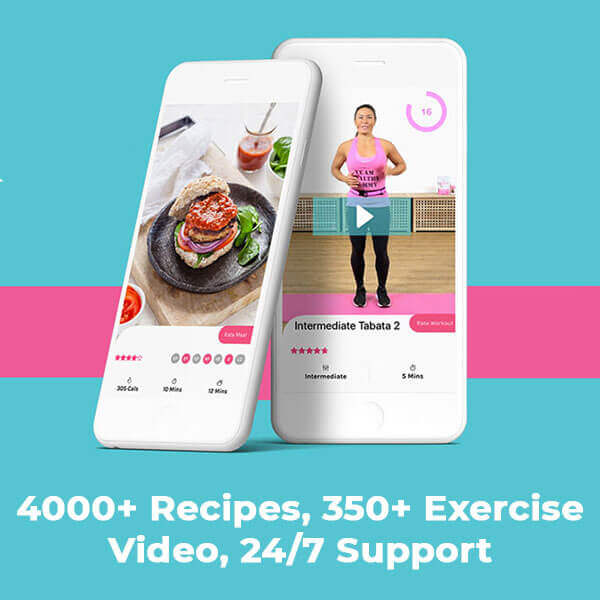 If you are on a mission to tackle your weight and overhaul your health – then our 28 Day Weight Loss Challenge can help!
Our Challenge includes:
28 days of at home exercise routines (no gym needed) – with video instruction
New CHALLENGE THEME each month – so you'll NEVER get bored
Customisable and breastfeeding friendly meal plans
Time-efficient exercises for busy mums – under 30 mins
Challenge combines Pilates exercises with interval and circuit training (HIIT)
Suitable for basic to advanced fitness levels
Home to thousands of EASY-TO-MAKE recipes!