A delicious, and HEALTHY version of those cinnamon scrolls you often see at the bakery.
At just 67 calories each, these scrolls are great to use in conjunction with the 28 Day Weight Loss Challenge.
This recipe makes 16 serves so why not whip up a batch to add to lunch boxes or as a sweet treat for morning tea?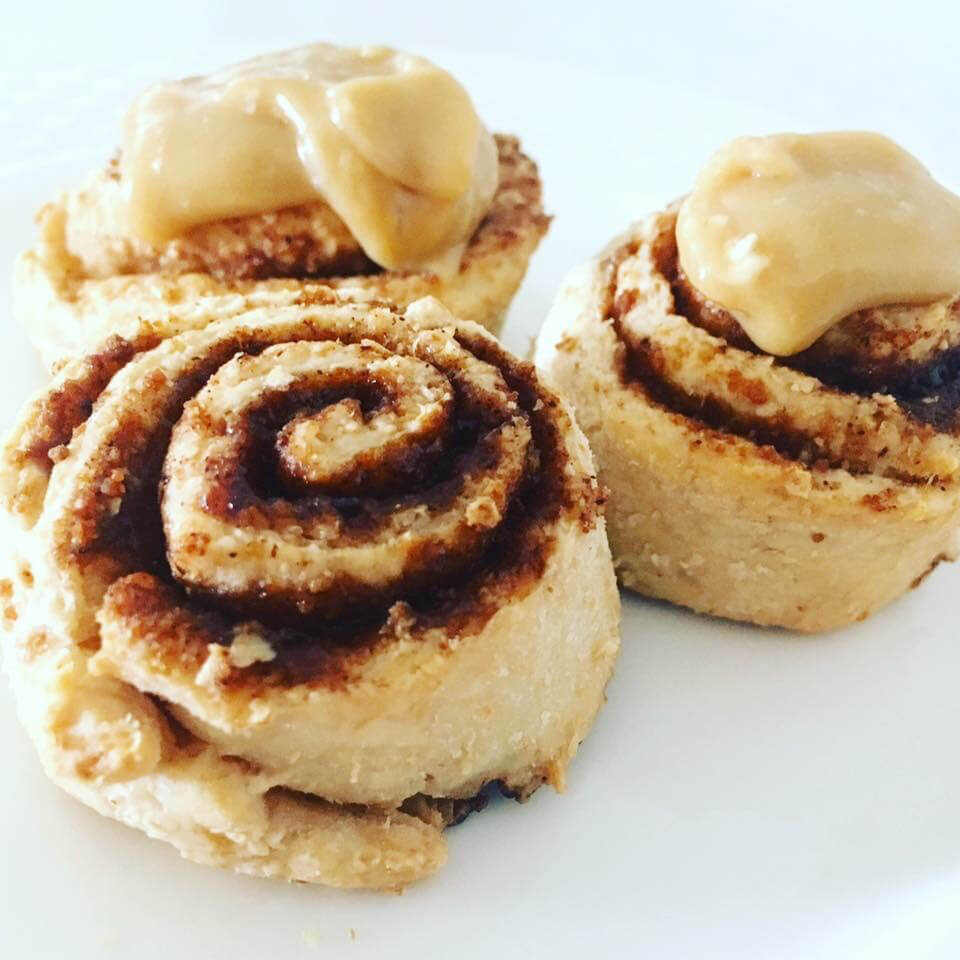 Ingredients
cooking oil spray

1

cup

wholemeal self raising flour

 (

120 grams)

1

cup

reduced-fat Greek natural yogurt

 (

130 grams)

1/2

cup

coconut sugar

 (

100 grams)

1

tsp

cinnamon

 (

4 grams)

1

tbsp

melted coconut oil

 (

15 mls)

2

tbsp

light cream cheese

 (

40 grams)

1

tbsp

softened butter

 (

16 grams)

1/4

tsp

vanilla extract

 (

1.25 mls)
Method
Preheat oven to 180C / gas mark 4. Line an oven tray with baking paper then spray paper lightly with cooking oil. Set tray aside.

In a small bowl, mix together 1/3 cup (70g) of the coconut sugar with the cinnamon. Set aside.

In a large bowl, mix together flour and yogurt with a spoon until a ball forms.

On a lightly floured surface, knead the yogurt dough for 30 seconds. If dough is too sticky, add a little more flour and continue kneading.

Use a rolling pin to roll dough out in a large rectangle about 30cm x 20cm.

Brush melted coconut oil over the dough evenly, then sprinkle the pre-prepared cinnamon sugar over the top.

Using your palm, press the sugar into the dough gently.

Roll up the dough at the longest side so that you end up with a long dough roll.

Using a sharp knife, cut dough into 16 pieces. Place pieces onto the lined baking tray and bake for 10-15 minutes or until lightly golden underneath.

Whilst scrolls are baking, place remaining coconut sugar in a food processor and process until a fine powder forms, like icing sugar.

Add cream cheese, softened butter and vanilla to the coconut icing sugar and blend until well combined.

Remove scrolls from the oven and spread a teaspoon of the icing over each scroll while they are still warm.

1 scroll is 1 serve. Store remaining scrolls in an airtight container in the pantry for a couple of days or freeze individually to defrost when you want to serve another time.
Recipe makes 16 scrolls at 67 calories per serve