As anyone who has been on a weight loss journey will tell you, it's all too easy to become focussed on all the weight to LOSE. Somewhere on the journey, it becomes apparent that there is so much more to GAIN. As the pounds are lost, confidence, self love, self-appreciation and often true happiness are gained.
These 6 incredible ladies from our Healthy Mummy community are all on different stages of their weight loss journeys, and share their stories of self-discovery and how they are all feeling the benefits of taking control.

See the Results below of these 6 Inspirational Mums!
Jaimie Huntley
Jaimie says "When I started The Healthy Mummy again, it was a last-minute decision spurred on by back pain and feeling guilty that I kept saying 'mummy's back hurts' when my son wanted to play with me. I honestly didn't expect to stick to it, just like the previous two times and the countless other plans I've tried – you name it, I've done it. I think that's what helped. I didn't get overwhelmed with planning or building up to it, I just picked up and tried my best to make it work for me.
A little over 2 months later and here I am:
 1 stone down – yay!
28cm off my body including 12.5 from my waist!
At least one dress size down – 2 in some items
Renewed confidence in myself. I actually wore shorts to do the nursery drop off today!
Skin is clearer than it's been in years
Much more energy
A new love for buying clothes
Compliments from family and friends
Feeding my family nutritious meals and snacks
"I'm not where I want to be but I can see progress and know if I keep going this way I'll get there eventually. The best thing about all of this is how this doesn't even feel restrictive at all. I honestly feel that this is a lifestyle change and I could do it forever. All of this has been achieved whilst celebrating mine and hubby's birthdays, a few meals out and drinks with friends AND a weekly Friday night takeaway (factored into meal plan each week!) it's all about balance after all!!"
Maria Quantrill
Maria says "I've been with The Healthy Mummy two years now and I love the Healthy Mummy ways.  When I was on my all-inclusive holiday last August (pic on the left) I made sure I got my monies worth!!!! I ate loads, drank lemonade and got desserts every meal!!! The result was this, a bloated belly, my bikini body that I had worked so hard for was gone my own fault for being weak!!!
Flash forward a year to today and this is me now. Getting back to my Healthy Mummy ways the bloat soon disappeared and after lots of exercises my belly got more and more toned……. lesson learnt!!! The Healthy Mummy is now a way of life and there's no going back for me now. I know there's no chance of a holiday this year, but IF there was I know 100 % I would keep my beach body all holiday!!"
Kerry Piercy
Kerry says "Flashback to when I was miserable in my own skin, eating my feeling and hiding whenever a camera was out. The Healthy Mummy has helped me get fitter and I never want to sit on the sidelines ever again! As before I just use to just sit in a chair watching the kids play but now I can get involved and make happy memories with my children. I have lost 23kg so far and still on my journey but thank you Healthy Mummy for helping me get my life back."
Sheryl Herbert
Sheryl says, "A long journey of yo-yo dieting and trying to be happy with myself but knowing I wasn't.
Three years ago being self-conscious with every photograph that was taken, and most were deleted immediately so I've not got many to compare. Three years ago a size 14-16, photo taken on holiday in France. Last week, in my new size 10 clothes, comfortable and enjoying having my photo taken.
I joined Healthy Mummy in October 2019 as a size 14 and the weight has slowly gone down. At times I've been frustrated as it's not been fast enough but I'm aware that age 65 metabolism is much slower and it is harder to lose weight. However having increased my exercise programme during lockdown, and not giving up when the weight wouldn't shift I have gone down two sizes and lost 12 pounds.
The encouragement of this group has been so important and has kept me going when I felt like giving up."
Sarah Caroline
Sarah says "Photos a year apart. Same dress but the swimsuit underneath is a size smaller than last year. I'm not weighing myself this month so I'm not sure of the weight difference but the visual difference is there!
Am I where I wanted to be right now?  No, but am I still thrilled with the progress and feeling so much happier and more confident, yes!! In this heat last year I was still wearing knee-length shorts and struggling in the heat. This year I've felt confident to wear short shorts even when going out and about. I have no idea how I managed in the longer shorts now!!
Our last-minute trip meant I wasn't able to prep much in the way of snacks to bring but the Healthy Mummy mindset remains and while enjoying being on holiday I'm being mindful of what I'm eating and swimming each day to keep myself active!"
Danielle Metcalfe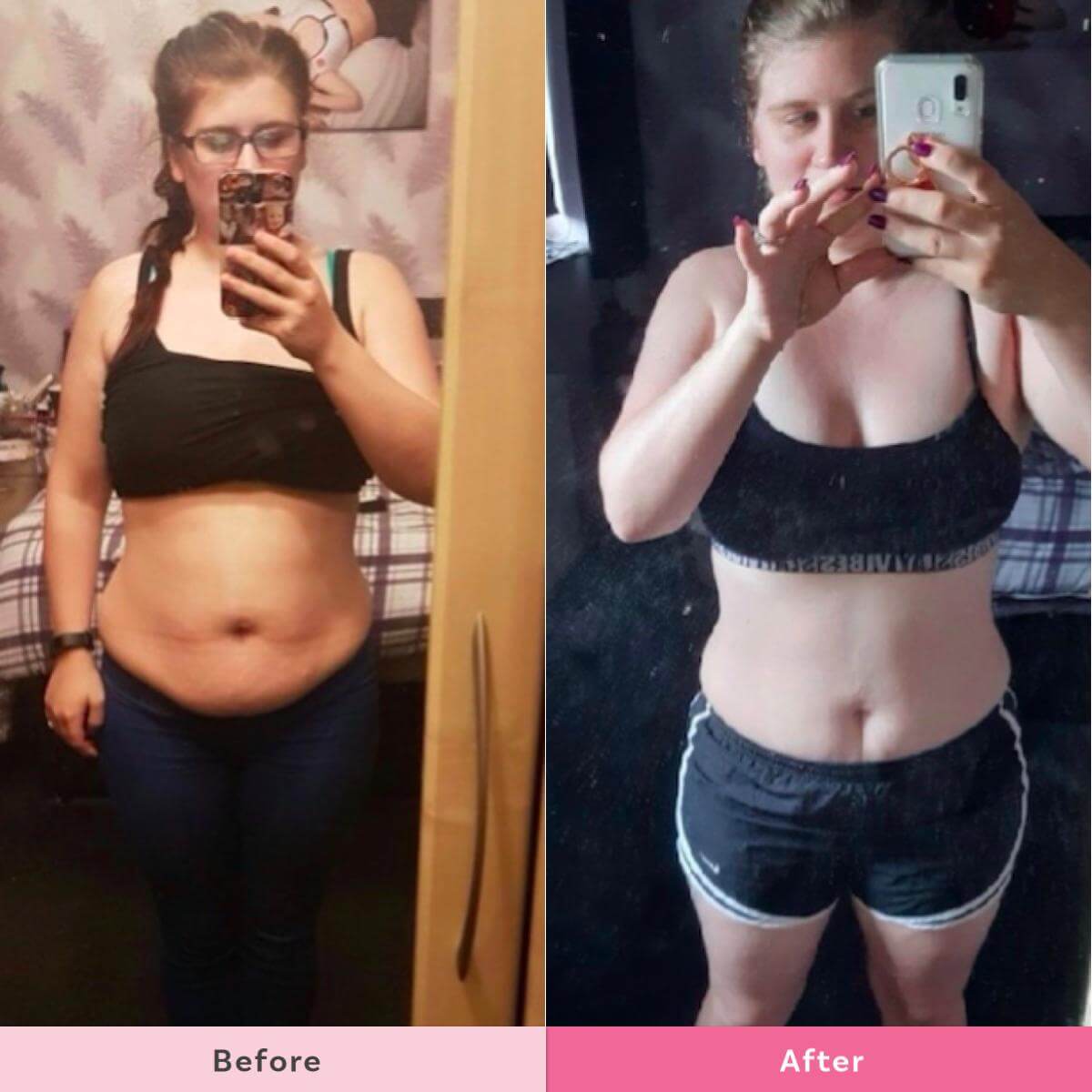 Danielle says "I started The Healthy Mummy in November 2019. I felt huge, would comfort eat and feel generally rubbish.  I've always tried to do exercise like running but given up when the weather is bad or once I get a cold. 
Eating is my downfall. With The Healthy Mummy, I can eat the foods I like while knowing it's good for me.  My confidence has soared and I'm starting to like my body and how it looks. 
Healthy Mummy has helped me achieve that and so much more!"
Congratulations ladies! Thank you for sharing your results with us.
Join these amazing mums on The 28 Day Weight Loss Challenge
The no.1 mums only weight loss program
Take part now in The 28 Day Weight Loss Challenge
You get unrestricted access to :
● Over 400 AT HOME WORKOUTS
● Nutritionist designed weekly meal plans
● Personal Trainer crafted At-home workouts
● Daily Motivation from My Coach
● Personalised Shopping lists to make life easy
● Over 4,000 healthy and delicious recipes at your fingertips