Incorporating weight loss smoothies into your daily diet can help curb hunger pangs and keep you feeling full for longer.
These type of smoothies are designed to replace one or two meals each day, reduce the amount of food you eat and limit the number of calories you consume. Plus, they include a range of nutrients and minerals to replace the solid food your body is missing out on.
But not all of these weight loss smoothies or weight loss shakes are created equally. Many weight loss smoothies are often little more than protein supplements that don't contain enough nutrients and energy to fuel your body. They can also be filled with nasty ingredients that encourage crash dieting, which isn't a long term solution to weight loss.
The Healthy Mummy have been producing weight loss smoothies and shakes for 10 years and have helped mums lose over 450,000 stone.
We have a range of different types of smoothies which are all nutritionally dense formulated meal replacements. The entire range aids weight loss by providing a calorie-controlled, low carbohydrate, high protein and high fibre meal replacement with natural ingredients so you feel fuller for longer. They all contain essential vitamins, minerals, nutrients and important antioxidants.
They can also be used on their own as an effective weight loss tool or in conjunction with the 28 Day Weight Loss Challenge.
All our meal replacements do NOT contain any artificial sweeteners and are 96% sugar free. They are also recommended by 9/10 mums 
Scroll down for more about our range, plus tips and recipes for making delicious smoothies.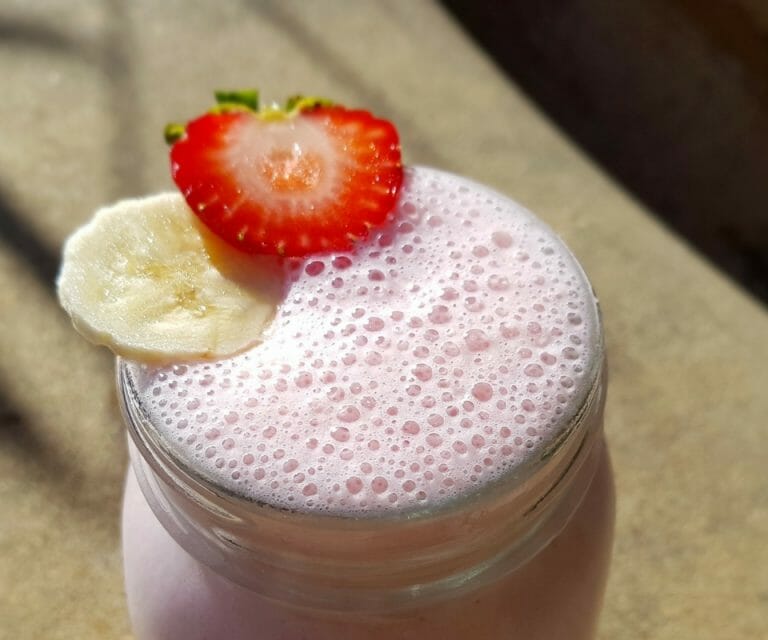 Why weight loss smoothies?
Breakfast is the most important meal of the day – so they say. But as busy mums we often find ourselves becoming a serial breakfast skippers.
Skipping breakfast might not be the best way for you to start the day and can be associated with a higher BMI as well as lower energy levels throughout the day.
The Healthy Mummy Smoothies are so delicious and simple to make that it makes it easier for you to get back onto the breakfast wagon.
But they're not just a great way to start your day. They can be used as a snack, a treat, or a meal replacement for any of your main meals. With high nutrients but low calories, you know you are getting your daily dose of vitamins and minerals and will feel full and satisfied, so you're less likely to grab something unhealthy.
The Healthy Mummy Smoothie Range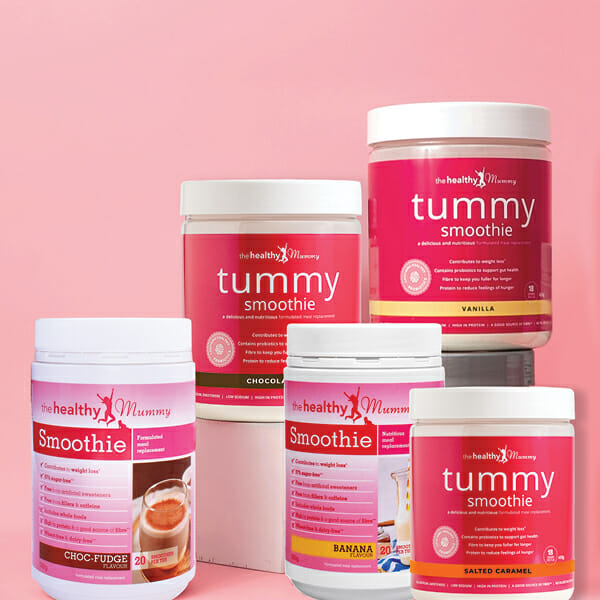 Healthy Mummy Smoothies Awarded 5 Star Health Rating
The Healthy Mummy has been recognised by The Health Star Rating system with a number of specific smoothies being given a 5 star rating. The Health Star Rating system rates the overall nutritional profile of packaged food and assigns it a rating from ½ a star to 5 stars. The more stars, the healthier the choice. The system is based on comparing products within similar food categories and allows us to quickly compare the general nutritional profile of foods within that category. See below for which products have been awarded 5 Stars.
What's in our weight loss smoothies
1. High in fibre
All our Smoothies contain a range of high fibre ingredients which aids weight loss by providing a calorie controlled, low carbohydrate, high fibre and high protein meal replacement – which is a satisfying meal and keeps you feeling full.
2. Low sugar
Sugar provides our bodies with energy but it's the types of sugar we choose and how much we eat that can potentially lead to poor health and long-term issues.  All of our Healthy Mummy Smoothies are 96% sugar-free and 100% fructose free, meaning there are no added sugars.
3. Low GI
As part of a healthy eating and weight loss diet, foods which are Low GI help to release glucose more slowly which leads to a more stable blood glucose level.
4. Breastfeeding friendly
Safe for breastfeeding mums! We have included fenugreek into some of our weight loss smoothies, which is said to boost a mother's milk supply. Made with whole foods, the smoothies have been specially formulated to give you the boost of vitamins and minerals needed to support you if you're breastfeeding.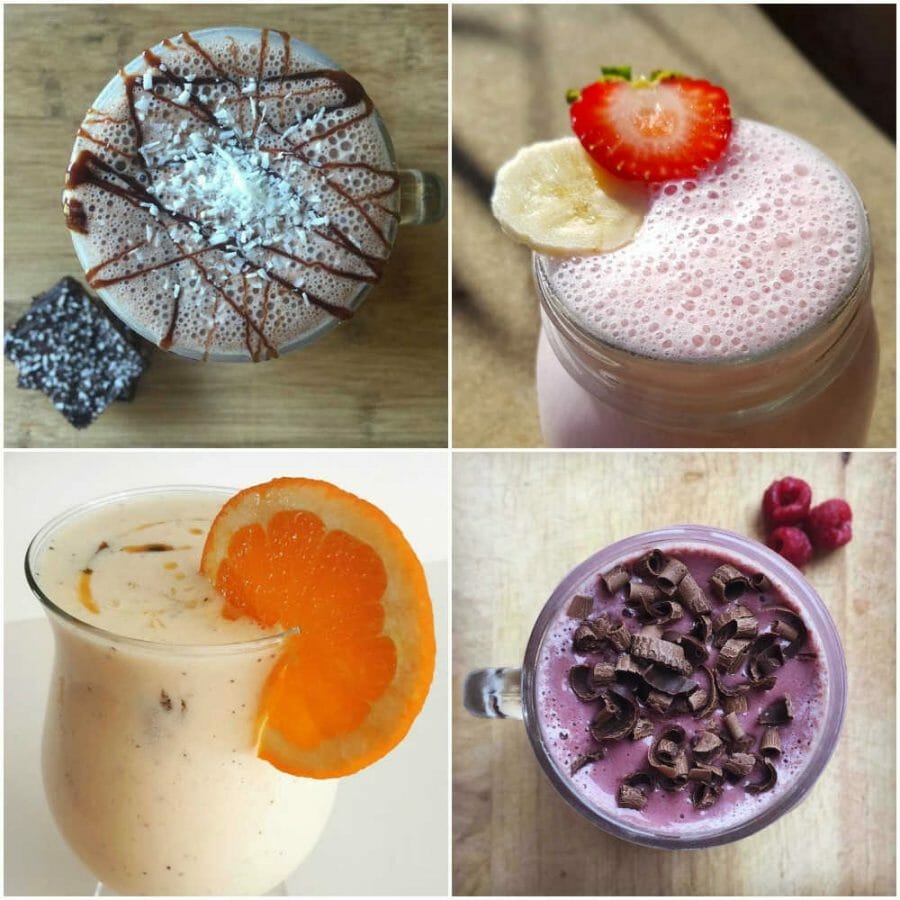 What's not in our Smoothies
No accelerants
Used to speed up weight loss, accelerants are modified ingredients added into weight loss smoothies. These give the impression that you have energy when in fact, the accelerant is giving you energy. These artificial fillers make our tummy feel temporarily full, are not natural and the long-term effects are not known. The Healthy Mummy weight loss smoothies are packed with natural energy vitamins and minerals which give the body all the energy it needs.
No artificial ingredients
Many weight loss smoothies or shakes contain fillers and weight-loss accelerants to trick your body into short-term and unhealthy weight loss. These artificial fillers make your tummy feel temporarily full, are not natural and the long-term effects are not known.
No caffeine
Our Smoothies do not contain caffeine. Many weight loss smoothie products use caffeine as an ingredient to sustain hunger pangs, give elevated energy to make up for the lack of nutrients in the product, and for a metabolism boost. This is not a natural way to lose weight.
Tummy Smoothie

What's in the Tummy Smoothie
The Tummy Smoothie contains a Premium Tummy Complex and are a whey based meal replacement with 24 vitamins and minerals. It also contains a probiotic to aid with digestion and bloating. It's high fibre, low allergy, contains collagen and is gut-busting. With ingredients such as carrot juice powder, fenugreek seek powder and pumpkin seed, it's easy to see why it is going to be your secret weapon to fight belly fat. The Tummy Smoothie is creamy and smooth and available in 3 flavours.
*Tummy Vanilla AWARDED 5 STAR by Health Star Rating
The Tummy Vanilla smoothie is also FODMAP friendly. People suffering from IBS are particularly sensitive to FODMAPS, and by reducing the amount of FODMAPS in the diet, can reduce the symptoms of IBS and other common digestive disorders.
Premium Tummy Complex and Whey Based Meal replacement with 24 vitamins and minerals AND pro biotics. Low allergy, collagen and gut busting. Creamy and smooth. In 3 flavours.
See what Mums are saying about the Tummy Smoothie
Original Dairy Free Healthy Mummy Smoothies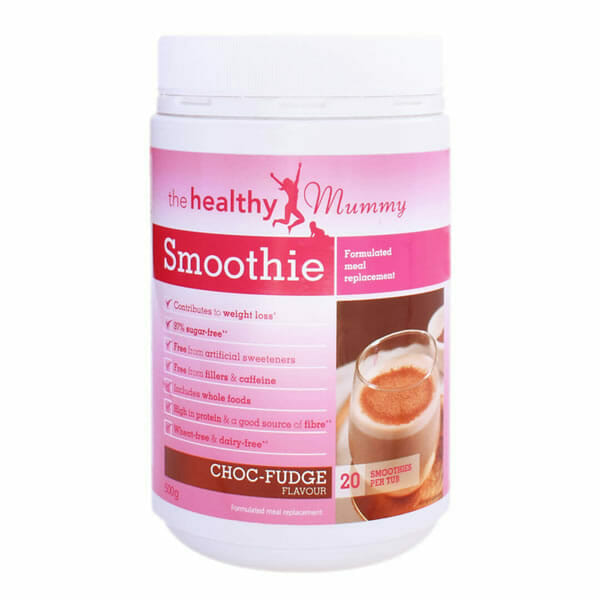 What's in the Original Healthy Mummy Smoothies
The Original Healthy Mummy Smoothies are plant blend meal replacement, dairy-free and packed with a potent combination of vitamins, minerals, proteins, carbohydrates, fibre and healthy fats. They contain a mix of herbs that can help to maintain a feeling of general wellbeing, including:
Ginger root – a spice often used to improve metabolism while soothing the stomach
Fenugreek – Provides carbohydrates, dietary fibre, fats and minerals like iron, calcium and phosphorous. It also provides support for breastfeeding mothers
Dandelion root – helps absorption of nutrients in "The Healthy Mummy" Smoothie and Rich in Vitamin A,C and B2, iron and calcium
They also include proteins for maximum health and weight loss including
Soy protein isolate (non GM) – a complete protein low in fat with high digestibility. The protein is a soy protein isolate – which means the protein has been isolated and the oestrogen and hormone part of soy is not included in the product – only the protein part of the soy
Methionine 10mFg – important amino acid for normal metabolism
Protease (from aspergillus) – group of enzymes that assist digestive process by breaking down proteins
Soy lecithin 400mg (non GM) – emulsifying that can aid the digestive system
Bromelain 5mg – enzymes from pineapple assisting protein digestion.
5 healthy smoothie recipes
Whether you're looking for a fat burning smoothie or something to ramp up your nutrients without having to cook a full meal, we think you'll love some of our favourite healthy smoothie recipes we've listed below. Delicious, nutritious, and so easy to prepare.
What ingredients are good to add to a weight loss smoothie?
If you aren't keen on using one of our smoothie recipes there are some great smoothie ingredients you can experiment with to make your smoothie delicious.
Whether you are using the smoothie as a mid-morning or afternoon snack or as a quick grab and go breakfast smoothie you need to make sure you aren't adding ingredients that will hamper your weight loss goals.
Milk
One ingredient that is often consistent when mums try our smoothies is their preferred milk. Whether you just have The Healthy Mummy Smoothie mix with the milk on it's own or add in a cup ice cubes or other ingredients milk is usually one of the base ingredients in our smoothie recipes.
So whether you prefer full-cream, skim, low-fat or if you can't have lactose or prefer nut or plant based milks such as soy milk, unsweetened almond milk / almond milk or coconut milk pop a cup or two into your smoothie to get started.
Yogurt
If adding your preferred milk to your smoothie isn't giving you the creaminess you are after why not added in some yoghurt. Not only will adding yoghurt increase the creaminess of your smoothie recipe but with its superfood status yoghurt will also give you multiple health benefits also.
Now remember you want to stick to it being a healthy smoothie so make sure your yoghurt has no added sugar, often it's best to opt for plain greek yoghurt to get all the benefits without the added sugar.
Fresh Fruits and Vegetables
The biggest group of smoothie ingredients that will add not only health and nutritional benefits but also taste. There are so many fruits and vegetables that you can just as boosters to your smoothie.
Get all the goodness of leafy greens by adding some baby spinach or kale, get that added boost of vitamin c with some mango or pineapple. Want a berrilicious smoothie? Add in some raspberries, blueberries, blackberries, strawberries and more!
Even if you don't have fresh fruit or vegetables to add, throw in a frozen banana or avocado and not only will your smoothie have extra creaminess but will be the perfect summer snack. Reduce your wastage when that fresh fruit and veggies are about to go off by turning it into a puree for your smoothie or just freeze it for a smoothie another day.
Other popular smoothie ingredients
The list of smoothie ingredients could go on for a while as you could really add almost anything into a smoothie recipe. Some other things our mums like to add are:
Coconut oil
Ground flaxseed
Cayenne
Vanilla extract – which will give you that sweet taste without the added sugar
Cashew
Coconut water for a hydration boost
Peanut butter – another great option to boost creaminess if you can't have peanut butter try almond butter
Chia seeds
Plus so much more!
Cicily has lost 8.8st by drinking The Healthy Mummy Smoothies
Cicily's weight loss transformation is nothing short of amazing. This gorgeous mum-of-two has lost 8.8st with the 28 Day Weight Loss Challenge and Healthy Mummy Smoothies.
Cicily says she has now found her fit, happy and even herself again.
FAQs about weight loss smoothies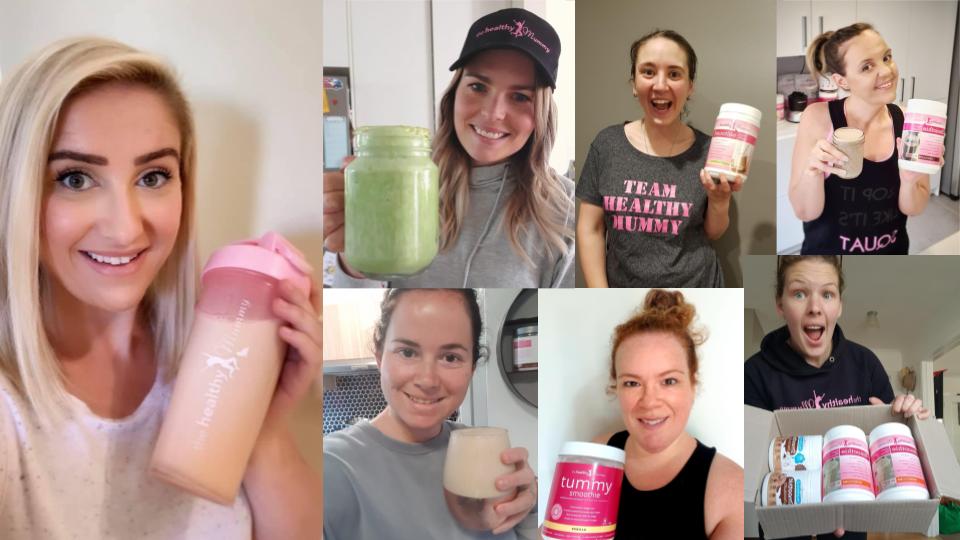 What kind of blender do I need to make a frozen smoothie?
You'll need a fairly powerful blender to get your smoothie "smooth" when you're working with frozen ingredients for your healthy smoothie recipe. You might use a "bullet" style blender or a larger multi-blender. As long as it's got a sharp blade and goes fast enough to chop everything up into tiny pieces, it'll get the job done.
Will a smoothie keep overnight?
Yes! If you've blended up a smoothie the night before, you can pop it in the fridge and it should be good to go in the morning. It might separate a little, but it'll still taste great. This can be a good option for enjoying a smoothie early in the morning without using a noisy blender, especially if the rest of your household is still sleeping.
Can you make your healthy weight loss smoothies recipe ahead of time?
Although you can blend smoothies up the day or night before you drink them and keep them in the fridge, the best way to prep a smoothie ahead of time is if you follow the steps above to chop, freeze, and pre-package your smoothie ingredients. Then all you need to do is blend it up and enjoy!
How long will a fruit smoothie last in the fridge?
A fruit smoothie will last up to 24 hours in the fridge. But if you leave it for more than an hour, it'll start to separate, leaving the fibres on top, and straight liquid on the bottom.