It IS possible to find healthy lunch options that tick all the boxes – tasty, suitable for making ahead to save time, budget-friendly, low calorie, and fast.
All ten of these recipes fit the bill! All of the recipes come from our 28 Day Weight Loss Challenge which is all about getting ahead with meal prep.
Making all or part of your lunches ahead of time means you won't be left hungry and overwhelmed about what to eat for this meal (that we often kind of forget to plan for!).
Some other quick options include reheating soup (try this Lasagne Soup) that you've pre-made from the extensive range on the 28 Day Weight Loss Challenge, cooking an omelette using leftover roast veggies or meat, or simply reheating last night's leftovers.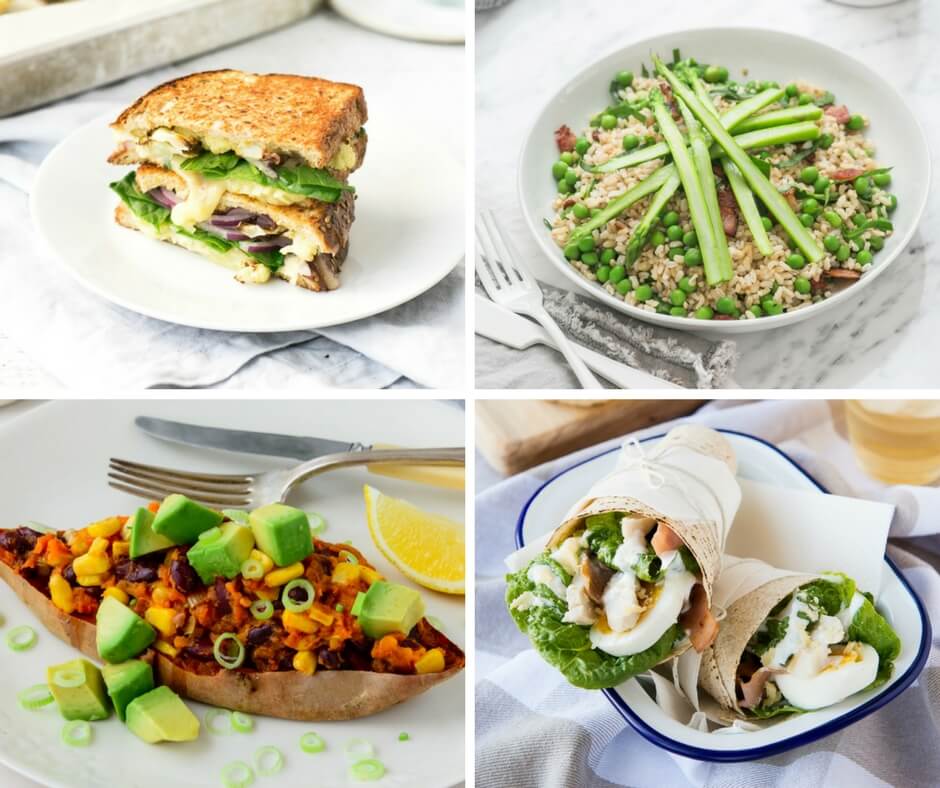 1. Chickpea, Courgette and Tomato Pasta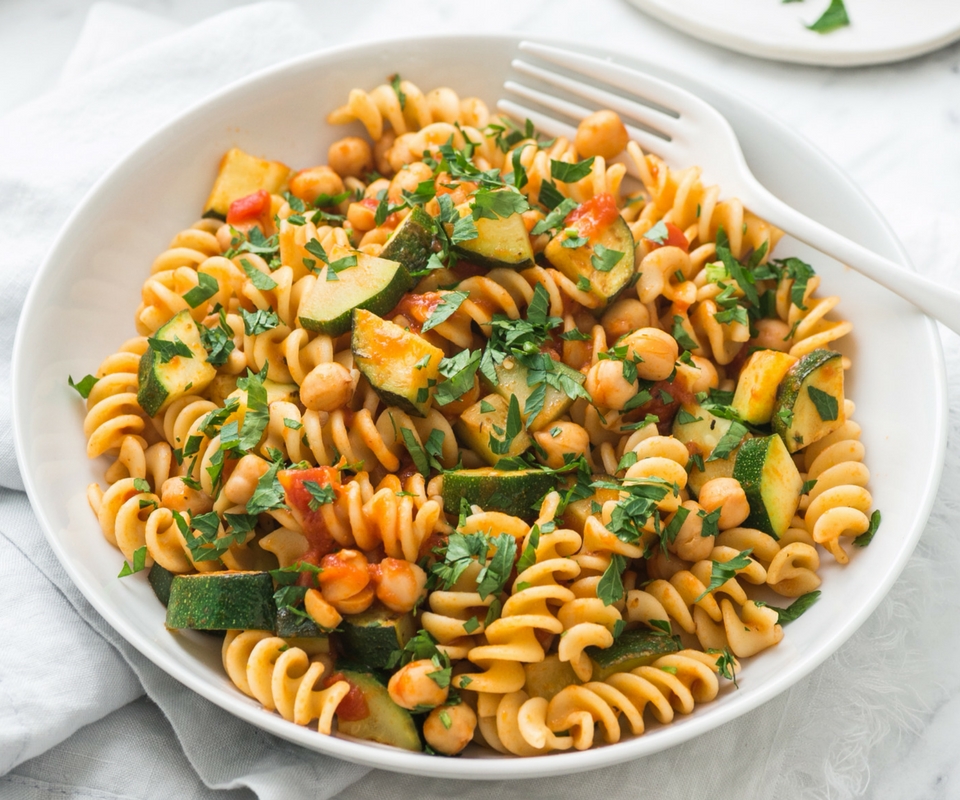 354 calories
A quick and simple vegetarian pasta dish full of protein courtesy of chickpeas. Have the whole meal pre-made and ready to eat hot or cold for lunch.
This recipe is available for members only, in the 28 Day Weight Loss Challenge.
2. Cauliflower Cheese Toasted Sandwich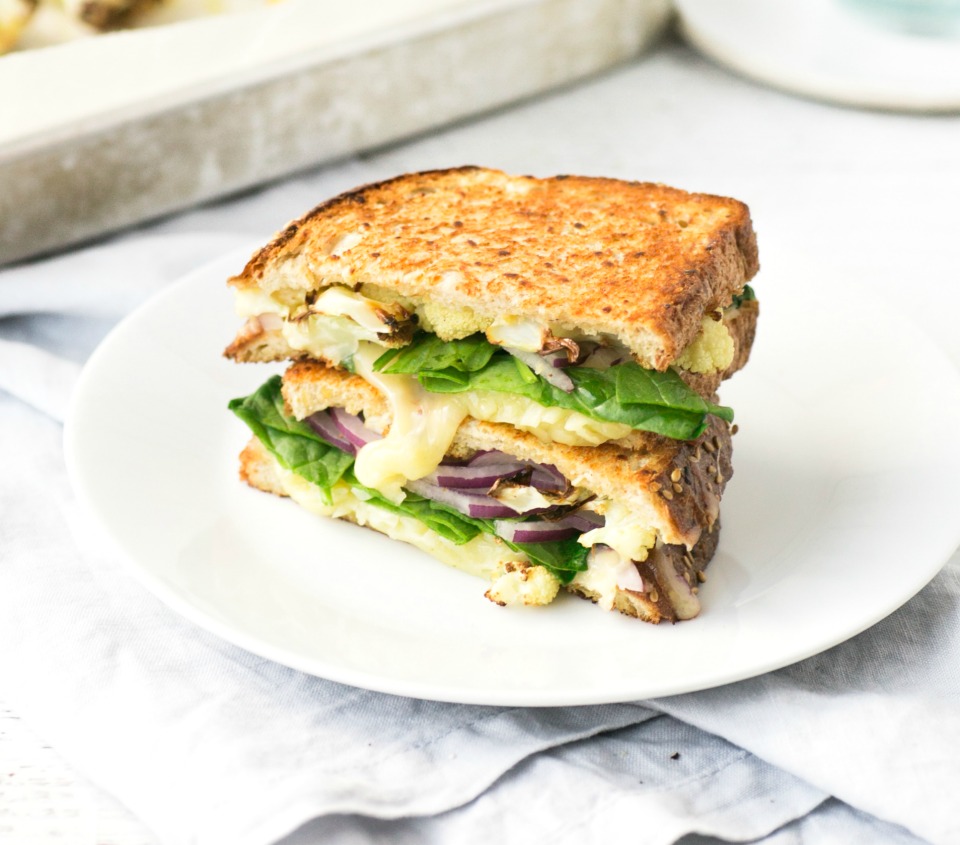 288 calories
Just five main ingredients is all you need for this new take on the classic toasted sandwich. This healthy version turns the comfort food classic of cauliflower cheese into a portable meal to go.
Use leftover roasted cauliflower from the evening meal to make this one fast for lunch.
Ingredients
1/2 cup cauliflower (50 grams)
cooking oil spray
salt
pepper
2 slices wholegrain or gluten-free bread of choice (80 grams)
1/8 red onion, finely sliced (12.5 grams)
1/2 cup baby leaf spinach (15 grams)
1 slice reduced-fat cheddar cheese (20 grams)
Method
If not using leftover roasted cauliflower then preheat oven to 180C. Cut cauliflower into florets, season with salt and pepper and lightly spray with cooking oil. Spread over a lined baking tray and roast for 20-25 minutes or until golden and tender.
When cauliflower is ready preheat a sandwich press.
Top one slice of bread per serve with roasted cauliflower, onion slices, baby leaf spinach and cheese. Top with remaining bread slice and place in sandwich press to cook until bread is golden and cheese has melted.
Slice in half and serve immediately.
NOTE: If you don't have a sandwich press you can cook the sandwich in a frying pan. Press sandwich down with a heavy saucepan and cook on one side until golden. Then turn over and cook on the other side until cheese has melted.
Recipe serves 1 at 288 per serve
3. Asparagus and Bacon Rice Salad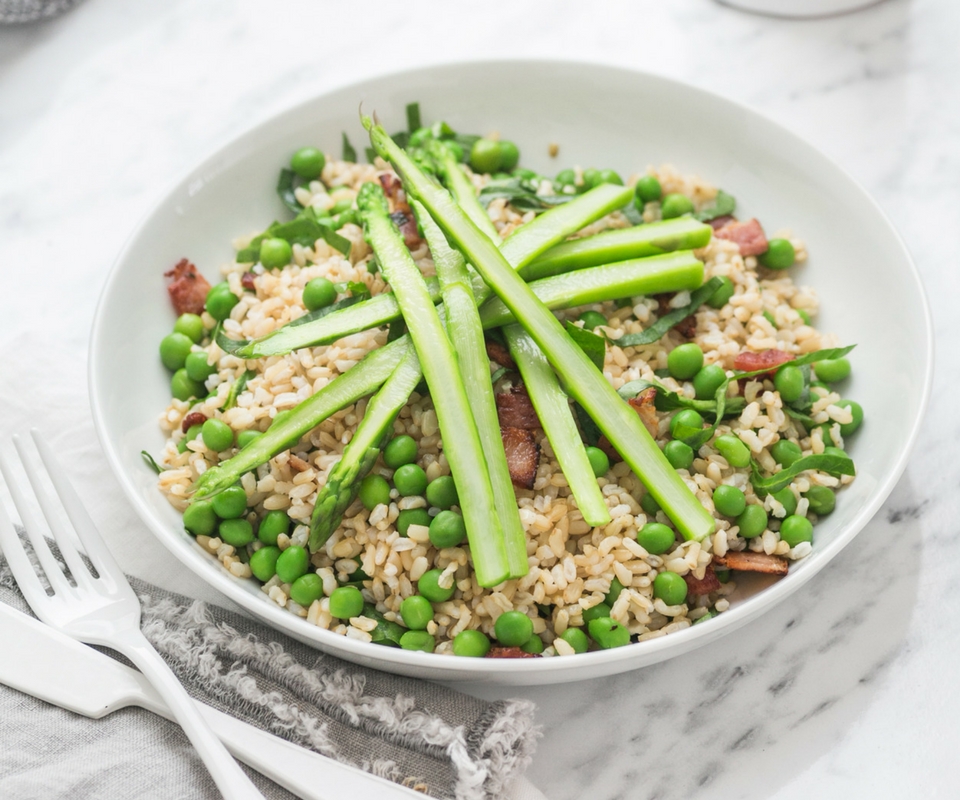 315 calories
Asparagus, peas and bacon are a perfect flavour match! Use leftover rice to make this in a flash. You could even pre-make the whole salad and store in the fridge.
This recipe is available for members only, in the 28 Day Weight Loss Challenge.
4. Chicken and Corn Pot Pie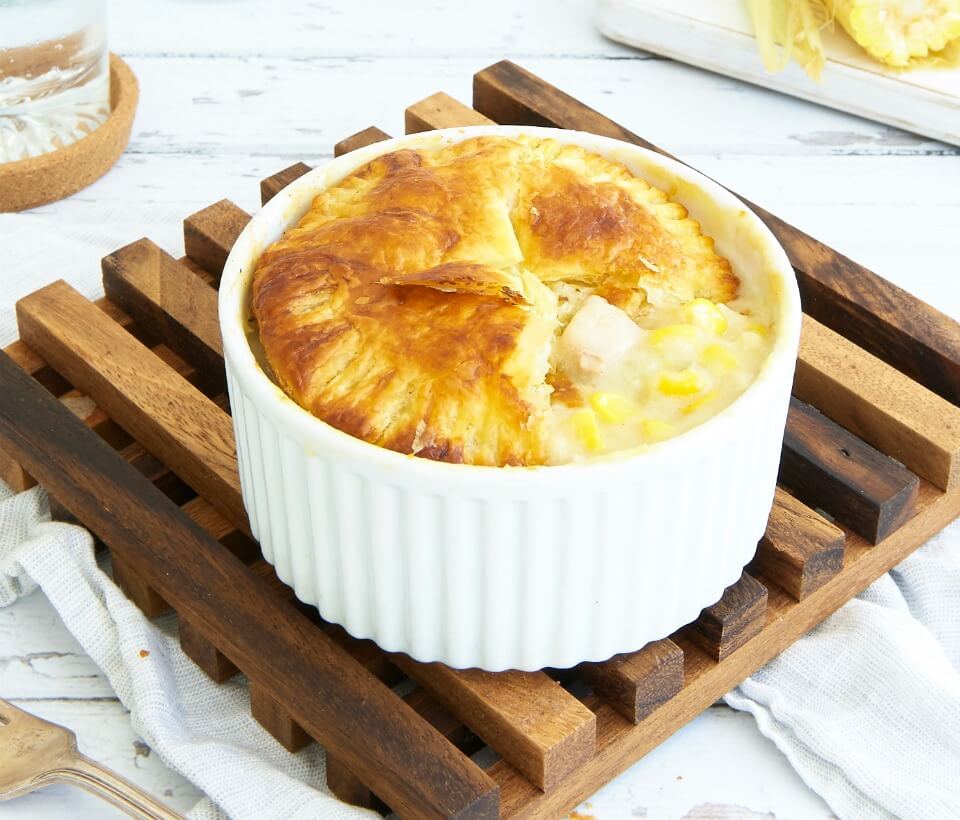 316 calories
When you do a cook up, make a batch of pies and store them in the freezer to ensure a tasty hot lunch in next to no time.
Whether you use a pie maker or just the oven, they'll still turn out fab. Adjust the filling to whatever you have on hand (Bolognese or Chilli con Carne work well too).
Ingredients
cooking oil spray
2 tsp extra virgin olive oil (10 mls)
100 grams chicken thigh fillets
1/2 leek, sliced (40 grams)
1/2 stalk celery, finely diced (20 grams)
2/3 cup corn kernels, fresh or tinned (107 grams)
2 tsp cornflour (5 grams)
1 cup liquid chicken stock, salt reduced (250 mls)
100 mls reduced-fat milk of choice
1/2 sheet reduced-fat puff pastry (84 grams)
Method
Preheat oven to 200C / gas mark 6. Lightly spray an individual ramekin (one per serve or use a larger pie dish if preparing more than one serve) with cooking oil.
Heat the olive oil in a saucepan over medium heat. Dice the chicken and add to the saucepan for 2-3 minutes or until browned all over.
Add the leek and celery and cook for a further 2-3 minutes until tender.
Add the corn and cornflour, mix to combine well, then pour in stock and milk. Raise heat until it is just about to boil, and then reduce to a simmer for 20 minutes until chicken is cooked through and sauce has thickened.
Pour this filling into the prepared ramekin(s) or pie dish and top with the piece of puff pastry. Use a little extra milk to brush over the pastry and slice a hole in the middle to allow the steam to escape.
Place pie in the oven for 25 – 30 minutes or until pastry is golden and crispy. If preparing one larger pie as opposed to individual pies, you may need to cook for longer.
Recipe serves 4 at 316 calories per serve
5. Moroccan Couscous Salad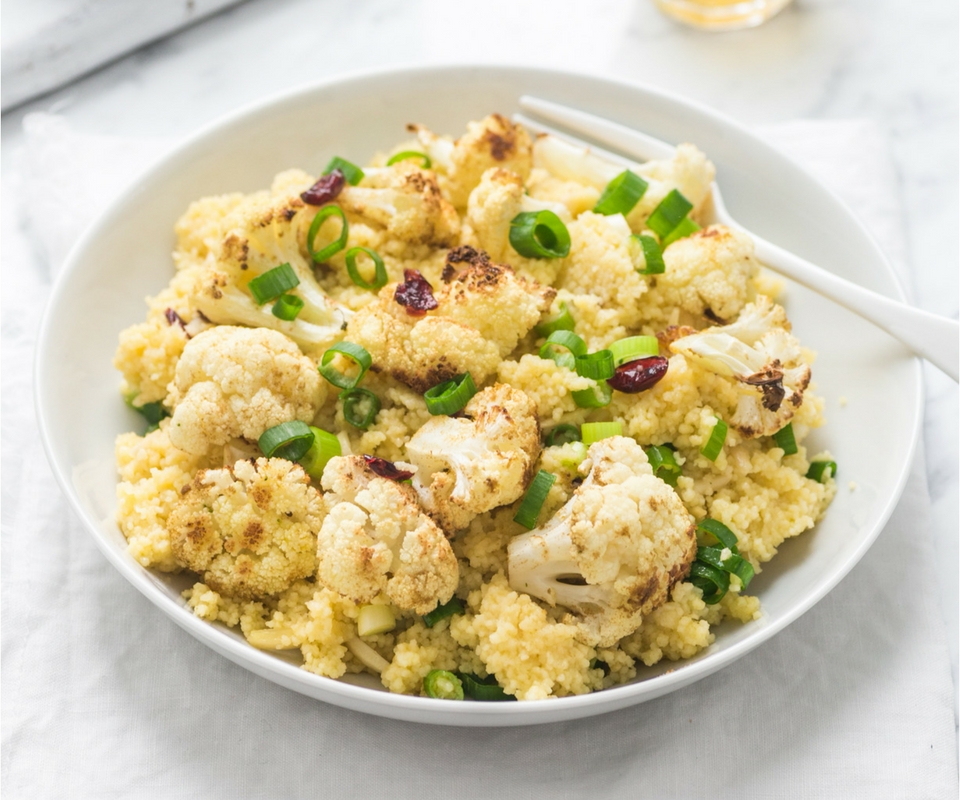 320 calories
A mildly spicy Moroccan inspired salad that's sure to have your taste buds dancing. Easily prepare a larger batch on meal prep day to store in the fridge and enjoy for quick and healthy lunches throughout the week.
This recipe is available for members only, in the 28 Day Weight Loss Challenge.
6. Open Pork Burgers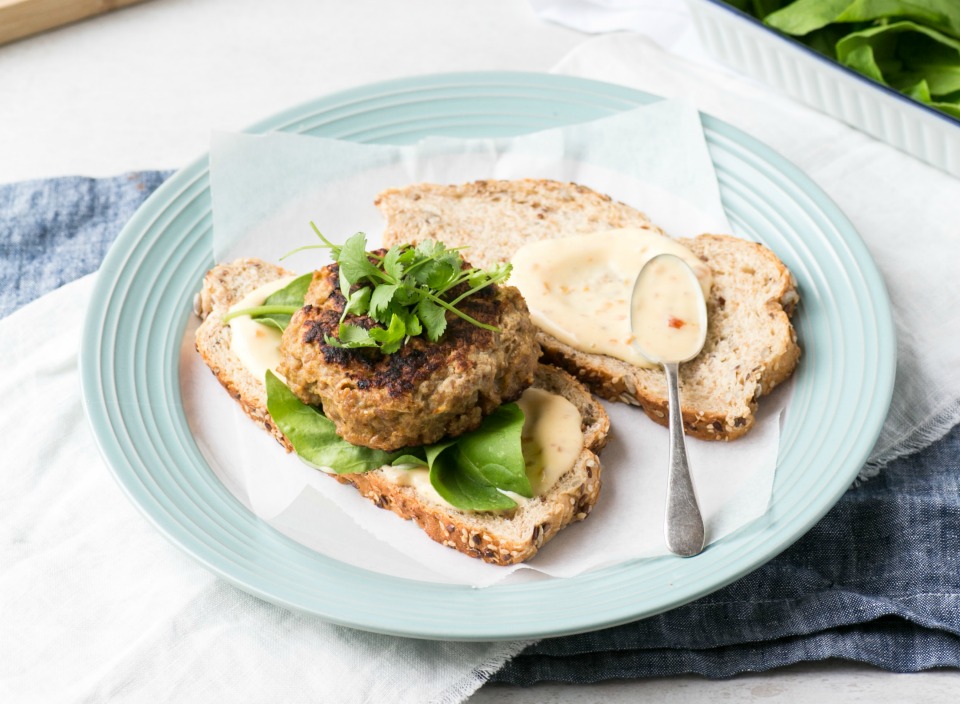 328 calories
Make a batch of the burgers when you do your big meal prep cook up, and just reheat when ready to assemble the burger.
Feel free to change the mince from pork to whatever mince you have on hand. Add some tomato, beetroot or chilli for extra freshness and kick.
Ingredients
480 grams lean pork mince
2 cloves garlic, crushed (6 grams)
2 tsp soy sauce, salt reduced (10 mls)
2 tsp fish sauce (10 mls)
1 free-range eggs, beaten (50 grams)
pepper
cooking oil spray
2 tablespoons reduced fat mayonnaise (32 grams)
1 tbsp sweet chilli sauce (15 mls)
4 slices wholegrain sourdough bread (160 grams)
2 cups rocket lettuce (60 grams)
Method
Combine the pork with the crushed garlic, soy sauce, fish sauce, egg and season with pepper. Form into four burger patties.
Preheat a frypan to medium-high and lightly spray with cooking oil.
Cook the patties in the pan for 4-5 minutes on each side or until cooked through. Combine the mayonnaise with the sweet chilli sauce and spread evenly over each slice of sourdough.
To serve top each slice of sourdough with a patty and some rocket.
Recipe serves 4 at 328 calories per serve
7. Chicken Caesar Wrap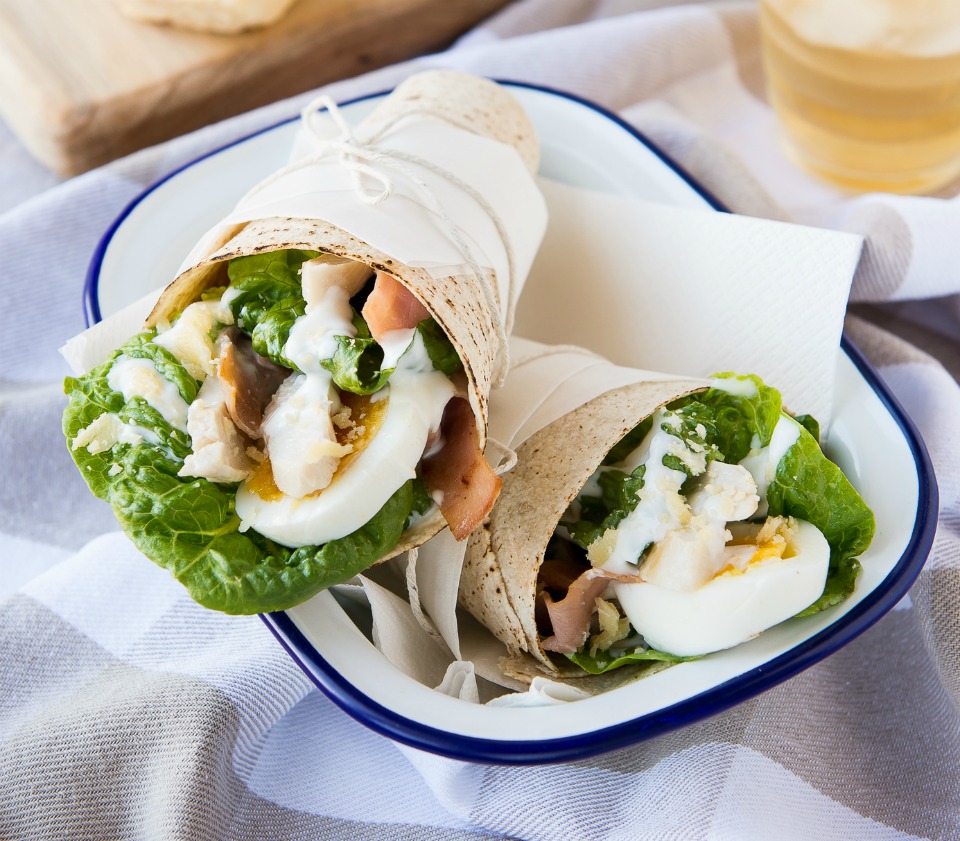 261 calories
Use leftover cooked chicken and pre-boiled eggs to make this wrap an absolute breeze. If you haven't got any wraps just prepare it as a big salad instead.
This recipe is available for members only, in the 28 Day Weight Loss Challenge.
8. Tuna and Green Salad Wrap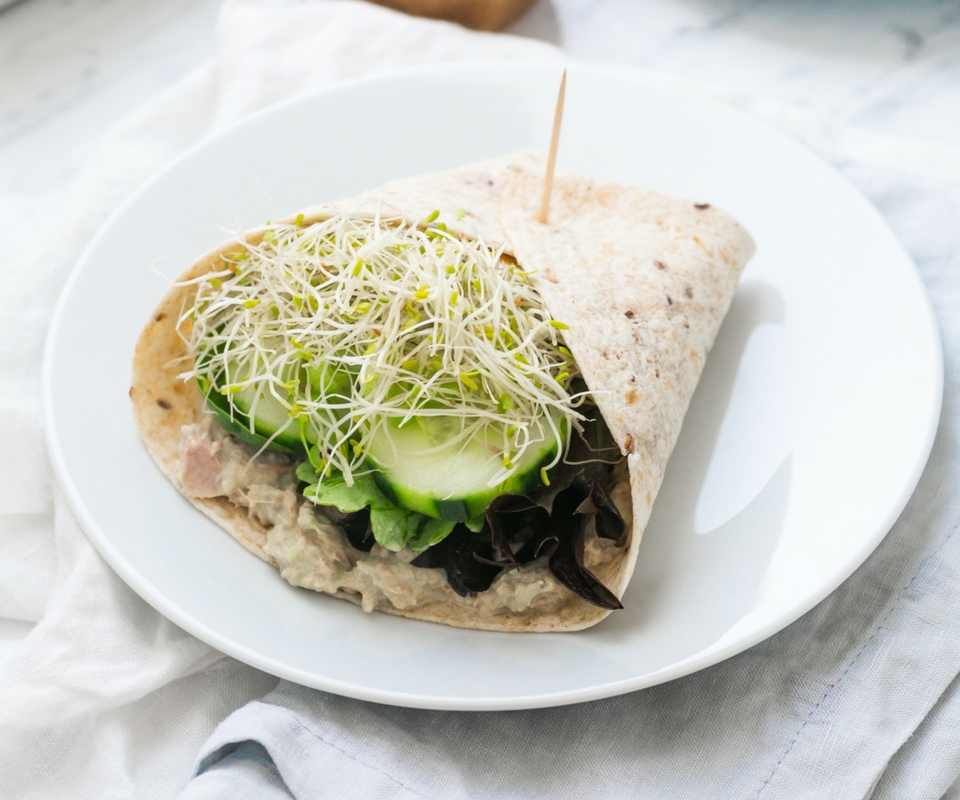 299 calories
Make a larger batch of the tuna mix used in this recipe and store in an airtight container in the fridge for 2-3 days. Then you'll have a healthy and delicious topping for sandwiches and wraps to save you time with meal prep.
This recipe is available for members only, in the 28 Day Weight Loss Challenge.
9. Stuffed Mexican Sweet Potato

355 calories
Cook a couple of the potatoes at the start of the week to reheat for a quick lunch. You can also pre-make the filling and store in an airtight container in the fridge for a few days.
If avocadoes are expensive just add some chopped tomato or more kidney beans to bulk it out.
Ingredients
1 small sweet potato (160 grams)
1 tsp extra virgin olive oil (5 mls)
1 spring onion, chopped (15 grams)
1/2 clove garlic, minced (1.5 grams)
60 grams tinned red kidney beans
1/4 cup corn kernels, fresh or tinned (40 grams)
1/4 tsp chilli powder (0.3 grams)
1 tsp lemon juice (5 mls)
1/4 medium avocado, diced (30 grams)
Method
Drain and rinse the beans.
Pierce holes in the sweet potato with a fork or skewer. Place in a microwave steamer, with a small amount of water and microwave on high for 7-10 minutes (the time will depend on microwave and size of sweet potato), or until the sweet potato is lightly tender.
Set the sweet potato aside to cool slightly. Once cool to touch, cut in half lengthways and scoop out the flesh so there is only a thin layer of flesh remaining lining the edges. Set aside.
Heat olive oil in a frying pan over medium heat. Add onion and garlic to the pan and cook until tender. Add beans, corn and chilli powder and cook until warmed through. Add sweet potato flesh and stir through.
Divide bean mixture into each sweet potato skin half and serve topped with diced avocado and lemon juice.
Note: if you can't find a small sweet potato, approximately 160g, then use a larger one and serve one half per person.
Recipe serves 1 at 355 calories per serve
10. Salmon and Beetroot Salad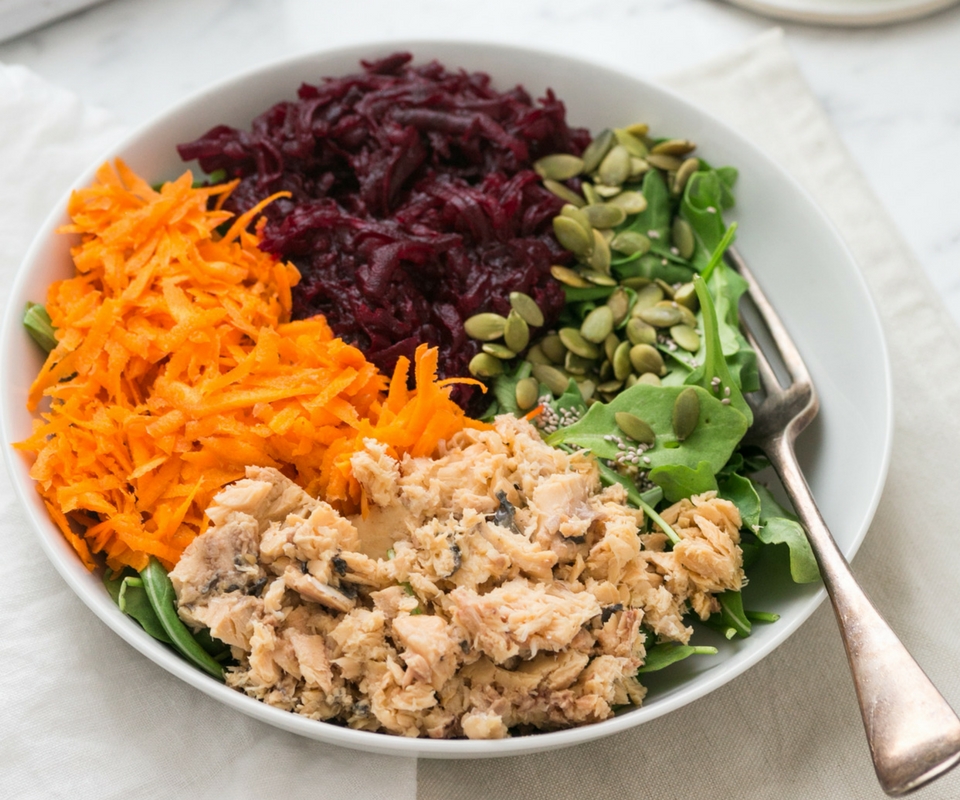 333 calories
Tinned foods like salmon, tuna and legumes are great when you're short on time and also on a tight budget. Buy in bulk when they're on special.
Swap the salmon for tinned tuna or leftover cooked chicken if you prefer. Make this the night before and store in the fridge, just add dressing when ready to eat.
This recipe is available for members only on the 28 Day Weight Loss Challenge.
Are you ready to kick-start your weight loss?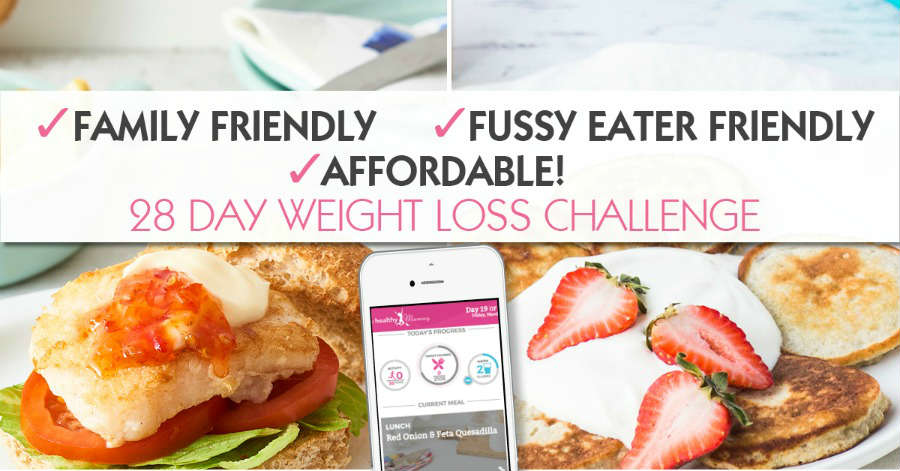 Want to shift your baby weight but feel like you have NO TIME in your day to exercise and eat healthily? That's where the Healthy Mummy's 28 Day Weight Loss Challenge can help.

Our Challenge entails: 
28 days of at home exercise routines (no gym needed) – with video instruction
Customisable and breastfeeding friendly meal plans
Time-efficient exercises for busy mums – under 30 mins
Challenge combines Pilates exercises with interval and circuit training (HIIT)
Suitable for basic to advanced fitness levels.
Home to thousands of EASY-TO-MAKE recipes.
To find out more about joining the 28 Day Weight Loss Challenge for £1 click here.
PLUS – connect with THOUSANDS of other mums on the 28 Day Weight Loss Challenge by joining our free support community here.