Halloween is just around the corner! This time of year however, can create a sugar overload for the kids, with all the sweets flying around.
But you don't have to give your kids sugary treats – this mum (and 28 Day Weight Loss Challenge member) has made some fantastic – and scary looking – Halloween treats that are also healthy!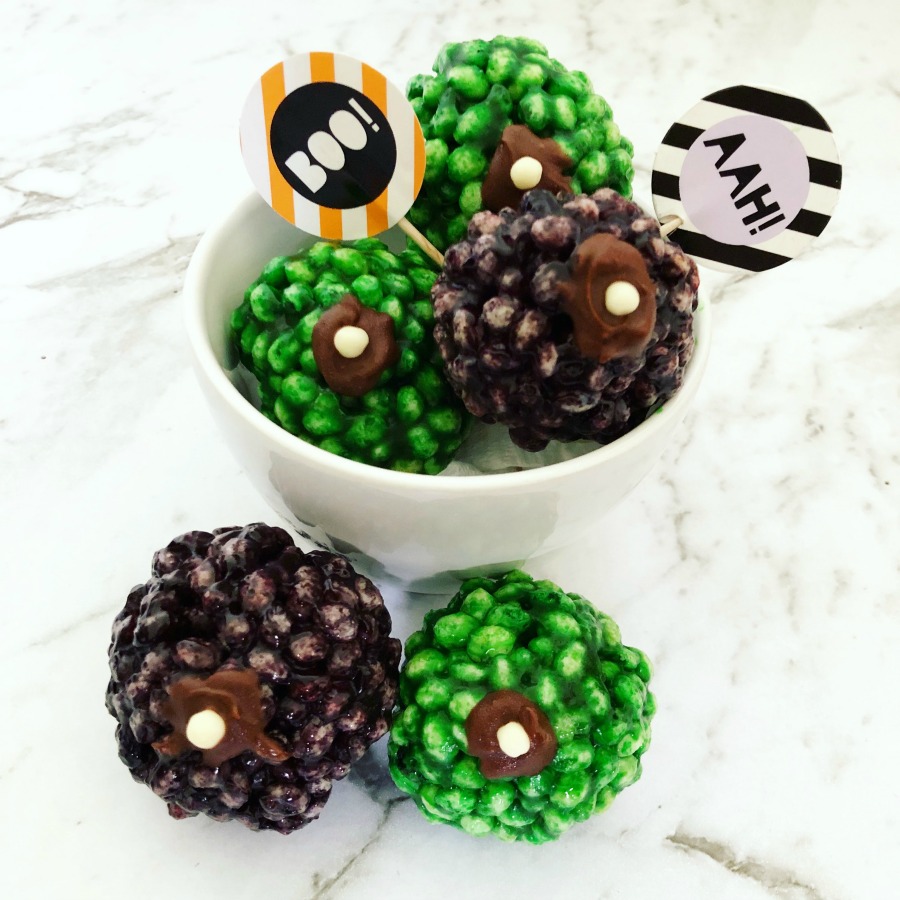 Mum of two, Samara Syed has created a range of spooky treats that kids will love… without all the sugar.
"These were so fun to make," says 28 Day Weight Loss Challenge member Samara. "They're healthy treats but with a twist – they look scary – perfect for Halloween. My girls were so excited when they saw all the goodies!"
5 Healthy Halloween treats
Here's what Samara made:
1. Frozen Ghost Banana Pops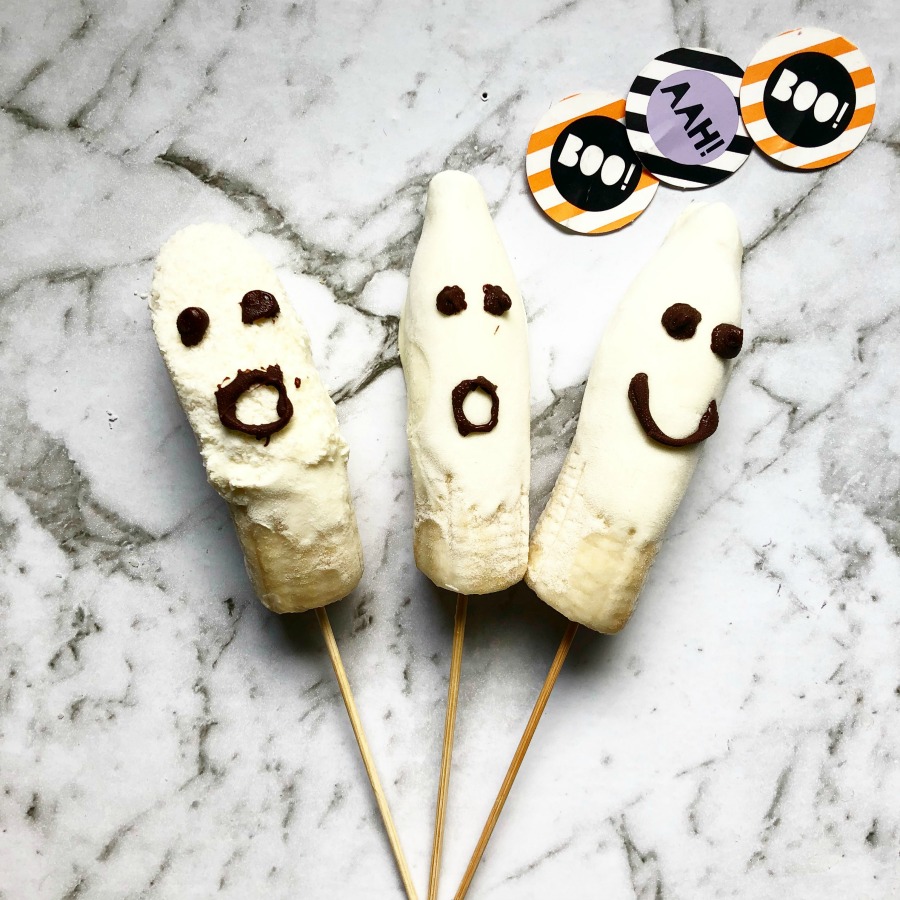 This is a great activity for the kids to get creative in the kitchen. Stick the banana halves on wooden skewers. Place yogurt, coconut and honey into shallow bowls. Let your kids dip the banana in the yogurt – place on a lined baking tray and freeze for an hour.
Samara then added dark chocolate icing onto the pops to make them look like scary ghosts.
"The frozen banana pop ghosts were a win with my girls," says Samara.
2. Wiggly Worm Veggie Pesto Pasta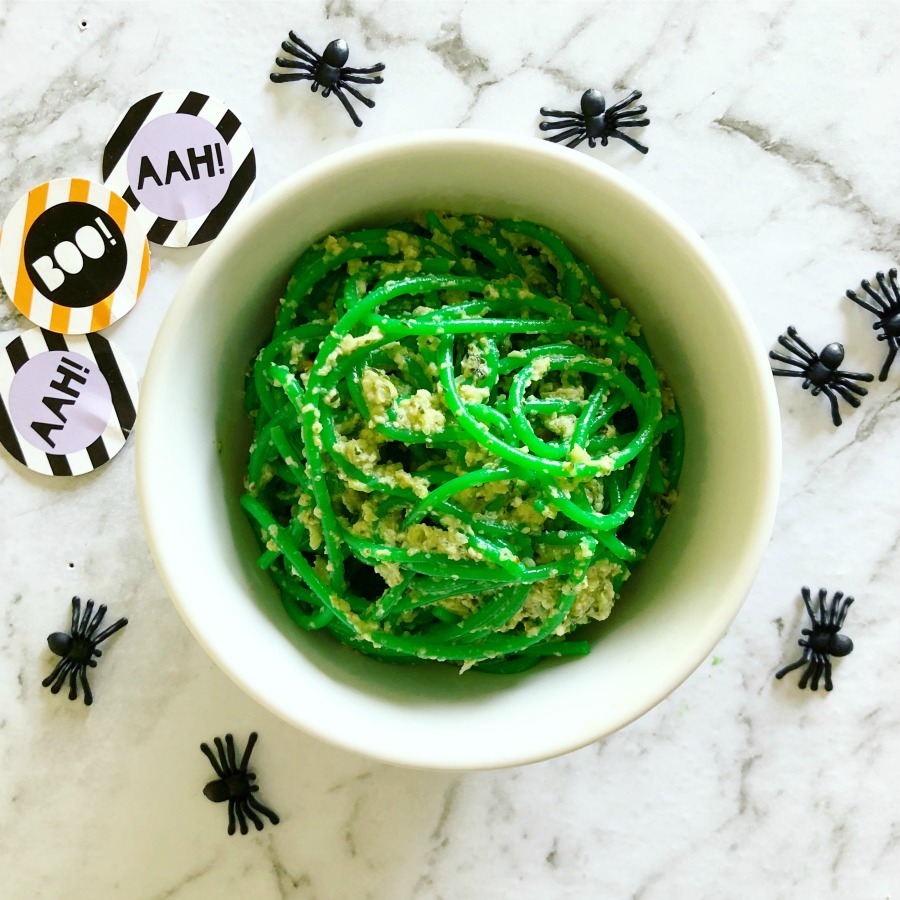 This is an easy way to introduce your child to different flavours and textures. Use it to add new vegetables to their diet and once they have accepted the flavour, the food can be revealed. 
The kids will be so excited by the green worms that they won't even notice the veggie packed sauce!
"The green pasta was also a massive win! The girls asked for seconds and asked for it for lunch the next day too," says Samara. To make the pasta super, duper green, add a couple of drops of natural green food colouring.
Ingredients
2 tbsp olive oil (30 ml)
2 garlic cloves, crushed (6 grams)
1 small pepper, chopped (100 grams)
2 cups broccoli florets (200 grams)
1 ripe tomato, chopped (100 grams)
2 tbsp water (30 ml)
1/2 cup pine nuts (120 grams)
1 bunch basil, leaves picked (100 grams)
2 tbsp lemon juice, (30 mls)
1/2 cup grated parmesan (72 grams)
240 grams wholemeal pasta of choice
Method
Heat 1 tbsp of the oil in a frying pan and add garlic, pepper, broccoli and tomato.
Cook until vegetables are slightly softened, adding water as needed.
Toast pine nuts in a separate frying pan with no oil.
Put vegetables, pine nuts, parmesan, basil, lemon juice and remaining oil in a blender and blend until combined.
Cook the pasta, drain and add pesto mixture. Toss to combine.
Makes 8 serves
3. Eyeballs (a.k.a. eggs with avocado)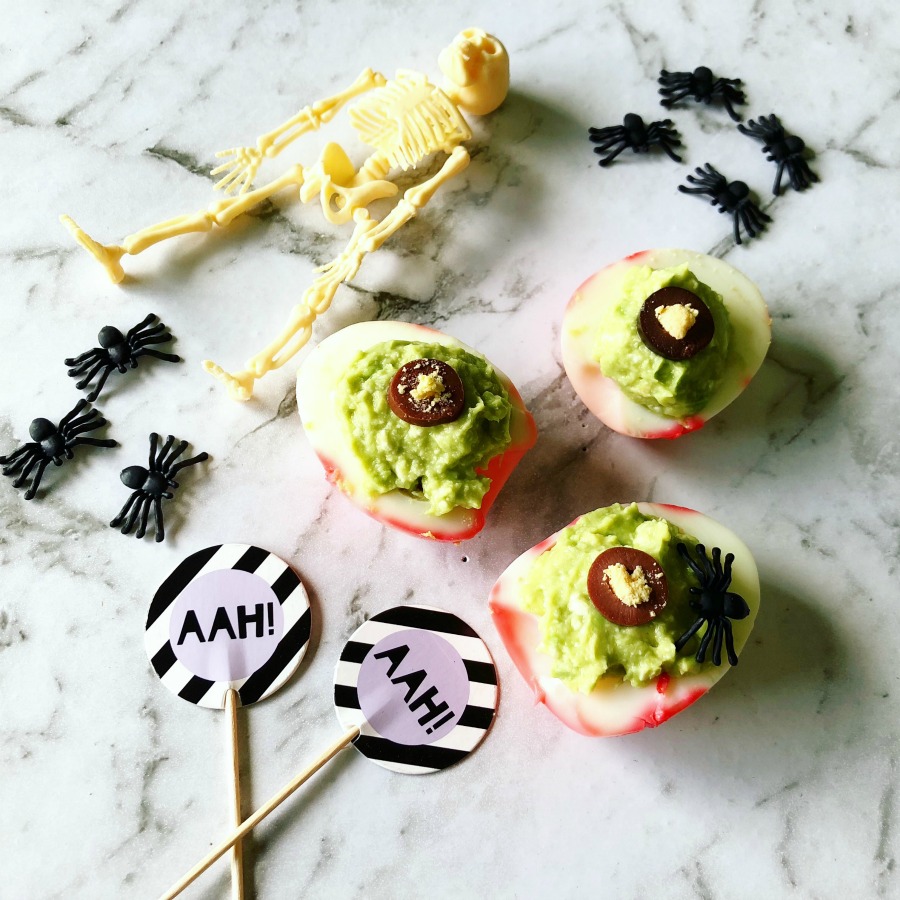 To make these eyeballs, boil some eggs, cut them in half and add some mashed avocado before topping it with a sliced olive.
"The girls LOVED the eggs with avocado dip eyeballs," says Samara.
4. Pretzel Stacks Witches Hats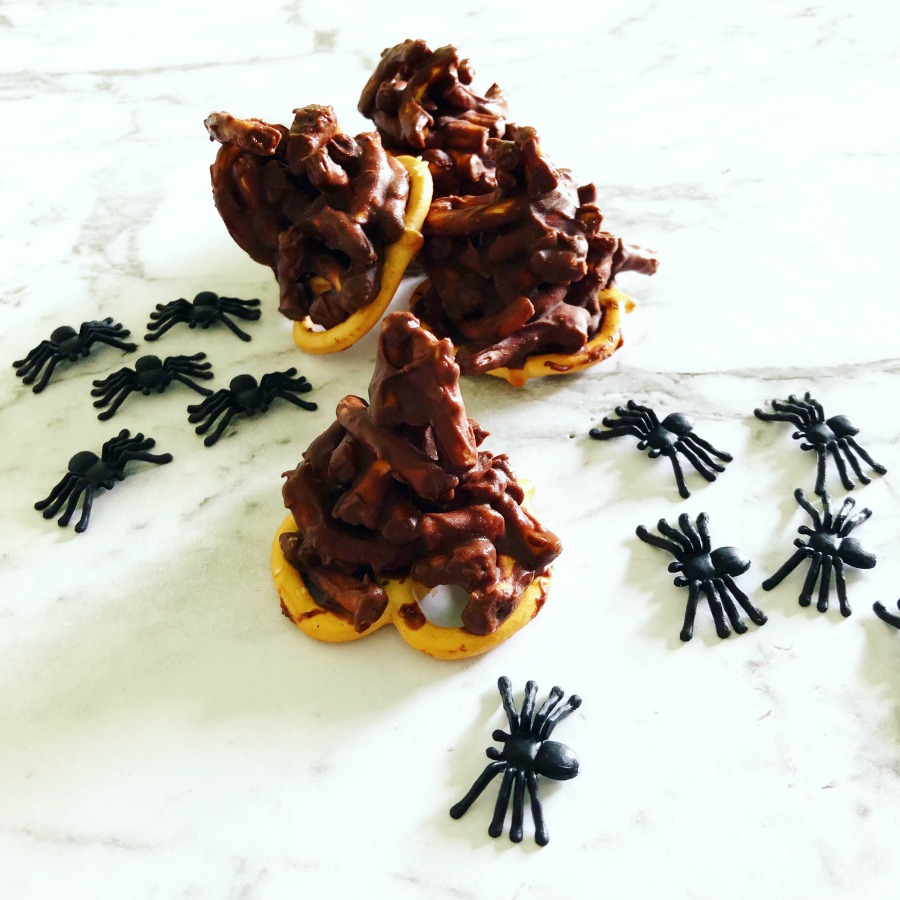 You can be enjoying these HEALTHY pretzel stacks in just 5 MINUTES! Samara has shaped hers to look like witches hats. How clever!
Check out the recipe HERE
5. Peanut Bubble Crunch Monster Eyes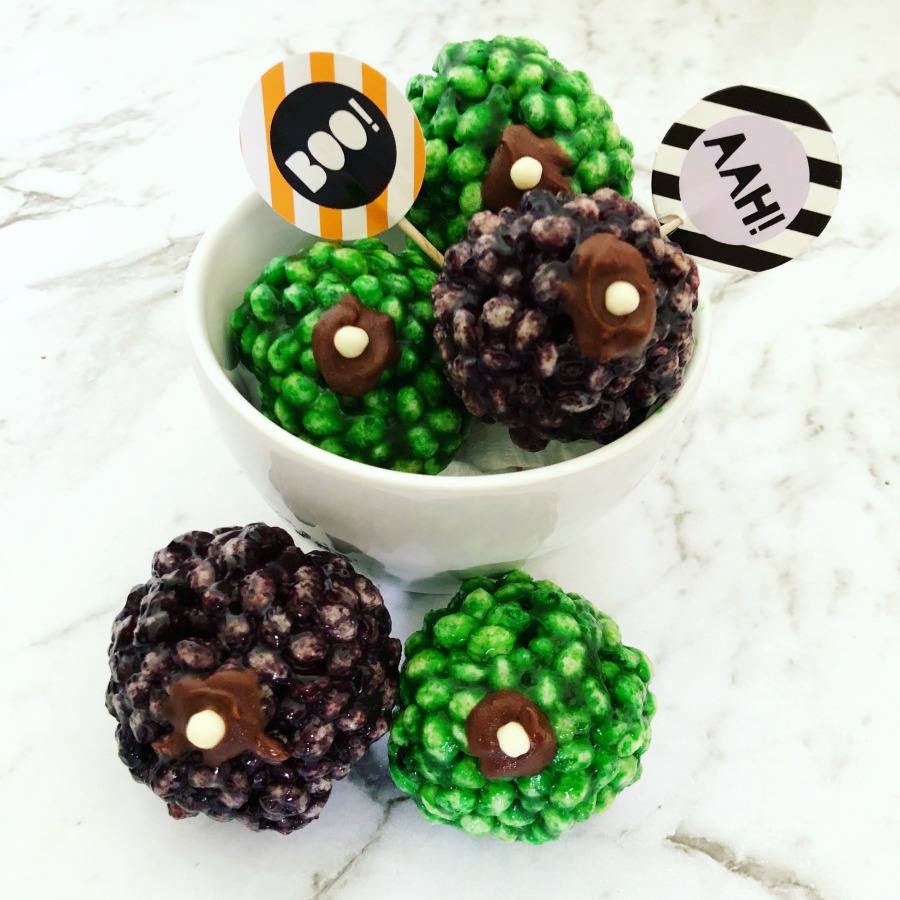 Chocolate and bubbles are two things kids cannot seem to get enough of. So to keep the kids happy we have combined the two with this delicious Peanut Bubble Crunch! Samara used a little food colouring to make this recipe look like monster eyes.
Check out the recipe HERE
Mums, lose weight on the 28 Day Weight Loss Challenge!
If you want to improve your overall health and wellbeing but don't have the budget for a gym membership or fancy pre-made healthy meals – our 28 Day Weight Loss Challenge is an awesome program to check out. 
Our 28 Day Weight Loss Challenge includes:
28 days of at home exercise routines (no gym needed) – with video instruction
Customisable and breastfeeding friendly meal plans
Time-efficient exercises for busy mums – under 30 mins
Challenge combines Pilates exercises with interval and circuit training (HIIT)
Suitable for basic to advanced fitness levels
Home to thousands of EASY-TO-MAKE recipes!
To learn more about our 28 DAY WEIGHT LOSS CHALLENGE CLICK HERE.