To help keep you motivated on the 28 Day Weight Loss Challenge, we have chosen these amazing Motivating Mums to be with you every step of the way!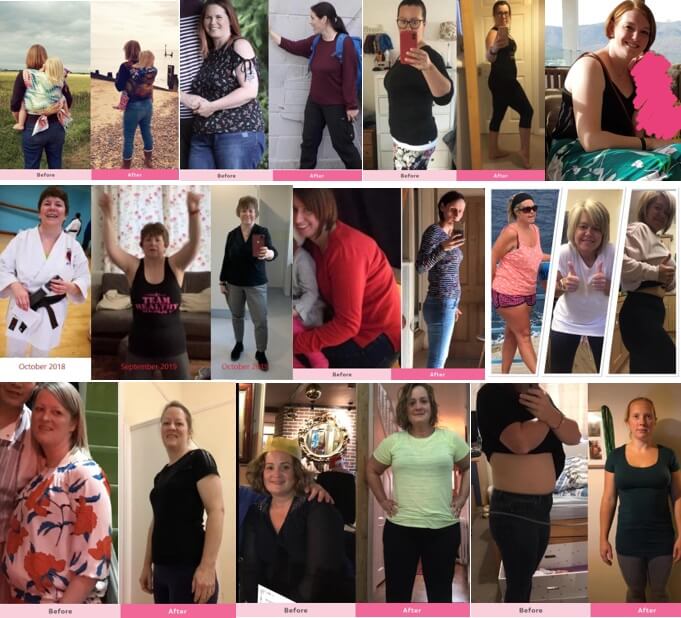 Meet your November Motivating Mums
During November this amazing group of women, who have all had great success with the 28 Day Weight Loss Challenge, will be here to give you advice, guidance and some great tips for motivation.
Today we introduce your MOTIVATING MUMS, with a little bit about each mum, and their top tips for keeping you focussed and motivated for November.
Eleanor Turney
Eleanor, 41, from Blyborough in Lincolnshire is a mum of two, a daughter aged four and a son aged 19 months.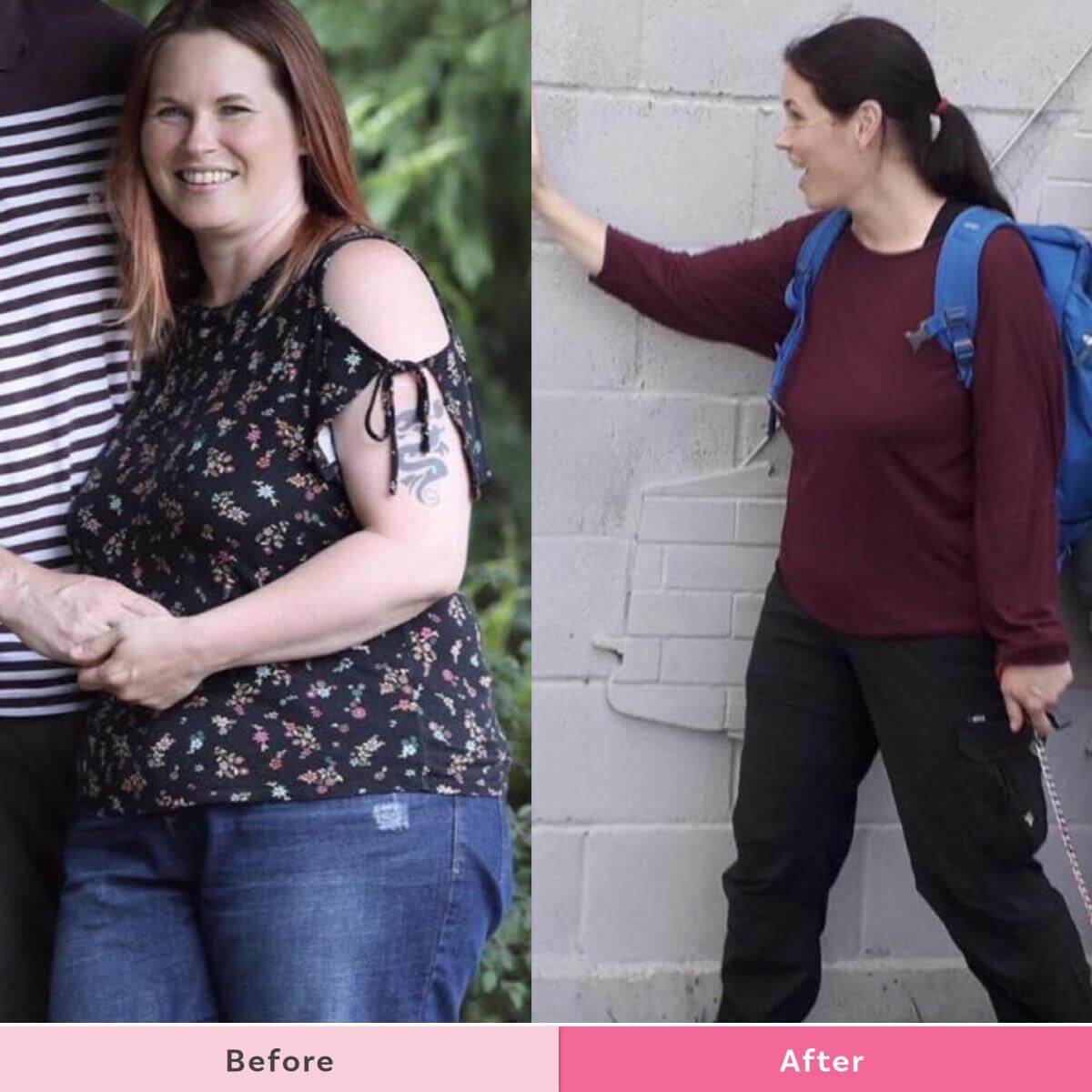 She has been on the Healthy Mummy 28 Day  Weight Loss Challenge since September last year and has lost 1 st 8 pounds so far.
Eleanor shares, "I have still got just over another stone to go. Slow progress but getting there at my own pace. I was a Motivating Mum back in July and not only enjoyed the experience but had my best month weight loss wise as well! Here's hoping the November 28 Day Weight Loss Challenge has the same effect!!"
Eleanor's motivation to join Healthy Mummy
Eleanor joined The Healthy Mummy after a photoshoot with her family left her in tears.
"I was unable to find a single photo I looked good in. Whilst I was devastated I had let myself go so much, it also gave me the much-needed boost to do something about it.
I joined when the £1 offer was on thinking I had nothing to lose and it quite literally changed my life! Not only have I lost the weight (I'm the lightest I've been for over 5 years) but I have gained confidence, energy and now have a healthy relationship with food."
Eleanor's top 3 tips
Plan your meals. I often struggle with this as life gets in the way but it definitely helps me stay on plan when I do.
Drink more water. I'm constantly telling the kids to drink more but then forget to do so myself! Definitely an area for improvement.
Be more active. Trying to incorporate exercise into everyday life can sometimes be a struggle, but while I now look forward to exercise I still need to do more.
Tara West
Tara West, 31, from Kent is a mum of two girls who are three and a half and nearly one.  Tara started her Healthy Mummy journey in August 2018.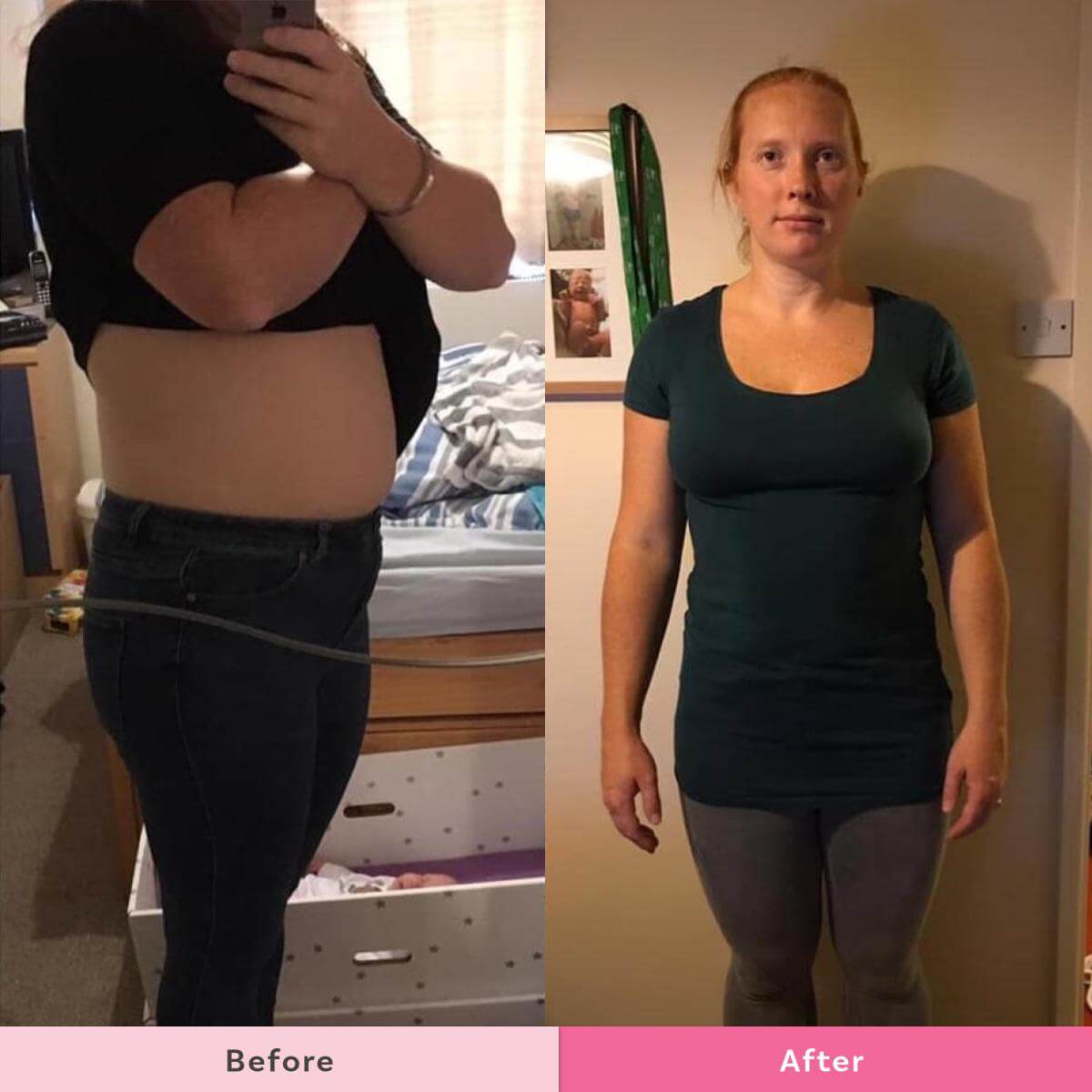 Tara shares, "My Healthy Mummy goal was more to feel comfortable again in my clothes. Which most of them are now but I'm still working towards that goal. I have a personal shop booked for the end of November with a stylist so I want to be at goal or very close by then!
Before The Healthy Mummy I was starting to get to a point where I was so unhappy with how I looked and feel. With that on top of the pressures of being a mum and working full time were starting to spiral out of control. I needed something to focus on that didn't take up too much brainpower and supported me throughout."
"My favourite meal so far is the One Pot Bolognaise  as it's such an easy dish that everyone will eat. My favourite  snack would have to be the Weetabix Balls which are a firm favourite with my three year old as well!"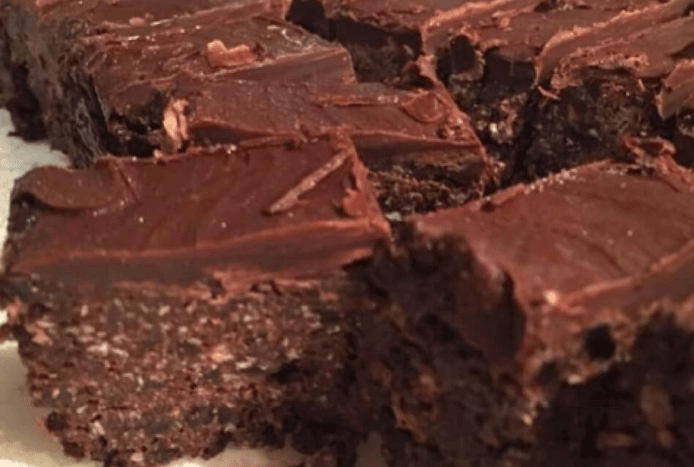 Tara's top tips
Dive straight in! If you are about to start I would say just go for it. Dive straight in and even if you start slowly it's still a start.
Meal prep. I would suggest you start with one meal a day and double up portions for the freezer, pick one snack and again double up the portions for the freezer and then you can increase how much you are doing each week once you are into the routine of it and before you know it you will have a nice freezer stash to fall back on and that makes it so much easier.
Start drinking more water.  
"Never give up on a bad day but give yourself a break if you do slip one bad meal or snack doesn't need to ruin your day."
Healthy Mummy Smoothie
Tara adds, "I like to have a Healthy Mummy Smoothie for breakfast if I'm in a rush it's just with milk or if I have a bit of time I make one of the many recipes from the app. I have yet to find one I don't like and my 3-year-old now asks for a smoothie so I make her a small version of whatever I'm having without the Healthy Mummy powder."
"Before I started I would rely on my morning coffee, I couldn't function without it! Since starting the plan though my coffee machine has hardly been used. I seem to have so much more energy that I don't need the caffeine boost!"
Jenny Swift
Jenny, 32, from Rotherham, is a mum to two boys aged two and five who she says keep her nice and busy!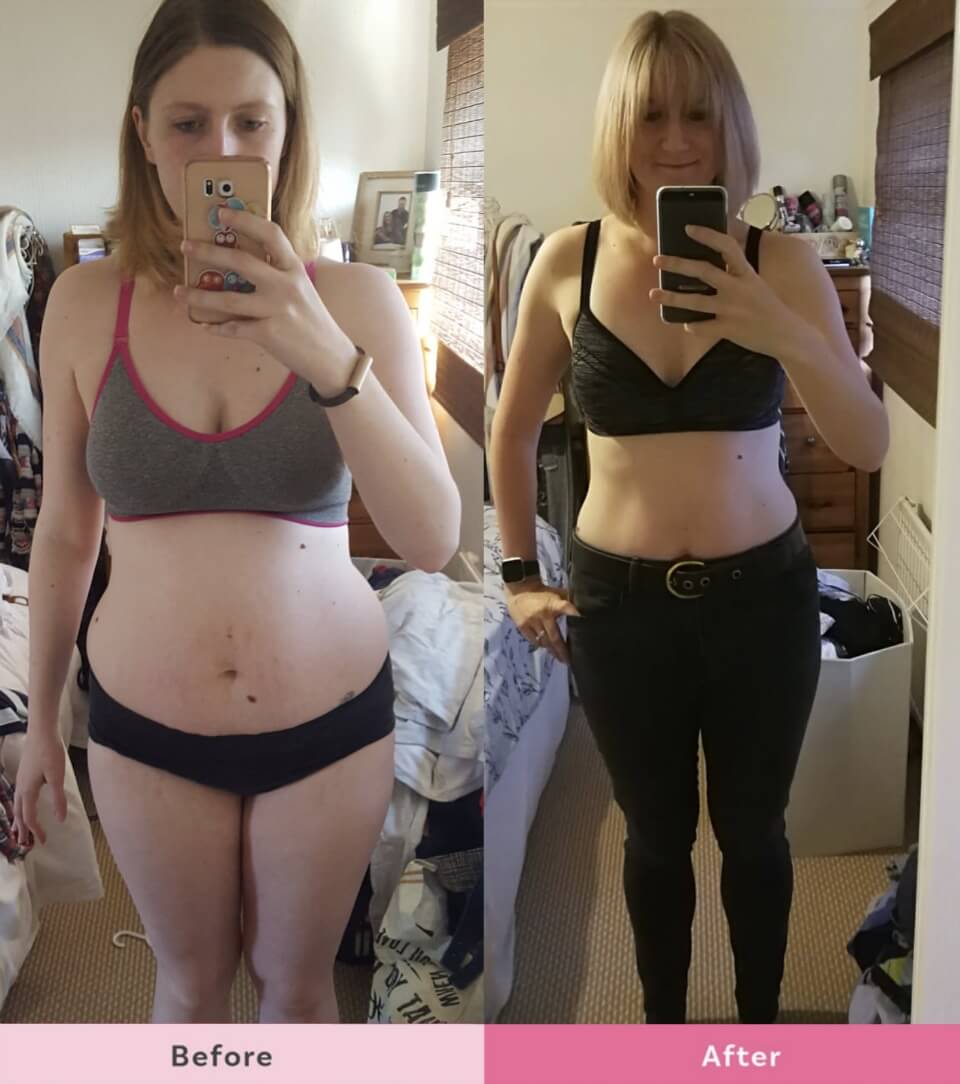 Jenny joined the Healthy Mummy in April 2018 before her wedding with the hope of losing some extra weight.
"I did but then decided to continue as I love the Healthy Mummy approach and how much healthier and active it made my life.
"Since I started I've lost 1.5 stone in total and am the slimmest I've been since way before I had children.
"In addition to that and more importantly to me, I am soooo much healthier than I've ever. I've never been this fit in my life. I can now run 5k 3-4 times a week and miss it when I don't. If I have a bad day I feel it and actually want to go back to the healthy food."
Jenny's favourite 28 Day Weight Loss Challenge meals
"My favourite meal with The Healthy Mummy is Mexican lasagne and I love the Weetabix Slice amongst many of the other snacks. I also love the Smoothies and start my day with them every day."
"My goal at the moment is to keep going, maintain and tone up. November and December are tough months for me with anxiety so I'm hoping by keeping healthy and active I can at least reduce some of that anxiety."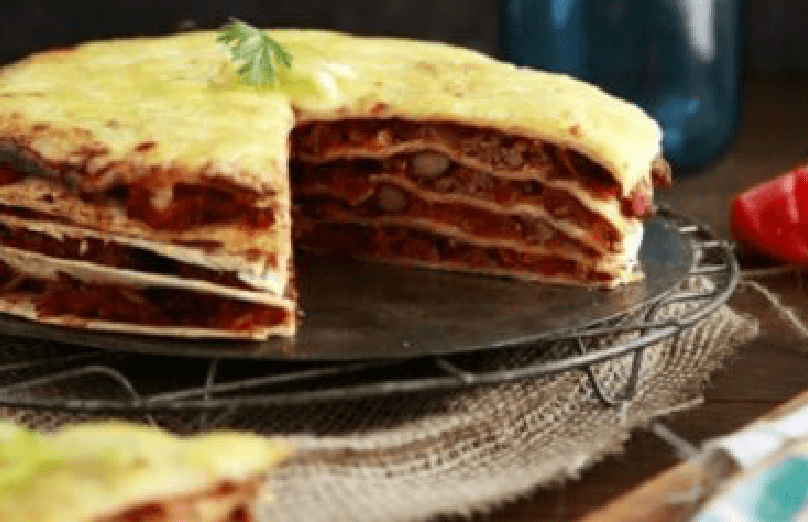 Jenny's  top tips
Take it slow. Make it work for you. I started introducing some of the exercise workouts, then some of the recipes and then the smoothies.
Use the Healthy Mummy Community. If you feel a bit unmotivated ask for a boost or some support as everyone's been there.
Take measurements. I noticed a huge difference in measurements before I noticed a difference in weight.
Hazel Cooke
Hazel, 37, works full time and lives with her hubby in Huddersfield! She has two gorgeous little girls who are eight & four and a mad one year old puppy who all make her life very busy!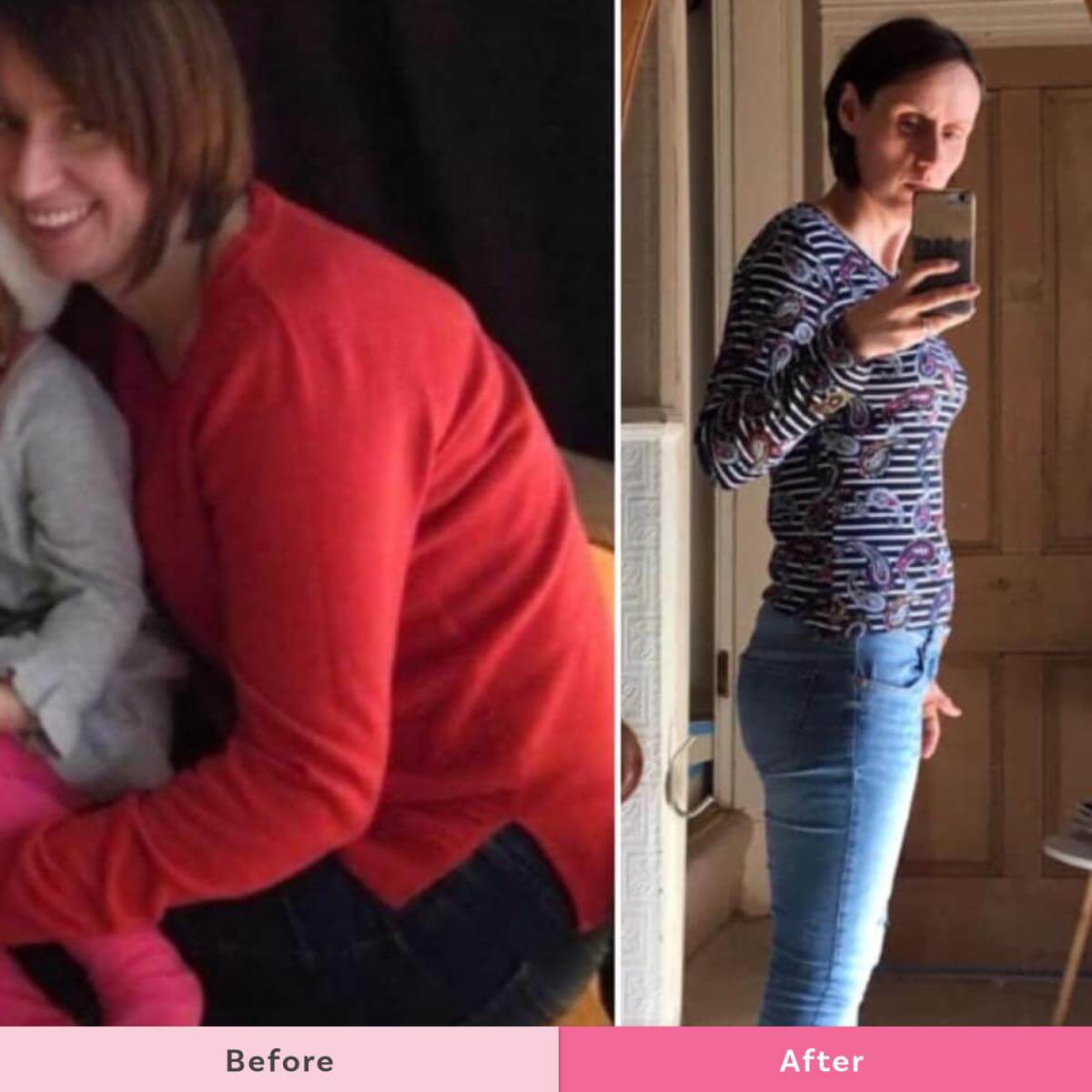 Hazel has been following The Healthy Mummy since April 2018 and says she absolutely loves everything about it!
"I initially lost over 1.5 Stone in a few months and I've maintained the majority of it for that time, I've fluctuated a little but that's life!!! But I've put on a few pounds more than I wanted in the last few months so I'm back with a new goal of feeling more energised and losing half a stone."
Hazel's favourite 28 Day Weight Loss Challenge meals
"I'm a bit of a chocoholic so my favourite foods are normally snacks,  peanut bubble crunch, healthy Weetabix slice but I do look a paddle pop Smoothie too. The caramel flavour is amazing!"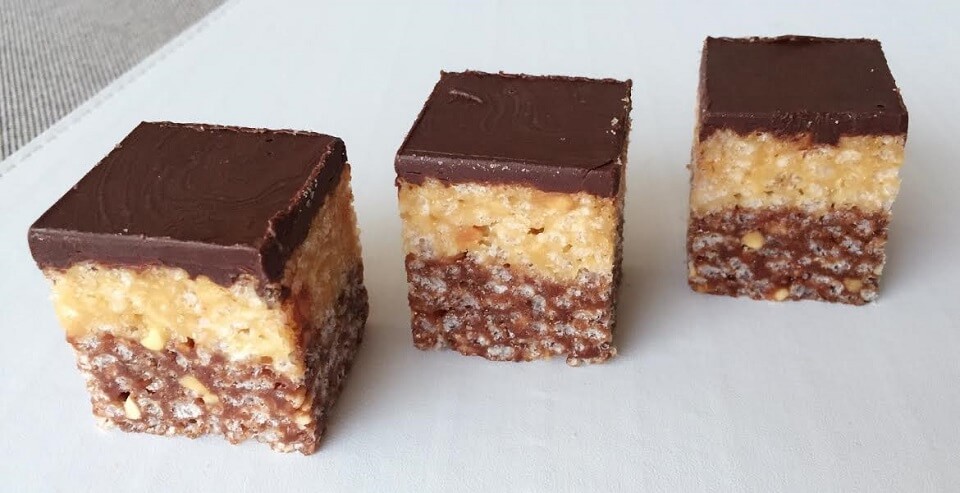 Hazel's tips
Plan, Plan & Plan!
Drink water and carry it with you everywhere
Meal prep. Get a good freezer stash going- it saves you from dialling that takeaway!
Don't think of this as a diet! It's not a quick fix it's a change in mindset and lifestyle! Do it in bitesize chunks or jump all in
Make it work for you! Change your menu up or alter recipes!
Susie Wilson
Susie, 45, is a mum of two boys, nine and nearly six from Orpington, Kent. She started her Healthy Mummy journey in December 2018. She has lost 20 pounds, and then gained 6 pounds on holiday! But lost another 6 pounds during the October 28 Day Weight Loss Challenge.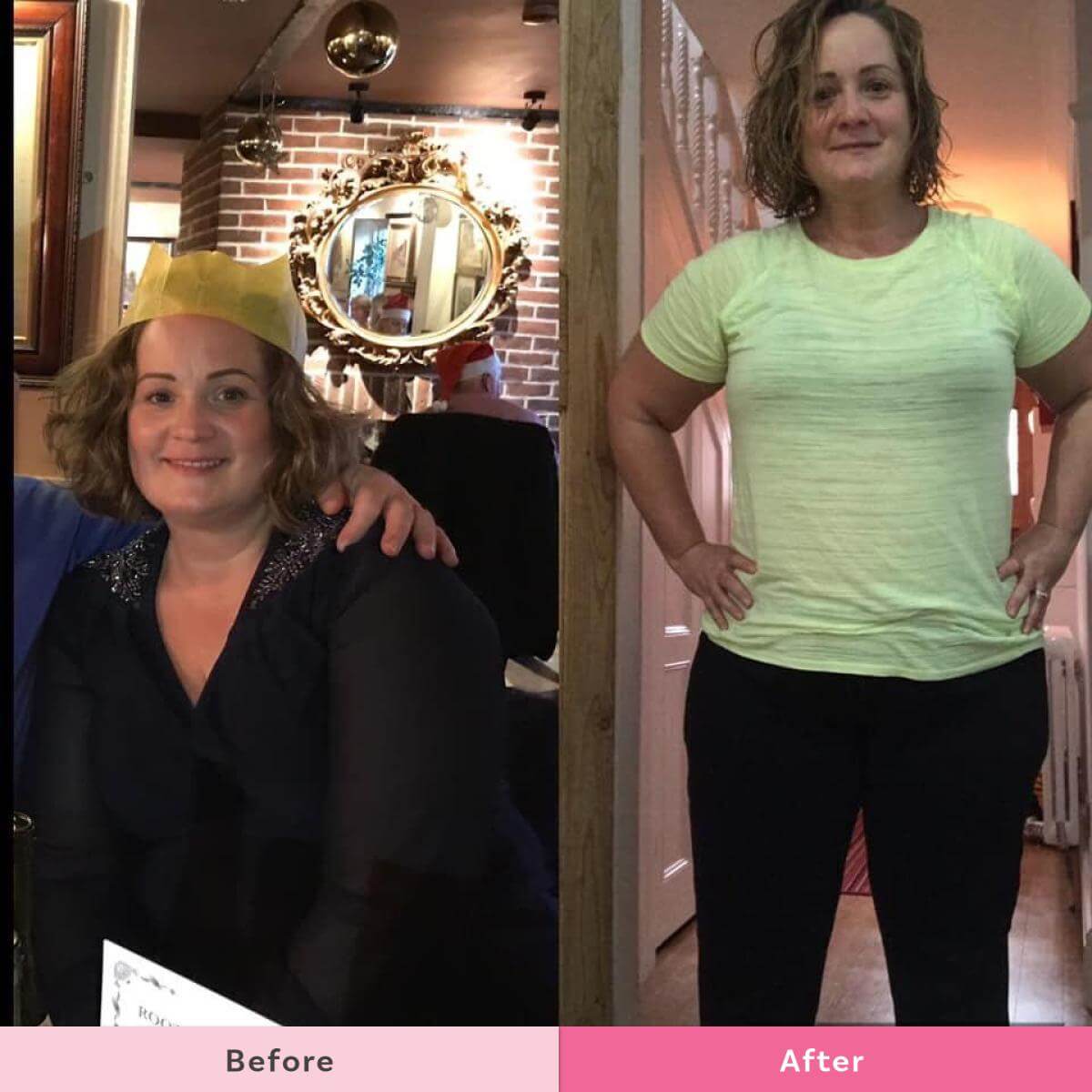 "I gained 5 stone with my first son nine years ago, and have struggled to lose it ever since! I've yo-yoed, fasted, tried most of the fad diets out there to be honest! None of it works! There is no quick fix.
I've had a difficult past 16 months after losing my Dad, and struggled with some serious genetic testing, but I'm FINALLY back on track!
I know what my downfalls are so, this month I'm trying my best to eliminate them."
My November plan is;
Cut out weekday wine drinking. Even 1 glass just isn't worth it! It always leads to either that extra snack or even 1 more glass.
Meal planning! So important for me! When the meal plan is released, I'm going to make a point of sitting down, swapping out immediately what I need to, and writing my shopping list! This way, I know what prep is required.
WATER! Essential for weight loss, and if I'm at home, sometimes I just forget to drink! Aiming for 3 litres a day.
EXERCISE. To be honest, this isn't a chore – I'm loving exercise at the moment. Aiming for 5 days each week.
Susie adds, "I'm so excited to be a Motivating Mum again for November! I have a lovely new navy top I need to be wearing for Christmas, so I've got to SMASH NOVEMBER!! I'm PUMPED!"
Elizabeth Flewitt
Elizabeth, 39, mum to a six year old boy. She joined The Healthy Mummy in September 2018 after looking for a more manageable way of losing weight.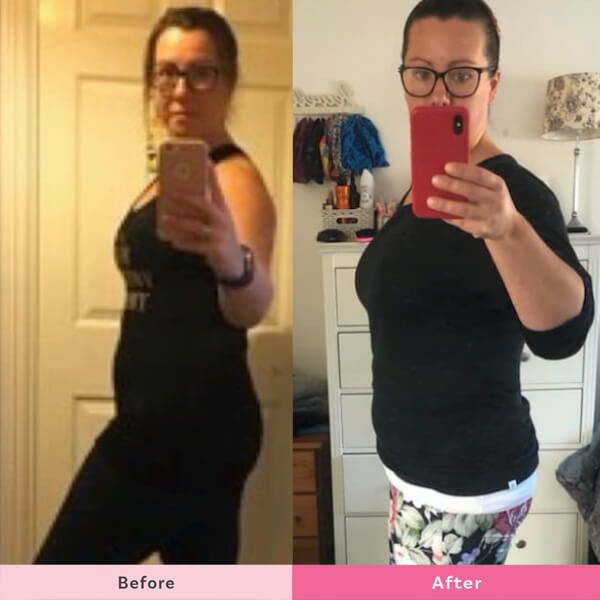 "I very quickly lost 1.57 st through following The Healthy Mummy meals and snacks. Since then I have suffered another miscarriage and had numerous issues with my back and neck.
Since being with The Healthy Mummy, I have managed to reduce the number of migraines I have. I have reduced the amount of anxiety I seem to experience. I have reduced the times I need to see my chiropractor.
All of this I put down to not only the food I am fuelling my body with BUT the workouts I get to do AND the support of the amazing Healthy Mummy community.
I have recently left my job to be able to focus a bit more on my family and myself. Because of this, I have reset my goal. My goal is to lose a dress by Christmas!"
Elizabeth's favourite 28 Day Weight Loss Challenge meals
"Healthy Mummy has helped me and my family eat amazing meals and snacks. Our all-time favourites are the Healthy Carrot Cake Slice and Spinach Balls.
With favourite meals, we enjoy all of them but the ones that we find ourselves coming back to are Spanish Rice and Chorizo and Prawn and Pesto Pasta!"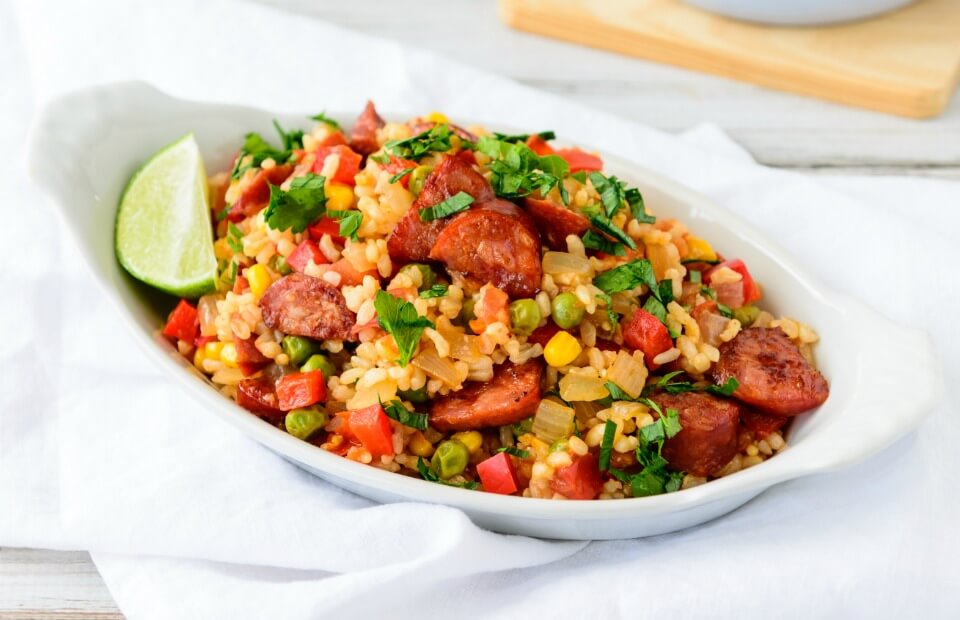 Elizabeth's tip
Take a picture! I didn't and I really regret this.
Take those measurements! Those pesky scales can sometimes hide the full story!
Know your "why" Why are you wanting to do this? Do you have a goal? Do you have a dress size you want to be? Do you have a fitness goal? Write this down!
Healthy Mummy Community. Use the support group for support, motivation and inspiration!
Elizabeth adds, "You can do this! We can do this!!!"
Sar McGowan
Sar, 38, is Mum of two, a gorgeous girl age five and boy three. She lives in Surrey and joined the Healthy Mummy in May 2018 and has lost 2.5 st.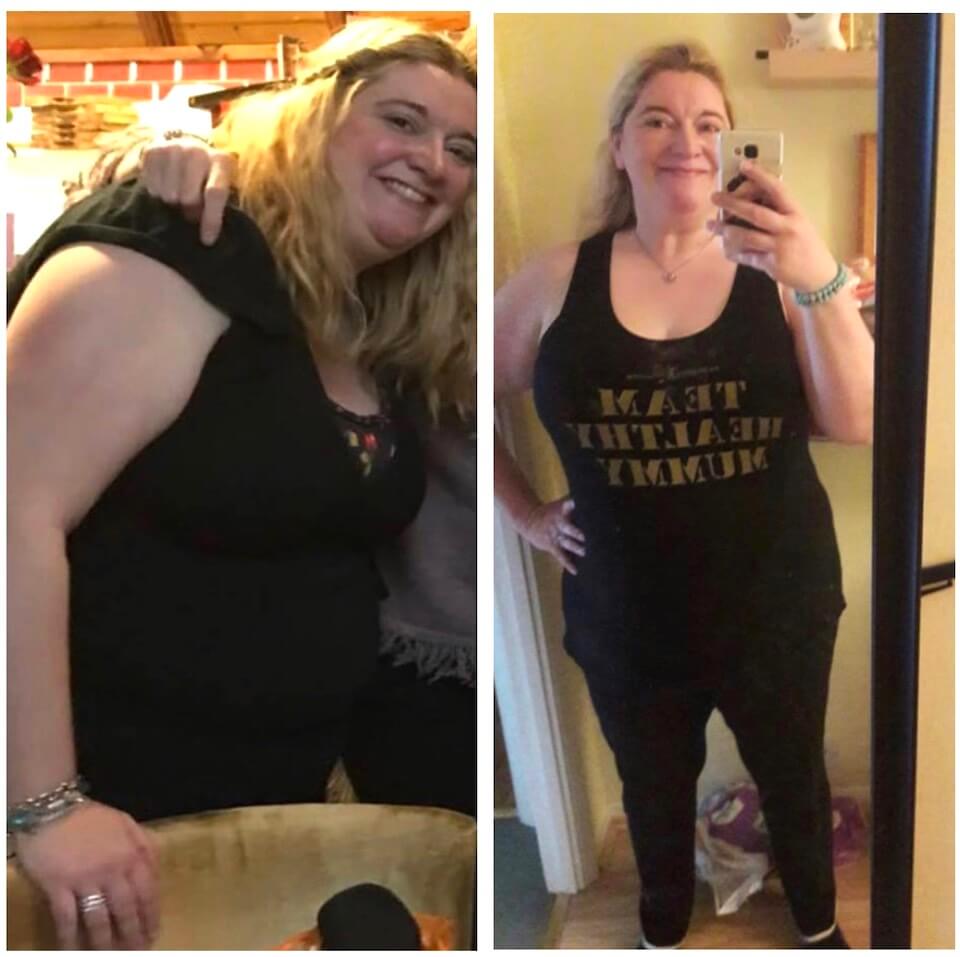 "I had sunk my lowest point, at my heaviest weight and I desperately needed things to change. From the minute I joined The Healthy Mummy I knew that things were finally going to be different and I wasn't wrong.
I have lost 2 1/2 stone total along the way and three dress sizes but it is the positive gains that have meant the most to me. The confidence I never thought I would have, a healthy relationship with food for the first time ever, no longer feeling ashamed or full of self-loathing but learning to love and respect myself.
I no longer hide away from the world. I embrace life and put myself out of my comfort zone, living a fun life with my family and learning to be the positive role model for my children I always wanted to be.
I still have a long way to go to reach my end goal weight but that no longer is the most important thing to me anymore – being healthy, happy and with good mental health is so much more important to me now, though I am determined to get to my end goals in the end."
Sar adds, "My aim for the November challenge is to drop a dress size by being consistent with my 3-5 Healthy Mummy workouts each week. Being stronger and healthier is my main goal!"
Sar's favourite 28 Day Weight Loss Challenge meals
There are so many Healthy Mummy recipes I love but here are just a few of my favourites:
Honey chicken with veggie stir fry
Chicken and corn risotto
Hearty minestrone
Choc chip banana bread muffins
Mint choc bubble crunch
Mini chocolate cheesecakes
All these recipes and hundreds more are available on the 28 Day Weight Loss Challenge.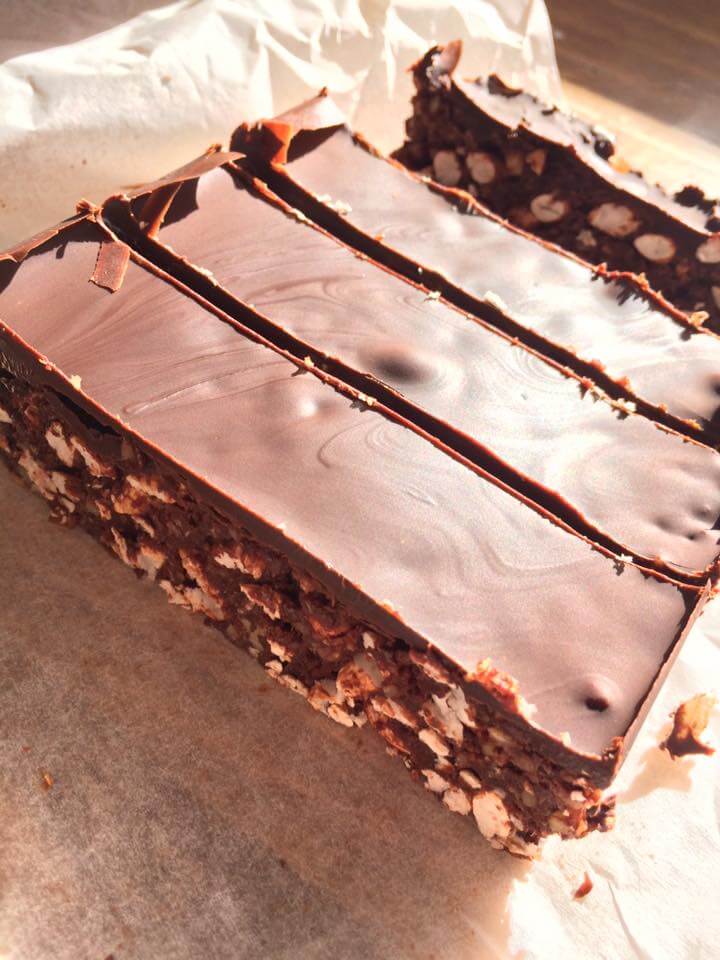 Healthy Mummy Smoothies
"The Healthy Mummy Smoothies are my daily addiction and have helped to stop me to skip meals, my old bad habit!
The chocolate frappe is my absolute favourite and I have found that I have more energy, my nails are stronger and I am less likely to reach for bad snacks as I am fuller for longer.
Since using the Healthy Mummy Smoothies and healthy lifestyle I have seen a big improvement in my ME symptoms (with I have had for varying degrees since I was 13) and I relapse less often. I am generally physically and mentally stronger and it has really helped to improve my mental wellbeing by teaching me to be a more confident person and I have managed to wave goodbye to my previous anxiety."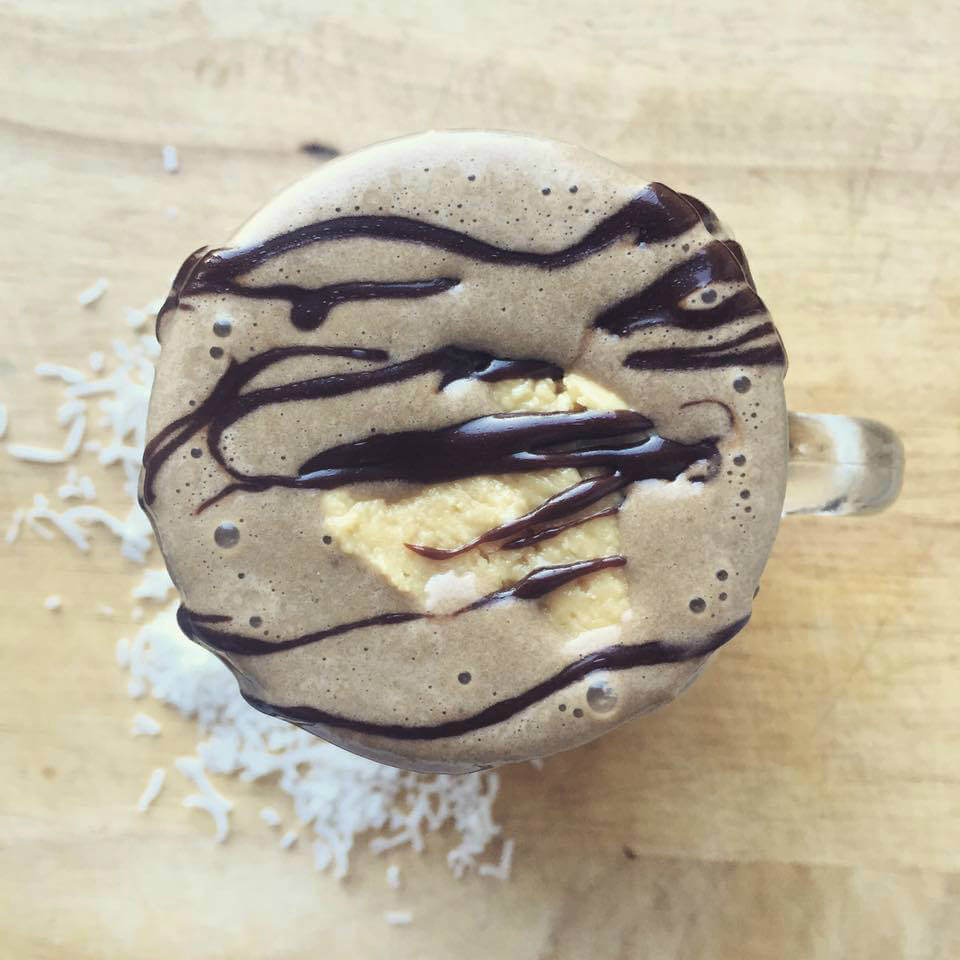 Sar's top tips
Take your time to get to know the app and to ease your way into the 28 Day Weight Loss Challenge. It can seem overwhelming to begin with so just start off small and build from there. I started off by making a few Healthy Mummy snacks and went from there.
Progress pictures are so important to see the true results. The scales don't always show the big picture and I have found that my progress pics have been far more motivating at showing my results than anything else.
Healthy Mummy community. Lean on the group as much as you need to. This is the most supportive group of women I have ever been lucky enough to know and we are all here for each other. No question is too big or too small and if you need support, we are always here.
Sar adds, "I am so looking forward to the November budget challenge – let's smash it and make it the best November ever!"
Fiona Muir
Fiona, 50, is a mum of fifteen year-old twins from Northamptonshire. She joined The Healthy Mummy in December 2018 and has lost 2 stone 4 pounds.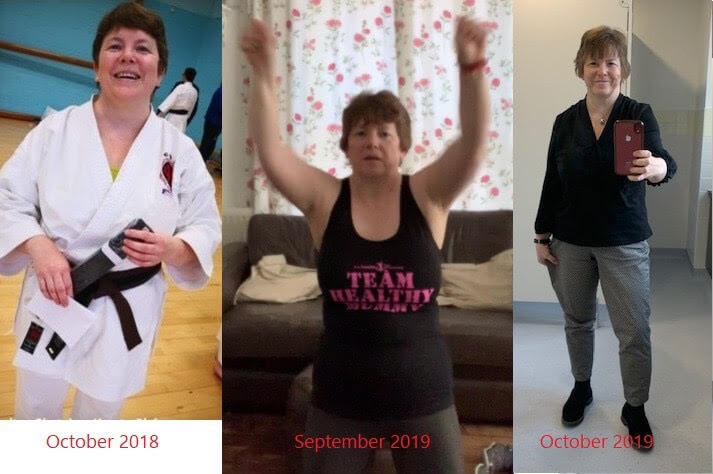 Fiona said she is literally grinning from ear to ear she is so pleased to be a Motivating Mum again for November!
"I saw results incredibly quickly despite only changing some small things and was hooked and joined for life! I now have 1 stone 8pounds to lose to get to my target weight – some months progress is good and some months it is slower. I am hoping and working towards more progress this month!"
Fiona's favourite meals
Fiona said she loves the Cheese and Tomato Risotto which is so easy to throw together and into the oven yet really delicious.
"One of my favourite snacks (I love so many of them!) is 4 ingredient fruit cake which I am going to do for Christmas this year!
"The 28 Day Weight Loss Challenge is so easy because everyone can help. The kids each cook a meal each week, usually, a Healthy Mummy recipe which they just get on with, we know it will be delicious and they learn new skills and recipes.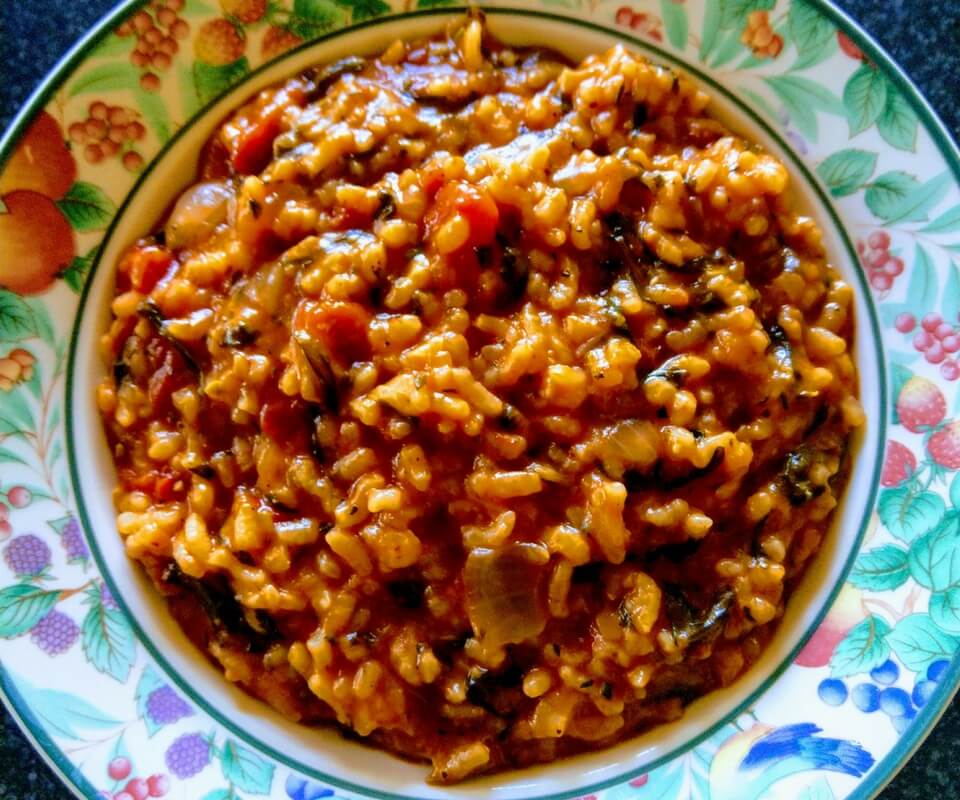 Fiona's motivation to start Healthy Mummy
Fiona shares, "I started in December fat, unhealthy, nearing depression and generally miserable. Like many people, I hated photos of myself and didn't fit my clothes or want to even try anything new, I sat on the sidelines watching my life go by.
The Healthy Mummy has really helped me find a new lease of life, trying new things, fitting old (and new) clothes again, running and exercising regularly (never thought I'd write or say that) and feeling part of the world again.
I want to get to 8 stone 8 pounds or thereabouts, though this month my interim target is to get under 10 stone for my sister's wedding on the 23rd November – about 4lb. I actually enjoyed shopping for a lovely jumpsuit to wear so very keen to look my best on the day."
Fiona's tips
Snack prep – I don't prep main meals much but I do have a good stock of snack s in the freezer so I always have something ready. I love chocolate snacks and there are so many nice ones!
Try the Healthy Mummy Smoothies! Not everyone does but I find them great and enjoy both app recipes and my own concoctions from what is in the fridge 1-2 times a day. Getting addicted to them warm now that it's getting cold!
Try something different for exercise and do it early in the day. I never do it if I wait so always get up and do something. The app is great for short things to try.
"There are so many benefits – great nails and skin, my mental health is much better, I enjoy life so much more. I have very few headaches now, they used to plague me, and I often had gastritis. I haven't lost it entirely, but it is usually when I have fallen off track so is a great motivator to stay on the straight and narrow!"
Fiona adds, "I can't wait to get started on the next challenge! So much to look forward to this month!"
Sarah Cryer
Sarah, is a mum of three gorgeous children Harry eight, Joseph six and Annabelle three, from West Yorkshire, together with her husband Adam and Labrador Maisy. Her Healthy Mummy journey began back in September 2017.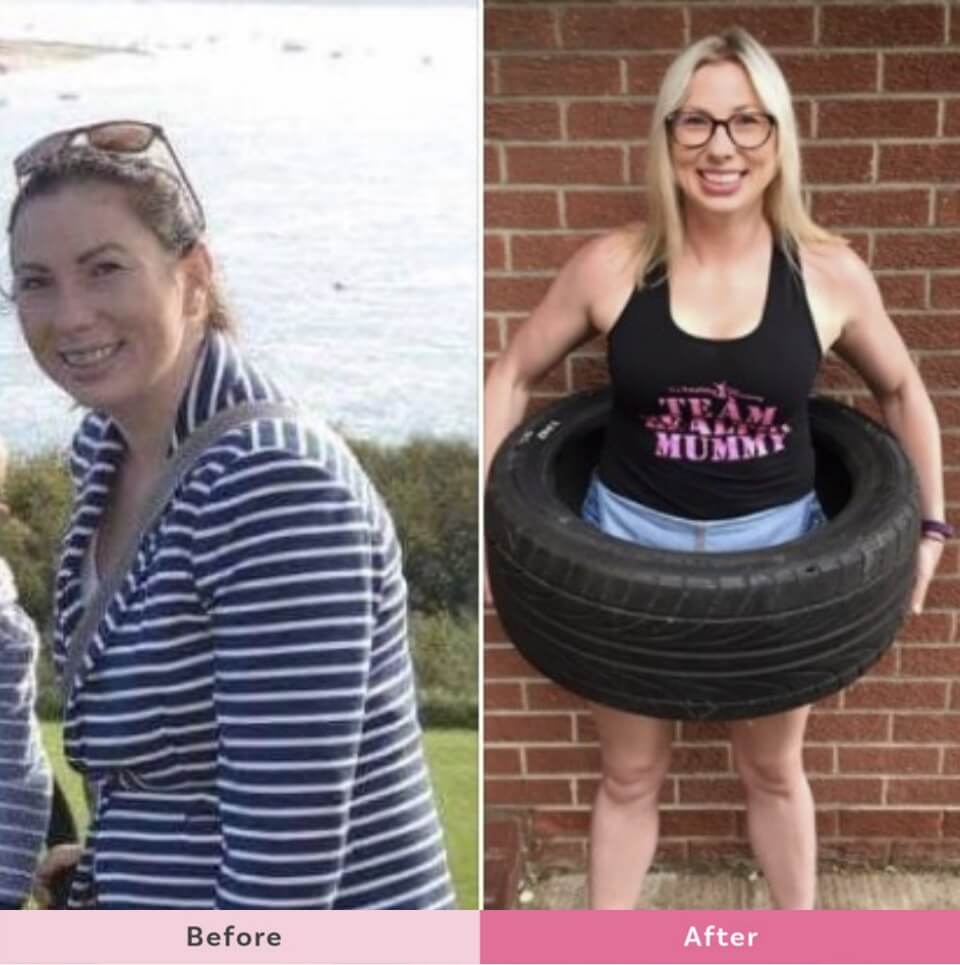 Sarah shares, "What started out as me wanting to lose two stone has resulted in me throwing the scales away (6 months into my journey) after losing 18 pounds and having turned my mindset from wanting to be skinny to wanting to be HEALTHY; I now focus on progress photos and measurements!!
"My goal for November is to tone up, motivate and make sure that this body is the fittest and healthiest it has ever been this winter!"
Sarah's favourite meals
"My favourites list is packed full with recipes the whole family love; I was stoked to see the Beef Rendang is making an appearance on week one of the Budget Friendly challenge – its certainly one of my favourite meals! If you've not yet tried the Peanut Butter cups I'd strongly recommend you add these to your meal plan too they really are amazing!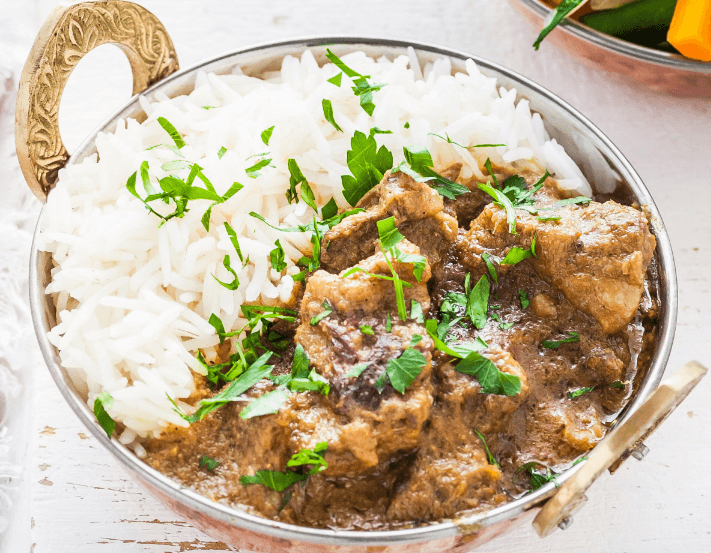 "I use the Healthy Smoothies daily they make an ideal snack substitute and are great for breakfast on the go! The Health benefits since starting the challenges have been incredible – what I have lost in weight I have gained in energy and confidence; I sleep better and the condition of my hair, skin, and nails has improved dramatically!"
Sarah's top tips
If you are just starting out I cannot recommend the Healthy Mummy Support Group enough!
Take your time to get used to the app,  pick out recipes that are already on your family's favourites list and try the healthier version – I can guarantee they will love them!
Meal prep. The main thing that helped me was to meal plan and meal prep – having a fridge/freezer filled with delicious meals and snacks helps stop me from reaching for takeaways or biscuits!
Remember WHY you started. We all have moments where we feel like giving up – if you find yourself in this situation remember your reasons why…… why did you start your journey; what makes you want to keep going?
Go back to basics. If you need to, go back to basics – recalculate that BMR make sure you're drinking enough water; make sure you are eating your calories even try out some new workouts!
Photos! Dig out your before pictures – look at how far you have come and use photos as motivation!!
Amy Grant
Amy is a mum to three children, the youngest being just two years old. She has been following Healthy Mummy for two months now, and has lost nearly a stone and 16 inches.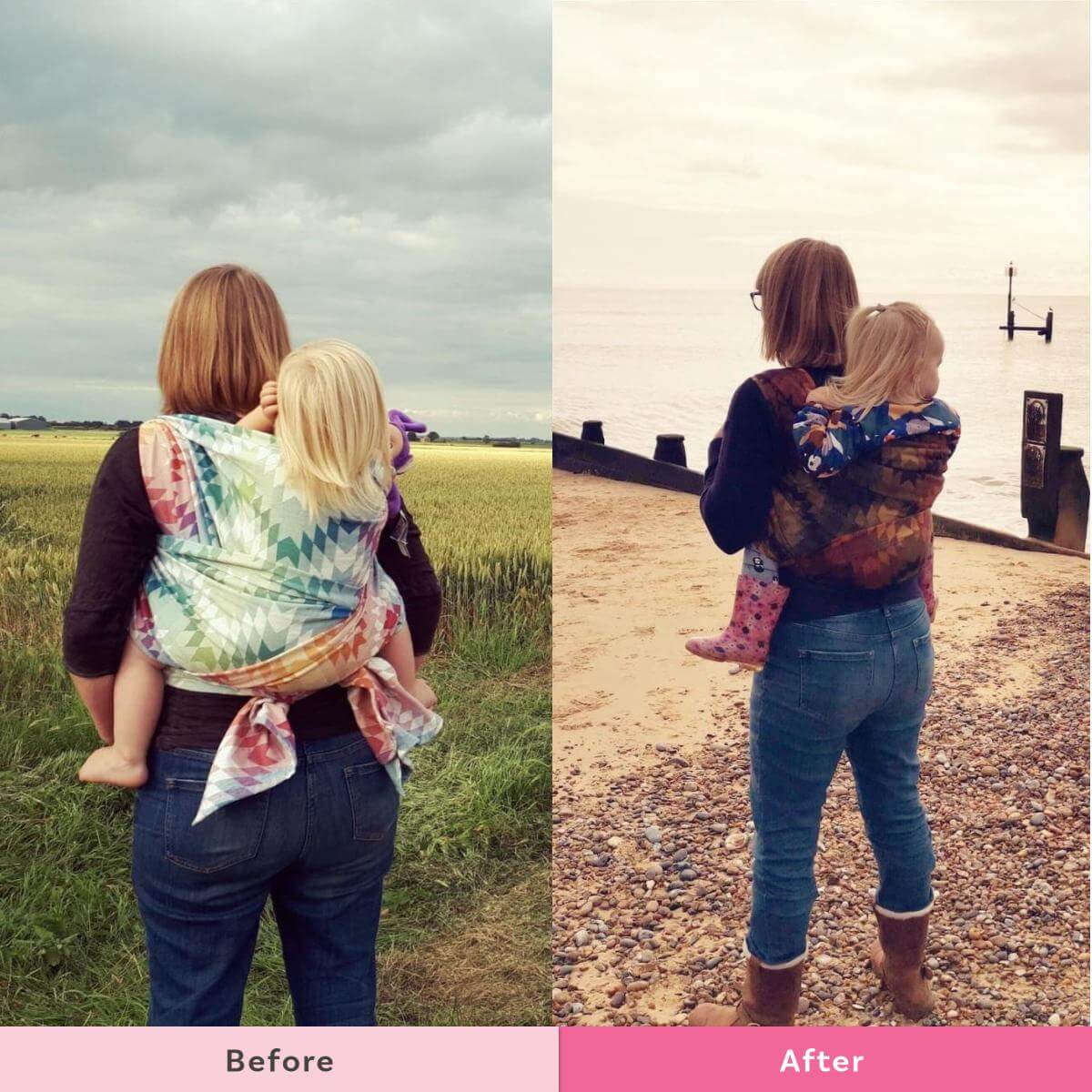 Amy's favourite recipes
"I love the Healthy Mummy recipes and my whole family is enjoying trying new things. If I'm honest though I am all about the snacks!
I have a major sweet tooth and sweet snacks are my thing, especially chocolate ones! I've attached a photo for you all to see some of my favourite Healthy Mummy snacks."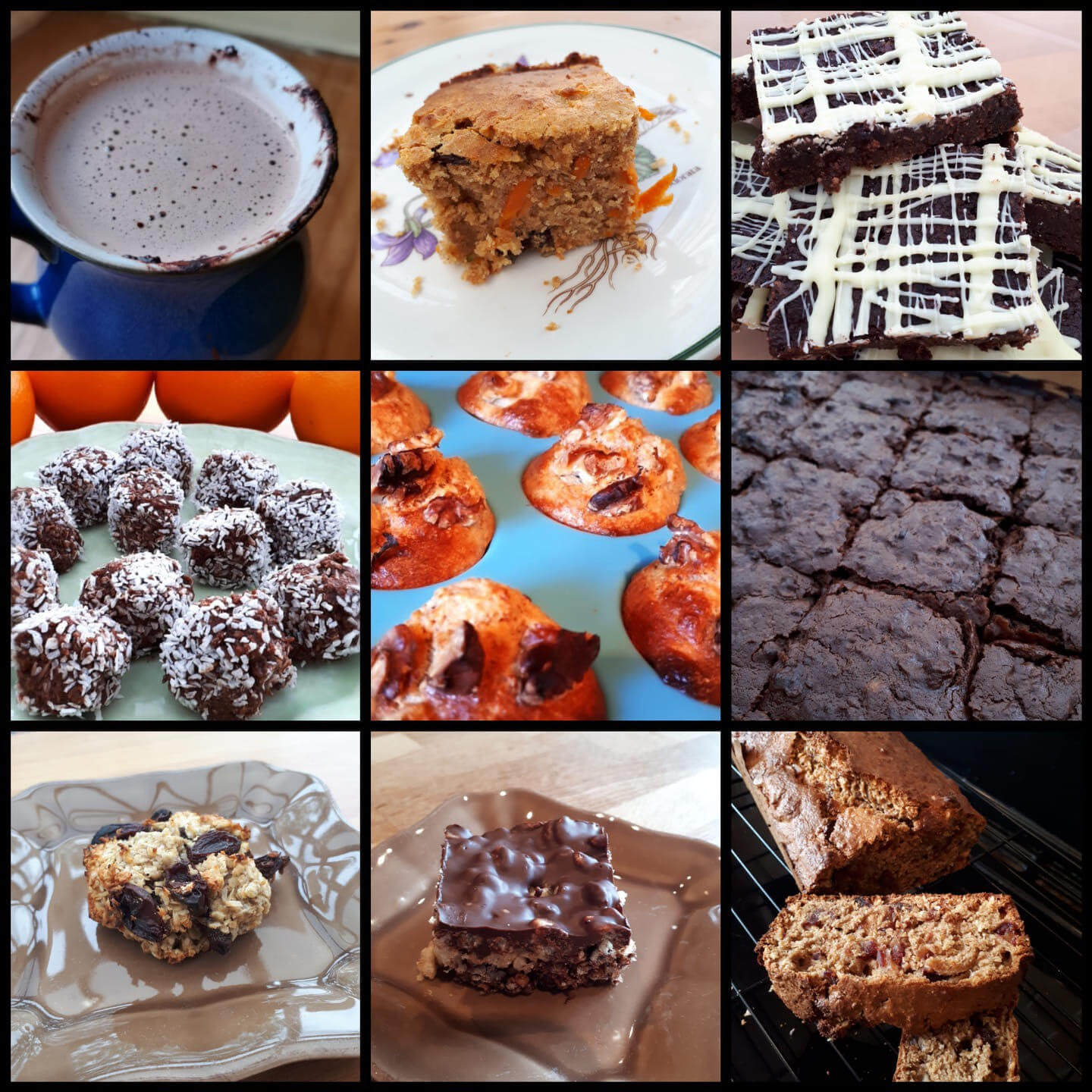 "If I had to choose a favourite one it might just be the Weetabix Slice, but very closely followed by the banana and chocolate loaf! "
Amy's motivation to join Healthy Mummy
Amy shares, "I have many reasons for following The Healthy Mummy and doing the 28 Day Weight Loss Challenge but for me, my number one reason is wanting to give myself the best possible chance of being around until I'm a little old lady!
Putting the right things in my body and exercising regularly is key to this in my eyes. My goal is just to keep going, to feel happy and confident and above all healthy."
Amy's top tips
Take a good full-length photo of yourself (you may hate it now but wow, when you look back on it you will feel fabulous!).
Make small changes, you don't have to start a 28 Day Weight Loss Challenge with a bang, it's not all or nothing. Giving yourself the chance to ease into it and making small changes over the month is the best way to help you get your head around it all.
Enjoy it! This is meant to be a lifestyle so enjoy it. If you're finding it hard or a chore, change something. Make the plan work for you!
Healthy Mummy Smoothies
"The Healthy Mummy Smoothies, while not something that you have to buy to follow the plan, are well worth it. They are genuinely delicious.
There are so many recipes you can try. I love that if I'm in a rush I can make a quick smoothie and take it with me. Much healthier than grabbing a chocolate bar or something out of the cupboard. And if I'm struggling with what to make for dinner I can just have a smoothie instead."
Health benefits
Amy shares, "I have seen so many health benefits since I started following Healthy Mummy. All those weird aches and pains I was getting (and just put down to age/being tired/being run down) have gone. I'm happier than I have been in a long time, my mindset towards food has totally changed and I am enjoying exercise (which for me is massive!!)"
Amy adds, "If you're a mummy you are already so good at looking after other people, you deserve all the best things too. Be kind to yourself and if you're not happy with something in your life, you have the power to change it or at least make your life the very best that it can be. "
Stephanie Dalton
Steph is a 43-year-old mum and step mum of five children aged from twenty to three with a granddaughter, she is a vicars wife from Bournemouth.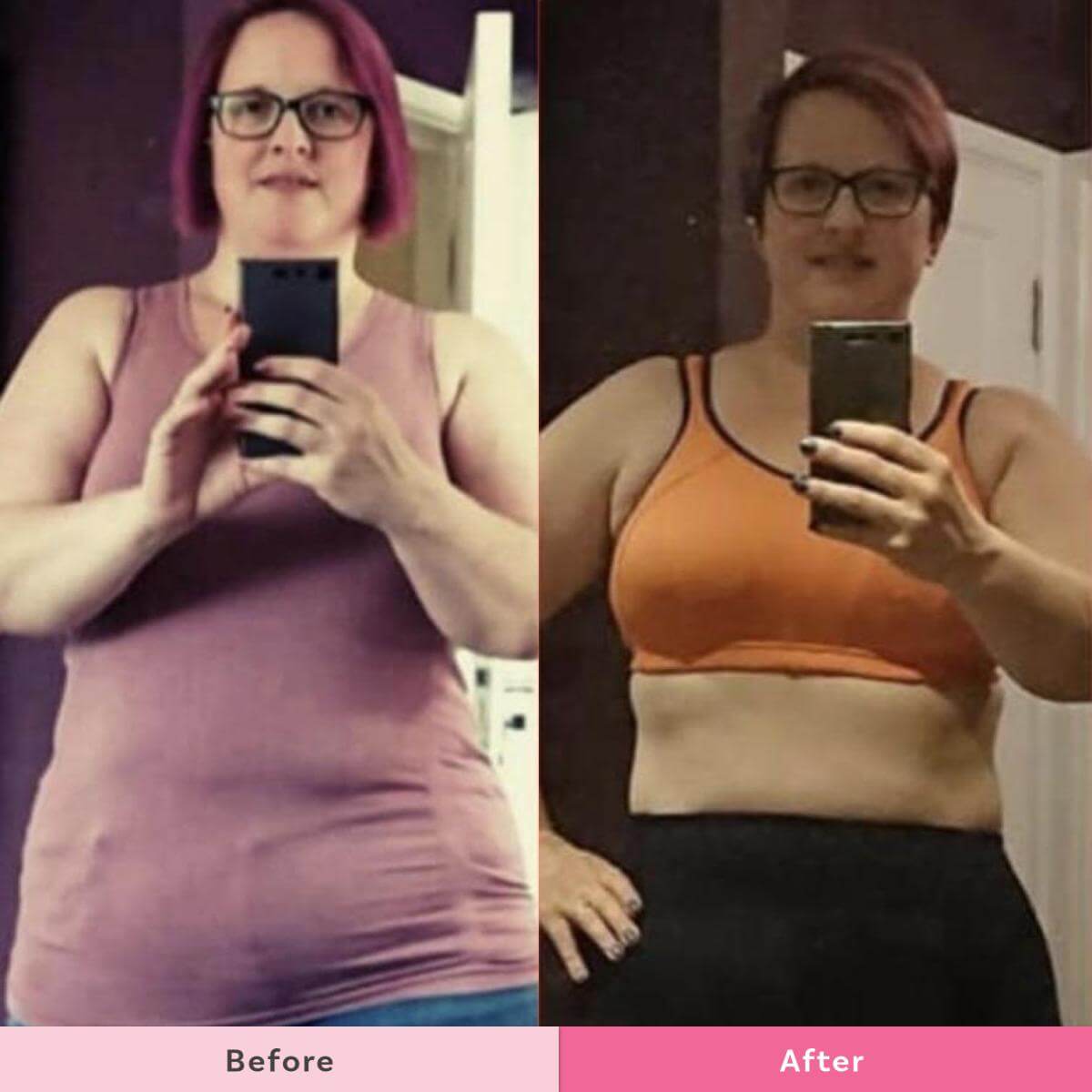 Steph started her Healthy Mummy journey in April 2019 and has lost 37 pounds and gone from a size 20/22 to a size 14\16 and from a couch potato to a runner.
Steph says, "My husband has been following the food plan and he's lost over three stone going from a 3XL and a 48-inch waist to an XL and a 42-inch waist. Even my kids love the snacks and enjoy a good Healthy Mummy 28 Day Weight Loss Challenge workout."
She adds, "It's literally changed our lives and I am so grateful!"
Lyndsey Seeley
Lyndsey, 38, from Glasgow lives with her husband and daughter who just turned four last week.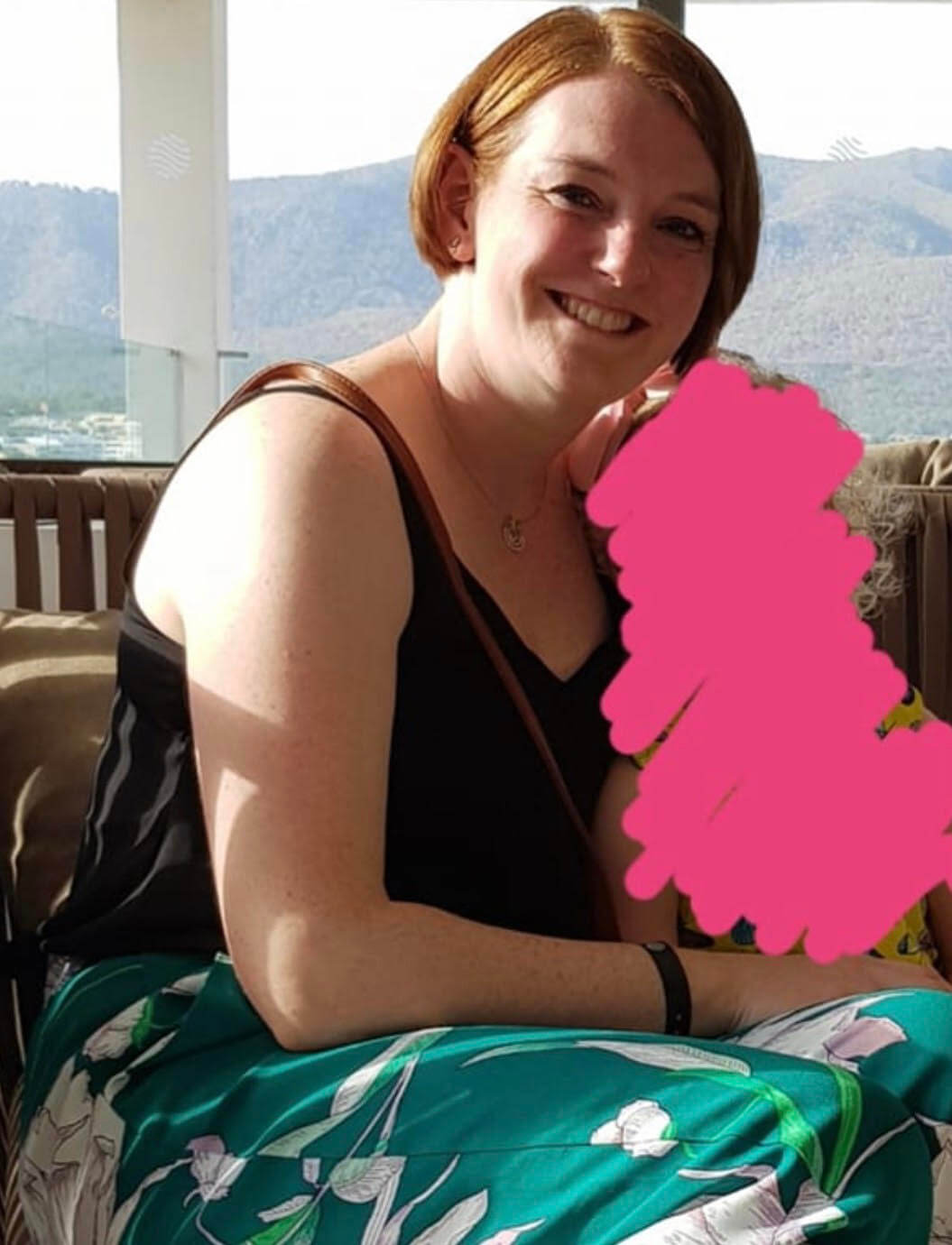 She has been a Healthy Mummy member since April 2018 but only started following it properly from April 2019 and over the summer months has lost an amazing 11lbs.
"I was a motivating mummy in June and July and really enjoyed it so I'm back to hopefully to motivate some of you again in November.
Like a lot of us once I had my holiday in Aug/Sept I fell off the bandwagon and have struggled to get back on it. But it's time for no more excuses and I'm motivated to take on November with a bang and get back on track to lose a stone."
Healthy Mummy Smoothies
"I love the Healthy Mummy Smoothies and can really see a difference in my hair and nails since I stopped having them regularly. I can't wait to get back to my daily smoothie and watch those nails grow!"
Lyndsey's top tips
Try and increase your water intake, I can't stress enough how important water is for the body to function properly and also helps with weight loss.
Set mini-goals each week, small steps add up to big ones and keeps you accountable.
Meal prep. Set some time aside each week for some prep, this will keep you on track and if you always have a Healthy Mummy snack on hand you are more likely to stick to your plan. Freezer stash is a life saver!
Paula Cooper
Paula, 47, lives in a village just outside of Ilkley in the Yorkshire Dales with her fiancé Loc and their two children, Lily five and Tobi three. Paula joined the Healthy Mummy in January 2019.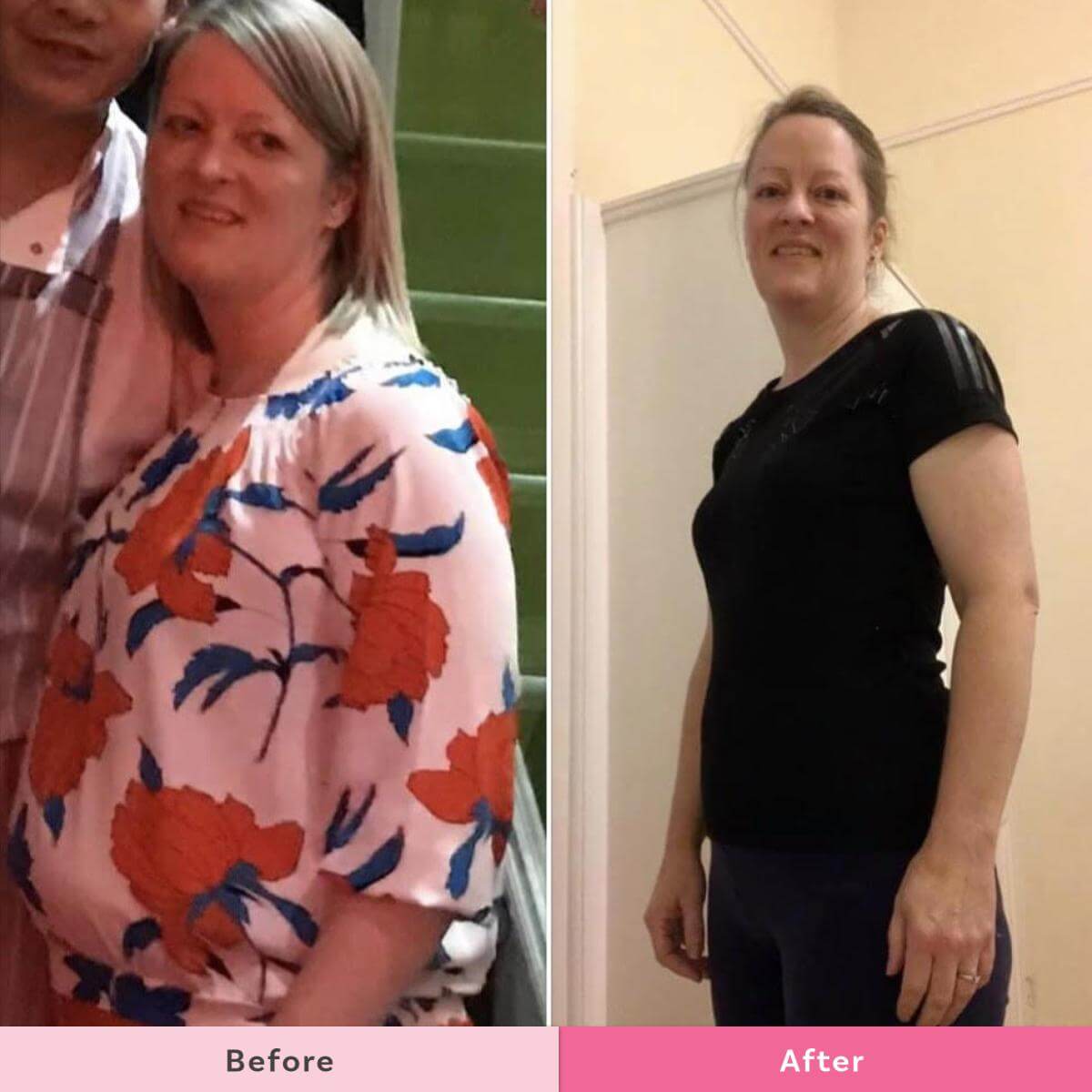 "I have lost 2 1/2 stone, 59cm from over my body (including 16cm from around my waist) and dropped from a size 16 to a size 10. I still have another 9 pounds to go to reach my goal weight and am working hard to achieve this by Christmas."
Paula's favourite recipes
"All the recipes are amazing so it is difficult to narrow down a favourite!
Lunch is probably Lebanese sausage rolls & Evening meals probably either Spanish rice or Greek lamb pitta's.
Snacks obvious favourite is Healthy weetabix slice, however I also love Florentine's & Turkish delight bites."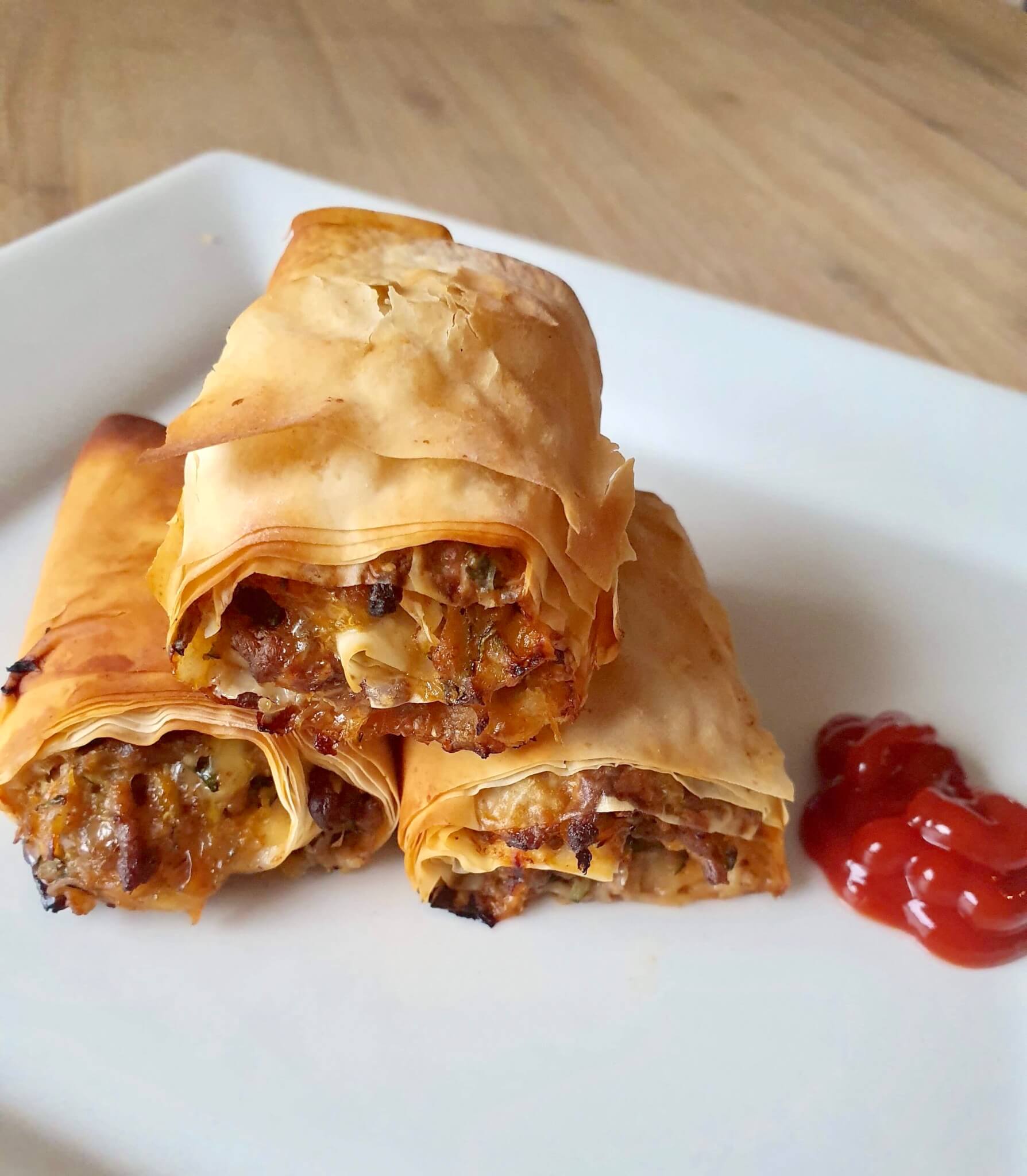 Paula's motivation to join The Healthy mummy
"Whilst people think I am doing The Healthy Mummy to lose weight in preparation for my wedding, in reality, it is so much more than that!
Yes, I am happy it has happened for my wedding. I now feel so much healthier, my skin and nails are so healthy with my life long cystic acne now better controlled than ever before. I have energy and don't feel tired all the time. I am now exercising again and loving it.
However more than any of that this lifestyle change is allowing me to be a great role model for my children. Letting them learn how to live a healthy life, eating well and exercising.
My goals are to reach my target weight & become fitter and more toned."
Paula's top tips
Meal prep & build yourself a freezer stash so help save time & keep you on track on those days it all seems too much, which we all have!
Drink lots of water, invest in a metal bottle as it keeps it cold and refreshing
Ask the Healthy Mummy community when you need help! We are all there to help you & have either been where you are or are heading there in our own journeys!
Kim Burton
Kim is a mum of two from Bristol. She joined Healthy Mummy in September 2019 and has lost 7 pounds but says her results are NSV (non scale victories), "I have lost inches over my body my thighs I have lost 3 which is the area I want to target. My goal is to be in size 12 by Christmas."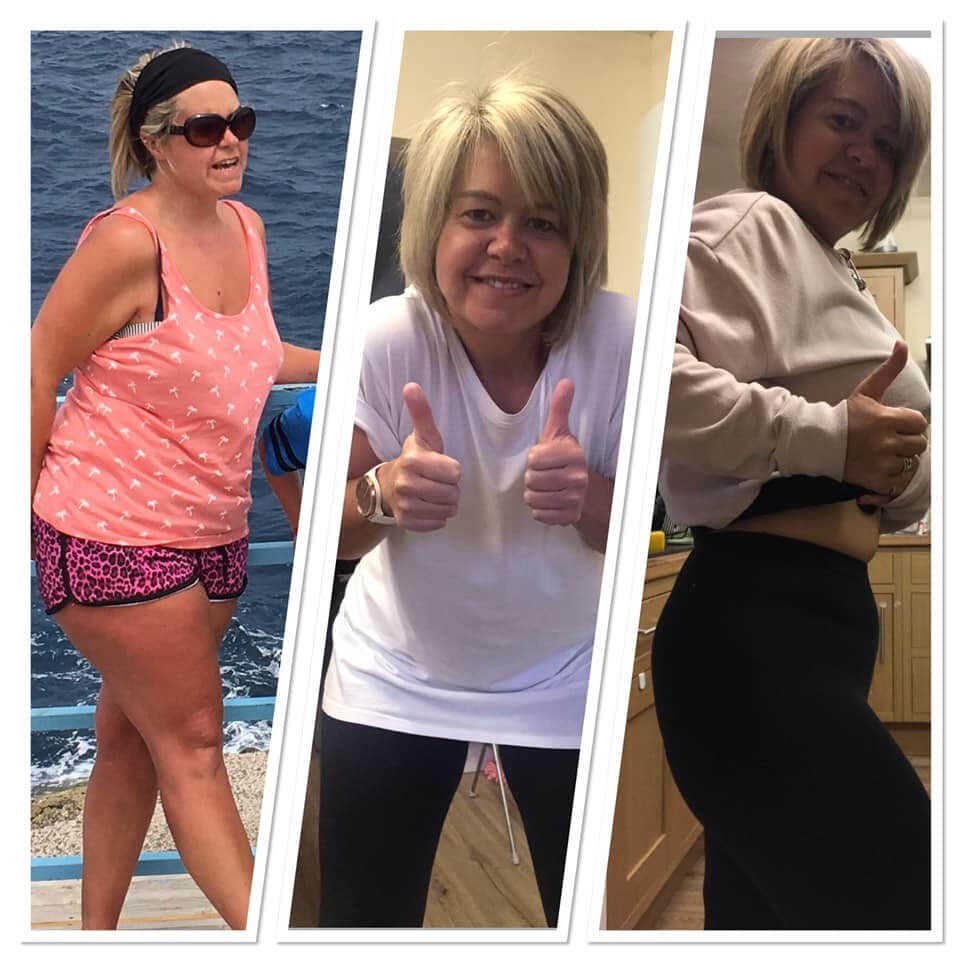 Kim's favourite meals
Kim's favourite meal is Peanut butter chicken curry but she does love to make Pizza because her daughter loves it and it's so quick and easy to do.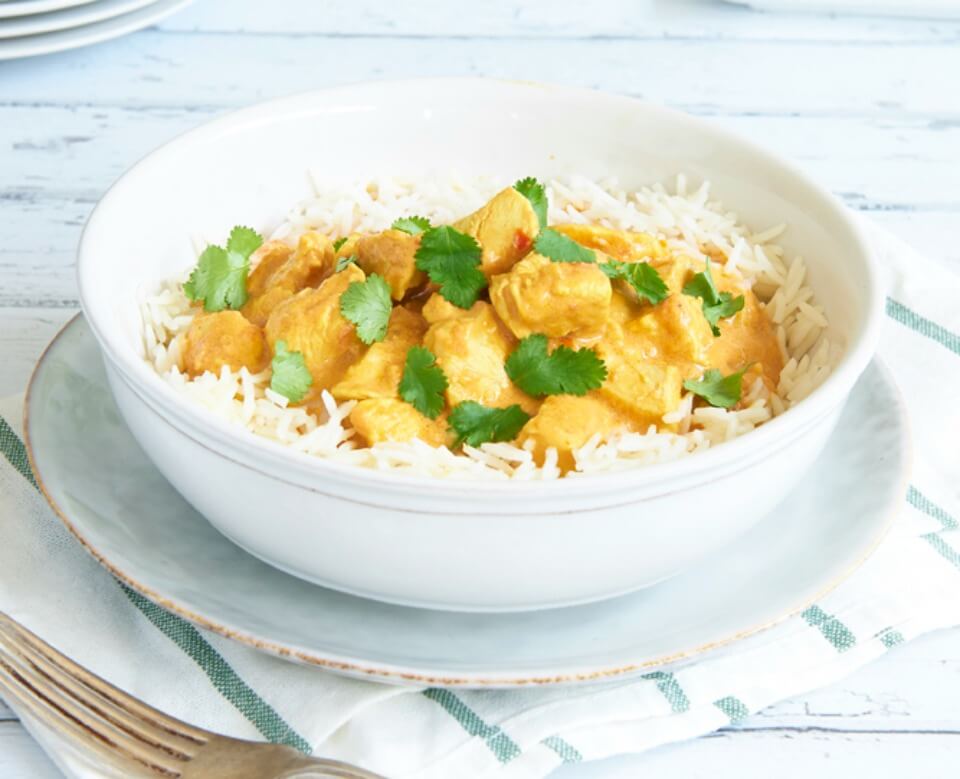 Kim's top 3 tips
Take your measurements for the start
Celebrate any victory's you have as these are so important
Keep chipping away at your goal
Healthy Mummy Smoothies
Kim shares, "I have the Healthy Mummy Smoothies every day because they are so versatile, plus you can use a flavoured milk like alpro which really makes them feel naughty. "
The Healthy Mummy has also taught me how to cook better using ingredients I never have used before like
•coconut oil
•coconut sugar
•wholemeal flours
"I use these to make many snacks which keep me from reaching for chocolate or biscuits. My favourite snack has to be Chocolate Chip Banana loaf its heaven with a cup of tea."
Natalie Cowie
Natalie is a mum of five from Basingstoke. She joined Healthy Mummy in April 2018 and has lost around 32 pounds so far.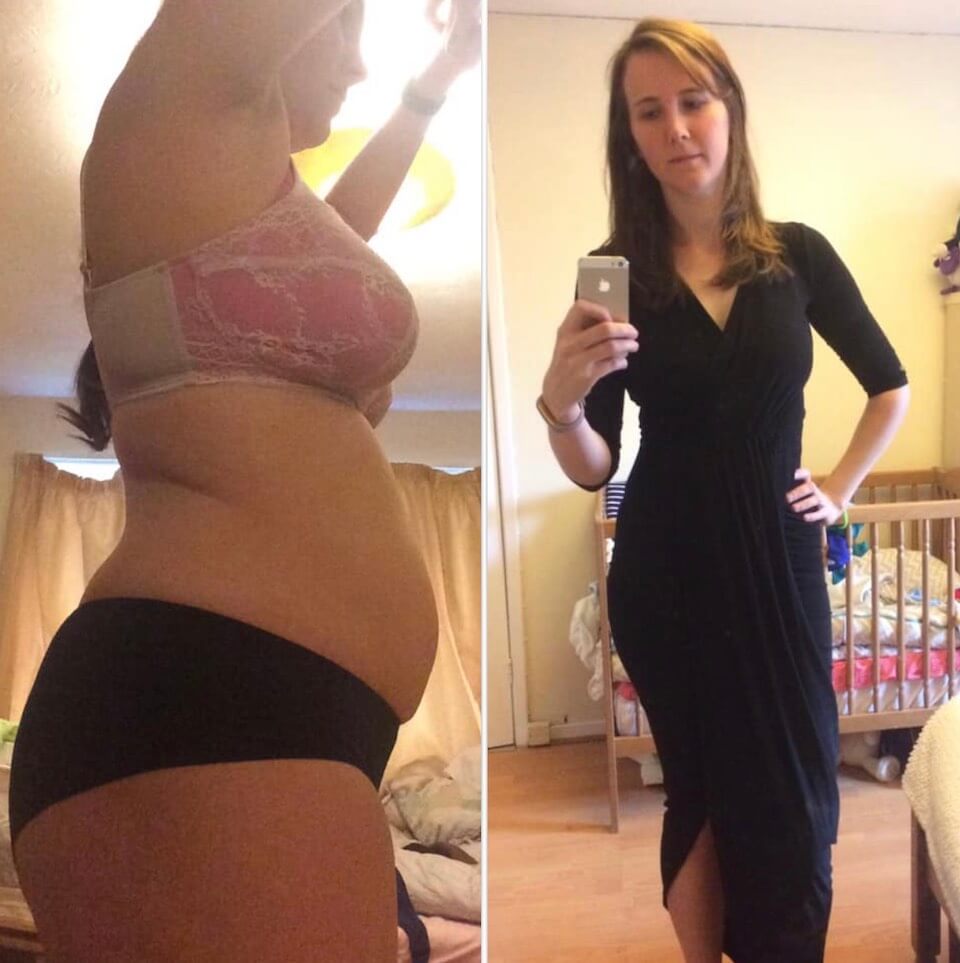 Natalie's motivation for joining Healthy mummy
"I joined because I was putting on weight after having my fifth baby. I'd had Gestational Diabetes during pregnancy so I am more at risk of getting type 2  Diabetes now, so I needed to do something as my health was at risk and I want to stay fit and healthy for my children.
I was originally aiming for 9st 7lbs, but being 5ft 10 I'm now at a healthy weight hovering at around the 10stone mark and I'm very happy with where I've got to."
Nat's top tips
Take things nice and slowly. It's not a race.
Ask for help if you need it, the Healthy Mummy support group is amazing!
Eat to calories. It may seem a lot, but it does work!
I have used the Healthy Mummy Smoothies, I love them. I used to skip breakfast but don't any more as I can grab a smoothie x
Thanks for sharing some info about yourselves mums. We look forward to hearing more from you during November.
Join the 28 Day Weight loss Challenge
The no.1 mums only health, fitness & weight loss program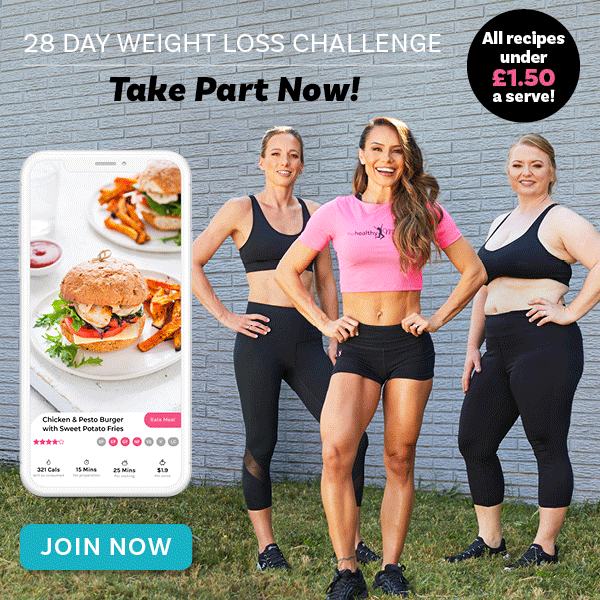 Take part now in the 28 Day Weight Loss Challenge – made for BUSY mums!
It is like a PT, Coach, Nutritionist & Chef – ALL IN YOUR POCKET – with EASY to follow food & fitness plans
You get unrestricted access to :
● Nutritionist & chef designed weekly meal plans
● Personal Trainer crafted At-home workouts- 28 minutes and under
● Daily Motivation from My Coach
● Personalised Shopping lists to make life easy
● Over 4,000 healthy and delicious recipes at your fingertips
● REAL TIME support from The Healthy Mummy Team and OVER 200,000 other mums