Hi, I'm Rhian, mum to two little boys and the founder of The Healthy Mummy and the 28 Day Weight Loss Challenge.
The Healthy Mummy is a health and weight loss program created for busy mums. It all started back in 2010 when I was pregnant and wanted to create a supportive and holistic program for mums.
Fast forward to now, and now millions of mums use our famous 28 Day Weight Loss Challenge and Healthy Mummy Smoothies every day.
Today, I wanted to share my Top Go-To Snacks Under 100 Calories.
My top go-to snacks – all under 100 calories
Eating the wrong snacks can be detrimental to our weight loss success. It is so easy to be tempted by chocolate bars, crisps, biscuits and other high-calorie snacks when we don't have healthy alternatives on hand.
Even products like cereal bars that are marketed as 'healthy' often contain a boatload of sugar, fat and very little nutrition.
So here at The Healthy Mummy, we have created hundreds of delicious guilt-free savoury and sweet snack recipes that you can enjoy as part of your weight loss eating plan.
Whether you have a sweet tooth or prefer savoury, these guilt-free snacks can be enjoyed any time of day or night which makes them perfect for busy mums. And did I mention children and husbands love them too!
My top healthy and delicious snacks below are easy on the wallet and take minimal time to prepare. So easy, I often get my boys involved.We put on music and turn it into a fun activity. Stirring together muffins ingredients, dropping chocolate chips in the bowl and shaping bliss balls. And the best part for them – they get to lick the bowl afterwards!
With my kids being fussy eaters, I find that when they are involved in the cooking process they are more likely to eat what we prepare. And that's a big WIN!
The beauty of these snacks below is that you can prepare them in bulk and store them in your freezer or refrigerator.
And when hunger strikes you know you have something that not only tastes great but is good for you and the whole family.
1. Banana, Raspberry and Chocolate Chip Muffins – 97 calories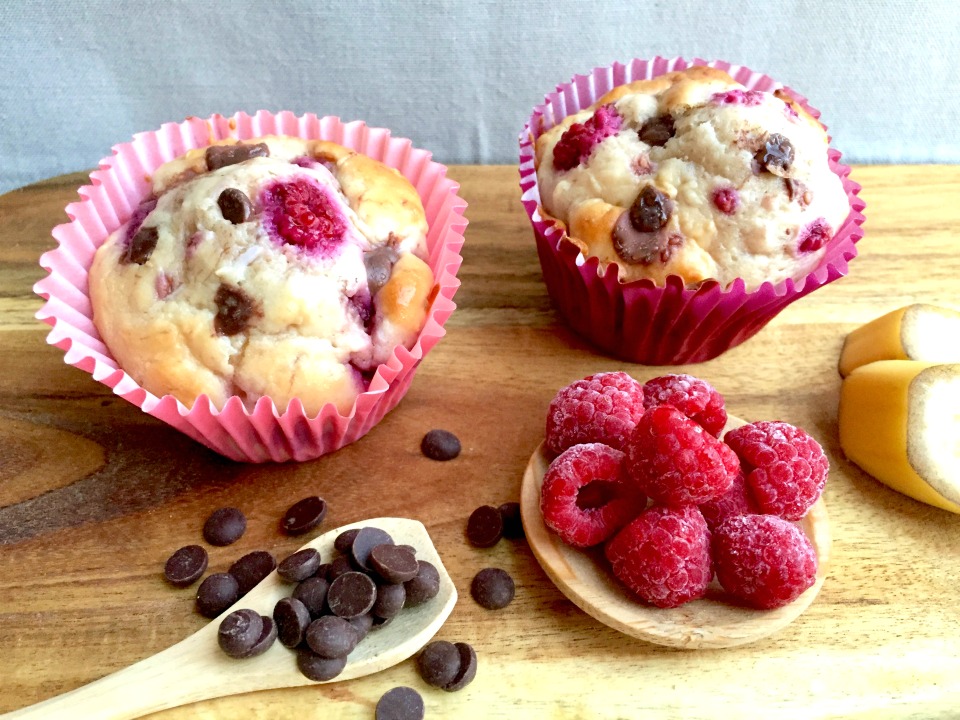 These are a lunchbox favourite for my boys.  Delicious and moist with just the right amount of sweetness from the raspberries and dark chocolate.
Banana, Raspberry and Chocolate Chip Muffin recipe
2. Chocolate Salty Pretzel Ball – 85 calories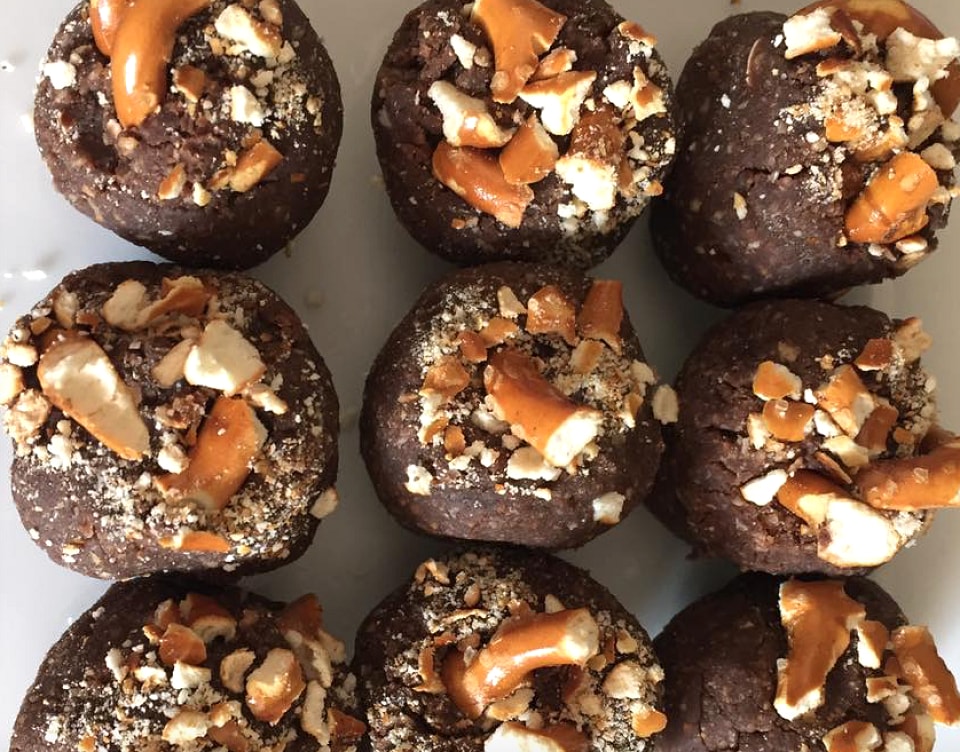 I love chocolate as much as the next person and when my chocolate craving strikes (often mid-afternoon) these bliss balls really hit the spot.
The combination of oats, cacao and salty pretzels satisfies not only my hunger but my chocolate craving too. Super easy and quick to prepare and absolutely no baking required.
3. Healthy "hidden veggie" sausage rolls – 70 calories per roll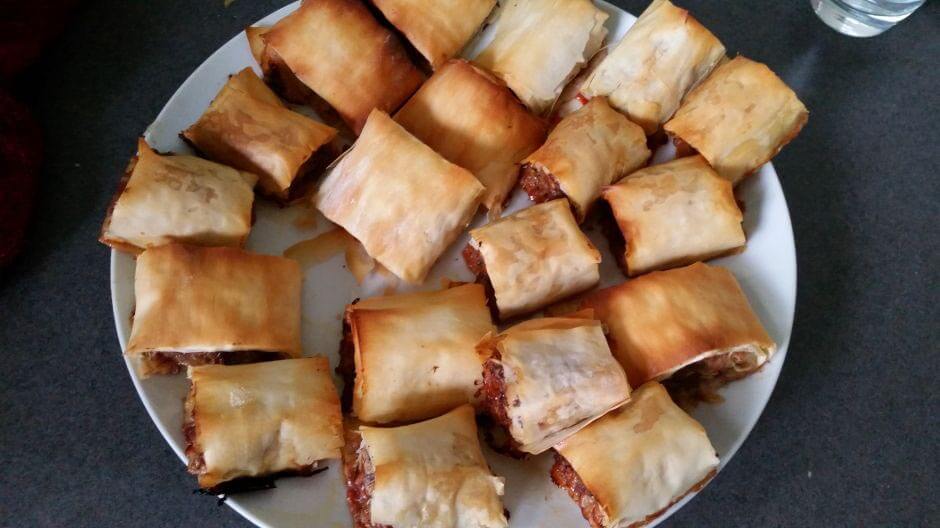 Did I mention I have two fussy eaters in my household? Oh yes! So it's a no-brainer why these Hidden Veggie Sausage Rolls are on my list.  Although best served hot, they are tasty chilled too, so I often pop a few in a lunchbox when we go on picnics and to the playground.
Healthy "Hidden Veggie" Sausage Roll recipe
4.  Chocolate chip cookie dough bliss balls – 82 calories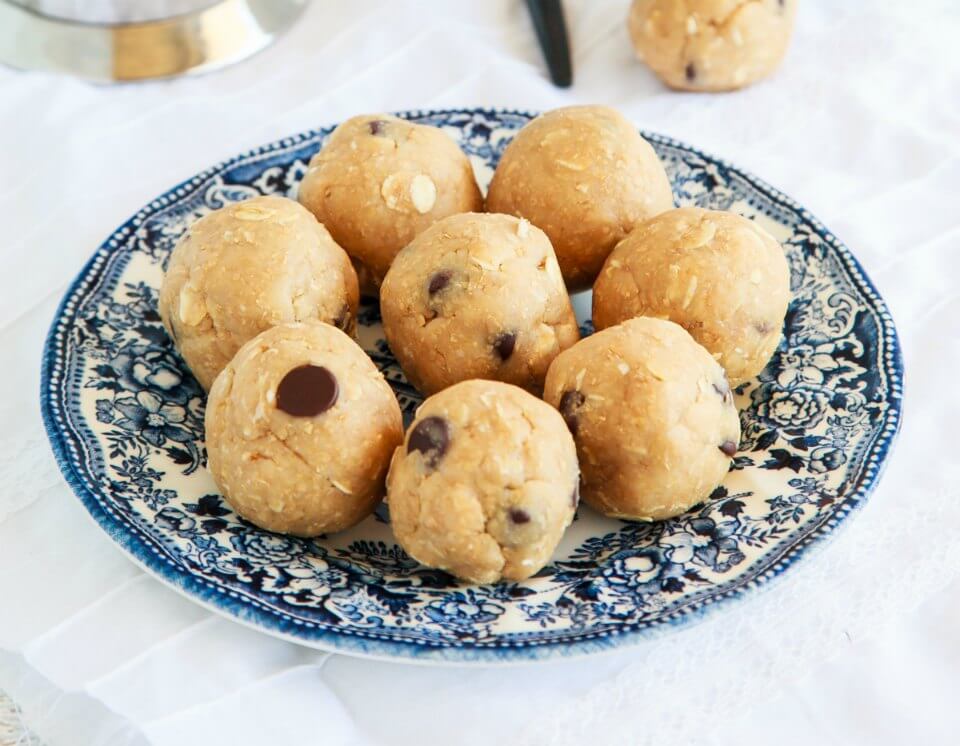 Ahh, that taste of eating cookie dough never gets old!. These are the perfect pop and go snack and a firm favourite in my household.
I take them to work, picnics, sporting events, and also pack them in school lunch boxes.
Grab the Chocolate Chip Cookie Dough Bliss Balls recipe here. 
5. Parmesan Rice Patties – 69 calories each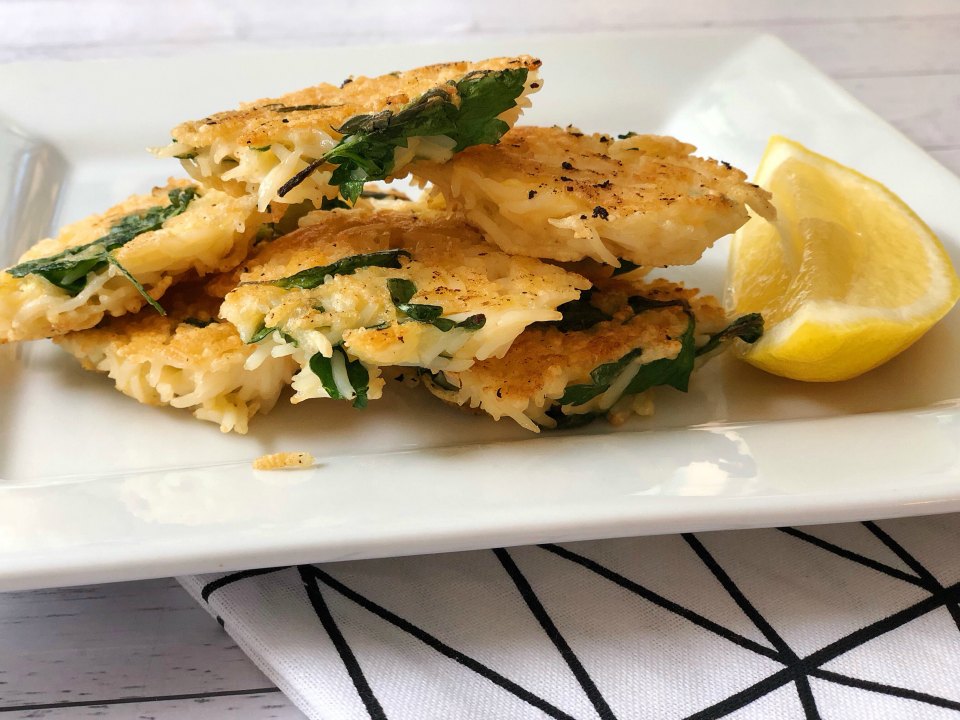 When I crave something savoury I love to prepare these Parmesan Rice Patties. I often make them when I have left over cooked rice. And depending on what other leftovers I have laying around I like to customise them – adding some corn, chopped ham, leftover roast chicken or even some chickpeas for extra fibre.
They store well overnight in the refrigerator and what my husband and I don't eat that night, we consume the next day.
You can check out this recipe in the 28 Day Weight Loss Challenge recipe hub
6. Salted Caramel Popcorn Cups – 96 calories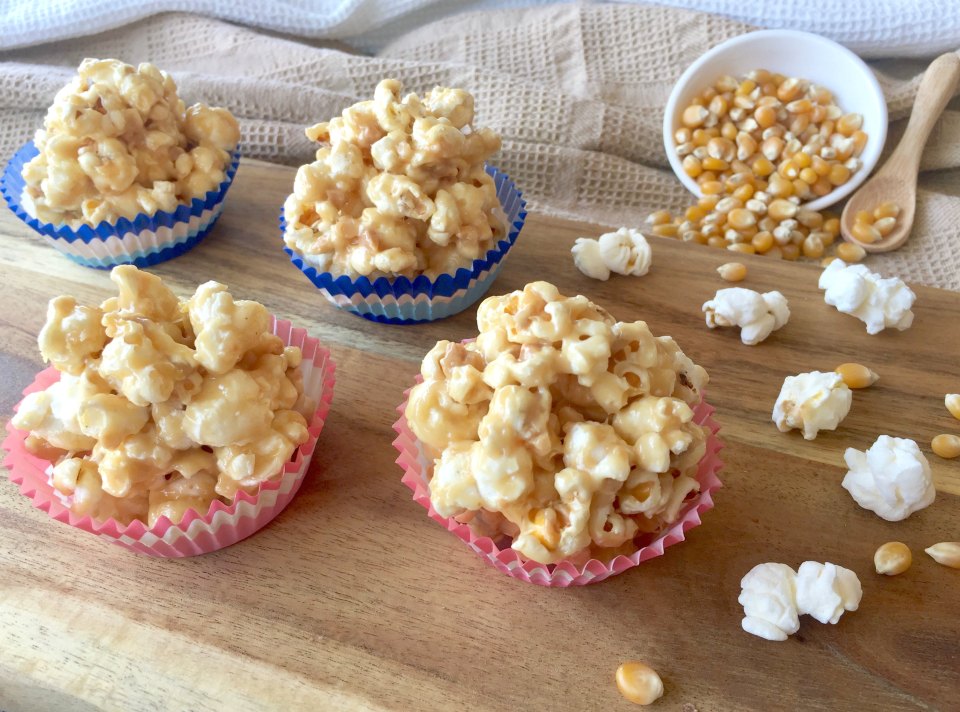 What's a family movie without popcorn? The perfect blend of sweet and salty – these little popcorn treats are a huge hit in my household and when served in colourful cupcake wrappers they feel like a celebration.
I've taken these to kids and adults parties and they are loved by all ages. Easy to hold in one hand and not too messy.
You can check out this recipe in the 28 Day Weight Loss Challenge recipe hub
 7. Mint Cream Bliss Balls – 85 calories per ball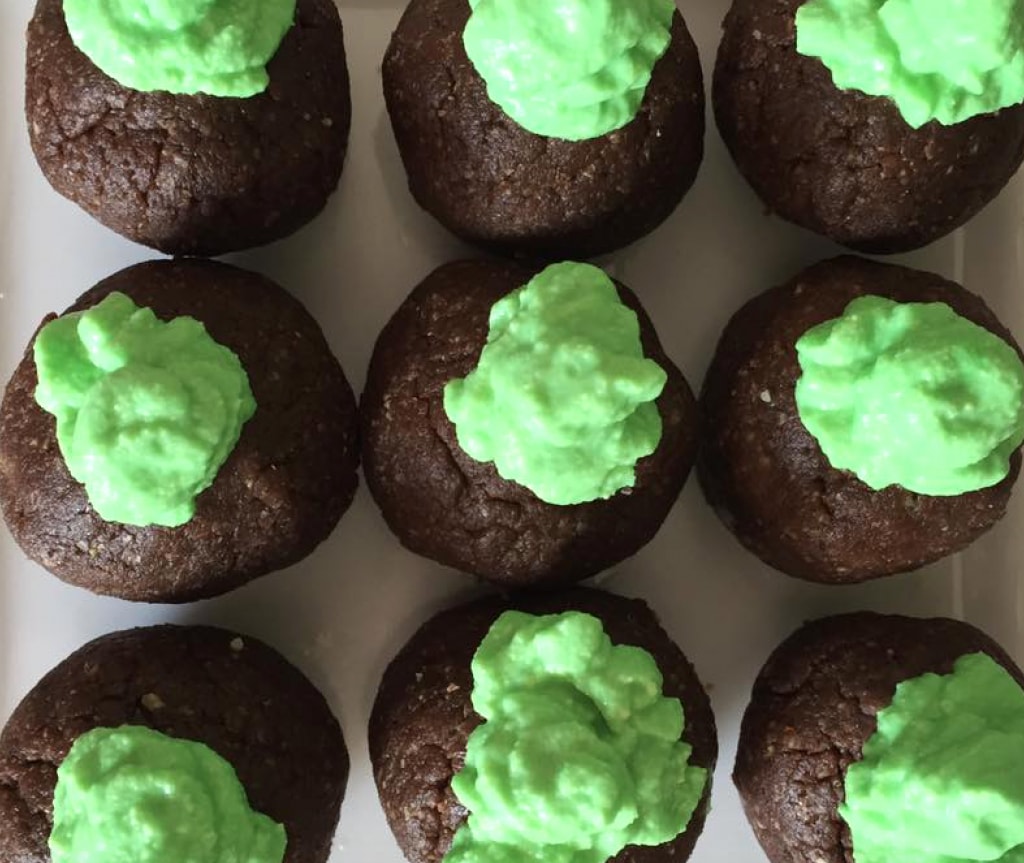 These healthy Mint Cream Bliss Balls are my healthy alternative to after eights. Low in calories and high in flavour and green goodness including matcha and peppermint.
8. Tamari Almonds – 84 calories per serving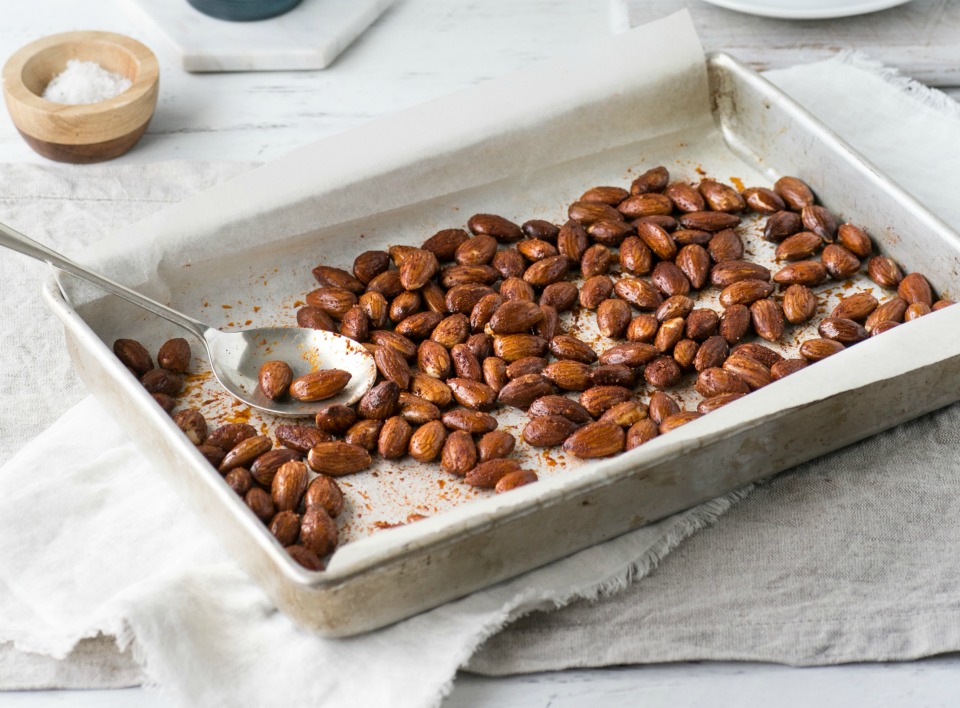 Packed with protein and fibre, these Tamari Almonds are perfect for keeping my hunger at bay and so easy to make.
Want more great snack recipes? Join our 28 Day Weight Loss Challenge
Love the sound of these recipes and want to access to thousands and thousands more just like them (along with great exercise plans and 24/7 support)? Then be sure to check out our 28 Day Weight Loss Challenge.
Our 28 Day Weight Loss Challenge in particular has been able to help mums lose their baby weight, tackle their health and HIT their weight loss goals.
Our Challenge includes:
28 days of at home exercise routines (no gym needed) – with video instruction
New CHALLENGE THEME each month – so you'll NEVER get bored
Customisable and breastfeeding friendly meal plans
Time-efficient exercises for busy mums – under 30 mins
Challenge combines Pilates exercises with interval and circuit training (HIIT)
Suitable for basic to advanced fitness levels
Home to thousands of EASY-TO-MAKE recipes!
Find out more or join the 28 Day Weight Loss Challenge today