To celebrate St Patrick's Day on March 17th, we've got ELEVEN fabulous 28 Day Weight Loss Challenge recipes to celebrate our favourite GREEN ingredients.
Think pesto, spinach, broccoli, mint, avocado – all made into healthy yet delicious meals, snacks and drinks.
So get yourself ready for a green fiesta of flavour!
As part of the 28 Day Weight Loss Challenge, members have access to more than 4,000 healthy recipes like this. Lose weight with delicious food that the whole family can enjoy with you.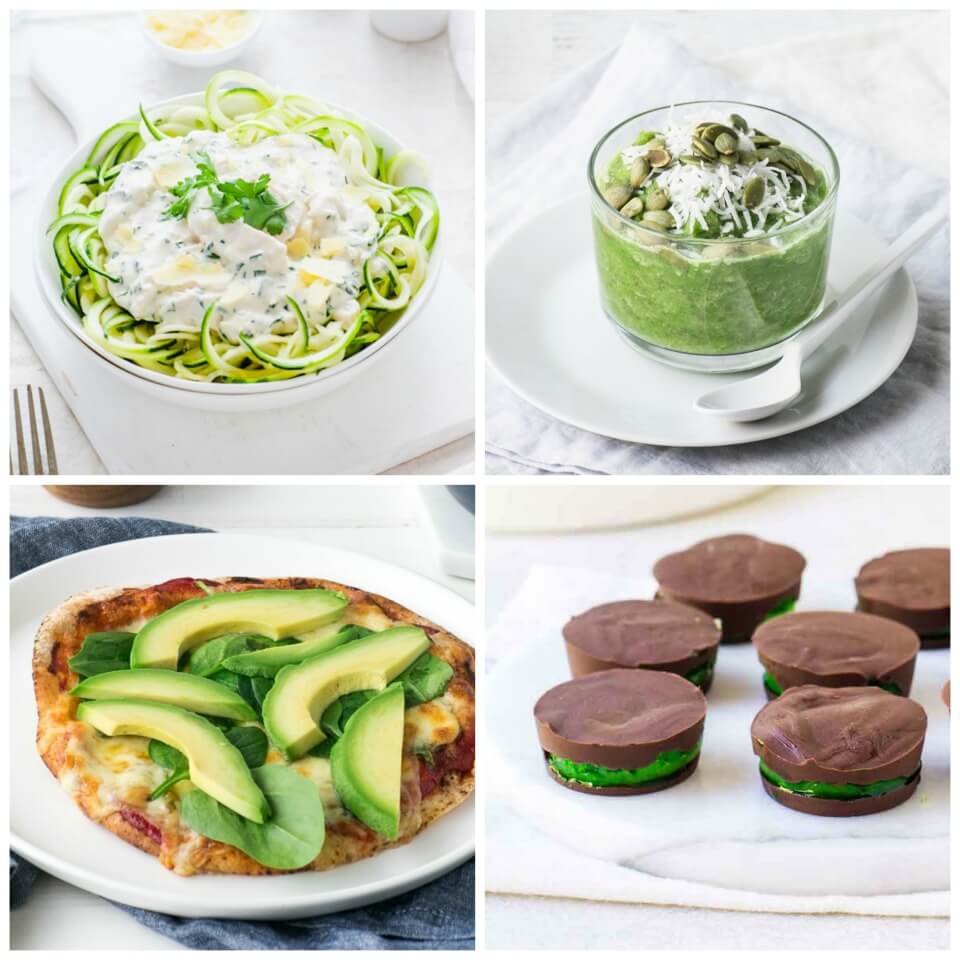 1. Avocado and Baby Spinach Breakfast Pizza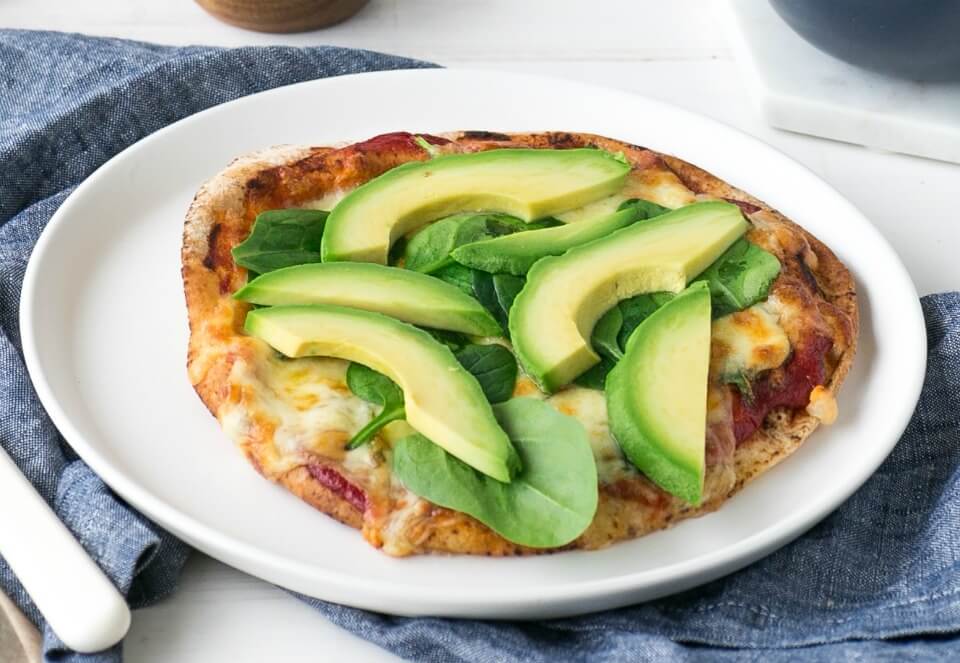 340 calories per serve
That's right, pizza for breakfast! This recipe takes no time at all and is a great way to start the day.
Ingredients (Makes 2 servings)
2 small wholemeal pitta breads (60 grams)
2 tbsp tomato passata (40 mls)
1 medium avocado, sliced (120 grams)
2 cups baby leaf spinach (60 grams)
1/2 cup cheddar cheese, reduced-fat, grated (120 grams)
Method
Preheat oven to 180C / gas mark 4. Spread tomato passata over pitta.
Top with baby leaf spinach and cheese.
Place pizza on a baking tray and bake for 10-15 minutes until cheese is golden and pitta is crispy.
Top with sliced avocado to serve.
2. Pesto, Spinach and Ricotta Rolls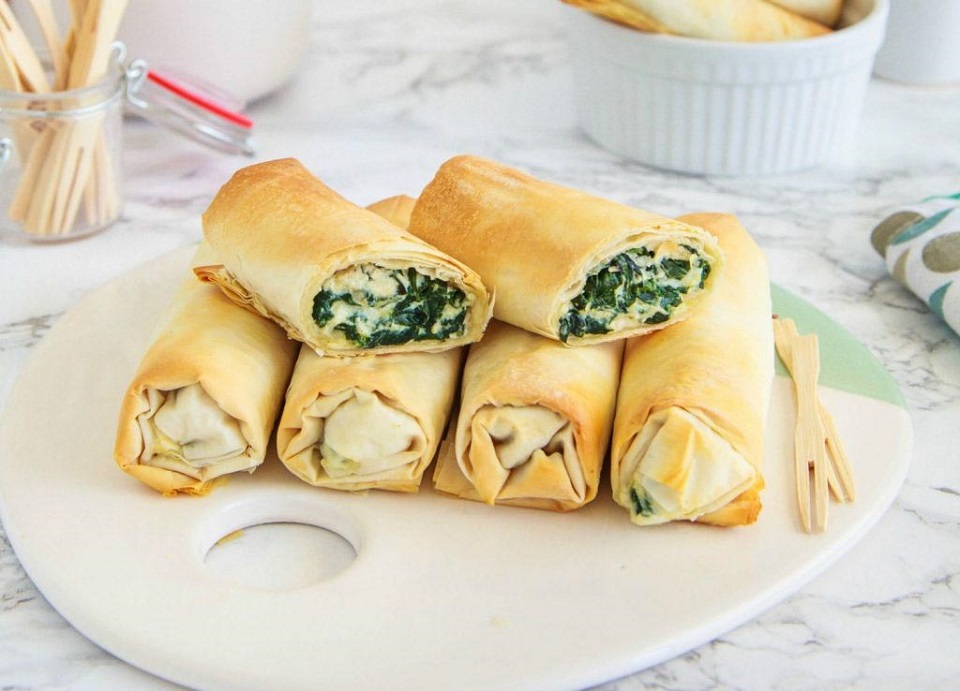 171 calories per serve
We absolutely love recipes with just a handful of ingredients, and this one is a goodie!
Recipe available on the recipe hub of the 28 Day Weight Loss Challenge.
3. Super Green Breakfast Pudding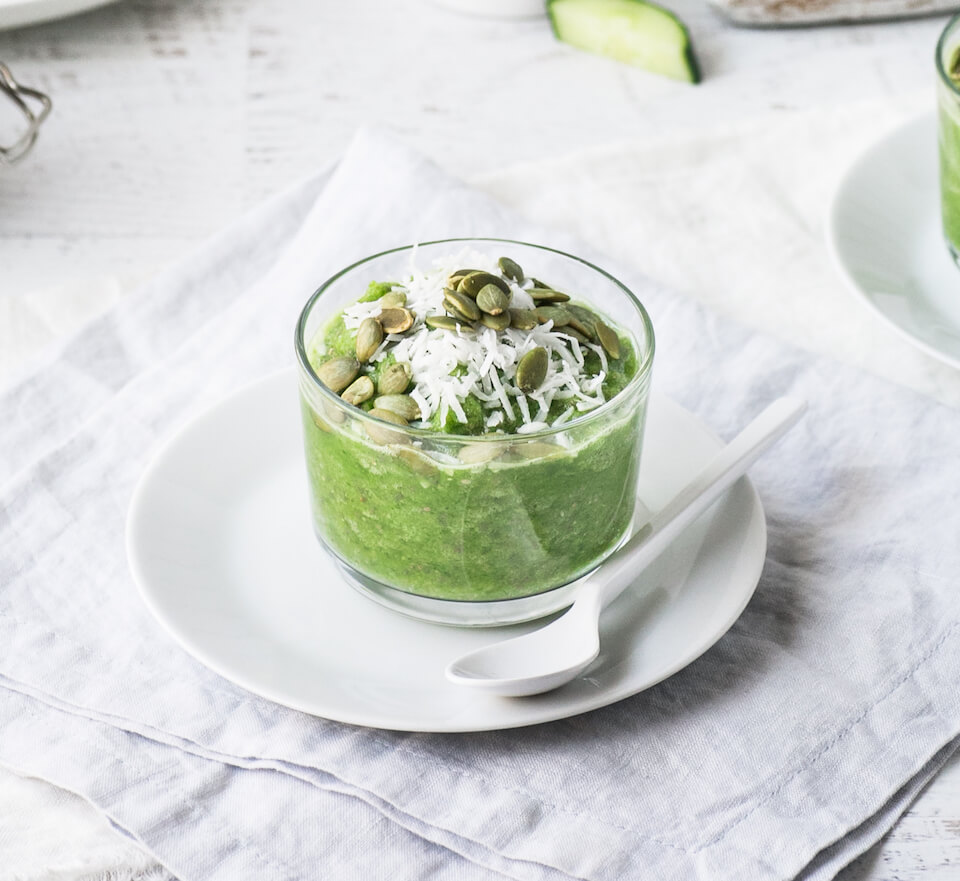 301 calories per serve
A cleansing, high fibre breakfast recipe. This is great for those busy mornings as you can prepare the night before and have ready to go first thing.
Ingredients (Makes 2 servings)
4 stalks celery, chopped (160 grams)
2 cucumbers, chopped (400 grams)
2 small apples, chopped (200 grams)
2 cups kale (60 grams)
2 tbsp fresh ginger, grated (32 grams)
3 tbsp lemon juice (45 mls)
1/3 cup chia seeds (60 grams)
2 tsp pumpkin seeds (pepitas), roasted (8 grams)
1 tbsp shredded or desiccated coconut (10 grams)
Method
Place celery, cucumber, apple, kale, ginger and lemon juice in a blender and blitz until well combined. If making more than one serve, blend in batches to fit in blender.
Spoon into a bowl and combine with chia seeds. Allow to sit for 25 minutes or overnight so the pudding can thicken.
Serve topped with pumpkin seeds and coconut.
4. Green Goddess Smoothie
279 calories per serve
For a refreshing, sweet and nutritious start to your morning, why not try this delicious smoothie for breakfast?
5. Broccoli, Spinach and Feta Frittata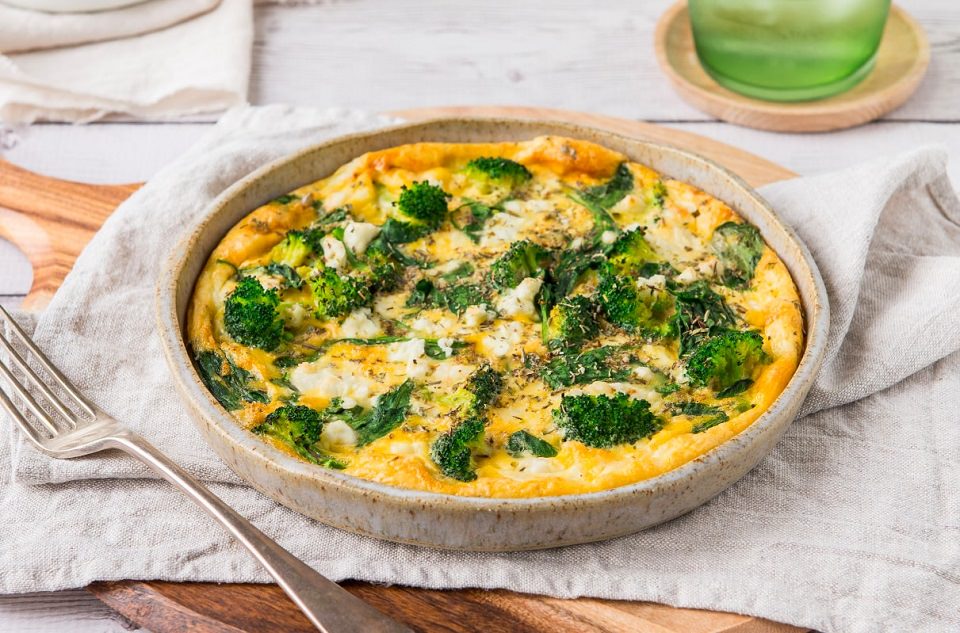 245 calories per serve
The spinach, eggs and cheese in this recipe are a trifecta of healthy ingredients. It can be prepared in no time, meaning you'll have more time to play with the kids instead of cooking.
Recipe available to members of the 28 Day Weight Loss Challenge.
6. Asparagus and Bacon Rice Salad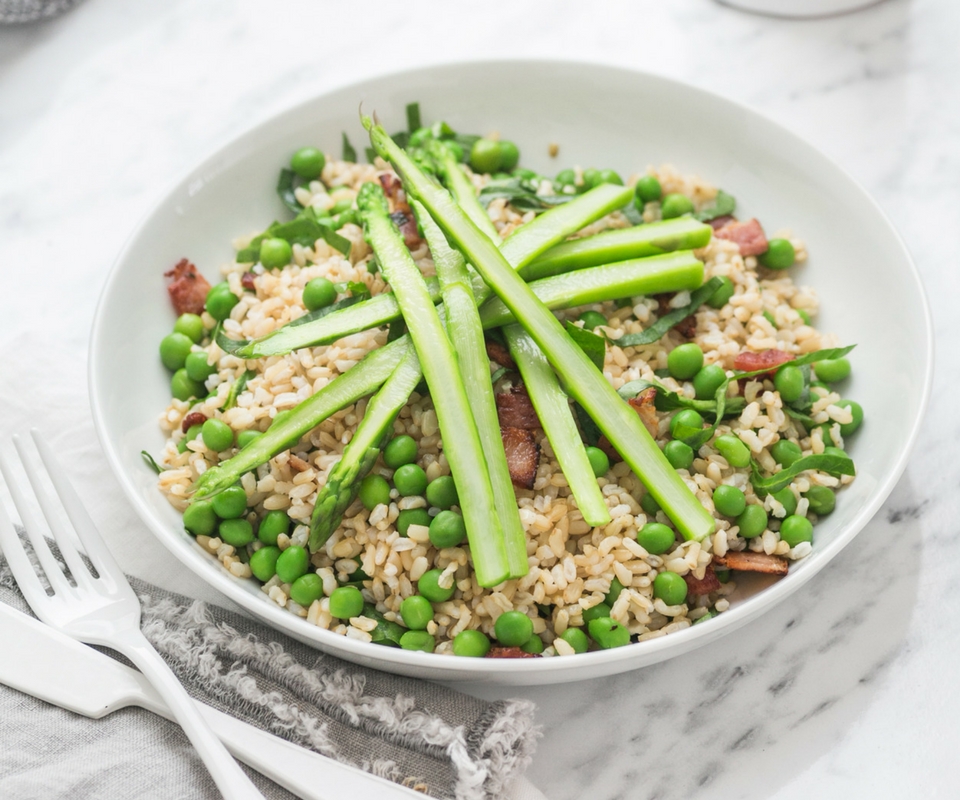 315 calories per serve
Asparagus, peas and bacon are a perfect flavour match! Use leftover rice to make this in a flash. You could even pre-make the whole salad and store in the fridge.
This recipe is available for members only, in the 28 Day Weight Loss Challenge.
7. Roast Courgette Dip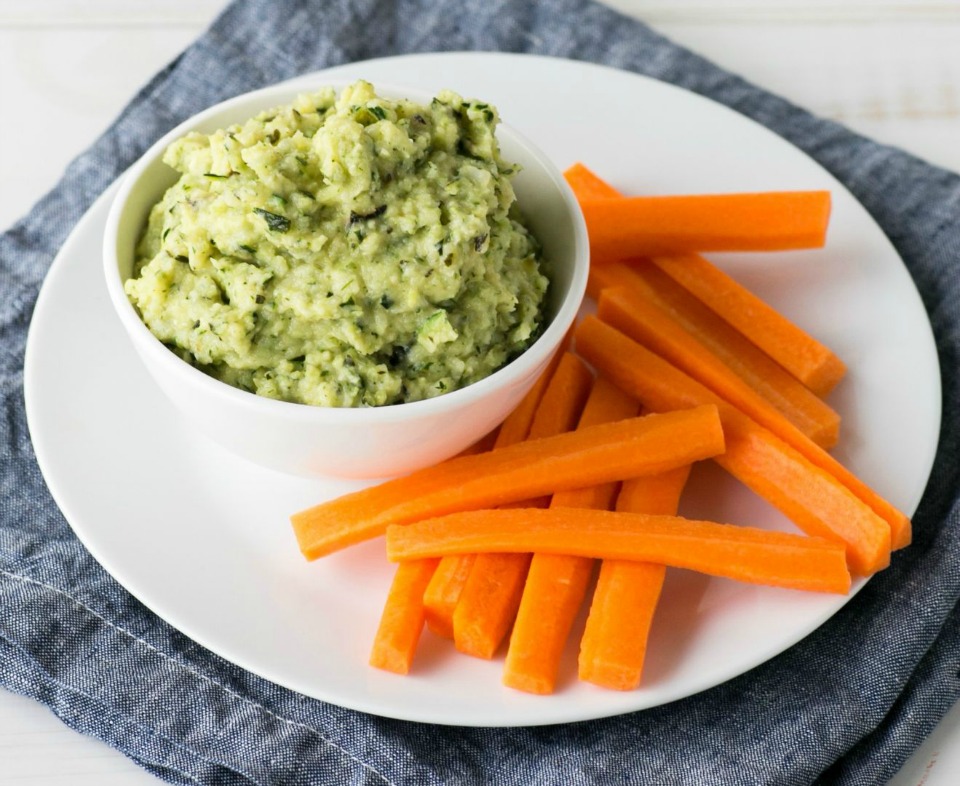 140 calories per serve
This simple dip tastes great as a healthy side dish with some fish or roast chicken, or even as a dip for some carrot sticks or celery batons.
Recipe available from the 28 Day Weight Loss Challenge.
8. Creamy Super Greens Soup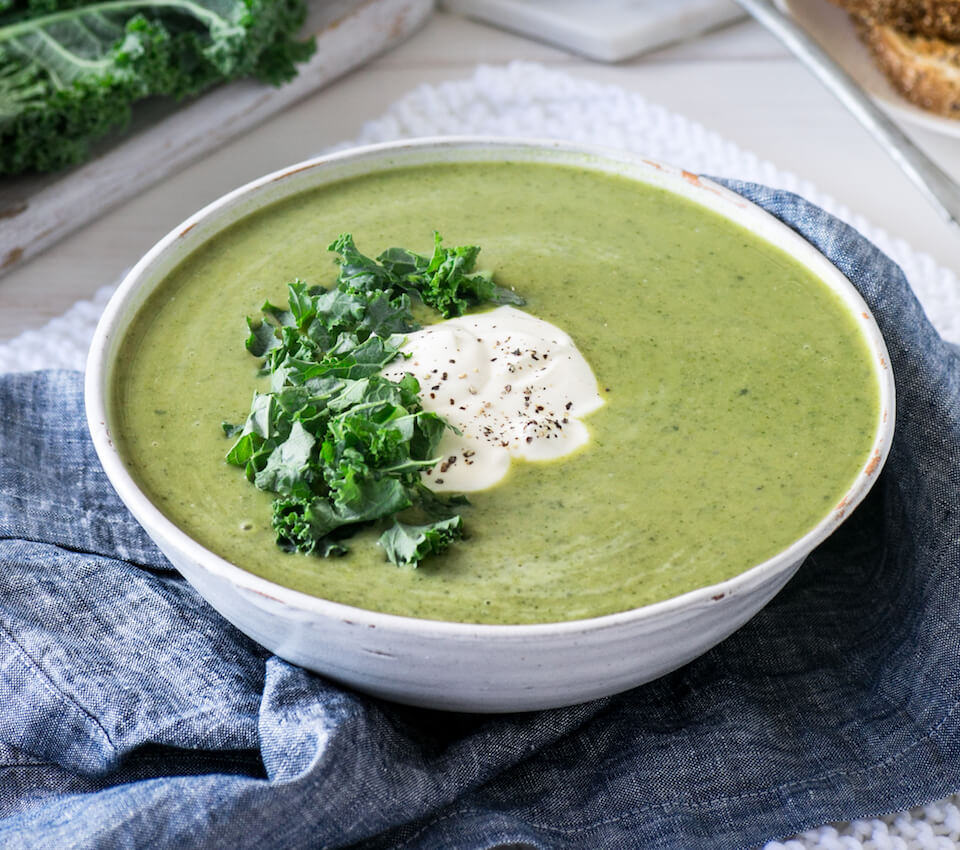 283 calories per serve
This delicious creamy soup is full of super healthy greens as well as tasty smoked ham. Increase the quantity to feed the whole family or store in an airtight container in the fridge for another day.
Ingredients (Makes 4 servings)
2 cups broccoli (200 grams)
80 grams lean smoked ham
1 tbsp extra virgin olive oil (15 mls)
3 cloves garlic, diced (9 grams)
4 cups kale leaves, chopped (120 grams)
160 grams Brussels sprouts
8 cups liquid vegetable stock, salt reduced (2000 mls)
240 grams tinned cannellini beans
1/3 cup reduced-fat Greek natural yogurt (86.7 grams)
4 slices wholegrain or gluten-free bread of choice (160 grams)
Method
Cut broccoli into florets. Slice ham.
Heat a saucepan over medium-high heat and add olive oil. Add garlic and sauté for 30 seconds – 1 minute.
Add sliced ham and brown. Then add broccoli, Brussels sprouts and kale. Season with salt and pepper.
Saute vegetables for 2 minutes to colour and soften slightly. Add the stock and bring to a boil. Then reduce to a simmer for 8-10 minutes until vegetables are tender. Add some more stock if liquid reduces a lot.
Add drained beans and using a stick or bench top blender, blitz until smooth. Return soup to saucepan and heat through. Toast bread.
Serve soup with a dollop of yogurt and slice of toast.
9. Chicken Courgette Alfredo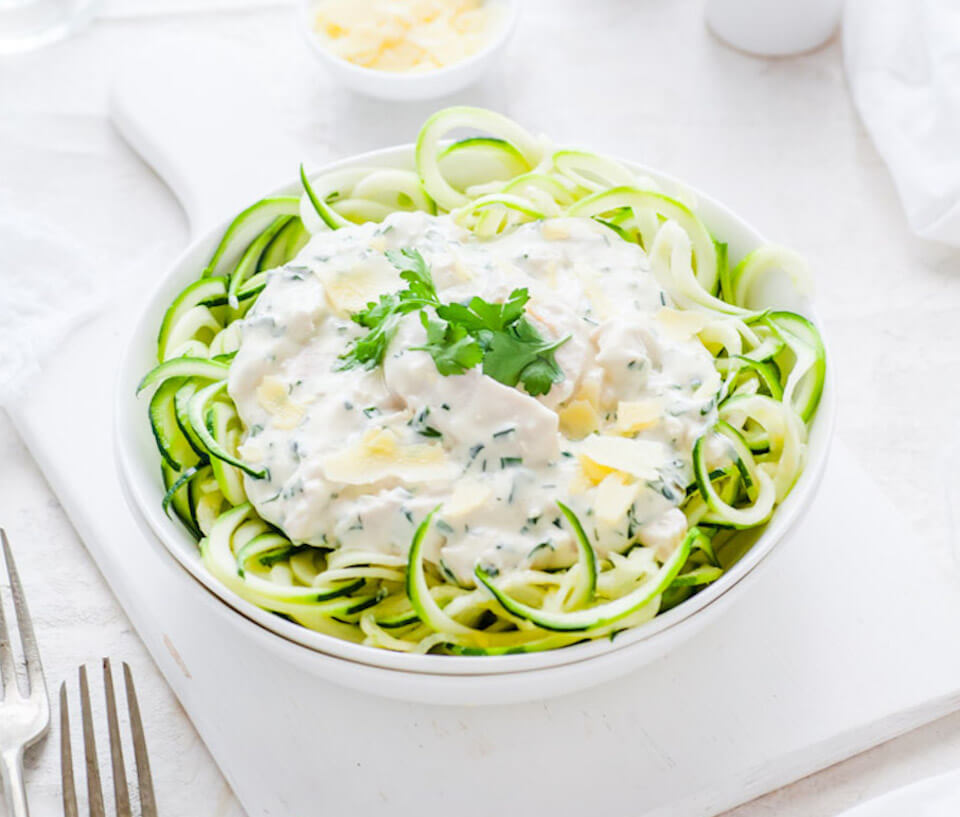 411 calories per serve
Using courgettes to make noodles makes this a light yet satisfying meal. We love making your favourite flavours with a Healthy Mummy twist!
10. Corned Beef & Cabbage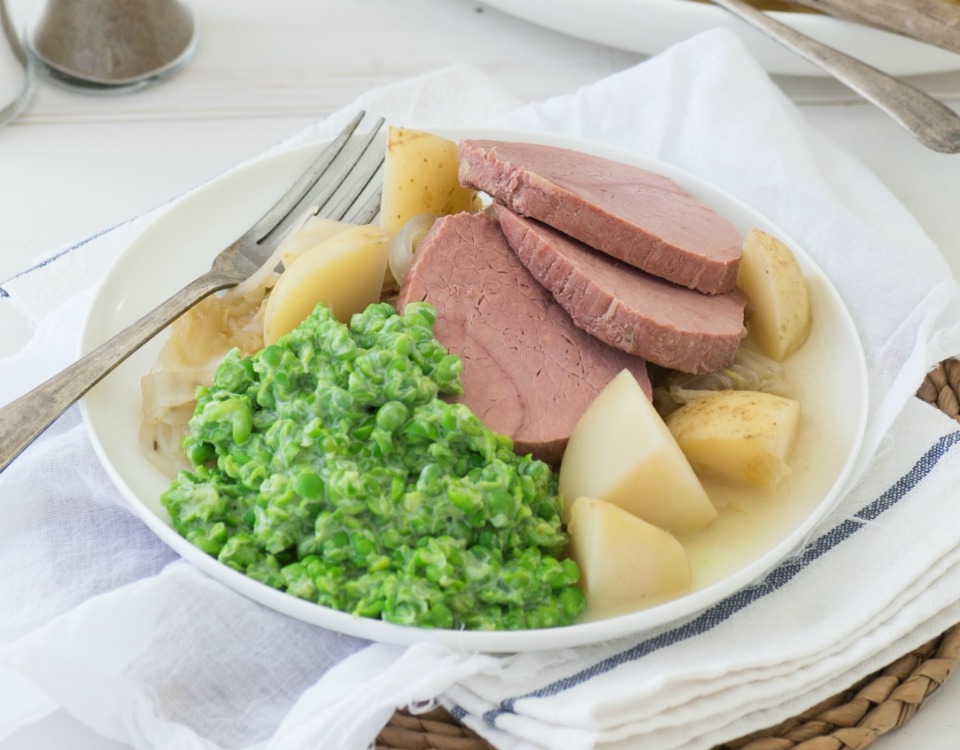 449 calories per serve
It wouldn't be St Patrick's Day with this recipe. The leftovers make AMAZING sandwiches the next day for the whole family. Corned beef is often quite economical, making this a budget friendly meal.
11. Peppermint Crisp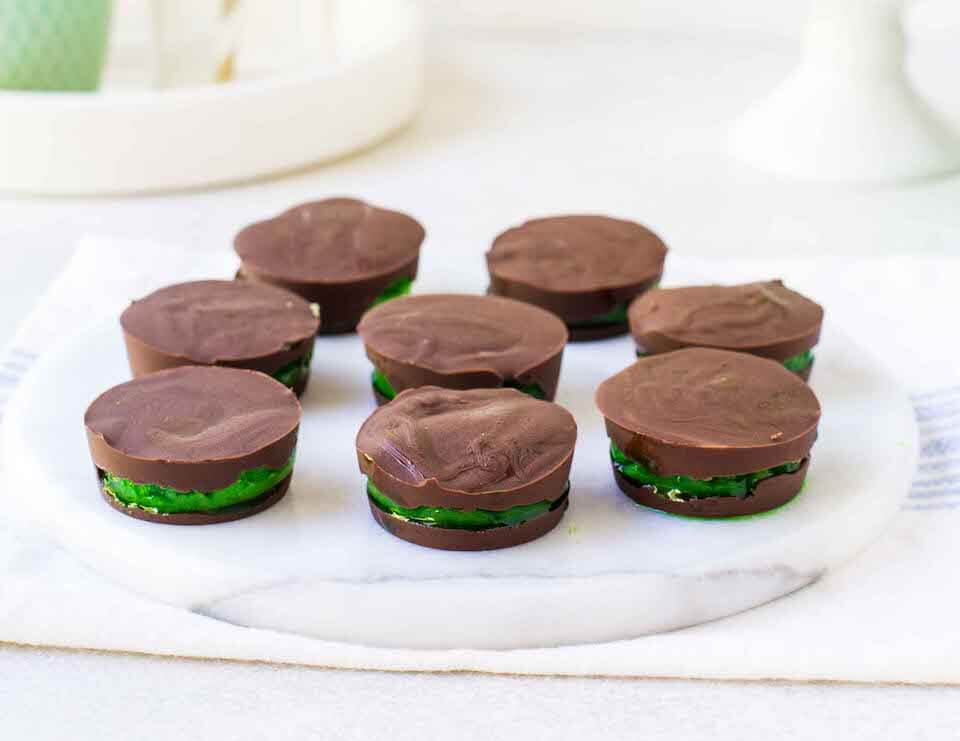 91 calories per serve
You can still enjoy chocolate treats and snacks when you are trying to lose weight. Just make them in a healthier way using recipes from the 28 Day Weight Loss Challenge!
Ingredients (Makes 9 servings)
1/3 cup Natvia (available from Tesco) (64 grams)
2 tbsp water (30 mls)
3 tsp peppermint extract (15 mls)
4 drops natural green food dye, optional (2 mls)
120 grams dark chocolate (70%)
1/2 tsp extra virgin olive oil (2.5 mls)
Method
Add Natvia and water to a small saucepan over a medium heat and stir briskly with a spatula until Natvia has dissolved.
Add peppermint extract and green colouring (if using).
Quickly divide mix between 9 silicon muffin moulds and place into the freezer until hard. When set, gently pop out and set aside.
Melt chocolate and olive oil together in a small saucepan over a low heat. Divide half of the melted chocolate into the bases of the silicon muffin moulds, place peppermint disks on top of each chocolate base and pour remaining chocolate over.
Return to the freezer for 10 minutes to set. One peppermint crisp is one serve. Store leftovers in the fridge.
Want to access thousands of healthy recipes to help you lose weight?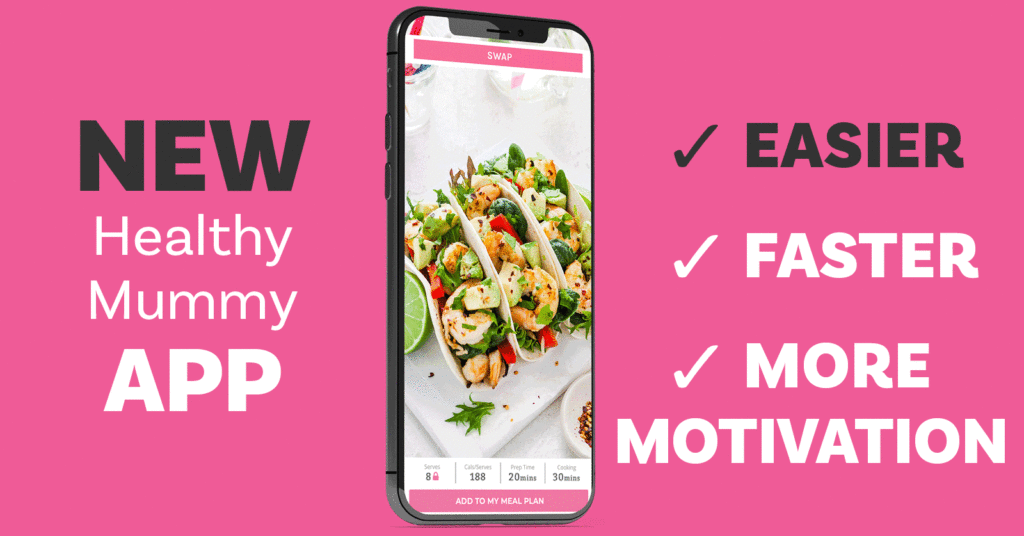 Want to shift your baby weight but feel like you have NO TIME in your day to exercise and eat healthily? That's where the Healthy Mummy's 28 Day Weight Loss Challenge can help.

Our Challenge entails: 
28 days of at home exercise routines (no gym needed) – with video instruction
Customisable and breastfeeding friendly meal plans
Time-efficient exercises for busy mums – under 30 mins
Challenge combines Pilates exercises with interval and circuit training (HIIT)
Suitable for basic to advanced fitness levels.
Home to thousands of EASY-TO-MAKE recipes.
To find out more about joining the 28 Day Weight Loss Challenge for £1 click here.
PLUS – connect with THOUSANDS of other mums on the 28 Day Weight Loss Challenge by joining our free support community here.