Before Samantha Stevenson started following the 28 Day Weight Loss Challenges she was very unhappy. She had lost confidence and didn't know where to start.
She is now well on her way to reaching her weight loss goals, refinding herself again and losing that tummy fat.
You can read her story here and grab some useful tips to blast your tummy fat!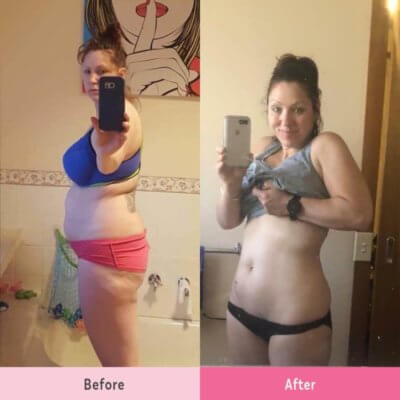 How to blast tummy fat
Samantha started following the 28 Day Weight Loss Challenges after her little one was born and in that time has gone from a size 18 to a size 12.
"I have lost around 2 stone after my fifth child and I'm still constantly working towards my ever-changing goals," she says.
"Before The Healthy Mummy my relationship with food was appalling and I no idea what portion control was. I would eat man-sized meals at every turn and ate until I couldn't move. 
The 28 Day Weight Loss Challenges have taught me so much and I'm learning new things every day."
Bettering herself despite the struggles
Sam is 44 years of age and has 5 children. She has PCOS (polycystic ovary syndrome) and suffers from severe IBS (irritable bowel syndrome).
"Those four things haven't stopped me from losing weight or changing my body, especially my tummy area. If anything, they have fuelled the fire to keep going and to prove to myself that I can!"
Samantha has been using the
smoothies
daily. She also followed the
meal plans
and did the 28 Day Weight Loss Challenge
exercises
. 
"I felt my clothes start to become lose. My body was changing and I loved it!"
 she says.
These things combined as well as being consistent with moving her body have 100% helped her to achieve the changes in her body.
Samantha's 8 tips for losing tummy fat (that worked for her)
1. "Keep hydrated with lots of water. 
2. Swap unhealthy sugar laden drinks for water and green tea. 
3. Eat cleanly. You can absolutely still have the occasional unhealthy treat, but with the amount of awesome ones available within the 28 Day Weight Loss Challenge app, your only issue will be which one to choose!
4. Fill up on awesome green vegetables.
5. Move your body. If it's only 15 minutes per day you can do, make it effective! Dance around the house with your kids, try Dance Fit, go for a run or choose one of the awesome tummy / ab workouts within the Challenge app. 
6. Watch your portion sizes. I used to eat until I was about to explode, which I found put me in a bad cycle of binge eating and then not eating enough. Eating realistic portion sizes and regular meals has helped my tummy area as well.  
7. Eat according to any food intolerances or allergies you have. I know first hand the effects an IBS flare up can have on your body, and I know that it can a bit time consuming when you first start, but the 28 Day Weight Loss Challenge app has awesome dietary filters and with the knowledge I now have I can swap ingredients within my meals to meet my requirements.
Thank you for sharing your very helpful tips with us, Samantha!
Are you ready to become a Healthy Mummy and blast some tummy fat?
Check out the 28 Day Weight Loss Challenge. It's an affordable, customisable program designed to help mums reach their weight loss goals and tackle their health.
Our Challenge entails:
Hundreds of at home exercise routines (no gym needed) – with video instruction
Customisable and breastfeeding friendly meal plans
Time-efficient exercises for busy mums – under 30 mins
Challenge combines Pilates exercises with interval and circuit training (HIIT)
Suitable for basic to advanced fitness levels
Home to thousands of EASY-TO-MAKE recipes!
To find out more on the 28 Day Weight Loss Challenge click here.