Our amazing Meal Prep Queens Sascha and Kaitie appeared on Australia's Top Weekend breakfast show to share all their "Meal Prepping" tips and to talk about how they recently made a month's worth of Healthy Mummy meals in just 7 hours for under £1 each.  Find out how they did it and watch their TV appearance below!!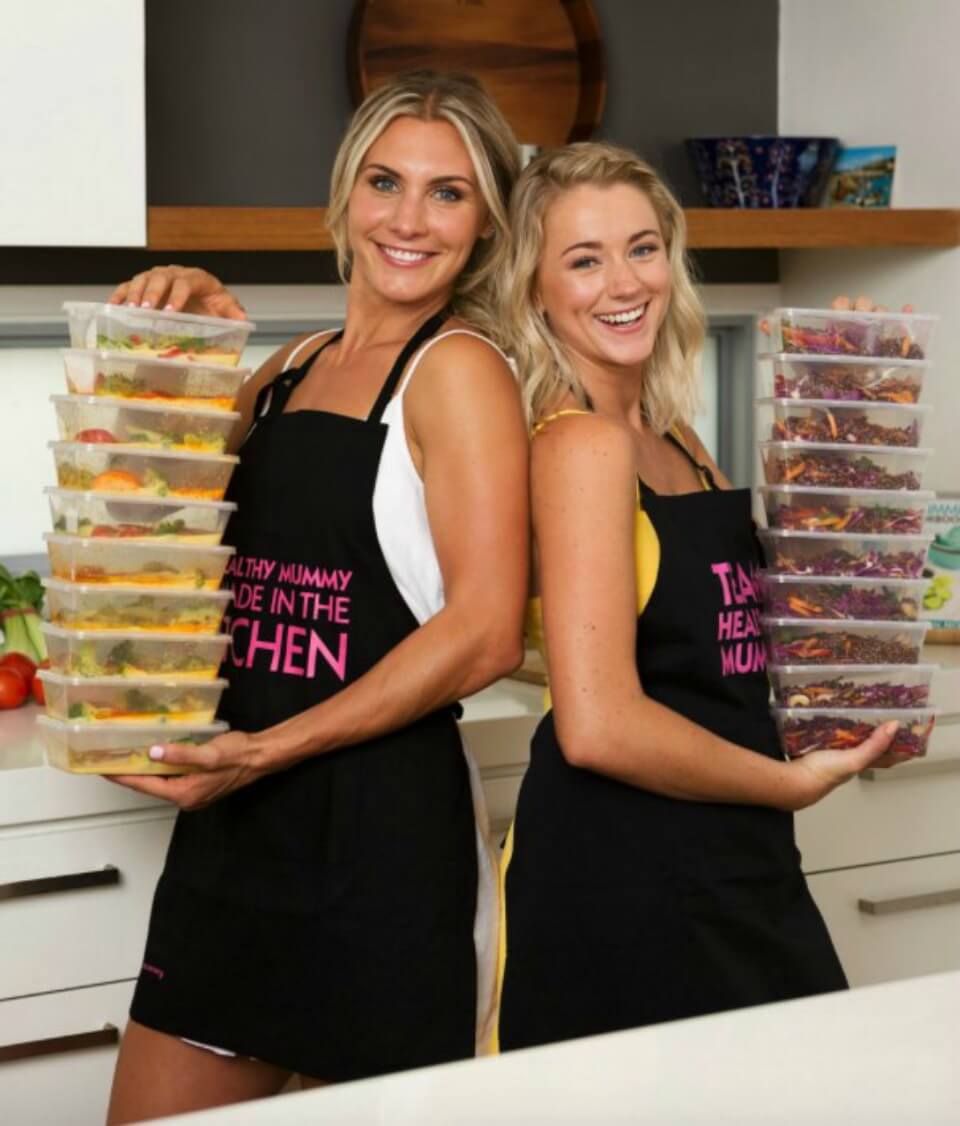 As part of World Healthy Mummy Month this July, our amazing meal prep team visited Mum of 5 Hamoney in her home and whipped up family meals for a month including breakfasts, dinner and snacks for just under £550!!
All in all the team prepared:
85 x BREAKFAST
531 x MEALS
56 x SNACKS
That's a total of 672!
Get all the details about this massive meal prep here!
For many busy mums, meal prepping on this scale may appear just a little overwhelming. But as Kaitie and Sascha point out, there are lots of ways meal prepping can be done effectively at home without necessarily spending a whole day in the kitchen. Ultimately, any meal prepping will save time in the long run and can really help with the family budget. The important thing is to find an approach that works for your family.
Watch Kaitie and Sascha on Weekend Sunrise and read their Meal Prep tips Below!
MEAL PREP #1
Plan your menu a week ahead every seven days
Sascha says, "Always have a plan!!! Never shop without a list". She even suggests having a snack beforehand. "Never shop when you're hungry!"
"Meal prep the best way that suits your family. That may be daily, weekly or monthly. Take the pressure off and focus purely on what's right for your family. Every little bit counts. Prepare or cook snacks when you can – it all adds up."
When meal planning, it's a good idea to use similar ingredients too. "Think about this when planning. Mince, for example, is great for Mexican Lasagne, but bought it bulk you can use it to prepare burgers too for another day"
Budget TIP
"Always shop seasonally, it can save you so much money. And don't forget to use Supermarket catalogues to check specials'!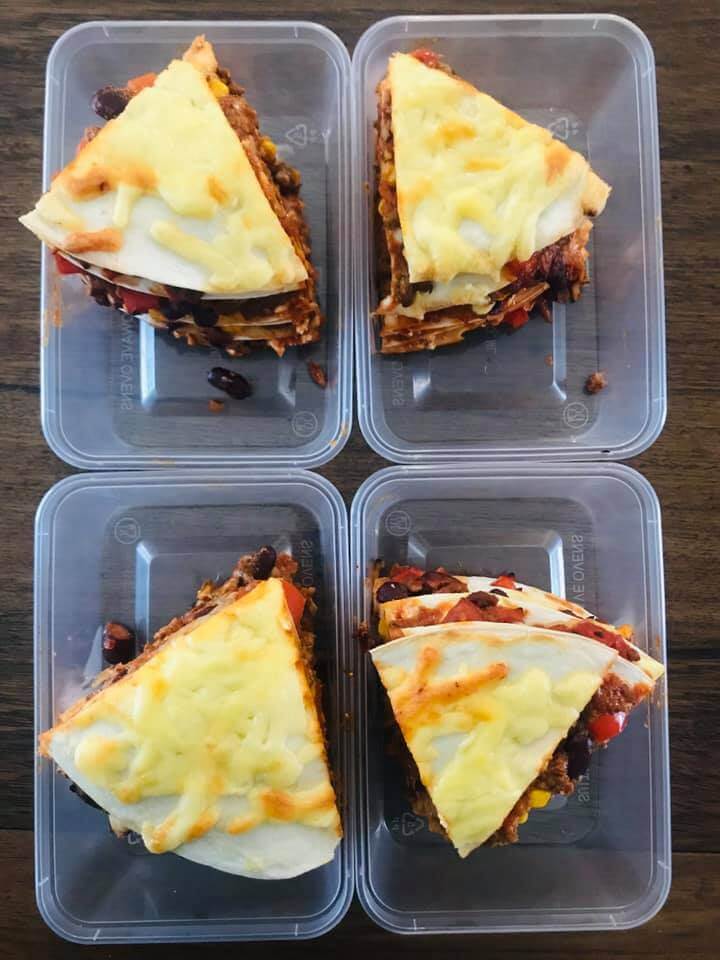 MEAL PREP #2
Prepare everything before you put groceries away
"This will save you so much time!" says Sascha, "Chop or grate everything before you put it away, like carrot and pumpkin, then when it comes to cooking, you are literally ready to throw it all in. The Easy Fried Rice from the Challenge App is a great one for this as it uses a lot of prepped veg and if they're all ready prepped, it's super quick to make"
Kaitie says, "Cut up all your vegetables first, or even use your food processor out to get it done even quicker"

Budget TIP
"Have one vegetarian meal a week to save money on your grocery budget"
MEAL PREP #3
Cook two or three different meals at the same time
"This is where you can use your kitchen appliances most effectively," says Kaitie, "Get out your slow cooker, where you can have the Slow Cooker Asian Chicken looking after itself, and you're free to utilise your oven to prepare something like the Raspberry muffins. And while they're cooking, you've still got the stove top free! Multitask in the kitchen where you can! Some recipes don't even need cooking, like the Healthy Chocolate Weetabix Slice or the Apricot and Oat Bliss Balls from the 28 Day Weight Loss Challenge.
Kaitie and Sascha say this is all about being organised, but stress it's also about practise!

Budget TIP
"Bulk mince meals out with grated vegetable and lentils"
MEAL PREP #4
Stock the Freezer
Make sure to get all prepared meals portioned out properly and stored in the freezer for another day.
"If you don't have a large freezer store things in snap lock bags, squeezing all the air out. Or use these plastic meal prep containers to store everything. Always label and date your frozen meals and snacks and remember to rotate!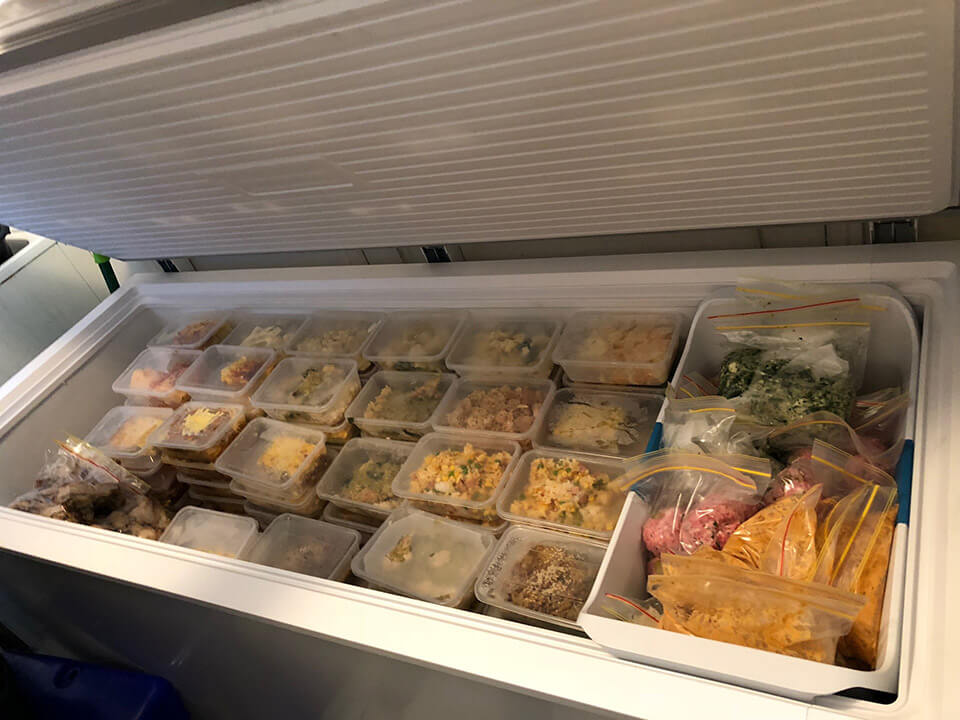 Kaitie adds, "Freeze all leftovers! Sauces, pastes, stock, leftover fruit or vegetables."
BUDGET TIP
"Wash out the sandwich bags to reuse!"
Kaitie and Sascha's top tip is to take full advantage of the Healthy Mummy's meal plans and The Healthy Mummy App.
"The Healthy Mummy App is your TOP tool for making life in the kitchen & at the shops easy!"
Are you ready to kick-start your weight loss?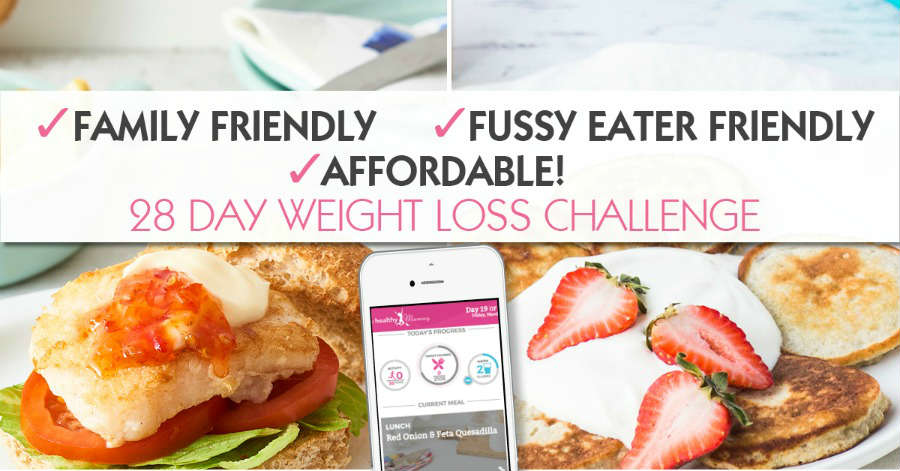 Want to shift your baby weight but feel like you have NO TIME in your day to exercise and eat healthily? That's where the Healthy Mummy's 28 Day Weight Loss Challenge can help.

Our Challenge entails: 
28 days of at home exercise routines (no gym needed) – with video instruction
Customisable and breastfeeding friendly meal plans
Time-efficient exercises for busy mums – under 30 mins
Challenge combines Pilates exercises with interval and circuit training (HIIT)
Suitable for basic to advanced fitness levels.
Home to thousands of EASY-TO-MAKE recipes.
To find out more about joining the 28 Day Weight Loss Challenge for £1 click here.
PLUS – connect with THOUSANDS of other mums on the 28 Day Weight Loss Challenge by joining our free support community here.
Want to try some of the amazing food on the 28 Day Weight Loss Challenge but not sure if it will suit you and your family? Check out our FREE recipe packs here.